The DuroMax XP13000HXT 13,000-Watt Tri-Fuel Generator promises enough power and capacity to run an entire home. The advantage of the DuroMax Tri-Fuel over many other home generators is that it lets you operate it off of three different fuel types. This powerhouse of a generator could give you the options and flexibility you need when an emergency strikes.
DuroMax 13,000-Watt Tri-Fuel Generator – The Big Deal
The first tri-fuel generator released by DuroMax, the XP13000HXT generator claims to be the largest tri-fuel portable generator on the market. You can fuel it with gasoline, propane, or natural gas. Compared to other portable generators, this model promises significantly more power, especially for a portable model. Even with natural gas and propane which tend to give off less power than gasoline, the XP13000HXT seems to stay on top of the power game when compared to similarly powered generators.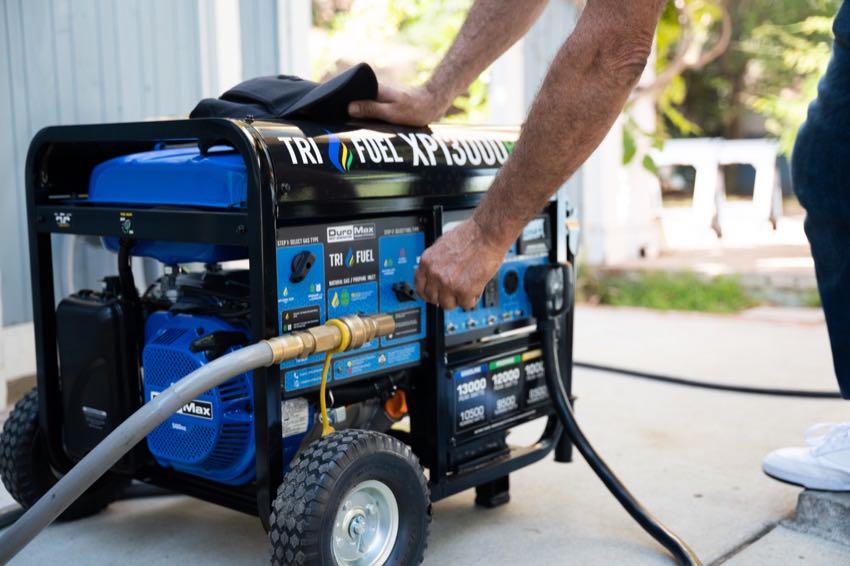 The DuroMax XP13000HXT also comes with an updated computer system. This includes a large LED display that shows voltage, runtime, and gas gauge, among other details. Additionally, the unit includes a remote control so you can control it from a distance if you need power quickly.
One of the most useful features is the CO alert technology. This feature appears on most new generators at this point and ensures that the system shuts off automatically upon the detection of high levels of carbon monoxide.
DuroMax 13,000-Watt Tri-Fuel Generator – Additional Features
Wheel and handle kit included
Solid-filled tires capable of traversing any terrain
Approved for use in all 50 states
EPA and CARB certified
Pricing and Availability
The DuroMax XP13000HXT Tri-Fuel Generator is available at The Home Depot and other authorized retailers. It retails for $2,499 and comes with a 5-year warranty.
The DuroMax XP13000HXT Specifications (By Fuel Type)
| | Gasoline | Propane | Natural Gas |
| --- | --- | --- | --- |
| Wattage (Peak) | 13,000 | 12,000 | 10,000 |
| Wattage (Running) | 10,500 | 9,500 | 8,500 |
| Running Amps at 120V | 87.5 | 79.16 | 70.83 |
| Running Amps at 240V | 43.75 | 39.58 | 35.42 |
| Runtime at 25% Load | 17 | 13 | – – |
| Runtime at 50% Load | 8.5 | 6.5 | – – |