After suffering through all of my colleagues getting gaming chair upgrades from our standard office furniture, I jumped at the opportunity to take a look at the E-Win Championship SoftWeave Fabric gaming chair. I liked the chair's unique, softer, appearance and went with the $369 or less (when discounted) darker gray model. They also offer a lighter gray and a pink model.
Author's Disclosure: E-WIN sent us this chair with a request to provide links back to their site. They have say over our comments regarding this or other E-Win chairs in this review.
E-Win Champion Office Chair Features & Build Quality
Upon opening the box containing the chair, I was immediately impressed by the high-quality components. Instead of the typical plastic parts found in office chairs, this chair seemed to be made with care and attention to detail. Even the base, which is usually made of plastic, was constructed from metal. The wheels, stitching, and overall design all look very well-made and well-designed.
The seat of the E-Win Champion gaming chair is made with a lightweight and breathable blend of fabric. E-win touts this as being made from dense 350GSM short-yarn and a process of meticulous grinding to create a unique ultra-soft and fluffy texture. What we can say is that this Champion Series chair "is "breathes" well and provides a nice, soft, yet durable chair for office or gaming use.
Under the cover, E-WIN uses what they call heavy high-density cold-cure foam. It's not memory foam, but it has similar properties. The chair also offers a range of adjustability options. For example, the adjustable backrest can be reclined all the way back, allowing you to lay the chair completely flat.
Ergonomic Chair Controls for Office or Gaming Use
The E-Win Champion gaming chair offers a range of adjustability options in addition to its recline function. You can adjust the height of the chair and the front-to-back tilt, as well as how flexible the base is with respect to reclining. You can also lock it into position using the left control bar once you've found a desired angle for the seat.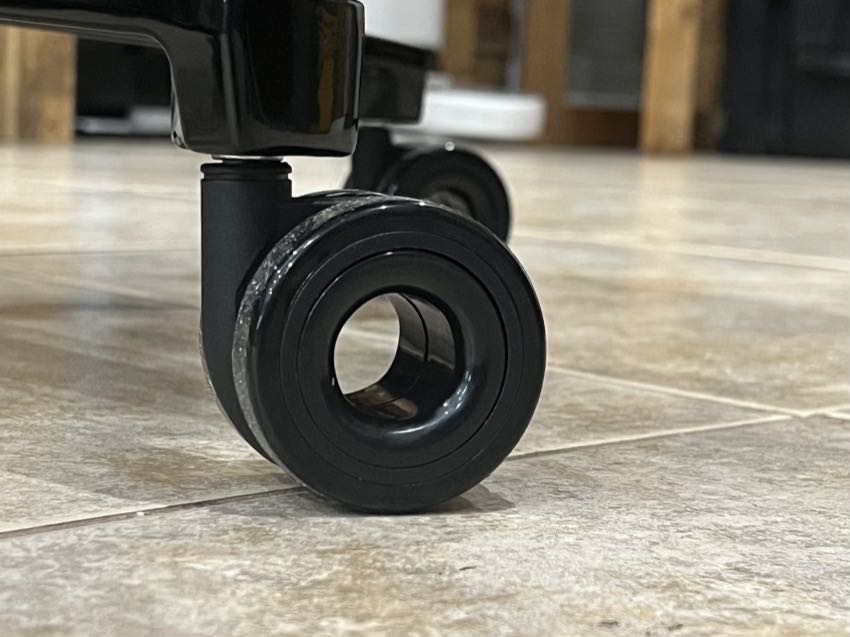 The hub-less casters aren't fancy, and they came in all-black. Online, the hubs look like they feature a silver or chrome color. They use all-metal bearings and glide over our office tile floor without any problems. One thing we did notice is that the chair does lift up when you lean forward—so much so that it can "kick out" from under you if you aren't careful. Just keep this in mind as you use it.
E-Win Champion Gaming Chair Assembly
I followed the instructions for assembling the chair. I had little trouble with the assembly and the packaging kept all components of the chair safe during transit. From attaching the back of the chair to the seat to covering the metal reclining brackets with decorative plastic covers—all went smoothly. The chair includes Allen screws and all the required tools come in the packaging. After attaching the controls to the chair, we placed the whole assembly atop the pneumatic piston. This worked best with one person holding the chair and another guiding it into place.
How It Feels & Conclusion
Everyone in our office now uses a "gaming" chair instead of our original mesh chairs. Considering that most gaming chairs meet the need for extended hours of use, E-Win knows their Championship Series chairs have to hold up to at least an 8-hour workday. So far, we think this chair delivers a durable, comfortable solution with tons of adjustability for nearly anyone.
E-Win includes two pillows—one for neck support and the other for lumbar support. You can easily use or remove either. The neck pillow straps around the top of the chair and the lumbar pillow just sits in place.
Overall, I can say this E-Win Champion SoftWeave fabric gaming chair feels very comfortable. Even after an 8-hour workday my back and legs feel great. You can't argue about its build quality, and it runs circles around my old office chair.
If you find yourself in the market for either a gaming chair or something to replace a standard office chair, the E-Win Champion Series gives you literally dozens of options.