I've used several blowers in the past, each with its strengths and weaknesses. You start to really form opinions and get predisposed to liking one format over another. In my job, its important to put my personal preferences aside and look to what the product manager and designers intended. With the ECHO PB-770T Backpack Blower, this is a tool that the company intended to perform well as a portable blower with extended run-time and the ability to power a small aircraft or sailboat… near as we can tell, mind you.
ECHO's PC-770T Backpack Blower is so powerful you will never have to worry about bending down to dislodge something that's sticking a bit, or getting enough air power to handle damp or wet grass. If it's in the way, it's going to move. If you tend to use small, compact hand held blowers – stop reading now… you will be forever ruined into spending more money for the real deal.
Editor's Note: Check out our best backpack leaf blower article to get our top picks.
ECHO PB-770T Backpack Blower Build Quality
What we love about backpack blowers, and the PB-770T falls squarely into our line of thinking on this, is that the manufacturer no longer has to be as dainty about the power-to-weight ratio of the tool. While you don't want a 50-pound behemoth on your back, you're also not looking to keep the weight well under the unspoken 10-12 pound weight limit of a portable hand held unit.
That means that the engine power goes up dramatically. No longer constrained, we start to see numbers like 50 and 60+ cc's instead of the usual 25cc numbers of the smaller motors. And this means a lot more blowing power, with no need to squish the end of the tube to get more output force in the last stage. No, a backpack blower can give you enough force to not have to play any games – and that means you get both air speed AND volume.
Assembly of the PB-770T involved unpacking it and putting the 4-piece pipe system together. It wasn't terribly hard and we started doing it without really consulting the manual. As long as you remembered to insert the clamps properly, the process works as you'd expect. Before long we had the unit up and ready for gas (for which we use premium in our 50:1 mix, though ECHO only recommends 89 octane fuel-based mix).
Tube-Mounted Throttle
As you can note from the model number, this is the PB-770T and the "T" stands for "tube-mounted throttle". This means that you would use your right hand to pull the trigger to activate the blower rather than the left side hip-mounted throttle of the PB-770(H). There is a lot of debate on whether to mount the throttle on the tube or not, but after thoroughly examining the system and its components, we really don't see where it would incur any additional wear over the hip-mounted model. In all practicality, the difference should come down to whether you are more comfortable activating the throttle control with your right hand or left. As for the throttle itself, we noted that it worked easily enough and the Stop Switch also functions as a trigger lock so you don't have to keep your finger on it the entire time you are blowing.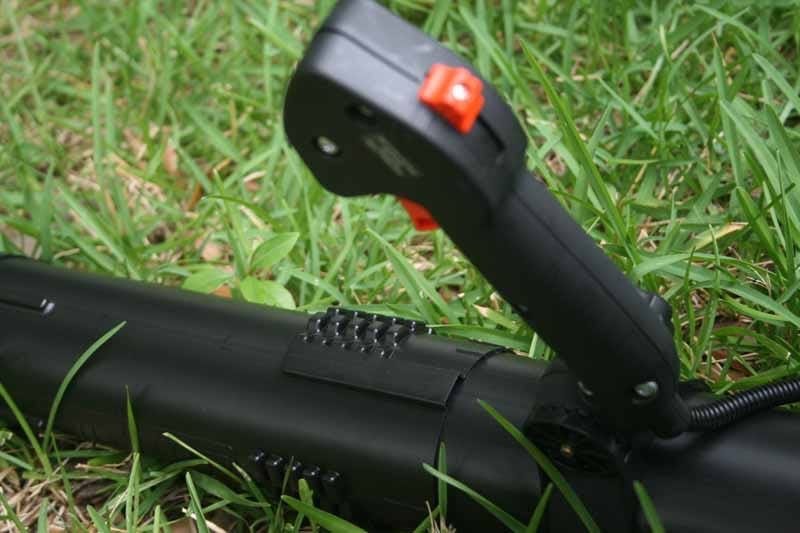 We really liked the way ECHO handled decoupling the motor from the backpack and providing venting for a "cooler" experience. A set of springs is visible if you look into the side of the unit and it does an excellent job of reducing the transmission of vibrations to your back from the high power 63.3cc engine. And believe me, when putting out that much power, having a good physical decoupling system is a life-saver. It also didn't get hot on your back – which is a bonus when you're walking around all day with one of these things on.
The ECHO PB-770T backpack blower has a very large 68.3 ounce tank, that's nearly 50% more fuel that can be carried around than what is offered by the competition. That means you can keep working longer and take less refueling stops – so you'll get finished more quickly.
ECHO PB-770T Backpack Blower Testing
This was one of the most fun tools we've tested to-date. It required the use of ear protection as it got very loud, very quickly (the higher you set the throttle, the louder it gets). Our first task was to follow around an edger and mower, completing the yard work by blowing the grass clippings down the sidewalk and off the path. With the ECHO PB-770T backpack blower this was a ridiculously easy task. Where by previous hand-held blower required a steady aim and persistent focus on particular troublesome areas of damp or dirt-caked areas, ECHO's Backpack Blower would have none of it – it just blew everything away.
Just How Much Power?
I'm fairly certain that if I had a sailboat and enough gas, I could take the ECHO PB-770T and propel myself briskly along the coast on a windless day. The amount of air that this backpack blower puts out is astounding – you really can feel it push back against the tube and your arm. It's not difficult to control, but you can't ignore the amount of force coming out of the end of the tube at up to 765 cubic feet per minute (204 mph). That's A LOT of power. We blew grass, sticks, rocks… small children*… nothing stopped this thing.
*Just kidding. Please note that no small children were harmed in the making of this review.
The bottom line is that our testing went smoothly. It performed as we'd expect a flagship blower to perform, reliably and with a force that took all the thought out of bowing – you just pointed the arm where you wanted the debris to go and it went. One thing we did run into was that, when we hit the kill switch to  turn off the blower engine, we found you have to completely take off the backpack in order to restart it.
Conclusion
The ECHO PB-770T backpack blower is simply one of the most powerful backpack blowers on the market today. Priced at just under $500 it's not inexpensive, but what you get is a large-capacity fuel tank and tremendous power that can go and go without stopping. For professionals, this is an easy product to see the benefits of. For the occasional user, or if you want to spend less money, you'll likely want to go with one of ECHO's more entry-level models. In either case, the ECHO PB-770T backpack blower earned every bit of its 9/10 Performance rating and after taking a good hard look at its competition, the 8/10 Value rating reflects a well-deserved well-above-average rating for this tool.