ECHO is a well-known brand that breaks down the barrier between professional and consumer. Their new SRM-225i straight shaft trimmer packs plenty of power in a small package and its i-75 starting system makes this product virtually hassle-free (maybe not as hassle-free as the Ryobi Touchstart straight shaft trimmer, but it also weighs a lot less). There's a lot to like about this trimmer – from its see-through tank to the easy-to-load, easy-to-use bump head and, of course, the proven reliability of a 2-cycle engine that just won't quit. On top of that, ECHO's new models meet the new EPA Phase 2 / C.A.R.B. Tier III emissions control requirements.
ECHO is a brand you'll hear of a lot from both consumers and professionals who swear by the name and use it in a myriad of applications. They have products ranging from line trimmers to chain saws, pruners, sprayers, edgers, and more. The company has been around (as "ECHO") since 1978 and has been producing hand-held lawn care products ever since. When we heard they had released a new line of trimmers, with their new i-start technology no less, we decided to contact them and request a sample. It's summer and, in the South at least, grass grows at an alarming rate – making this the perfect time to test out summer tools.
Editor's Note: Check out our best gas string trimmer article for our top recommendations.
Echo SRM-225i Trimmer Build Quality
ECHO's SRM-225i comes standard with a 21.2cc 2-cycle engine that seems to put out a lot more power than the displacement indicates at first glance. Checking over the entire tool it's easy to see that the 225 series is built for long-term use, making it more of a professional crossover tool than just a tool made for occasional use. We found the rubber overmolded grips on the handle to be extremely comfortable. We also liked how the fuel tank was oriented in such a way that the trimmer could be refueled (with a 50:1 gas/oil mix) simply by placing it on the ground and removing the cap – you didn't have to turn it on its side to add the fuel.
Maintenance on this product is simple, and most of the commonly replaced or cleanable components were easily accessed. The air filter included with the trimmer was of higher quality than we've found on consumer-targeted trimmers and we liked how easily you could remove it for cleaning. Continuing in this mode was the fuel filter, which we found could be easily pulled out with the hook included with the replacement filter. The spark plug is accessible right from the top left side of the motor and the required T-Wrench is included with the trimmer. The parts responsible for heat dissipation and the exhaust system are just as easily cleaned.
The entire motor is well-protected in an orange ABS plastic housing that served to keep out dirt and also provides adequate ventilation for the motor. The driveshaft is made up of a 1/4″ flexible 4-layer cable housed within a 1″ (25mm) aluminum tube.
At the rear of the engine lies the full-crank i-75 starter system. You can note that the i-75 is a bit bulkier than the i-30 system (taking up about twice the depth) and results in some additional weight overall, though hardly enough to be a concern. The system works in a way that involves a series of springs to take the load off the starting effort it normally takes to crank up the motor. As a result, these additional springs take a bit more room than your standard starter system.
The U-Turn Bump Head
While we typically don't go for bump-heads, the U-Turn system actually worked very well for us. We loaded up some string and true-to-form, it was rather easy. The steps are simple, you just:
Line up the arrow on the spool and drum
Insert both ends of string (up to 23′ in length)
Wind it up with a clockwise rotation of the bump-head
Cut the middle of the remaining connected string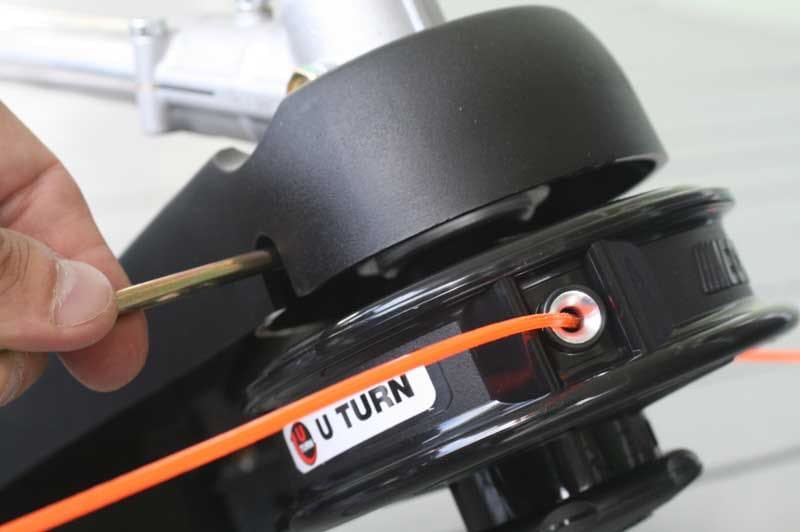 Echo SRM-225i Trimmer Testing
Starting this trimmer was extremely easy. After priming the system, flipping the Stop switch to the 'On' position, and making sure the choke was in the 'Cold Start' position, we engaged the throttle and pulled the i-75 starter cord. It took about 3 pulls our first time, and the system easily rolled over as we adjusted the choke to the 'Run' position. I'd have to say that this is the easiest pull-starter we've used and the energy expended is far, far less than that of your typical trimmer. Subsequent starts took even less time, and the more frequently you use it, the quicker it will start up. Using it every three days, we could easily cold-start it consistently in just 2-3 gentle pulls. With this trimmer, you'll want to quickly flip the choke to the run position as soon as you hear the engine fire, and it takes some experimenting to get it just right. What was also really nice about the i-75 was how easy it was to start the engine when it was warm. Though the instructions tell you to again place the unit down and grab the throttle with your left hand, I found myself just picking up the trimmer and reaching over with my left hand to give the rope an easy tug. It started right up on the first pull every time. If you employ this method, be sure to not engage the throttle while doing so.
Reviewer's Note: Please see our article on 2-cycle vs. 4-cycle engines.
We again used Echo SRM-225i trimmer on our sample quarter acre lot and we gave it a good long week of on-and-off hard rain to let the grass get nice and thick. One of the things we quickly noticed was that using this trimmer without gloves was not a problem at all. The vibrations were low enough and at a slow enough speed that it was actually quite comfortable to use. We also liked the balance of the trimmer, though there are other models that feel a little lighter at this engine size.
Using the bump head repeatedly gave us no problems and each tap produced the same ~2″ of string for us. At first I stopped and checked after each tap, however, it became so reliable that I quickly took it for granted and focused on the work. We like to use trimmers as edgers whenever possible. Typically, this is done by turning the trimmer towards you 90 degrees and allowing the rotation of the string to cut a nice line against the curb or walkway. One of the drawbacks we noted about this trimmer was that the positioning of the gas tank would cause the SRM-225i to use up the fuel in the line and stall on nearly a half-tank of gas. When we tipped it to the side, the fuel drifted away from the filter, leaving it to drain out and stall the engine. Righting it, priming the fuel bulb, and restarting brought it back online, but our suggestion is to top off the gas and do your edging first, followed by your trimming.
Noise output during idle measured a scant 82 dB SPL and at maximum throttle, it output 102 dB SPL. We certainly recommend ear protection as we would with any outdoor tool that measures over 95 db SPL.
Conclusion
The Echo SRM-225i trimmer is an excellent trimmer with some pro features, like a full crank and its surprisingly effective U-turn bump head. It is easily maintained and its i-75 easy pull-start system provides super-easy pulling and near-effortless starts. This trimmer may be a good fit for those who would rather not struggle with a legacy pull system. There is some additional weight on this unit as a result, however, though we felt it a more than reasonable trade-off. This trimmer should definitely be on your shortlist and we loved the way it appeals to both commercial and residential users alike.