Last Updated on August 16, 2022
Companies like EGO are pushing the boundaries and limits in ways never before seen in this category, and it won't be very long before the thought of a homeowner using a gas tool to mow or trim the lawn is an antiquated idea. The EGO LM2001 56V lawnmower represents the company's first battery-powered mower to hit the consumer market.
EGO 56V 20-in LM2001 Lawnmower
EGO's flagship product is their 20-inch 56-volt Cordless Lawnmower. The reason the company can get excited about this product is two-fold. For one, it boasts as much or more power than its gas-powered counterpart, and secondly, the 56V battery is a one-of-a-kind solution that delivers up to 40% more power (which could also translate into run-time) than the former 40V reigning champion.
But, I have to admit, that's not what impressed me the most about this mower.
EGO LM2001 Mower Folding Handle Design and Vertical Storage
The first thing that caught my eye was the image of the EGO LM2001 lawnmower standing erect. It stood perfectly folded and stored away in a garage. This is something that is very rare to find in a traditional gas mower. At launch, other cordless models I've seen haven't caught on to this either. This is what we in the industry like to call "disruptive innovation". It's a new innovation that shakes things up and forces others to react.
It not only folds up—it does so easily. The handle collapses down telescopically without having to unscrew anything or flip any levers. There are even handles on the front and the back to let you lift the mower as needed without cutting into your fingers. I lifted it plenty of times without gloves and never once cut off the circulation to my fingers as I do with some other mowers.
EGO LM2001 Lawnmower Cutting Features
There are other features worth mentioning about the 56V EGO LM2001 lawnmower. This includes the full-size 20-inch cutting deck. The 56V battery pack delivers enough energy to make this possible, and it will run for 45 minutes. That's enough time to cut a small yard without needing a recharge or a replacement battery. I'll get into how it performed in just a bit, but let's say that the run-time feature is a big plus.
Another feature I liked was the one-handed cutting height control. Unlike the Pro-favored independent wheel height adjustments, you can just grab the "stick shift" lever on the left side of the mower and adjust it to any of five positions…and that's it. There's no hassle, no gymnastics, no struggling. You just move it and the height is set. This is great for when you need to adjust the height for a different area or yard, or when you simply want to perform a high cut as you head into the winter months.
EGO LM2001 Mower Has Easy One-Touch Starting
Starting the EGO LM2001 lawnmower simple requires extending the handle and locking it, inserting the 56V 4.0 Ah battery, placing and pushing the safety key, and pulling on the bail bar/handle. That's it—the mower starts right up. To turn it off, just let go of the bail handle. When you do turn off the mower, the blade rotates a bit before stopping. It has an integrated electric brake that stops the blade, but it's not as quick as a circular saw or drill (it also has a lot more rotating motion to stop). The bottom line is that you don't want to start and stop the mower without taking care to allow the blade to come to a full stop.
The EGO LM2001 battery-powered lawnmower has another feature that is really a cut above (you see what I did there?). It includes a battery level indicator right into the top of the mower. With it, you can see the status of the battery without having to open up the plastic cover to press the button. It also indicates that the LED light is on.
Yes, the mower has a dual LED light system with four discrete Cree-style LEDs. This would sound ridiculous except for the fact that this EGO mower is actually fairly quiet—particularly when compared to a traditional 2-cycle engine. The only sound you have is the electric motor and, of course, the blade cutting through the grass at high velocity.
Look, Ma, No Vibration!
The 20-inch EGO LM2001 lawnmower is nearly vibration-free. Seriously, you can barely feel it as you walk behind. This is due to the aluminum tubing used in the handles, plus the system is incredibly well-balanced. About the only trade-off, aside from the steep $499 price tag, is weight. This mower comes in at about 62 pounds, that's nearly 33% more than a competing 40V product we've used and about the weight of a small gas powered model. The additional stability of the tool also makes it a tad less maneuverable, with a slightly longer wheelbase than we're used to.
This didn't translate into any real-world problems, but we wouldn't describe this mower as "nimble"…more like a "machine". If I had to sum it up, I'd say that the EGO mower is a revolutionary product that cuts well, is comfortable to push, easy to fold up, and provides more than enough run-time on the included 4.0 Ah battery pack. This is an impressive mower that makes my gas-powered model suffer a serious inferiority complex.
EGO LM2001 Lawnmower Features & Specs
Model: LM2000
20 in. cut capacity
Battery: 4.0 Ah 56V Li-ion
Run time: Up to 45 minutes
Mulching/Bagging/Side discharge modes
Folds for compact storage
Push-button start
5-position deck height adjustment
1.7 bushel grass collection
LED Headlights
Charge time: 30 minutes (4.0 Ah)
Warranty: 5-year limited
Price: $599 kit (discontinued)
EGO 56V 4.0Ah ArcLithium Battery
With new technology and tools come new surprises. The biggest surprise of all has to be the fact that the new 4.0 Ah 56V battery pack from EGO recharges in just 30 minutes! The 2.0 Ah pack does the same in just 25 minutes. It's actually completely unbelievable—which is why we tested it after draining a full pack all the way down…only to find that the claims are true. To make it even better, charging for just 15 minutes gets you to 50% to complete a job if you're in a hurry.
The CH5500 comes standard with the 20-inch EGO LM2001 lawnmower. It's also a $99 option for anyone who bought the company's other tools (which come with the slower, but still impressive CH2100. With the CH2100, you can recharge a 2.0 Ah battery in about 40 minutes. The toss-up is whether you want to invest in a charger, or just pick up an additional battery to swap out if you need more continuous run-time. If you bought the EGO LM2001 lawnmower you have a little bit of both.
Reviewer's Note: How are Watt-hours calculated for lithium-ion cells and batteries? Multiply a cell or battery's rated capacity, in ampere-hours, by its nominal operating voltage. That means that the 2.0 Ah 56V EGO battery (XBA1120) puts out 112 Wh and the 4.0 Ah model (BA2240) delivers 224 Wh of power.
We're Gonna Need a Bigger Boat…
These size batteries are so big (in terms of capacity), they have to have special labeling on the packaging. This ensures they aren't shipped via aircraft or vessels. Sometimes I think our country wants to ban all materials they deem even slightly hazardous. Thankfully, the U.S. HMR (Hazardous Materials Regulations) includes Special Provision 189.
This provides an exception for "medium-size" rechargeable lithium-ion cells and batteries transported by motor vehicle or rail car within the U.S. if they meet the proper criteria. That includes the following exceptions:
Having lithium content in each cell that doesn't exceed 5 g (or 25 g for the pack)
Testing the batteries tested in accordance with the UN Manual of Tests and Criteria
Packing the batteries so as to prevent short circuits, and
Marking the outer packaging with the following label:
To me, that just adds to the "cool factor" of these larger packs. After all, the latest Ridgid power tool didn't show up with a warning label half the size of New Mexico…Obviously, these batteries pack a punch.
Other First-Generation EGO 56V Cordless Tools
I can't think of a better way to go through the EGO line than to simply review each tool independently and compare it to what I know and what I've come to expect from my outdoor power equipment. As someone who has done a considerable amount of yard work over the last thirty years, there are expectations that don't get exempted simply because a tool chooses to use a battery and an electric motor instead of a gas-powered system.
A great tool will still perform the same or have reasonable compromises that make sense given the change in the power-delivery platform. EGO has addressed many of the issues we've seen in past battery-powered outdoor tools by increasing the power potential with their new 56V platform. Now it was simply a matter of seeing if their tools kept up in the areas of run-time and power delivery.
EGO 480 CFM 3-Speed Turbo 56V Cordless Electric Blower (LB4801)
In general, this tool really impressed me and everyone I handed it to. You simply don't expect a battery-powered blower to have enough thrust to push back on your arm as you use it.
This one does.
So when you take competing battery-powered blowers that are rated for "light duty" and you run them side by side (as we did), the competition gets a little embarrassed. There is nothing light duty about the EGO LB4801—a fact that is obvious from the 4-inch throat on the business end of the tool and 92 mph max airspeed. Competing cordless blowers often compensate for a lack of power by narrowing the output of the blower engine or coupling the output to a flat spreader nozzle. Not so with the EGO—it just spits out air like it's going out of style.
While a smaller blower will successfully move material up to 12-inches in front of the nozzle, the EGO will push material that is a full 4-6 feet away. It's literally the difference between painting a floor with a 2″ paintbrush or using a roller. You tend to get a lot more work done with this blower.
Watch Your Speed
Is there a downside? Sure. There are two speeds, "Lo" and "Hi", as well as a Turbo button on the top. Once you use the turbo button you'll be hooked. As a result, you'll drain your battery in less than 10 minutes of blowing. If, however, you can contain yourself to run the brushless blower motor in low speed, you'll get up to an hour of blowing. In low speed, the blower still outperforms most 40V models we've used. And if you need more power, or you need to remove material more quickly, then, by all means, goose it up—just know that you'll need to take the occasional 40-minute coffee break or swap out a battery.
The three speeds of the 56V EGO blower:
1st Speed – High Efficiency: blows at 250 CFM
2nd Speed – High Power: blows at 385 CFM
3rd Speed – Turbo Boost: blows at 480 CFM
All in the CFM…and Speed…
EGO claims a max output of 480 cfm (cubic feet per minute). While we didn't measure that, we have no reason to doubt the spec given our experience. We took care of an entire yard full of leaves and areas with literally years of caked up decomposition and dirt. Both tasks were completed smoothly and with an impressive display of power. The Turbo button really comes in handy when you get to an area that simply needs a little push. The tool is also very light. We used it for extended periods of time without getting hand or arm fatigue.
One minor squabble we had with the blower is that it was difficult to pick up without activating it. The handle is so convenient, it's hard to grasp it without beginning to cycle the motor. This wasn't more than a small issue overall. The pre-battery price on this blower competes with gas models. If you need to add a battery and charger, it remains a pretty great value but does bring up the price. Still, it all but overshadows what else is currently available on the market.
Features & Specs
Model: LB4801 (discontinued)
Brushless motor
Turbo boost function
Battery: 2.0 Ah 56V Li-ion
Run time: 1 hour (Lo speed)
Charge time: 40 minutes (2.0 Ah)
Speeds: 2 + Turbo (250-480 CFM)
Warranty: 5-year limited
EGO 12 in. 56V Cordless Straight String Trimmer (ST1201)
While the EGO 56V Mower and Blower were impressive tools—they paled against the sensibility of a cordless string trimmer. If ever there was a tool that is plagued with imbalance and being downright awkward and cumbersome, the string trimmer gets the award. But take away the gas engine and rebalance the tool so that it has a front-loaded motor and—BAM! No more imbalance. The EGO 56V cordless string trimmer is, by far, the most helpful tool in the line-up. It's just a pleasure to use—so much so that I don't think I'll ever use a gas trimmer ever again. I've had some nice gas-powered trimmers, but the reduction in weight is astounding enough to warrant an entire rethinking of cordless as a mainstream solution—even for pro users.
Straight Shaft Design
The EGO ST1201 uses a 49-inch straight shaft, so you can get into tighter spaces and reach further. The bump-feed head seemed to be pretty fool-proof. Changing out the line was the same old tired process that every manufacturer describes as easy, but in reality, is quite a pain. It's just not more of a pain than any other system I've used. Whenever possible I tend to replace my heads with Pro heads. These take a fixed piece of string that can be of a high enough gauge to last a good long time. The motor head of the EGO does not match up well with most aftermarket Pro heads.
Testing in the Field
I used the EGO string trimmer as my primary trimming tool for several weeks. I trimmed around a deck and fencing. Later, I used it to cut back mini jasmine from a retaining wall. While that's more of a job for an edger, it did quite well, though I did go through trimmer line like candy. Even so, the trimmer lost some speed but handled the load quite well.
The integrated bump protector was a nice feature when cutting around the edge of a house. It kept me from easily disturbing the paint. It was quite easy to flip into place when needed and even easier to get out of the way.
This is a very straightforward tool that's easy to use and difficult not to like. It's a great addition to the line and something that will have a lot of people grateful to give up their gas models for good.
Features & Specs
Model: ST1201 (discontinued)
12 in. cut capacity
Battery: 2.0 Ah 56V Li-ion
Run time: Up to 45 minutes
Line: 0.080 in. diameter dual-feed spiral
Bump-feed operation
Shaft: 49-inch straight aluminum
Soft-start
Charge time: 40 minutes (2.0 Ah)
Warranty: 5-year limited
EGO 24 in. 56V Cordless Hedge Trimmer (HT2401)
The final tool in the current EGO line that I reviewed was their HT2401 String Trimmer. I immediately liked the U-shaped safety switch system on the front handle. It's designed to all but eliminate the need for a rotating handle. With the battery-driven system, the entire hedge trimmer weighs just 12 pounds. That's pretty lightweight. The front handle's wrap-around safety switch makes it a simple matter to turn the trimmer on either side. It cuts just as easily as if it had a rotating handle mechanism. This tool cuts quickly and handles easily. I also enjoyed how easy it was to switch from trimming across the top of a row of hedges to trimming up the sides and back. Flipping the tool around as needed is simple and intuitive.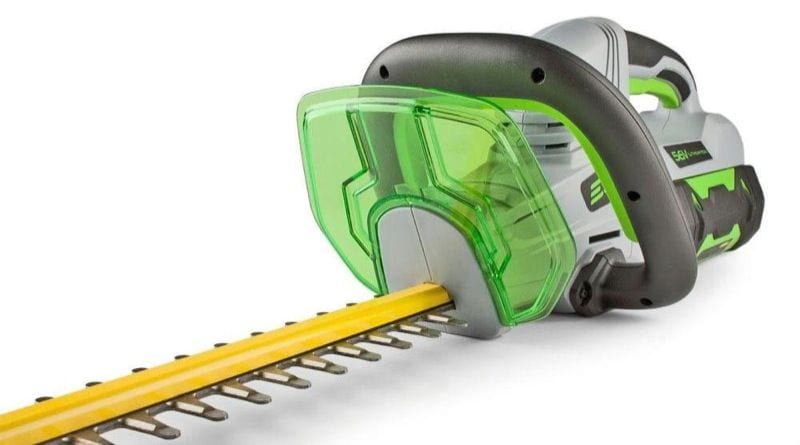 With a little oil on the blade, this is going to be a tool that lasts a very long time. This tool matches the Pro user who has a limited amount of hedge trimming. It also works well if you can recharge or swap batteries as needed. If that seems like you, the EGO cordless hedge trimmer just might revolutionize how you work. At $199 it's priced right. Plus, since it comes with a battery and charger, it upgrades anyone with at least one other tool in their collection.
Features & Specs
Model HT2400/HT2401/HT2411
3/4-in. cut capacity
Battery: 2.0 Ah 56V Li-ion
Run time: Up to 60 minutes
Speed: 3000 strokes per minute (spm)
24-inch hardened steel blade
Electronic brake
Charge time: 40 minutes (2.0 Ah)
Warranty: 5-year limited
Price: $119