The last time I reviewed a level for these pages it was the unique Ox Tools Trade Wood 48-inch level made from bamboo. Today, we'll shrink the scale down to the Empire 10-inch magnetic torpedo level with a more traditional constitution. Masons more commonly use longer levels, but sometimes a tight space or close-quarters work calls for a short torpedo level. After all, if it's not level in a few inches, it probably won't be level over a few feet. The Empire torpedo even has Dual-Pitch, a special feature designed to help tradesmen ensure proper slope. It's also handy for getting things level and plumb. Let's get to it.
First Impressions
Empire Level has a knack for making tools that look sharp. The EM75.10 is no exception. Composite material is inlaid in an all-aluminum blue I-beam frame. It gives you the strength of a billet-style level that weighs just 3 ounces.
Dual-Pitch Level Vial
The Empire 10-inch magnetic torpedo level includes the three vials that you'd expect in a professional level. They cover level, plumb, and 45 degrees. But they have additional markings, as the Dual-Pitch name suggests, on the level vial. The Dual-Pitch markings on the level vial mark 1/8- and 1/4-inch pitch per foot slopes respectively. They are helpful for tradesmen, especially plumbers, who have to set flow rates, so water drains through a pipe properly. Masons like myself can use these pitch markings to make sure water runs off a patio.
The Empire EM75.10 level has a V-groove for leveling up pipes. It also doubles as a ruler groove to extend your straight edge while keeping the angle. This particular Empire magnetic level uses rare-earth magnets, and a top view window gives you good accessibility for setting level from above. The surface grip is a handy feature that's easy to miss. Around the backside of the level vial are two small, black rubber strips that keep the tool from sliding. They're like non-skid pads, and it's a nice touch.
Tom Petty Didn't Mean These Torpedoes
I use a torpedo level most often when the brickwork design calls for a soldier course, which is the term used for bricks standing on end with the narrow edge visible. This design is usually decorative, and most people wouldn't know it actually has a name! It would only take a moment to see how attempting to use a 4-foot level to build a soldier course would be awkward and counterproductive. You would soon have what we call "drunken soldiers"—bricks that aren't plumb with the foundation. They look more like falling dominoes suspended in motion. In any event, the Empire 10-inch magnetic torpedo level performed exceptionally well as I installed the soldier course. Its light weight and easy-to-read vials make this one of my new favorites. I've always had smaller torpedo levels around, but I must say, this is now the one I reach for.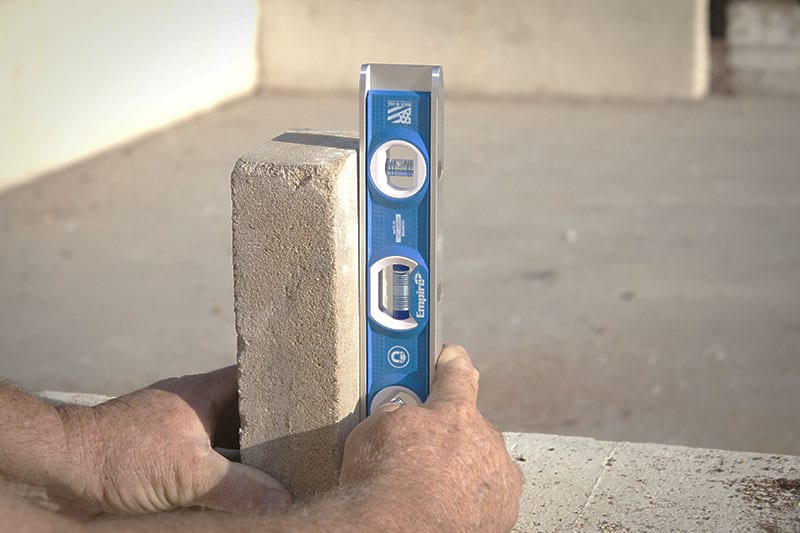 Using the Empire EM75.10 for a Rowlock
The Empire Level 10-inch magnetic torpedo is also quite useful for another brickwork design called a rowlock. This is used in window sills. Those short spaces or are conducive for a short level. The 45-degree vial kept me true to the angle when I was doing herringbone work. I often use a small framing square for herringbone, but I found that I liked using the Empire's foolproof bubble to guide me.
Our plumber friends will probably appreciate the dual pitch the most. As a mason, it's always curious to see a plumber use a torpedo on a 20-foot piece of pipe. Our purposes, however, aren't quite the same. That torpedo level ensures the plumber gives enough pitch to a pipe so that water flows adequately to prevent stagnant effluence and all the buildup that can result. But stoneworkers can take advantage of the pitch markings, too. We can make sure the bubble touches the same line when we're doing pitched work. When building a patio, for example, this can ensure water will run off and not puddle up.
Rare Earth Magnets and More
There aren't many magnetic surfaces in masonry, so I had to create a reason to use the rare-earth magnets. I found them to be plenty strong. There's no doubt electricians will be impressed with the magnets and use the level on service panels and metal conduit. Likewise, there aren't a lot of slippery surfaces in stonework. Consequently, the surface grip didn't play an everyday role for me. That certainly doesn't mean another tradesman won't find it a nice feature to have.
The ruler groove came in handy quite often. Just because the level is short doesn't mean you can't extend its utility by putting a straight edge in the groove and lengthening the line. The beauty of this little Empire EM75.10 torpedo level is that several guys on a jobsite could find utility in its different features. Overall, this is an excellent torpedo level with something for every tradesman.
Empire 10-inch Magnetic Torpedo Level Bottom Line
The Empire 10-inch magnetic torpedo level is a feature-rich little level with a lot of usefulness. It's got a tough all-aluminum I-beam frame with inlaid composite material that holds the level, plumb, and 45-degree vials. At about 3 ounces, it's lightweight. Plus, since both ends are tapered, you can easily insert it into pockets and tool belts. I particularly like the V-groove that will accommodate a straight edge to extend the line or angle. Electricians and plumbers will love the very strong rare-earth magnets, and many tradesmen will like the surface grip. It's a great size, sturdily built, and the vials are easy to read.
It really makes for a fine torpedo level that's can be useful to nearly all tradesmen. At $17.99, I can easily recommend it to you no matter your expertise. The EM75.10 is also made in the U.S.A. at Empire Level in Mukwonago, WI, and is backed by their limited lifetime warranty. It might be time to toss those cheap plastic torpedoes for a couple of Empire 10-inch magnetic levels.
Empire Level 10-Inch Magnetic Dual-Pitch Torpedo Level Features
Powerful rare earth magnets provide superior holding strength
Top read window
V-Groove working edge for accurate alignment on pipe or conduit
Ruler Groove compatible with most straight edges for extended measuring and marking
Surface grip surrounds level vial for increased stability
3 Vials: Plumb, 45°, and Dual-Pitch (reads pitch in 1/8- and 1/4-inch per foot of horizontal run of the working material)
Available Empire Level Torpedo Levels
10-inch True Blue Torpedo Level with Dual Pitch (Empire Level em75.10) REVIEWED
Pipe and Ruler Groove
Top Read Window
Tapered Ends
Top V-Groove
e-Band Vials
High Contrast Surrounds
Dual Pitch Vial
3 Rare Earth Magnets
Price: $17.99
10-inch True Blue Torpedo Level (Empire Level em70.10)

Pipe and Ruler Groove
Top Read Window
Tapered Ends
Top V-Groove
e-Band Vials
High Contrast Surrounds
2 Rare Earth Magnets
Price: $15.99
9-inch Magnetic Reinforced Torpedo Level (Empire Level em81.9)
e-Band Vials
High Contrast Surrounds
Top Read Window
Top V-Groove
Tapered Ends
Magnetic Strip
Price: $7.99
12-inch Magnetic Reinforced Tool Box Torpedo Level (Empire Level em81.12)

e-Band Vials
High Contrast Surrounds
Vari-Pitch Vial
Top Read Window
Top V-Groove
Toolbox Design
Continuous Magnetic Strip
Price: $12.49 $11.99 at Acme Tools
12-inch Metric Magnetic Reinforced Tool Box Torpedo Level (Empire Level em81.12m)
e-Band Vials
High Contrast Surrounds
Vari-Pitch Vial
Top Read Window
Top V-Groove
Toolbox Design
Continuous Magnetic Strip
Metric Measurements
Price: $11.99