The mark of good carpentry and masonry are level and plumb lines. Derek Nichelson recently gave you a short history of the bubble, or spirit, level and said, "When you've got a good thing going, why stop it?" I agree; although some excellent digital newcomers have arrived, I plan to find level the same way craftsmen have done for hundreds of years. Now that doesn't mean I wouldn't welcome some innovation along the way, and that's just what Ox did with its new Ox Tools 48-Inch Trade Wood Mason Level – a laminated bamboo box level. You might think it's a strange material choice, but Ox makes a pretty good case. Here's a closer look at it.
First Impressions
Bamboo is increasingly popular because it can be grown quickly, harvested easily, and processed into hundreds of products. If using it for tools seems curious to you, consider this: bamboo has a tensile strength approaching steel's but a markedly lighter weight, making an impressive strength-to-weight ratio. Ox also claims that bamboo is less affected by temperature-induced expansion and contraction than steel, resulting in greater accuracy.
48 inches is the only length Ox offers right now, and it's a good, middle-of-the-road choice. It features two plumb and one level solid block acrylic vials. This makes them tough to break but they are easy to read. The Ox Tools 48-Inch Trade Wood Mason Level's bamboo is laminated and then its long edges are protected by extruded aluminum bindings. It's short edges are protected with standard, rubberized end caps.
Two handholds and a hanging hole round out the features of this level, which is as much a work of art as it is a tool of the trade. As nice as it looks, I need it for its utilitarian purpose, so we got to work snapping lines and making plumb marks on various jobs.
All Plumbs
This level is quite light and I like that. As I'm usually lifting up heavy stone and brick, having a featherweight level helps out. In fact, a more typical level is probably three times heavier than the Ox. Normally, I'd be suspicious that a level this light would be so insubstantial and cheaply made that it would quickly get out of true, but given what I know about bamboo, it's not a concern.
Accuracy
Accuracy on this level is calibrated to 0.00075 inches per inch. Compared to the 0.0005-inch accuracy of levels like Empire's e75 series, and Milwaukee's Redstick models, you're talking roughly 50% greater error – if tolerances that tight can be considered error at all. It depends on your application of course, and this model is well within my needs.
Of course, I checked it for accuracy periodically. Some methods are more sophisticated than others, but this helpful field test is pretty simple: put your level on a surface and note the bubble's location, say in the left vial. Now spin the level 180 degrees. The vials swap places – and if the bubble's location in the left vial is the same, you've got a true level.
Pro Tip:

Field test your level for accuracy: put your level on a surface and note the bubble's location, say in the left vial. Now spin the level 180 degrees. The vials swap places – and if the bubble's location in the left vial is the same, you've got a true level.
Visibility
The vials are easy to read, even in the bright Florida sunshine. The aluminum rails and rubber endcaps did a fine job protecting the bamboo body. I will be interested to see how the Ox Tools 48-Inch Trade Wood Mason Level holds up over time. My concern isn't about the tensile strength of the bamboo, because I'm a believer in that.
Abuse Report
The concern is that when masons lay brick and stone, they tend to "tap" – maybe a sanitized term – on their levels to move pieces into their final places. In essence, the level becomes a block to encourage the masonry into plumb and true. There's little doubt that carpenters would get years of enjoyable use out of the Ox; but can it withstand a mason's abuse over time? That remains to be seen. In any event, I'm still using it in pursuit of the answer.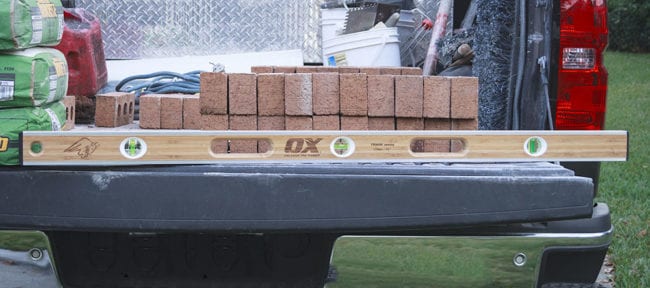 The Bottom Line
There are three main things Pros look for in a level: accuracy, durability, and visibility. Ox Tools' Bamboo Level does okay in the accuracy department at 0.00075 inches per inch. That's 50% greater error than you'd get from Empire or Milwaukee, but good enough for our masonry projects.
Being made from bamboo may trigger some questions, but the material is remarkably solid and resists swelling like other woods. Still, it'll take time to see if it can hold up to a mason's lifestyle. Carpenters and other tradesmen that typically offer an easier life to their levels will at the very least find the look very appealing.
Visibility is solid with the acrylic vials also coming in very durable. This is pretty much the standard material any Pro level should be using in this day and age. At least until something better comes along.
At less than $50, you get a decent value for what you get, though you can pick up an aluminum level with better accuracy at the same price point.
Ox Tools 48-Inch Trade Wood Mason Level Features
High tensile strength comparable to steel
High strength-to-weight ratio
Laminated bamboo
Easy-to-read vials
Ox Tools 48-Inch Trade Wood Mason Level Specifications
Model: Ox Tools OX-T500912

Price: $46.95

Length: 48-inches
Vials: 2 level and 1 plumb solid acrylic
Aluminum rails
Rubber end caps
Two handholds
Hang hole
Accuracy: 0.00075 inches/inch