For as long as builders have wanted their structures to stay upright they've wanted their materials to be level. Ancient Egyptians used an A-frame tool with a plumb line to find horizontal level. Then around 1661, Melchisedech Thevenot invented the spirit level – so named for the alcohol in the vial – that used a bubble to indicate levelness. The design has remained largely unchanged for hundreds of years in tools like the Empire e75.72.
When you've got a good thing going, why stop it?
The static design reveals that the bubble level is about as appropriate a tool for its intended use as anyone can imagine. Any changes have been at the tool's margins – although those are important margins. The beam must stay true, the vials must be tough, and even magnets have been added for metal applications. Empire is known for its industry-leading tough, accurate levels and I'm the lucky guy who gets to put the Empire e75.72 72-inch box level to the test.
I use this style and size of level daily and I had a lot of exterior doors on my plate along with a couple of cabinet installations.
First Impressions
This level feels very solid. It has an aluminum frame with milled edges that gives it a combination of weight reduction and strength. We usually want our power tools to be as light as possible, but we want a little weight to our levels. If it's light and flimsy you know that the frame accuracy is not long for this world and finding a level that will hold true is not easy with cheaper materials.
Levels can get dropped and normal wear and tear takes its toll. But this fully-boxed level from Empire has the appropriate weight stay true as long as it avoids abuse.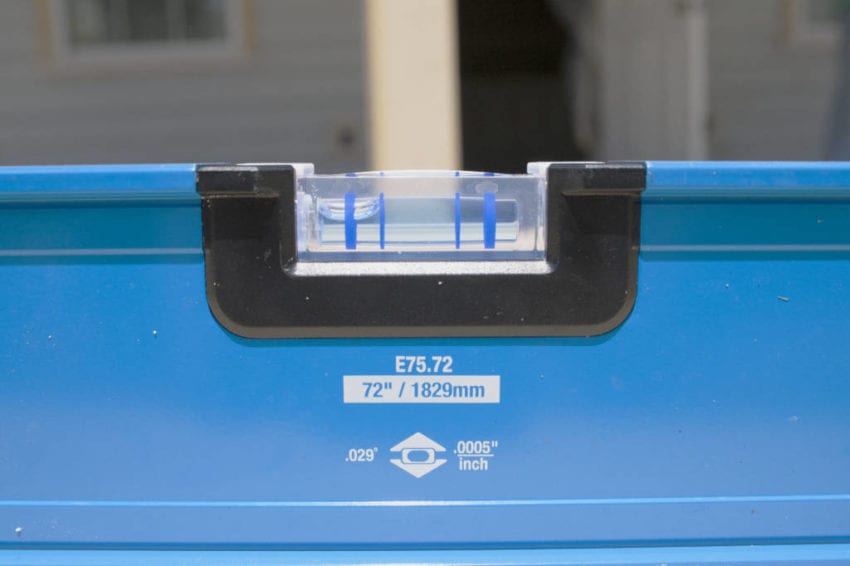 Empire claims this level is accurate to 0.0005-inch. I'm not really sure that I can test that. We'll settle for accuracy within an order of magnitude of the claim.
Empire pioneered consistent vial accuracy with its TrueBlue Vials built with ACM – Advanced Concentric Molding. The E75 Series features these high-contrast, acrylic e-Band block vials with a reinforced locking system and a 300-degree viewing window.
There are rubberized, removable end caps that I hope will protect the level as well as the tools around it. Other notable features include two large hand grip areas, a hanging hole, and what Empire calls surface grippers to prevent the level from sliding.
Pro Tip: Every so often you should check your level's accuracy. A simple check you can do at the beginning of each day or after a drop only takes a minute. Set your level on something that you know is close to level and note where the bubble is. Flip your level around – if the bubble is in the same spot, you're good to go!
On The Level
Accuracy
These tools are pretty straightforward. Using a level isn't difficult but the work that you do with it can be. Let me explain. If I'm setting an exterior door, I'm dealing with how accurate the framer did his job. I'm also dealing with how accurate the mason was before the framer. If I'm setting cabinets, it depends on how well the slab was poured. In the end you have to make each tradesman before you looks perfect even if he wasn't. Customers don't want excuses, they want results.
The Empire e75.72 made it easy to see what I had to work with. It quickly showed me if I had to adjust for any previous inaccuracies and it kept my work true, too.
Ergonomics
My initial impressions of the Empire E75 Series 72-Inch box level's weight were accurate. It's not flimsy but also not so substantial that you get tired of working with it. It's really just right. The hand holds are very nice as an intentional, secure place to get a grip.
Visibility
The TrueBlue vial's bubbles are very clear and don't fog. If you've never stopped to compare Empire's TrueBlue vials to standard yellow ones, you really should. It's a difference that's worth stepping up from the value-priced levels on the market to get.
Durability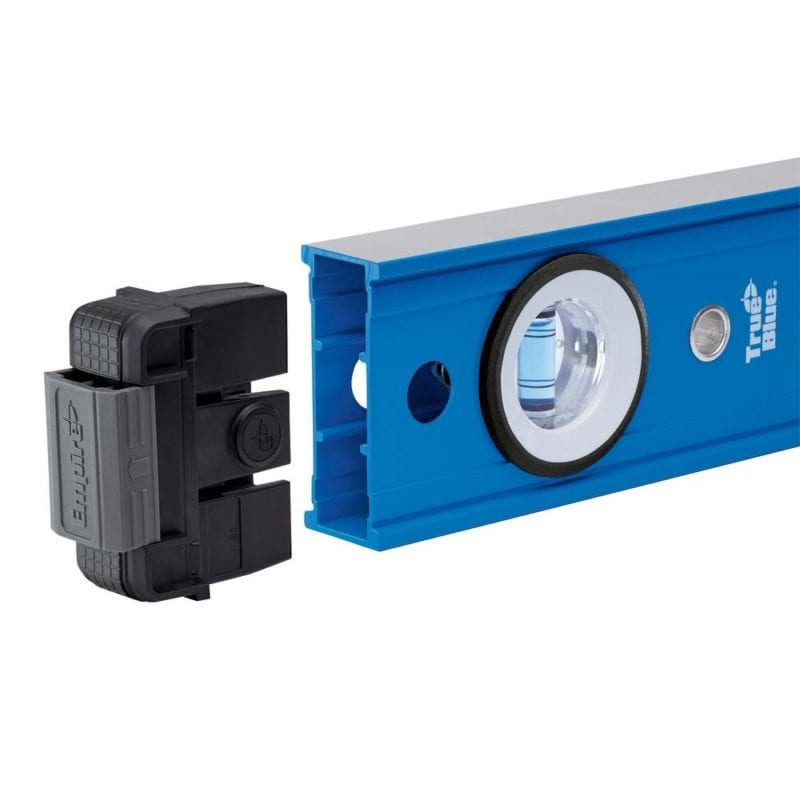 The rubber ends did their job well and the surface grippers kept the level from sliding away and crashing to the ground if I didn't have a hand on it. While I didn't intentionally abuse it to see what would happen, the aluminum construction and reinforced vial locking system help instill confidence that it will handle the jobsite well.
Pro Tip: It's not hard to use a level but it's easy to be careless. I've seen guys put a level on half of a door and half of a hinge. Simple mistakes like that and the results they leave can ruin your reputation.
The Bottom Line
I really like this level and really couldn't find a flaw with it so far. The materials used in building the Empire e75.72 are quality and the accuracy is outstanding on everything I worked on. The only thing I can really say is that there are always stronger, lighter materials like titanium – but I don't want to pay those kind of prices. I would certainly recommend the Empire E75 Series 72-Inch Box Level. At around $70, you'll be very happy you have it.
Empire e75.72 72-Inch Box Level Features
High impact acrylic e-Band block vials offer superior durability
Reinforced vial locking system secures acrylic block vials and delivers long life accuracy by resisting breaking, leaking or fogging
Tool-free removable, shock absorbing end caps provide superior protection and scribing performance
Precision milled edges for guaranteed accuracy
Surface grippers prevent the level from sliding on flat or angled surfaces
High contrast vial surrounds feature e-Band Vials that highlight the edge of the bubble and improve visibility
300° viewing window maximizes range of view
Hang hole for ease of storage
0.0005 in. accuracy in all working positions
Ergonomic, grip zones enhance comfort and portability
Limited lifetime warranty on frame and vials
Empire e75.72 72-Inch Box Level Specifications
Model: Empire e75.72
Level Style: Box Beam
Length: 72″
Vial Material: Acrylic
Frame Material: Aluminum
Accuracy: 0.0005″
Number of Vials: 3
Warranty: Lifetime
Price: $64.89