As the mowing season comes up on the horizon, it's time to offer our recommendations for the best electric lawn mowers in 2023. Whether your top priorities are for large lawns, small lawns, high value, or something in between, our experts have weighed in on these best battery-powered lawn mower models.
The good news—there are a lot of quality battery-powered lawn mowers to choose from this year!
Don't see what you're looking for? Ask in the comments below and we'll let you know what our choice would be!
Considering gas models, too? Check out those in our best lawn mower recommendations!
Our Top Picks
Best Electric Battery-Powered Lawn Mower Overall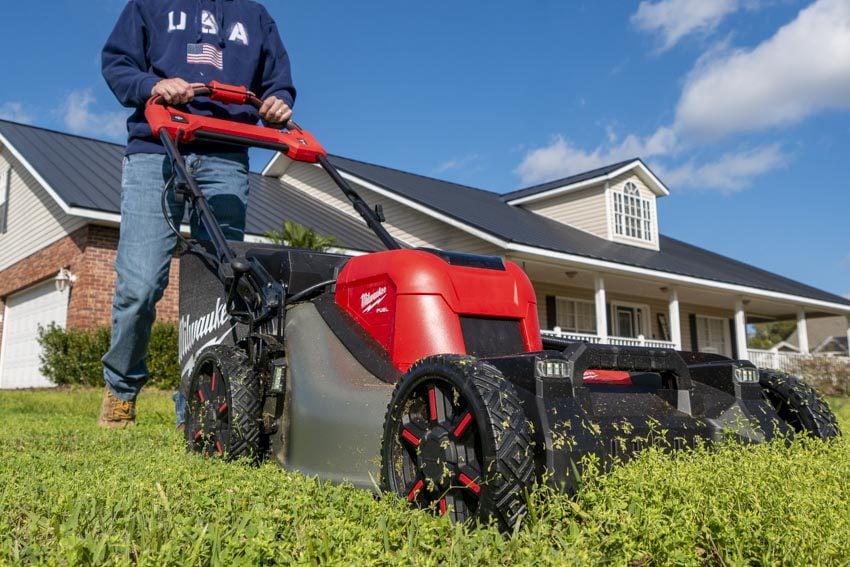 Boasting a monstrous 10 ft-lbs of torque (more than a 200cc gas engine!), Milwaukee's M18 Fuel self-propelled lawn mower is the strongest battery-powered walk-behind we've tested so far. Using a pair of 12.0Ah batteries, it can run up to an hour in light conditions and we ran it for more than 40 minutes when taking off 4 – 6 inches of growth. If there's a downside, it's that the drive thumb bar introduces some thumb fatigue, but we were able to adjust our grip to deal with it.
The mower also has a tough build designed to handle professional use while offering the convenience of single-point height adjustments and vertical storage. While there are larger options now available (such as Greenworks' 82V 30-inch), Milwaukee's price tag is much easier on your budget.
Price: $1099.00 with two 12.0Ah batteries and a dual-port rapid charger
The EGO Select Cut mower became an instant favorite of ours with its stacked-blade system and solid performance level to go with its excellent cut quality. EGO stepped it up with the release of the Select Cut XP, taking everything we already loved and stepping up the torque to 8.3 ft-lbs. Now, it's taking the next evolution by adding Speed IQ.
Speed IQ is a drive system that automatically adjusts with the pace you're walking. Unlike Toro's Personal Pace system, this doesn't use springs and a sensor in the handle arms. In fact, there's no physical movement we were able to detect at all. Yet EGO's sensor perfectly adjusted in our tests. Is it magic? No, but there's some crazy-good engineering in play.
Price: $599.00 bare, $999.00 with a 12.0Ah battery and a Turbo charger
Best Self-Propelled Electric Battery-Powered Lawn Mower
As self-propelled models, our recommendations from Milwaukee and EGO top the charts in this category, too. Here are two more outstanding options for you.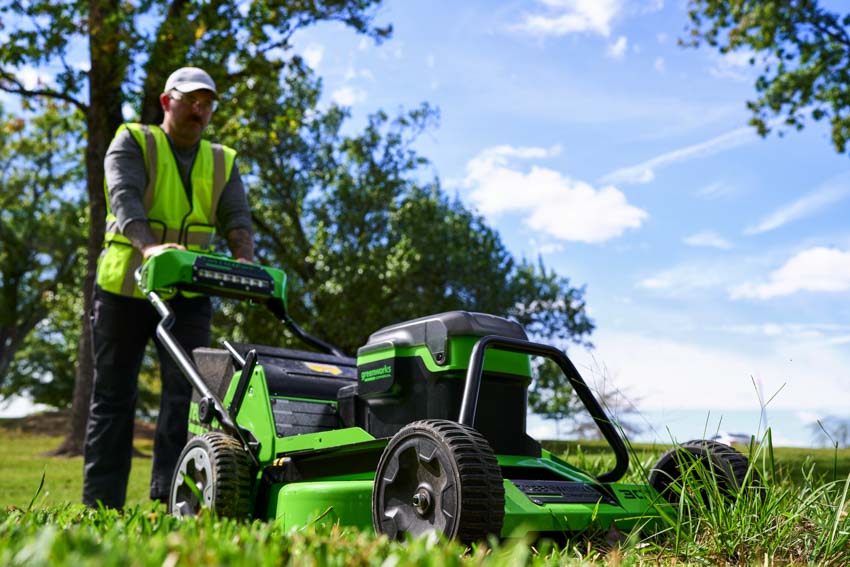 At Equip Expo 2022 (formerly GIE), we got our hands on the Greenworks Commercial 30-inch lawn mower. As the first in the 30-inch class for the commercial market, it's an eye-opener for Pros who have been skeptical of battery power.
As we saw from the 25-inch version, the mower uses two side-by-side blades to achieve its cutting width. Thanks to brushless technology, it cuts with 16,000 fpm blade tip speed, making for clean cuts and efficient bagging/mulching and exceeding the power of a 200cc gas engine.
It's smart, too, taking advantage of 4G coverage to provide GPS tracking. On the "why didn't they do that sooner?" list, it has a reverse function for its independent hub wheel motors.
Price: $1999.00 bare tool, $2999.00 with three 8.0Ah batteries and dual port charger.
Residential Picks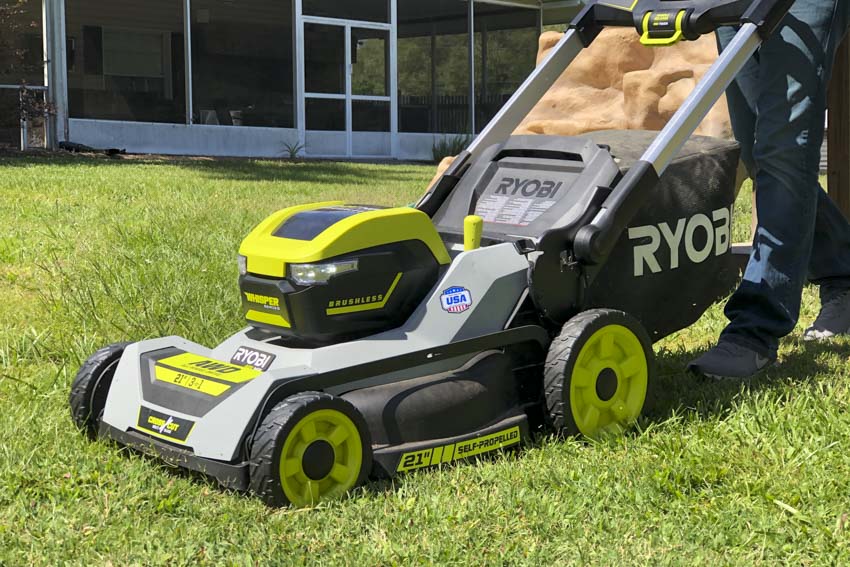 Ryobi crushed it with the development of the 40V HP Brushless CrossCut self-propelled lawn mower, making huge strides over its previous generation of mowers. Matching up very well against EGO's Select Cut XP, it's a stacked blade design that offers excellent power and cut quality. Where it has a clear advantage over its competitors is on the side discharge. This mower distributes clippings far better than other battery-powered lawn mowers we've tested.
With the upgrade to an all-wheel-drive system, the design team made it selectable so you can run AWD when you need it and just the rear wheels when you don't. Plus, Ryobi builds this mower in the US using global materials.
Price: $849.00 with two 6.0Ah batteries and a rapid charger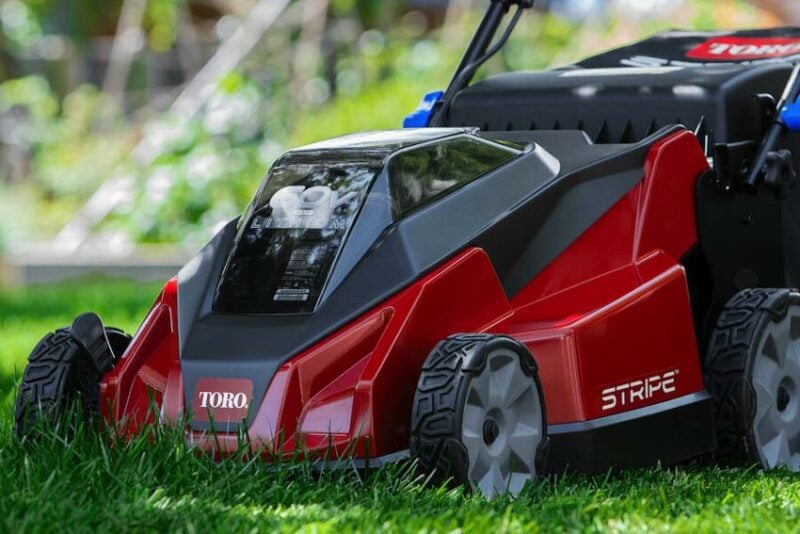 Toro is introducing what is probably the most compelling battery-powered lawn mower for 2023. Using its 60V battery platform for power (there are also gas models), it's making the jump to a stacked two-blade system similar to EGO's Select Cut and Ryobi's CrossCut models. What Toro is doing differently is adding a built-in striping feature, leaving your lawn not with just a clean cut, but also a professional finish.
Price: $629.00 bare, $729.00 with 7.5Ah battery and charger
Best Electric Ride-On Lawn Mower
At Equip Expo 2023, it was clear that Pros have more battery-powered ride-on lawn mowers than ever, and more are coming. Greenworks revealed its second generation as it moves from the LithiumZ mowers to the OptimusZ line and embraces a whole-system approach.
With several ride-on and stand-on ZT options up to 60 inches, there's a wide range for professional crews to build from with the runtime to back up a full day of mowing. Greenworks also unveiled a trailer to support a 100% battery-powered crew, including up to three ride-on/stand-on mowers. Taking it another step further, the team is also working on a version of the OptimusZ that can run with an operator or fully autonomous. We got to see a working prototype at Equip Expo.
Price: $22,999.00 – $26,999.00
Residential Picks
If you're looking for a residential battery-powered riding mower, there are several really good choices. Of those, two rise above the rest this year.
While some will argue EGO's 54-inch zero-turn is the better option because of its wider deck, the EGO E-Steer is turning heads this year. It has a zero turning radius but uses a steering wheel rather than lap bars for turning. If the traditional lap bar steering system has been keeping you from going to a zero-turn model, it's a big win.
Even if you're comfortable with lap bars, there's still a reason to consider the E-Steer system. EGO shifted the control panel from the side of the mower to the center of the wheel. Now they're conveniently in front of you where it's easier to keep an eye on your battery status and make quick adjustments.
Price: $5999.00 with four 12.0Ah batteries and onboard charger (scheduled for May 2023 launch)
Ryobi is also joining the alternative control group this year. These 80V zero-turn lawn mowers feature the iDrive system that uses joystick control. Whether you want to think of it as playing a video game or flying a grass-maintaining fighter jet, it doesn't take long to get used to.
For its first-generation iDrive models, you have three deck sizes to choose from: 30, 42, or 54 inches. They primarily use a suitcase-style 80V battery that can also be supplemented by 40V batteries to extend your runtime. With performance levels reaching up to that of a 42 HP gas engine, cutting power isn't a problem.
Price: $5999.00 – $7999.00 ready to mow
Best Cordless Push Lawn Mower
EGO's Select Cut mowers were the first to introduce a stacked two-blade system to battery-powered lawn mowers. By cutting high first and then following with a lower cut, you get a cleaner finish with finer clippings. EGO packs that performance and a host of convenient design features into an easy-rolling push mower for those of you who don't want or need a self-propelled model.
Price: $379.00 bare, $649.00 kit with 7.5Ah battery and rapid charger
Best Cordless Mower for Small Lawns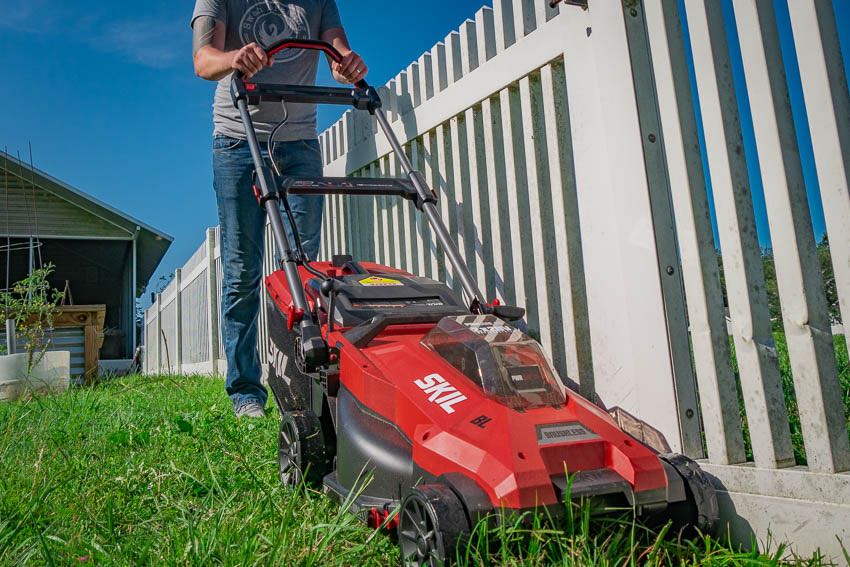 The joy of a small lawn is that it doesn't take long to cut and you can go with a smaller mower that takes up less space. A 17 or 18-inch deck is great for that kind of lawn. The good news is, you don't have to sacrifice all the features of larger mowers to get.
Our top pick is Skil's PWRCore 20 18-inch lawn mower. It has the benefits of a brushless motor, folds up for vertical storage, and its 20V batteries are compatible with Skil's entire line of PWRCore 20 lawn and power tools.
Price: $299.00 with two 4.0Ah batteries and a dual-port charger.
Best Electric Lawn Mower for Large Lawns
We knew it would take something special to displace Greenworks 60V 25-inch mower as our top choice for large lawns. It's taken a couple of years, but Ryobi has an 80V 30-inch self-propelled model that's taking over.
Like the iDrive ride-on mowers, the 30-inch walk-behind uses an 80V suitcase-style battery for power. The brushless motors turn two sets of stacked twin blades, making for a total of four. By going that route, Ryobi keeps the overall blade mass down while achieving the large cutting width, performance, and runtime it needs to make sure you get the job done well.
This one is slated for launch later in the Spring. Check Home Depot for availability.
Price: $1,999.00
Best Budget Cordless Lawn Mower
Here's the challenge: find a brushless self-propelled lawn mower with a battery and charger for under $400. When it comes to the brands we trust, there aren't many options.
Skil offers a lot of value with its 20-inch self-propelled lawn mower. Running on the stronger PWRCore 40 line, this brushless mower has excellent all-around performance and cut quality characteristics compared to others in the same price range. If you're trying to make the switch to battery power on a budget, Skil offers the best value self-propelled lawn mower available.
Price: $399 with 5.0Ah battery and charger
Best Electric Battery-Powered Lawn Mower: More Options From Brands We Trust
ECHO phased out its 58V battery lineup in favor of a completely new 56V eForce line (sorry, the old batteries are not compatible with the new tools) and that includes a new mower, the self-propelled DLM-2100SP. It's a solid design that presses all the right buttons and makes for a well-rounded machine. It doesn't challenge the power levels of the top performers, but it doesn't have their price tags, either.
Price: $449.00 bare, $549.00 with a 5.0Ah battery and charger
Greenworks has a couple of excellent CrossoverZ battery-powered ride-on lawn mowers to choose from. They use the same 60V batteries that power its other mowers and lawn care equipment (there are 80V versions, too). The design is a very easy transition if you're switching from a gas mower and you can choose between a zero-turn or lawn tractor design.
Price: $4499.99 – $5499.99
HART stepped up with its SUpercharge 40V brushless self-propelled mower, demonstrating that the brand can make a mower capable of cutting 3/4-acre lawns. The performance level is in the 160cc gas engine class thanks to two active battery ports and the two 6.0Ah batteries included in the kit. Compared to the mowers we've used from HART before, this is by far the most capable for those of you holding out for a mid-range gas replacement.
Price: $598.00 with two 6.0Ah batteries and a rapid charger
Husqvarna launched a 20-inch commercial-grade 3-in-1 battery-powered self-propelled lawn mower with an aluminum deck and front bar to protect the battery/motor housing. The W520i notably is compatible with a battery backpack. It doesn't fit as cleanly as Makita's ConnectX since you still need to run an adapter into the battery slots, but it does take the weight off of your back and keep you from being tethered. It also has a higher-than-normal cutting range that tops out at 4.5 inches.
Price: $1299.99 bare
Take a look at Husqvarna's Lawn Xpert mower—a Lowe's exclusive for 2023!
Best Kobalt Electric Battery-Powered Lawn Mower
Kobalt is quietly still making excellent electric lawn mowers and the 80V line is where its performance peaks. The most recent is a 21-inch rear-wheel-drive system with an upgrade to the handle system that makes folding it forward for vertical storage easier. In addition to its excellent cutting power, Kobalt also makes efficient use of its batteries, running up 60 minutes with a 6.0Ah battery. Plus, its high 4 1/8-inch top cutting height is great for tall grass species and reclaiming neglected areas.
Price: $699.00 with a 6.0Ah battery and charger, $749.00 with two 4.0Ah batteries and charger
One of the biggest challenges with any battery-powered electric lawn mower is runtime. Makita put that problem squarely in its crosshairs and developed the ConnectX system. Unlike other designs, the 1200Wh power supply attaches directly to the top of the mower, offering more than 3x the capacity of most cordless mowers and running up to 3 hours continuously.
Similar to the 18V X2 (36V) XML08, the mower tops out at 2800 RPM with a 2300 RPM Quiet Mode and has a true 21-inch steel deck.
Price: $949.00 bare, $1399.00 power supply ($2348.00 for both)
Stihl has been a little more cautious in entering the electric lawn mower market and upgraded the line with a couple of self-propelled models. Of the two available, the Stihl RMA 510 V is your top performer. It features a 21-inch steel deck (20-inch blade) with a tougher build than the 460 series and its 3.9-inch top cutting height is appropriate for taller grass species. The one downside is that this model runs through batteries quickly compared to other self-propelled mowers.
Price: $599.99 bare, $749.99 with AP 300 battery and charger
Did you know Sithl now has zero-turn lawn mowers???
Best Electric Lawn Mower: What We Look For
Power
Brushless motors make testing power much more challenging because of their ability to sense and adjust to the load the blade is experiencing. To gauge it, we cut an overgrown section of grass to a manageable height and follow it up by seeing how short we can cut an even standard height section of grass.
The more effectively a battery-powered lawn mower can reclaim overgrowth and the shorter it can effectively cut a baseline height, the more working power it has.
Runtime
How much runtime an electric lawn mower has is only part of the equation. The best information is how much area you can cut on a charge. We start with a section of grass cut to a standard height and then see how long we can mow on one battery charge as we cut it down to 3 inches.
Once we know that, we calculate the maximum area you should be able to mow without having to stop and recharge.
Cut Quality
We test three basic areas of cut quality: evenness, bagging efficiency, and mulching efficiency.
Evenness is simple enough—we gauge how even the cut is by looking for blades that stick out and areas that may have been cut shorter than intended.
Bagging efficiency is a matter of seeing how much grass is left behind compared to the amount that is collected in the bag.
Mulching efficiency takes in consideration the size of the clippings the mower drops and whether it creates any clumping or trailing.
Build
We consider the quality of the build based on the materials and how well the mower is put together. We're looking for solid components that will last well beyond the warranty period, a rigid construction, and protection for the electrical components and batteries.
Hills, Slopes, and Uneven Terrain
Sure, it's Florida and we don't have many legit hills. But we do have sloped lakesides and ditches to go along with plenty of uneven ground. We drive or push our mowers to see how well they hold wheel traction mowing uphill, downhill, side-to-side, and bumping along.
Features
In addition to any standout features, here's a list of the standard items we look for:
Brushless motor
Drive type and function
Deck size
Deck material
Height adjustment
Height range and number of levels
Handle positions
Discharge options
Battery ports
Value
For our team of experts, value is much more than just price. It's about what you get for what you pay. An expensive model may very well be the best battery mower value if it's performing far enough ahead of the budget brands to justify it.
Best Electric Lawn Mower Buying Guide
As you're deciding on the best battery lawn mower for you in 2022, there's a lot to consider. These electric mowers are a long way away from when we started with battery power.
What's Your Budget?
While you can get a battery lawn mower for less than $300, plan on spending at least $500 for a quality model and more than $700 for the best electric lawn mowers.
That can cause a bit of a conflict. When you look at what you can get for the same price on a gas mower, you get more power and features from that gas engine. It won't have the noise, emission, and maintenance benefits, though.
Are Battery Riding Mowers Viable?
There are a few riding mowers available for both professional and homeowner use. Professional crews have options such as Greenworks' Lithium Z zero turn (they also have a battery-powered UTV).
Homeowners have more choices with well-known brands Ryobi, Cub Cadet, and EGO (along with several others) providing a handful of zero turns and more traditional lawn tractors.
The models we've tested work well and do the job they're designed for. However, there are two key trade-offs you need to keep in mind. One, there's a big premium on the cost compared to a gas model. Two, at the moment, you need to plan for long charge times.
A third consideration is simply that this class of electric lawn mower is still relatively new. It's possible to keep a gas model running for 10 years or more and repower it if necessary. With a full electric power plant, we simply don't know what kind of service life to expect with proper maintenance.
As battery technology continues to move forward, keep your eyes open for the first graphene or silicon lithium batteries. They're able to take a charge much faster than standard lithium-ion or lead-acid batteries and have the potential to get you back in the saddle quicker.
Residential or Commercial Quality?
On the surface, there's not a huge difference between commercial-quality and residential-quality walk-behind battery lawn mowers.
At the high end, power doesn't seem to vary much (though Milwaukee just changed that expectation). In fact, one of the most powerful we've tested—EGO's Select Cut XP—is technically a residential model.
What commercial battery mowers have going for them is a design and feature set that's much more tuned in to what professionals ask for. Some of that is merely the difference between what homeowners and professional crews prefer on a mower. But there are differences in the quality of the components that brands choose for their separate lines. Commercial mowers have to be ready for far more service hours each week.
Brands such as Greenworks Commercial, Husqvarna, and Stihl rely on their dealer networks rather than big box stores. You get additional support during and after the sale that you won't find at other retailers.
Electric riding mowers are a completely different ballgame. With those, you'll find a much greater difference in design and performance, along with a massive gap in cost.
Self-Propelled vs Push
Considering a self-propelled drive doesn't have a huge effect on your runtime, it's a feature you should get if it's in your budget. Look for variable speed controls and try working it in the store before you bring it home. You can usually tell in just a few minutes if it's comfortable and natural for your hands.
Look for a mower that disengages its drive easily when you want to pull the mower back. Some systems have a hard time letting go and force you to drag the drive wheels rather than allowing them to roll.
Let's not completely rule out the classic push mower style, though. When you're on a budget, you can easily save $100 or more without losing cutting performance if you're willing to carry more of the workload.
If that's the direction you're heading, look for a poly deck to help reduce weight and wheels with bearings and low rolling resistance to make your job a little easier.
Self-Propel Drive Adjustment
Our testing team generally prefers a variable speed dial separate from the presence bar. Taking a different approach, Toro's Personal Pace and Ryobi's Smart Trek systems offer a self-adjusting speed that some folks like.
As you're trying different adjustment styles, look for one that's on the stiffer side or has positive stops. This will reduce the chances of accidentally knocking it to a different speed if your hand hits it or the terrain is bumpy.
Keep an eye on the location of the dial as well. Front and center is convenient to make adjustments on the fly. However, some people hit that position with their hand or hip as they turn. If that's you, you might prefer your adjustment on the side so you don't accidentally change your speed with each turn.
Steel vs Poly Deck
In the gas-powered world, there are really no poly decks—most are either steel or aluminum. The cordless lawn mower world is much different with poly decks in every direction.
Steel is more durable, but it's very unlikely you're going to wear through a poly deck over the life of your battery-powered lawn mower. Poly also has an advantage in design. It's much easier to make subtle changes in the shape that optimizes airflow for better lift, mulching, and bagging than a steel deck.
As we said, steel is more durable. If you have a lot of small rocks you kick up when you're mowing or perhaps your teenager doesn't pay quite as much attention as you'd like, then a steel deck can extend your mower's life. Plus, it just looks good.
Bag, Mulch, or Side Discharge?
You probably already know whether you prefer to mulch or bag. Here in central Florida, we usually mulch to return nutrients to the lawn and avoid stopping every 10 minutes (literally) to dump the bag.
Sometimes, however, you go on vacation or the weather prevents you from hitting your normal mowing day. That's when side (or rear) discharge becomes helpful.
Instead of keeping the grass up in the deck for finer mulching, it kicks it out. You could bag it, of course, but you'd spend a lot of time emptying. For the sake of getting your cut back under control, side discharging can help keep you moving along when your grass gets long.
Look for a mower that gives you all three options and keep that side discharge chute somewhere handy just in case you need it.
Deck and Blade Size
Most of the best electric lawn mowers have 20 or 21-inch deck sizes with slightly smaller blades (Several brands list the actual blade diameter rather than the deck diameter).
There are smaller models appropriate for smaller lawns or areas with a lot of landscaping to work around.
There are also larger models. Greenworks Commercial and Greenworks 60V both have 25-inch models available. Battery-powered riding mowers run up to 52 inches or more on the residential side and 74 inches for commercial.
The larger deck sizes are most helpful on lawns over 1/4-acre where they offer more significant time savings. For lawns 1/4-acre or less, the standard 20 or 21-inch deck is usually fine.
Single Point vs Multi-Point Deck Height Adjustment
There's no doubt that single-point height adjustments are more convenient than adjusting each wheel. The relatively lighter weight of cordless lawn mowers also makes it a more viable solution.
Don't completely discount two or four-point adjustments, though. A four-point system typically has a more rigid construction over single point. Plus, you can kick your front wheels one notch higher than the rear to improve your bagging efficiency.
This one is really about what your preference is. We find most people set their height once and leave it, so a four-point system may not be all that bad from a convenience standpoint.
Multiple Battery Ports
If you have a lawn that's more than 1/3 of an acre, there's a good chance you can benefit from multiple battery ports. There are three possibilities: a second storage port, a second active port with a manual switch, and a second active port with automatic switching.
Automatic switching is the most convenient and usually comes on higher-priced mowers. Manual switching and simple storage take some extra effort, but not as much as going back to the garage or trailer for another battery.
Height Range
The majority of electric lawn mowers have all the height range you need to cover a wide variety of grass species. If you prefer to cut at heights over 3-1/2 inches or under 2 inches, just double check that the mower you're looking at covers it.
Why Buy an Electric Lawn Mower?
The best electric lawn mower for you should get your lawn cut on one charge. No matter which model that is, they all share some common characteristics. There are no gas emissions and no gas engine to maintain. You still need to clean it off when you're done, but the maintenance is much easier and takes less time.
They're also quieter. The early bird gets the worm and if you want to start mowing at 7:00 on Saturday morning, your neighbors can probably sleep through it. More of a night owl? Many battery-powered mowers have headlights, and you're unlikely to disturb your neighbor's Lord of the Rings marathon at 10:00 PM.
Those are some of the more obvious reasons, but one of our favorites is the ability to put the battery in and mow. There's no cranking, no choke, and no fuel cut-off valve. As long as you have enough batteries to get the entire lawn cut, it's an easier system to work with than gas.
Why You Can Trust Pro Tool Reviews
Ever check out a "review" site and you can't tell if they actually tested the tools or if they're just "recommending" the Amazon top sellers?
That's not us. We only recommend what we'd actually use, even if we don't earn a commission from it. It's all about giving you a legitimate recommendation and our honest opinion of each product.
We've been in business since 2008 covering tools, writing reviews, and reporting on industry news in the construction, automotive, and lawn care industries. Our Pro reviewers work in the trades and have the skills and experience to know whether tools can perform well in the field.
Each year, we bring in and review more than 250 individual products. Our team will put our hands on hundreds of additional tools at media events and trade shows throughout the year.
We consult with innovators in the technology and design of tools to gain a broader grasp of where these products fit and how they work.
We work with more than two dozen professional contractors around the United States who review products for us on real job sites and consult with us on testing methods, categories, and weighting.
We'll provide more than 500 pieces of new content this year absolutely free for our readers—including objective evaluations of individual tools and products.
The end result is information you can trust because of the editorial, scientific, and real-world professional experience we collectively utilize each and every time we pick up and test a tool.