Skil 40V Mower Has What It Takes for Lawn Maintenance
Skil's 40V line of OPE tools thus far has been on-point. Granted, the line is clearly geared toward the homeowner rather than the OPE Pro, but we felt that both the blower and hedge trimmer offered a relatively high amount of bangs for a very reasonable amount of bucks. Now, we've got our hands on the crown jewel of the Skil 40V OPE lineup, the PWRCore 40 Self-Propelled Mower. Frankly, our expectations are pretty high at this point.
Pros
Sturdy build despite the light weight
Solid runtime under heavy load
Hard to bog down
PWRJump Charger can recharge 5.0Ah battery to 30% in 30 minutes
Quiet operation
Easy adjustment and fold-over handle for storage
Cons
No side discharge
We did notice some grass trailing
Would have preferred it come with a mulching blade
Price is comparable to higher-end homeowner models
Recommendation
Though the Skil 40V Self-Propelled Mower retails for a bit more than we'd expect, especially considering the budget pricing on the rest of the 40V lineup, our positive experience with this mower makes it easy to recommend to homeowners looking for a no-muss, no-fuss approach to lawn maintenance.
Skil 40V Mower Testing
Cutting Performance
Like every other battery-powered mower on the market, the start-up is hassle-free. With the kitted 5.0Ah battery in its proper place, getting up and running is as simple as pushing a button, pulling back on the bale handle, and engaging the unorthodox-looking self-propel function.
Speaking of unorthodox handle designs, it turns out we liked this one. We found it easy to manage during turns (due in no small part to its 65-lb weight), and easy to keep engaged while we adjusted our walking speed with the dial. And, at its top speed, our resident tall guy found that it kept up with his normal walking pace just fine.
In the spirit of full disclosure, we'd like to say that we keep our lawn at a consistent height suitable for ideal maintenance cut testing. But, we live in Florida, and things get out of control fast. Not to mention the fact that our lawn is a rich cornucopia of St. Augustine, Bahia, Bermuda, and who-knows-what-else.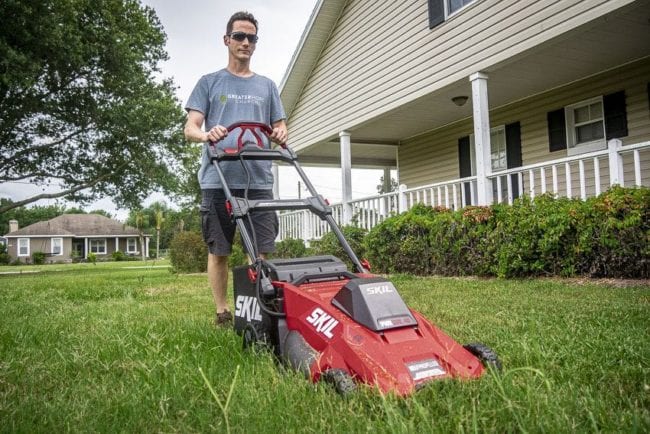 Because of our turf conditions, it seems rare when we can take it easy on a mower. And, we didn't really take it easy on the Skil. Even so, it handled our overgrown mess really well. At a 3-inch cut height, we found it difficult to bog down the motor. We could hear the engine ramp up power (though we'd note that the ramping up seemed much less intense than other battery-powered models we've tested), but it quietly tackled whatever we threw at it.
What's more, under this heavy load, the Skil 40V Mower ran for 31 minutes and 8 seconds. Skil claims that this mower and battery combination can typically get anywhere between 40 and 68 minutes on a charge under normal conditions. We imagine that for a true maintenance cut in Florida, that claim doesn't seem too over-ambitious.
Cut Quality
The Skil self-propelled mower cut really well, despite the challenge of having to hack through about 4 or 5 days worth of overgrowth. The cut keeps pretty consistent, which really is a testament to the brushless motor's ability to keep the blade speed up. When the grass gets taller, the blade doesn't slow down and begin "knocking over" the grass.
We did notice some trailing of longer grass clippings along the wheel path, both when we bagged clippings and when we mulched. This has a lot to do with the aforementioned overgrowth. Keeping up with regular maintenance mowing will eliminate a good deal of the mess left behind.
Some of the remnant clippings could also be attributed to the standard blade that comes with this mower. As folks who can't be bothered too often to bag our clippings, we prefer a mulching blade. That recirculates the clippings around the inside of the deck to get chopped into finer bits.
Of course, recycling grass clippings through the deck can also be accomplished by setting the mower to side-discharge and mowing back over them. However, this Skil 40V mower lacks that option.
Making Adjustments
At one point in time, single-point height adjustments felt a little flimsy. We're starting to see that change a lot, and Skil's 40V mower is another example of a sturdy single-point design.
You can adjust your cut height to any one of seven positions that range between 1-1/2 to 4 inches. Making that adjustment at the rear wheel is simple and can be done one-handed.
Likewise, adjusting your handle height requires very little effort. You can click the handle into place easily, higher or lower, with the pull tab/detent system. You can also adjust the handle length by pulling out the tabs under the telescoping handle and sliding it to the length you want.
Storage is a breeze. With the handle slid in all the way, you can fold it over the mower for upright storage.
Price
Skil sells the PWRCore 40 self-propelled mower as a kit that includes a 40V battery and Auto PWRJump 150W charger. It retails for $399, making it the most affordable brushless self-propelled model we recommend.
Skil does include a 5-year warranty on the mower, as well as a 2-year warranty on the battery and charger.
Recommendation
The Skil PWRCore 40 mower has the smooth lines of a racecar. That slick design comes coupled with sturdy build quality and enough power to get through a few extra days of overgrowth without adversely affecting runtime.
Though the Skil 40V self-propelled lawn mower retails for a bit more than we'd expect, especially considering the budget pricing on the rest of the 40V lineup, our positive experience with this mower makes it easy to recommend to homeowners that look for a no-muss, no-fuss approach to lawn maintenance. Its most serious competition comes from EGO which provides slightly better performance and run-time at only a modest price bump.
Skil PWRCore40 Mower Specs
Model: Skil SM4910-10
Motor: Brushless
Voltage: 40V (max)
Bag Capacity: 1/7 Bushel
Cut Height Settings: 7 ranging from 1.5 to 4 inches
Deck Size: 20 in.
Handle Telescope Adjustment: Yes
Mulching Plug: Yes
Dimensions (HxLxW): 15-3/8 x 36-5/8 x 20-7/8 in.
Warranty: 5-year tool warranty; 2-year battery and charger warranty
Kit Price: $479