Stud finders are relatively simple in concept – use an electronic scan to detect changes in wall density. That change in density is a stud most of the time and simple measurement between detections will verify it for you. But the form and function of electronic stud finders vary quite a bit. The Franklin Prosensor T6 is one of the newest full stud detectors and we're going to put it to the test.
Design
As a whole stud finder, the Franklin Prosensor T6 has a series of six lights across the front. When it detects a change in density, it lights up the full width of the stud or other material behind it.
One major difference from the Ryobi Whole Stud Detector is that this is a unit you can operate with one hand. Ryobi's model needs to keep the center area clear to avoid interference from your hand, but that's not the case with the Prosensor T6.
There's no need to calibrate the stud finder and you can start your read anywhere – even if it's over a stud. The engagement button is on the left which is perfect for right-hand users to operate with the thumb. Lefties will need to use their middle or index finger. It's not quite as natural, but it will get the job done.
Typical no-mar pads on the bottom of the T6 keep from messing up your wall or ceiling while you search.
Performance
Using the Franklin Prosensor T6 is certainly easy. Its compact, lightweight design makes sliding across a wall or ceiling fairly natural. The overall design is nice, but I wouldn't mind the center grip extending up another 1/2-inch of so just to improve the grip security.
In drywall, finding studs and joists is about as foolproof as we've seen. The indicator lights make detection a no-brainer and it's been very accurate so far.
Pro Tip: Studs and joists are placed every 16 or 24 inches depending on when and where your home was built. Use a tape measure to verify the distance between two studs to ensure you haven't found a false positive or something other than a stud before you drill.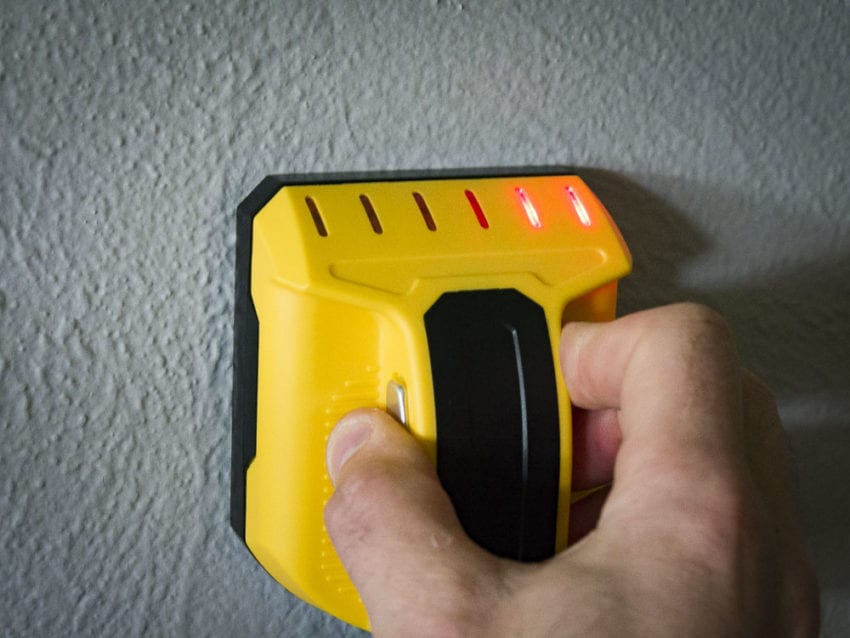 The question that comes up often in older homes is "will this stud finder work on plaster?" It's a valid question and the simple answer is no. Plaster walls have an inconsistent density that triggers false positives frequently. I used this to attempt to locate ceiling joists and studs in a 1950's home and resorted to my magnet after just a few minutes of trying. The thing is, this model will detect a stud in plaster, it's just not accurate enough to rely on.
The Bottom Line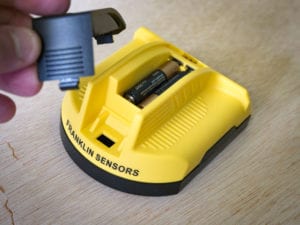 The Franklin Prosensor T6 is an accurate, compact whole stud finder that's easy to use. The simplicity of the control and one-hand use combine with accurate readings in drywall to make it an easy Pro recommendation.
Even the batteries are easy to access when it's time to change them up. You just pop the black cover up in the center of the unit and there they are.
Since stud finders aren't outside tools, you won't find much protection against weather and dust. That's not really a problem for this class of tool. What might take the durability up a couple of notches is the addition of some rubber overmold to protect it in the case of a drop – assuming you can pull that off without affecting the sensor.
$30 might be a little more than most DIYers want to pay when they look at the plethora of options out there. Having used the T6 on several projects, its design and accuracy make it an asset for Pro tool boxes.
Franklin Prosensor T6 Stud Finder Key Features
Quick and easy

Instantly finds studs – no calibration required

Displays stud center and edges simultaneously. Detects wood and metal

Accurate and deep sensing

6 precision sensors, always on deep scanning, multi-sense technology

3-inch wide horizontal LED display
10-inch Sensing area
Uses 2 AAA batteries
Easy operation
Franklin Prosensor T6 Stud Finder Specifications
Model: Franklin Prosensor T6
Number of sensors: 6
Display width: 3″
Max. detection depth (conditions): 1.5″ (ideal) 0.85″ (real-world)
Batteries: AAA
Displays stud center and edges simultaneously: Yes
Instantly finds studs: Yes
Start scan anywhere: Yes
Price: $25