I'm really starting to love cordless outdoor power equipment. You can tell the potential power of a cordless blower by the chutzpah of the output diameter of the tool. If you see a narrow, squished tube, for example, the likelihood is that the manufacturer has an underpowered motor and is gunning for run-time. If, however, you see a nice, wide, round tube, then you probably have some serious power. The GreenWorks Blower in their 40V G-Max line falls squarely in the middle of the category. Its opening tapers down to a smaller oval. It isn't as artificially narrow or thin like some models, but it also doesn't open up wide like a gas-powered blower. You could, technically, remove the concentrator tip that protrudes from the end of the blower, but it's more or less designed for that to stay in place.
GreenWorks Blower Features
If you're already on the GreenWorks 40V platform, adding this tool to your garage or shed is going to be an easy decision. It's a great tool for blowing leaves or grass, cleaning up a job site, or just about anything else you can imagine. GreenWorks sells the Blower as a tool-only option or as part of a kit with a 4.0 Ah battery and charger (it can be found with a 2Ah battery as well). Charge time is roughly 60 minutes for a 2Ah battery and 120 minutes for the 4Ah battery.
The GreenWorks Blower, like the bulk of the DigiPro 40V line of ope tools) runs off a brushless motor, and it also has a neat feature whereby you can select either of two speeds (really, a turbo button). After that, a thumb dial can vary the power of the blower from 1 (low power) through 5 (full power). I like that there's no trigger to squeeze, nor is it ergonomically uncomfortable or difficult to use the blower for extended periods of time.
This tool can also be utilized as a vacuum. To do this, you place the leaf bag attachment to the front of the blower, replacing the output tube. Next, you attach the pickup or intake tube to the bottom of the unit by unclipping the gray plastic latch and opening up the intake fan guard. The impeller is made of nylon, so it should be durable, but overall this tool is primarily made for air to pass through that area of the tool, not debris.
Specifications
Model: 24322
Motor: Brushless
Battery: 40V 4.0Ah Li-ion model 29472 (included)
Charger: 29482 2-hour charger
Speed: 185 mph
Capacity: 340 CFM
Weight: 9.9 lbs
Dimensions: 32.5" x 8.75" x 11.75"
Includes: G-MAX 40V Cordless Digipro Blower/Vacuum, blower tube, concentrator tip, vacuum tube, collection bag, 4Ah battery, battery charger, owner's manual
The GreenWorks Cordless Blower in the Field
It's not (or shouldn't be) difficult to use a tool like this, and the GreenWorks 40V blower is no exception. I took it outside to blow the leaves in the yard into a pile. The blower cuts a nice swath of material out about 2 feet in front of the blower tube opening. That meant that I was able to fairly efficiently "steer" the ground material into a pile without feeling like I was painting a large wall with a pencil brush.
I tend to use blowers at their maximum output power, and this one was no exception. You will, however, sacrifice considerable run-time. Even though it will drain more quickly, the GreenWorks 40V Cordless Blower will run for around 15 minutes on high when loaded with a 4.0 Ah battery pack and much much longer when you don't engage turbo or run it all full speed (perhaps when you're just blowing dry leaves).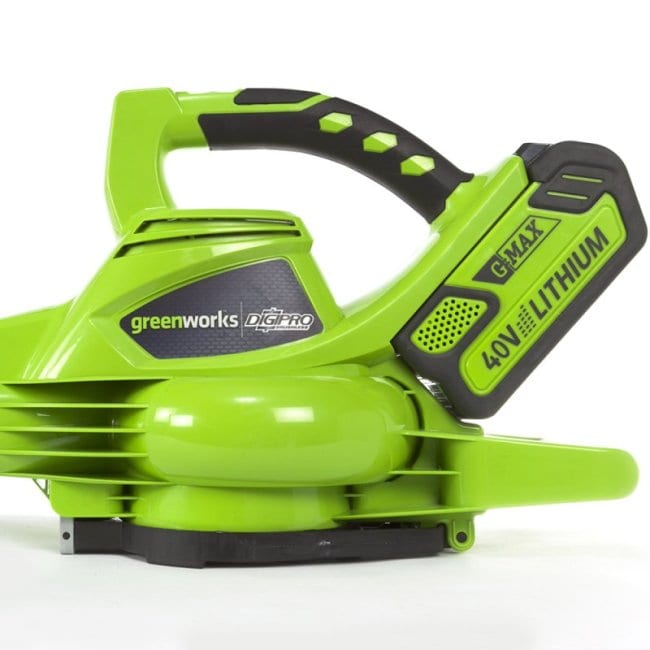 Control and balance of the tool are excellent, and it was easy to direct ground material where I wanted it. The blower is extremely powerful as well, pushing even wet grass clumps and piles of soggy debris off a driveway so I could let it dry out and get clean. Even though I had to get right up on some truly stubborn spots, I still was pleased with this amount of power in a cordless blower.
As a vacuum, the GreenWorks Blower can demonstrate some suction, but this is definitely not its strong suit. I attempted several uses with the vacuum mode and finally decided that, while that feature was supported, it was only truly effective on very small, very light—and very dry—material. It's almost not worth the additional accessories included with the kit.
Conclusion
Can the GreenWorks 40V Blower replace your 1400cc backpack blower? No, not really, but it gets you nearly 2/3 the way there. Add to that the fact that it can get a ton of work done for you around the house, doesn't need to be winterized, and never needs a spark plug change or really any maintenance, and you've got something special. That may be a boon for homeowners—especially pros who want some convenience at home when it comes to getting their own yard work completed. At a price of around $125 for a full kit, this is as close to a no-brainer as you're likely to come.