Last Updated on October 3, 2022
For years I've wondered about battery powered cordless lawnmowers. Having seen and measured the torque on cordless drills and drivers—as well as the Greenworks 40V chainsaw—the concept of a 40V cordless mower just makes a lot of sense and seems to be very practical…even logical. I mean, how hard can it be to rig a spinning blade to a brushed or brushless motor and wire in a safety activation mechanism? Apparently it's not as easy as I thought because only a handful of products have hot the market so far. One of those is the GreenWorks G-Max 40 V Twin Force Mower.
It's green-in more ways than one. While I'm still in the midst of a long-term review, I at least had time to give it a good run on a couple yards to gauge both its performance and ergonomics. Turns out, 40V lawn mowers might just be the wave of the immediate future for homeowners. I don't think commercial lawn professionals will jump all over cordless just yet, but for the home market-and particularly for small yards-cordless is where it's at.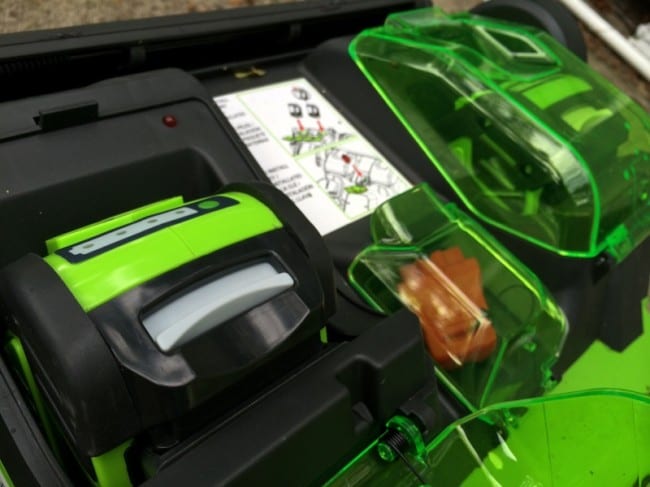 GreenWorks G-Max 40 V Twin Force Mower Features
The GreenWorks 20″ Twin Force lawnmower is, first and foremost, extremely adept at mowing and extremely lightweight. Even with two extended-run batteries it weighs half of what my former has mower weighed. It's also got features that put many current lowers to shame, like electric instant start (duh!) and a handle that folds down quickly and easily so you don't take up twice the room in your shed when you store the mower.
The way GreenWorks implements the dual 40V batteries in the G-Max is also a stroke of genius. Rather than drain them both evenly, the mower pulls from the right-side battery before switching to the left one. In this way, you can use the two batteries supplied, just put the larger 146Wh battery in the right-side (standing in front of the mower). When you're done you can then pull the battery that still has a full or partial charge on it and continue working while you charge the dead one. Simply brilliant.
I got a pleasant surprise when I stopped the GreenWorks G-Max 40 V Twin Force Mower for the first time. An electric brake provides an instant blade stop when you let go of the bail bar. It works very similar to a cordless drill, but in this case the safety implications are fairly obvious-and this feature is reassuring.
Starting the GreenWorks G-Max 40 V Twin Force mower is a simple process, but one with enough steps it will keep you from ever inadvertently firing it up. People go a little crazy on cordless safety, but I think that's just because it's "new". Once you load one or two batteries in the mower, you engage the electrical system by placing a key into the provided slot. The key is meant to stay with the mower, but I suppose you could remove it. It won't keep your mower from being stolen, but it might make you feel good knowing that the people who stole it can't give their lawn a nice clean cut. Anyway, once the key is in, you press the button on the handle and pull back on the bail bar. There's a slight delay of about a second on start up to keep you from accidental or inadvertent starts. Either that or the electronics just take that long to figure out what they're doing. In either case it's not inconvenient at all.
Height adjustment, which you should do before you key up the mower or even insert the batteries, is easily accomplished with a shifter located on the side of the mower's top shell. I was able to grasp the side of the mower and ease it up or down to any height desired. For my testing I used the center height position.
Testing and Use
My first impression upon testing the mower was that it cut quickly and sounded different than any mower I had ever used before. It's significantly quieter than a two-cycle combustion engine, but by no means is it "silent". As alluded to earlier, I really didn't miss the self-propulsion of my gas mower simply because the GreenWorks G-Max 40 V Twin Force mower is so light and maneuverable. I have some hills in my yard, and though they aren't terribly steep, they gave me an opportunity to use the GreenWorks on something other than just level ground.
I also mowed a lawn that was in desperate need of a trim, having been left uncut for over three weeks in the Florida Fall. It was also damp since I was cutting in the morning to avoid the heat. If you understand anything about the combination of long grass and damp grass then you can fully appreciate it when I say that the mower never once bogged down on me. The dual 10-inch blades seem to work really well together, and I think that's the reason the mulching process of the blade seemed to keep up—even though I was cutting grass that was entirely too tall.
After mowing for a solid 20-25 minutes the primary battery was down to one bar and the mower hadn't even touched the second battery. The company's claim of 70 minutes of run-time seems very sound and not based on no-load conditions. For $399, which includes a battery, this is an incredible piece of outdoor power equipment that is not to be missed.