The Grundens Herkules Bib Pants and Ragnar Jacket are designed to keep the wind and water from interfering with sport, commercial, and onshore fishing activities. As the company's story goes, around a century ago a Swede named Carl Grundén, the son of a fisherman, began to manufacture water-repellent garments to withstand the forces of nature. Grundens rain gear might be a bit of an unconventional review for these pages since it's unlike other products we review and we're not going out on the water, but that doesn't mean we can't find a use for what, at least at first blush, seem to be some very fine products. Considering how well-respected the brand is in commercial fishing, we expect it to be just as good on the jobsite. And if all else fails then, hey – we'll go fishing!
Editor's Note: Check out our best work boots review article for our favorite products for all applications.
First Impressions
The Grunden Herkules bib pant is made completely of PVC-coated cotton that leaves no doubt that it will keep the water and wind out. The Grundens Ragnar jacket is a combination of 25% softshell hybrid three-layer windproof material and 75% breathable softshell waterproof PVC.
The bib pant features reinforced hems, an elastic suspender holder, and a two-snap gusset waist adjustment. The jacket features fully welded seams, neoprene cuffs, two exterior pockets, one interior chest pocket, a hood, and some cords for tightening.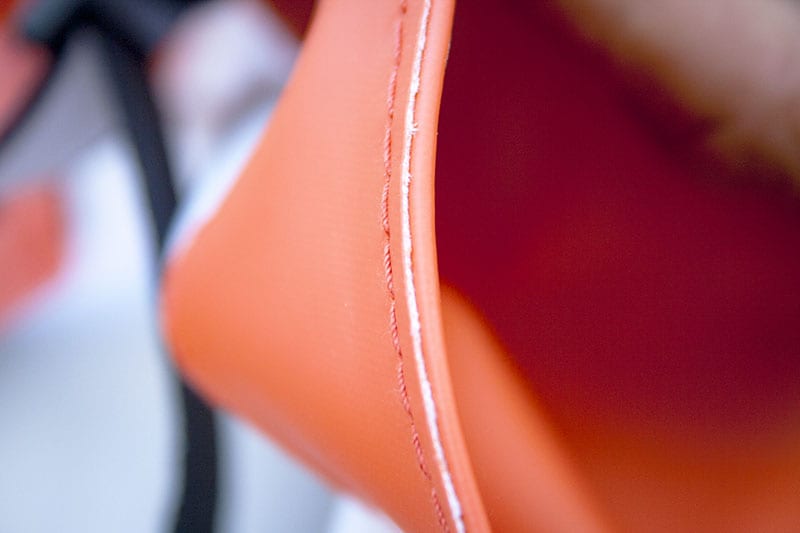 Two features immediately stand out on the Grundens rain gear set: I love that there's no taper in the leg so I can fit a shoe and even a boot through the ankle. The cut of the hood is really great. Many hoods have a straight cut that blocks your peripheral vision or flaps unnecessarily against your face, but this curved cut doesn't do either.
Putting both pieces on just tempts you to try and get wet!
Batten Down The Hatches!
So since we're not applying to be on Deadliest Catch, how can we use Grundens rain gear on the jobsite?
Our company, Quality Maintenance and Building Services (QMBS), provides a wide array of services to customers including pressure washing, landscaping, emergency roof repair, and even pond maintenance. All of these tasks could call for the water and wind protection of these pieces. I suited up for some work.
Grundens Herkules Bib Pants
As I worked in the Grundens rain gear, a couple things quickly became evident. The wide, untapered leg of the Herkules Bib Pants is helpful when kneeling down. Many such bibs I've had bound around mid-calf, making for an uncomfortable situation. With your hands full, you're left shaking your leg trying to get the pant back down before water completely soaks the inside of your boots.
The finishing inside the pants is slick and smooth enough to allow your regular clothes underneath to move comfortably without binding or bunching. That's a big plus for when you need to get work done during the rain. For those days when the rain is just moving through over a few hours, it also helps you get in and out of your rain gear quickly.
The bib pant adjustments are large and easy to use. I like the big buckles – they are a welcome change to the hook-and-button styles I've had on other bib pants.
Grundens Ragnar Jacket
The overall comfort of the Ragnar jacket is excellent since it's very flexible, non-binding, and lighter than my other jackets made for the same purpose. Other rain gear is also much hotter – AKA, you sweat like a pig since nothing inside your rain gear can breathe. At first glance, you'd assume the same of this Grundens rain gear given its popularity in cold climates, but it's actually more breathable than many of the other big names. This makes it comfortable even in the relatively mild Florida winter.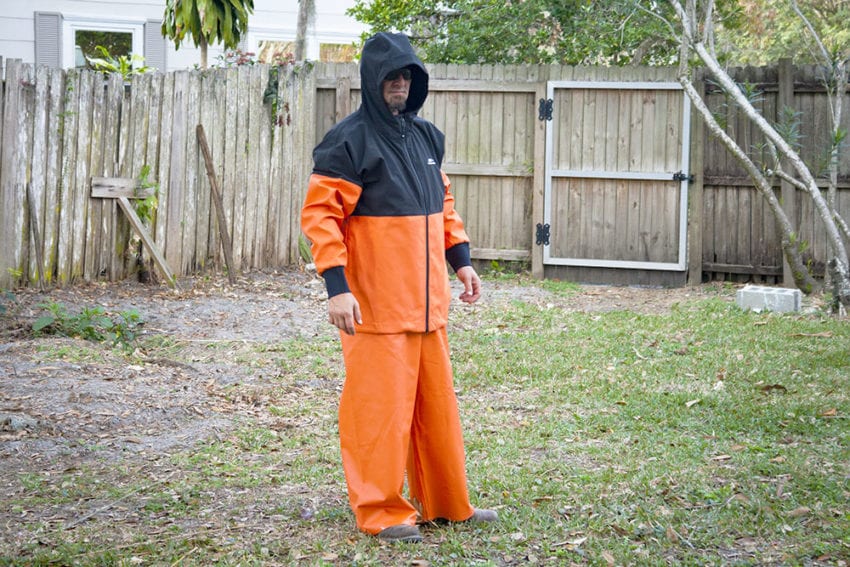 Shock cords will help you tighten the jacket against the pants to keep water from intruding during activities like pressure washing. The tapered, neoprene wrist cuffs are in the same boat. They fit snugly without being restrictive or uncomfortable and don't let any water down your arm. This is also particularly helpful when you're pressure washing or working overhead. The water inevitably and uncomfortably runs down your arm, into your armpits, and eventually soaks you all the way through. However, these cuffs prevent it.
The inside jacket pocket is large and in a good spot and I'd love to have a second. The other pockets work just fine, as well, but I would love to see a pouch style pocket with the top flap added in the future.
A Note About Sizing
Grundens makes both pieces in a wide size range and it's especially important to be sure you select the right size. This might seem intuitive, but the extra material from a size or two too big will quickly become cumbersome and fatiguing, not mention allowing additional room for water intrusion. Take extra care when measuring and deciding what size to order.
The Bottom Line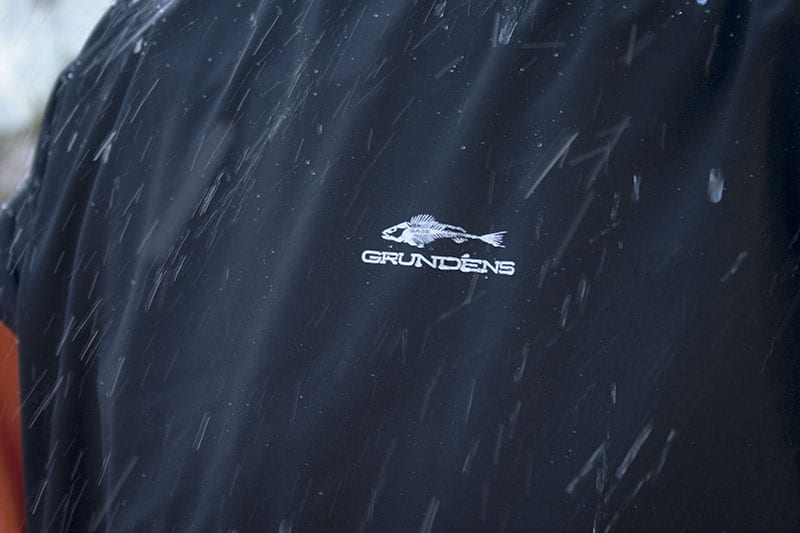 The Grundens Herkules Bib Pants and Ragnar Jacket are designed to protect the wearer from wind and water during sport, commercial, and onshore fishing activities. They can also be easily used on the jobsite for tasks like pressure washing, pond maintenance, landscaping, emergency roof repair, or anytime rain gear is required.
Both are made from PVC-coated cotton with the jacket also featuring breathable hybrid material that is all completely waterproof and windproof. They are remarkably light and flexible compared to other waterproof jackets and bib pants we've owned, allowing a lot of movements such as bending and reaching without binding or bunching.
Some standout features include the curved cut of the hood that doesn't block your peripheral vision and the neoprene wrists that seal your wrists and arms from water without being too tight or restrictive. The wide ankle and non-tapered bib pant legs allow you to slip the pants over a shoe or boot with ease.
We'd love to see a second interior pocket and some top-flap, pouch-style pockets in the front, but overall we loved these Grundens rain gear products. The jacket starts at around $166 and the bib pants run $150. At those prices, you expect premium quality and that's what we've experienced so far so we can easily recommend both items. You might even take up offshore fishing – just be sure you order the right sizes!
Grundens Rain Gear
Grundens Herkules Bib Pants Features
Reinforced hems
Reversible design
Elastic suspender holder
Two snap-gusset waist adjustments
Low temperature resistance
Grundens Herkules Bib Pants Specifications
Rugged 610g/m2 PVC-coated cotton material
Sizes: X – 5X, TM – T3X
Grundens Ragnar Jacket Features
Water resistant
Fully welded seams
Neoprene Cuffs
Two handwarmer Pockets
Interior Chest Pocket
Halo Hood system
Push button internal hood and hem cord lock
Shock cord hem adjustments
Grundens Ragnar Jacket Specifications
Softshell hybrid (25% Three-Layer windproof)
Breathable Softshell (75% waterproof PVC)
Sizes: XS – 5X