Last Updated on August 16, 2022
Hart 20V Brushless Drill and Impact Driver Combo Puts More Power and Runtime in Your Hands
We found that Hart's 4-tool combo kit gave homeowners an excellent all-around tool set for household repairs and projects. When your needs go beyond simple repairs and you want something that can work harder and longer, that's when you turn to brushless tools. The Hart 20V brushless drill and impact driver combo is a great way to get started and gives you two key tools you'll use frequently.
Hart 20V Brushless Drill Features
The Hart 20V brushless drill has a 1/2-inch chuck, 24-position clutch, and 2-speed gearbox. Low speed gives you up to 500 RPM and the most torque while high speed gets you up to 1800 RPM with less available torque.
Hart doesn't actually list the torque each mode has, which is somewhat unusual. With some brands reporting unit watts out and others boasting in-lbs of torque (sometimes both hard and soft torque values), it may be more important to simply talk about what you can expect to do with this drill.
How Does the Hart 20V Brushless Drill Perform?
We ran a handful of experiments to see how large of a bit you can reasonably expect to use. Drilling in wood, we found using the full range of twist bits all the way up to 1/2-inch works really well. The tool also easily handles 1-inch spade and auger bits as well as self-feed bits up to 1-1/2-inches.
Realistically, you can go a little higher than that depending on the hardness and thickness of the wood. But without an auxiliary handle to help you out, you can run into a higher risk of the drill binding up.
The Hart brushless drill did well on metal as well. I needed to drill 1/2-inch holes through both 1/4-inch steel and aluminum on my boat trailer. I used the Hart 20V brushless drill along with a cobalt drill bit to make it happen.
Following that up, I also had some step bit work in the same materials, creating holes nearly 3/4-inches wide. I didn't experience any issues with power in either of those applications. The tool drills quickly and easily and it never starved for power in metal.
The biggest difference we noticed across all of our drilling was the top-end speed. Most of our drills fall in the 2000 – 2100 RPM range. With the Hart brushless drill, we experienced some slow down on lighter drilling. Still, while the drop is noticeable, it's not obnoxiously slow by any means.
Dropping the tool to 500 RPM in Low for high-torque tasks puts it in line with even some of our Pro-level drills.
Hart HPDD25 Specifications
Model: Hart HPDD25
No-load speed (Low): 0 – 500 RPM
No-load speed (High): 0 – 1800 RPM
Max torque: Not listed
Weight (bare): 2.6 lbs.
Weight (w/ 2Ah battery): 3.4 lbs.
Length: 7.5 in.
Hart 20V Brushless Impact Driver
The Hart 20V brushless impact driver comes as a single-speed model with a standard 1/4-inch hex collet. It boasts a 3000 RPM top speed and impressive 2200 in-lbs of torque. We're comfortable using anything around 1600 in-lbs, and Hart's declared power level well exceeds several Pro brands.
Using the Hart 20V Brushless Impact Driver
Like the drill, the Hart 20V brushless impact driver gives up a little top-end speed compared to some of the other impacts we use. It's a screw-driving monster, though! If there's a standard head fastener (slotted, Phillips, Torx, square, etc) it won't drive, we haven't found it.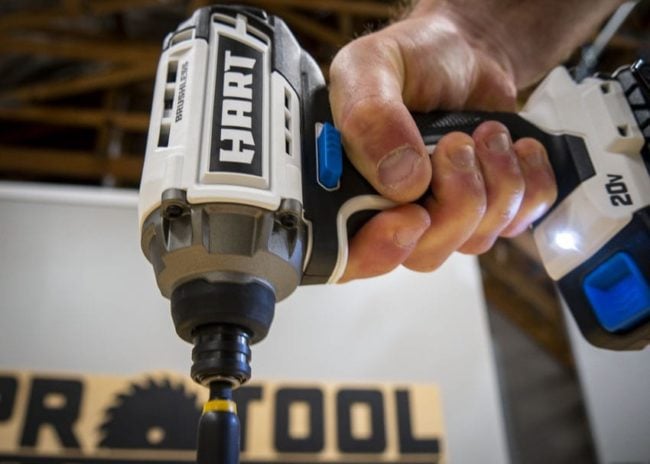 That led us to hex head fasteners and socket adapters. This is an area that Hart's power level excels, but you also want to manage that power. A 1/4-inch hex shank isn't difficult to break at with this kind of torque.
You can pretty much run full-speed when driving in wood. Adapters and bits break most frequently when fastening against metal. Smaller nuts and bolts are one thing, but save the lug nuts and larger fasteners for your impact wrench. Incidentally, Hart happens makes both a 3/8-inch and a 1/2-inch impact wrench.
Reviewer's Note: We'd recommend making the switch from a Hart impact driver to a Hart impact wrench at the same point as our professional models. When driving something larger than a 1/4-inch ledger screw, timber screw, or lag, one of Hart's impact wrenches is the better tool for the job.
Overall, we felt the Hart 20V brushless impact driver capable of driving anything we ask of our Pro-targeted tools.
Hart HPID25 Specifications
Model: Hart HPID25
No-load speed: 0 – 3000 RPM
Max torque: 2200 in-lbs
Weight (bare): 2.4 lbs.
Weight (w/ 2.0Ah battery): 3.3 lbs.
Length: 6.1 in.
Additional Field Notes on Both Tools
Size and Weight
We found neither of the tools in this kit unwieldy. However, both seem a bit heavier and longer than what you can find with some of the more expensive Prosumer models. The weight difference increases when you compare them to premium Pro models. Those looking for an entry-level tool shouldn't find that a surprise nor a disappointment. It's just one of the trade-offs we expect to make to get brushless performance at a better price.
In our opinion, we believe all levels of users should enjoy the feel and performance of both of these tools. This includes your kids as you teach them how to build projects and make their own repairs.
Belt Clips
We were initially a little concerned about Hart using wire form belt clips instead of the more stout styles we see on our professional tools. However, they're stronger than they look. Sure, you can bend them (you can bend the flat style steel type as well), but they proved more than effective for daily use. They also slip on and off thicker belts more easily—but never accidentally.
Battery Choices
You get a pair of 2.0Ah batteries in the Hart 20V brushless drill and impact driver kit. That delivers a bump up from the 1.5Ah batteries included with some of their brushed tools. These slim packs keep the weight and profile down. We actually prefer them—certainly for impact drivers. If you need more runtime, Hart Tools makes 4.0Ah packs you can buy separately.
Pricing
The Hart 20V brushless drill and impact driver combo runs $178 at Walmart. The kit includes the tools, a pair of 2.0Ah batteries, and a charger. There's a soft bag to store the tools in and there's a bit for each tool along with a belt clip.
Many brushless combos in the same vein are closer to $200 and up, so you're saving a little money by going with Hart.
For more information about this and other HART Tools, click here.
The Bottom Line: Where Does it Fit?
The performance and design we see from the Hart 20V brushless drill and impact driver combo kit put it squarely in a sector we call "Prosumer". It strikes a balance between design, performance, and price that meets a lot of requirements, including light to medium-duty professional-level work. At the same time, it's within reach of DIY budgets.
There are certainly trade-offs between this and premium designs. We also haven't performed long-term endurance testing. Still, if getting a lot of performance for your money is a high priority, we find the value here hard to ignore. In the end, serious DIYers and even budget-conscience tradesmen should consider this kit as a viable alternative to more expensive options.