Hilti Nuron TE 6-22 Hits The Market With A Familiar Design
Hilti's original 22V TE 6-A22 opened our eyes at World of Concrete as we drilled side-by-side with the 36V version with no loss of performance despite the lower voltage battery. Now the Hilti TE 6-22 SDS-Plus rotary hammer makes its debut as part of the Nuron line and we took a deeper dive to see the difference.
Hilti Nuron TE 6-22 Cordless Rotary Hammer Performance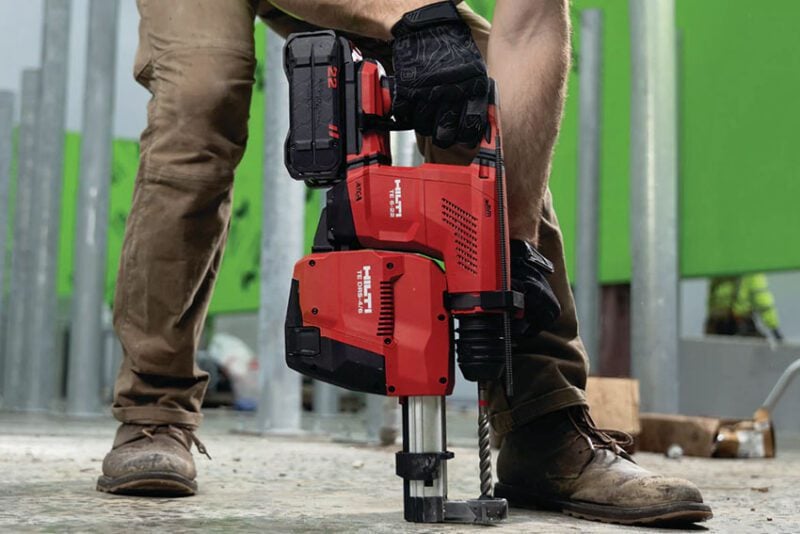 Hilti has several cordless SDS Plus rotary hammers on the Nuron platform and the Hilti TE 6-22 is right in the middle for performance and power while maintaining a compact form factor.
This model delivers up to 1050 RPM and 1.8 ft-lbs of impact energy. With that kind of power, you can drill up to holes up to 1 3/32 inches in concrete. That's right on the edge of its recommended capacity, and it's really dialed in for the 1/4-inch to 23/32-inch range.
It's also useful for light wood and metal drilling tasks but you'll need to purchase an additional quick-release chuck if you want that capability.
Compared to the TE 6-A22 from the pre-Nuron 22V line, the performance numbers are similar. However, both the optimal and full range of drilling capacities is higher.
Hilti Nuron TE 6-22 Cordless Rotary Hammer Design Notes
Ergonomics
As with many of Hilti's tools, the look and feel of this rotary hammer inspire confidence in its quality.
The rear handle features a textured rubber overmold which helps you maintain a secure grip while working.
The adjustable forward grip aids in keeping the rotary hammer stable while in use. Like other rotary hammers, you can rotate the handle 360°. However, the housing can limit the handle position when you're using the depth rod and want to rotate the handle around to your right hand.
Using these handles together made it easy to control this rotary hammer as we drilled a series of holes in our 4000 PSI concrete test block. Combined with an 8.0-pound overall weight (with a B 22-85 battery) and 13.5-inch length, it's a very comfortable rotary hammer to drill with, even in overhead applications.
Mode Selection
The Hilti TE 6-22 retains the 3-mode gearbox from its predecessor letting you quickly alternate between rotary drill mode, hammer drill mode, and chipping mode. Simply turn the dial located on the left side of the tool body to your desired setting and you're off to the races.
In addition to the three working modes, there's also a position to adjust your chisel angle between the Hammer Drilling and Chisel modes.
Depth Rod
While it's not new, Hilti absolutely nailed the design of their depth rod. To adjust the depth rod, just pull back on the red lever located on the side handle and set it to your desired depth. It's easy, quick, and you don't have to loosen the side handle to make the adjustment.
Technology Bonuses
Hilti equipped this rotary hammer with both their Active Torque Control (ATC) and Active Vibration Reduction (AVR) for added safety and comfort.
The ATC instantly stops rotation if it senses the bit starting to bind up protecting you from uncontrolled spinning. This is especially important when using larger bits to avoid injury to your hands or wrist.
The AVR provides increased shielding from excessive vibration. The rear handle has a built-in vibration dampening zone between the handle and the tool body. While it doesn't completely eliminate all vibration, there's definitely a noticeable difference felt in your hands.
As we're used to seeing from Hilti, both of these technologies are well-developed and among the best for their respective applications.
Battery Selection
As a compact rotary hammer, the Hilti Nuron TE 6-22 works best with the B 22-85 (4.0Ah) and B 22-170 (8.0Ah) batteries. Go with the smaller pack for overhead work when you want to have less overall weight and the larger pack when you want greater runtime.
Additional Features
Hilti Nuron TE 6-22 Cordless Rotary Hammer Price
The Hilti Nuron TE 6-22 cordless rotary hammer retails for $393 as a bare tool from Hilti. It comes with a depth rod, a 50ml tube of grease, and a 20-year warranty.
For folks on the commercial scene, Hilti also offers a fleet pricing program that sets the price at $12.75 per month. This program includes free tool servicing and repairs, loaner tools for decreased downtime, and theft coverage for a little extra peace of mind.
The Bottom Line
If you've been around the concrete industry, you already know Hilti makes excellent rotary hammers. The Hilti Nuron TE 6-22 SDS Plus rotary hammer successfully makes the transition to the newest platform without losing the performance we enjoyed in the previous version. Its size, weight, and performance make it an ideal option for overhead work and is effective as your go-to hammer for holes under 1 inch.
Hilti Nuron Cordless Rotary Hammer Specifications
Model: Hilti TE 6-22
Power Source: Hilti Nuron B 22 battery
Weight: 6.31 lbs (bare), 8.0 lbs (with B 22-85)
Chuck Type: SDS-Plus
Impact Energy: 1.8 ft-lbs (2.6 J)
Max Speed: 1050 RPM
Optimal Drilling Diameter Range: 1/4 in. – 23/32 in.
Full Hammer Drilling Range: 5/32in. – 1 3/32 in.
Warranty: 20-year, 2-year service agreement
Price: $393 (bare), $12.75/mo. (fleet pricing)