Hilti TE 60-22 SDS MAX Rotary Hammer Makes Impressive Transition To Nuron System
Moving tools from Hilti's 36V system to the Nuron 22V system doesn't seem like too big of a challenge considering there are 2 x 22V (44V) options. But moving the 36V SDS-MAX TE 60 to a single 22V battery? There have to be some trade-offs, right? Our team got our hands on the Hilti Nuron TE 60-22 SDS-MAX cordless rotary hammer to find out.
Hilti Nuron TE 60-22 SDS MAX Rotary Hammer Performance
The Hilti TE 60-22 is their strongest cordless model yet, matching the previous version. The brushless motor produces up to 340 RPM, 3,300 IPM, and 6.0 ft-lbs of impact energy. It's also capable of drilling holes in concrete up to 1 9/16 inches making it perfect for setting post-installed rebar connections.
Along with hammer drilling tasks, it's a great option for tackling medium-duty demolition work such as removing tile or breaking up smaller sections of concrete. There's also a 1/2-power mode button if you find yourself needing to back off a bit.
What's really neat about the TE 60-22 is that it maintains the same working specs as its 36V predecessor, the 36V TE 60-A36. One of the benefits of the Nuron technology is it gives you the drilling and chipping power you'd expect from a higher voltage system using a single 22V battery. Even against Hilti's corded TE 60 hammers, the Nuron model matches the speed and impact rate with slightly higher impact energy.
Hilti Nuron TE 60-22 SDS MAX Rotary Hammer Design Notes
Ergonomics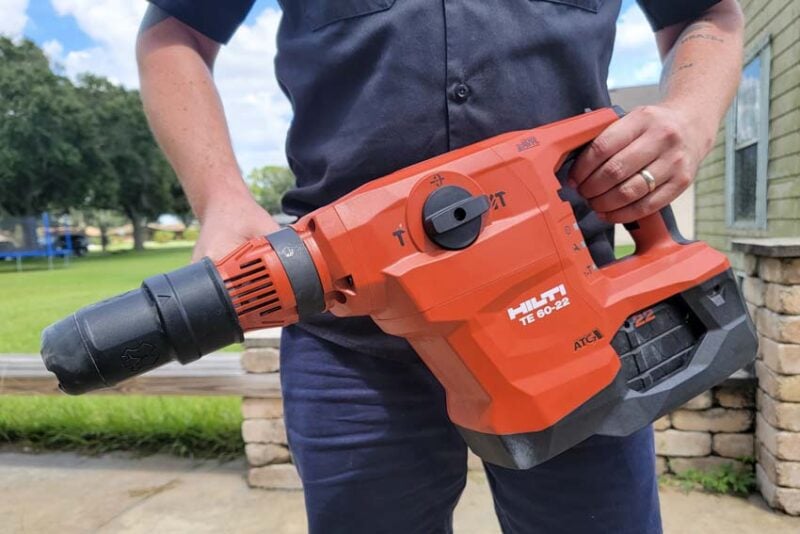 As with many of Hilti's tools, the look and feel of this rotary hammer inspire confidence in its quality, though it's understandably heavier than Hilti's lower-powered cordless rotary hammers. It's just over 18 pounds with the recommended Nuron B 22-255 battery. That said, it's a whopping 4 pounds lighter than the previous 36V version as a bare tool. With the B22-255 battery, it's only 0.8 pounds heavier than the full-featured corded TE 60-ATC-AVR.
Hilti beefed up the rear and side handles to help you maintain control. Additionally, there's a 4-finger trigger and lock-on switch that help reduce fatigue while you're drilling and chipping.
Mode Selection
The Hilti TE 60-22 retains the 2-mode selection dial from its predecessor letting you quickly alternate between the hammer drill mode and chipping mode. Simply turn the dial located on the left side of the tool body to your desired setting and you're off to the races.
In addition to the two working modes, there's also a position to adjust your chisel angle between the Hammer Drilling and Chisel modes.
Onboard Tech
Hilti equipped this rotary hammer with both their Active Vibration Reduction (AVR) and Active Torque Control (ATC), matching the best corded TE 60 Hilti offers.
AVR provides increased shielding from excessive vibration. While it doesn't completely eliminate all vibration, there's definitely a noticeable difference felt in your hands. With a rotary hammer this strong, it's crucial to reduce your fatigue over the course of a day.
The ATC instantly stops rotation if it senses the bit starting to bind up protecting you from uncontrolled spinning. This is especially important when using larger bits and drilling around rebar to avoid injury to your hands or wrist.
Nuron Benefits
In addition to the performance the Nuron battery system offers, there are also some tech benefits. The pack stores diagnostic and health information—even if you're using it on multiple tools. When you put the pack on the charger, it can upload that data and help you manage the entire tool crib more effectively.
Check out our deep dive on Nuron tech here.
Hilti Nuron TE 60-22 SDS MAX Rotary Hammer Price
The Hilti Nuron TE 60-22 Rotary Hammer retails for $1,011 as a bare tool. As usual, Hilti has an a la carte-style system so you can choose the batteries and chargers you need. With this model, we highly recommend going with B 22-225 batteries to get the power and runtime you need for this class of tool.
Here's the cool thing: the tool with two batteries and a charger is actually less than the corded version by over $200!
If you're looking to outfit your entire crew, consider going with Hilti's fleet program to help manage cost, maintenance, repair, theft, and loaners. The TE 60-22 runs $31.25 per month as part of the Fleet Management Program.
Hilti TE 60-22 SDS MAX Rotary Hammer Comparison
Corded
TE 60-AVR-ATC
36-Volt
TE 60-A36
22-Volt Nuron
TE 60-22
No-Load Speed
340 RPM
340 RPM
340 RPM
Impact Rate
3300 IPM
3300 IPM
3300 IPM
Impact Energy
5.8 ft-lbs
6.0 ft-lbs
6.0 ft-lbs
Bare Weight
17.2 lbs
17.9 lbs
13.9 lbs
Weight w/ Battery
NA
22.4 lbs
18.0 lbs
Tech
AVR/ATC
AVR/ATC
AVR/ATC
Bare Price
$1679
$1379
$1011
Kit Price
NA
$2165.25
$1484
Kit price includes 2 x 9.0Ah battery (36V) or 2 x 12.0Ah battery (22V) and the least expensive charger.
The Bottom Line
Hilti did so many things right with the development of the TE 60-22 for the Nuron system. Performance that tops corded models and matches the 36V version combined with a ridiculous drop in weight and incredibly attractive pricing makes the TE 60-22 the go-to rotary hammer for its class.
Hilti Nuron TE 60-22 SDS MAX Rotary Hammer Specifications
Model: Hilti Nuron TE 60-22
Power Source: Hilti Nuron B 22 battery
Chuck Type: SDS MAX (TE-Y)
Weight: 14.06 (bare), 18.13 (with Nuron B 22-255 battery)
Impact Power: 6 ft-lbs
No-Load Speed: 340 RPM
Blows Per Minute:3300 IPM
Hammer Drilling Capacity: 1/2 in. – 2 3/16 in.
Optimal Hammer Drilling Range: 23/32 in – 1 9/16 in.
Length: 21 in.
Warranty: 20-year
Price: $1,011 (bare tool), $31.25 (fleet pricing)