Last Updated on October 2, 2022
Well, I am a man of my word, so just as I promised you in my review of the Hilti Impact SID 4-A22, I've got the scoop on the Hilti SF 6H-A22 22V Hammer Drill Driver ready for you. This tool also part of Hilti's new 22V line which is backwards compatible with the 18V line…but there's a little qualification needed here. Some of you will know what I'm about to say. The not-so-secret secret is that Hilti tools have always been using a 6-cell system rather than a 5-cell system for a while.
The company marketed these tools as 18V in the US to avoid confusion, but if you've wondered why Hilti 18V tools usually seemed to spank other brands in the 18V category, that's at least part of the reason. It's also due to the fact that Hilti has traditionally been the industrial Pro's brand, so to speak, built to last many years under harsh conditions as evidenced by a remarkable warranty of 20 years with 2 years due to wear and tear.
Shootout Results
We recently put 50+ cordless drills through the wringer in our Best Cordless Drill Shootout. The 18V Hilti SF 6H-A22 Hammer Drill sits in the medium-duty camp, right in that sweet spot that balances power and size so well. As it stands, this Hilti 22V hammer drill is a deceptively light tool. Its fit and finish make it a pretty nice tool to work with, even if we did wish for a bit more torque. It's a quality tool that's perfectly capable of handling some of the toughest jobs on site.
Overall Medium-Duty 18V Drill Ranking: 5th place
Overall 18V Medium-Duty Hammer Drill Ranking: 7th place
For a comprehensive look at how we tested check out our Best Cordless Drill Head to Head Review.
Key Features
The Hilti SF 6H-A22 22V Hammer Drill Driver feels – and looks – a lot like Hilti's Impact Driver in the grip, with a comfortable rubberized overmold extending from the palm area up and around the back of the tool body for protection. A short auxiliary handle attaches just behind the chuck for stability and control.
In a world of brushless motors, it's a bit curious that this drill's two all-metal gear motor is brushed. But it does have a variable speed trigger, deep discharge protection, a work light, Hilti's Cordless Power Care (CPC), and a control switch lock.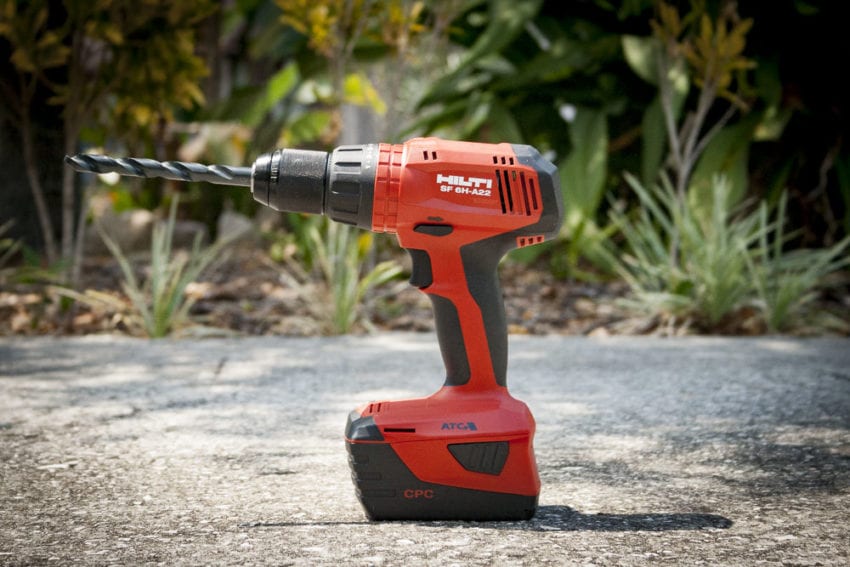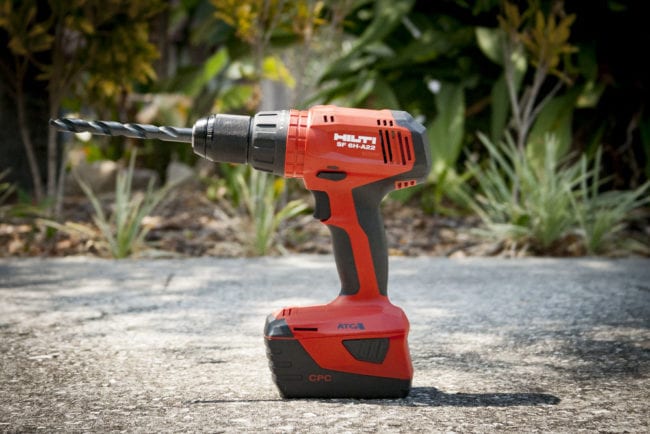 It certainly seems muscular enough to handle the jobs I'll need it for as it can drill with auger and spade bits up to 1-1/2 inches and hole saws up to 5 inches in wood. For metal, it rates up to 1/2 inch diameter. It's a hammer drill, so there's masonry work for it as well. It can handle up to 1/2-inch in brick and masonry with 28,800 impacts per minute.
Perhaps the most important feature is the electronic clutch's Active Torque Control (ATC), which quickly brakes the rotation in case of a bind-up and protects the user. I've seen a couple demonstrations of this and it's impressive.
Who's Gonna Drive You Home?
A Weighty Subject
I've taken the drill to several jobs but most recently I've been building a gas fireplace and installing stone at a new, single family home. I've used the Hilti SF 6H-A22 to drill anchor holes for Tapcons, frame out the fireplace, and many other tasks at these jobs. Some users might complain that it feels a bit weighty, especially with the 5.2Ah battery powerhouse. But you expect – and need – that heavier-duty metal construction in a hammer drill from a company that builds its reputation in the industrial sector.
A tool like this that's built for tough jobsites benefits for a little heft. Much like a worm drive circular saw's weight helps it stay stable in the cut, a hammer drill's weight gets more work done as its greater mass is thrown behind the hole.
But yes, it's heavier than many other cordless hammer drills.
ATC
The Active Torque Control is much like the ATC on Hilti's bigger rotary hammers. It's just a safety feature that's trickled down to this hammer drill, and it's excellent. A bind-up even with a drill can cause damage to your wrist or hand. At the least, you'll have a sore wrist. At worst, a trip to the hospital. Even though I use the auxiliary handle in tough applications, I appreciate having it as a backup – and it's come in handy.
A More Concrete Impression
The Hilti SF 6H-A22 simply has a ton of power and drives and hammers really well. It blasts through 3,000 PSI concrete without a problem. That's due, in part, to the excellent Hilti bits I use, too. Quality accessories make the job easier.
The chuck loosened up on me once, but I've never met a hammer drill that didn't leave the bit in the hole under a lot of strain occasionally. Still, it's an area that Hilti may want to take a look at.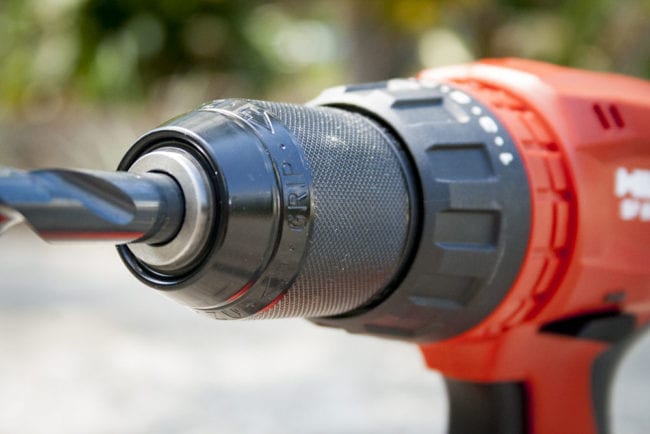 Where it Fits
While this model absolutely has the power to get the job on for me, it doesn't have all the specification bling that some of the other hammer drills out there do. Maximum torque comes in at 708 in-lbs, well under the 1200 in-lbs we see from Milwaukee. And no load speed is just 1600 RPM with a blow rate of 28,800 BPM. That's also below the 2100 RPM we get from Ridgid, Bosch, and Makita. And when it comes to hammer blows, Milwaukee bests the field at 32,000 BPM.
So from a pure power and speed perspective, the Hilti SF 6H-A22 is in the middle of the road despite its excellent on the job performance. Where it stands out from the crowd is in build quality and ergonomic design.
We don't normally talk about Hilti being a good value in terms of a low price point, but this drill comes in at a pretty reasonable $149 bare. There are plenty of kit options to choose from and those 5.2 amp hour batteries will get you up to $399 in their most comprehensive set.
The Bottom Line
Hilti tools have a well-deserved reputation for being able to work hard, take a beating, and last a long time. They are common in heavy-duty industrial work and masonry, so the Hilti SF 6H-A22 22V Hammer Drill Driver fits right in. It's very capable in both drill and hammer drill modes while producing a smooth drive. It also does so much more safely than other hammer drills thanks to the Active Torque Control that protects the user against the violent wrenching of bind-ups.
This tool will be able to do just about everything you ask it to do right up to the point that you would be reaching for your rotary hammer in the first place. Even though its specifications are in the middle of the pack, it uses what it has effectively. For a lighter experience, use the 2.6Ah battery but if you need all-day power and added muscle behind the hammer, slide in the 5.2Ah battery and drill away!
Related Content
Hilti SF 6H-A22 22V Hammer Drill Driver Features
Outstanding performance-to-size ratio
High-capacity CPC Li-ion 22V batteries provide reliable, lasting power
Full 18V / 22V compatibility – 18V and 22V batteries are suitable for use with all Hilti 18V and 22V tools
Hilti's exclusive Active Torque Control provides additional protection from tool over-rotation when bits get stuck
Extremely durable all-metal gearing for high torque
Hilti SF 6H-A22 22V Hammer Drill Driver Specifications
Model: Hilti SF 6H-A22
Power source: Hilti 18V or 22V Li-ion battery
Max. torque hard joint: 708 in-lb
Max. torque (soft joint): 442 in-lb
Torque settings: 15
Torque range (adjustable): 27 – 354 in-lb
No load speed: 0 – 480/0 – 1600 RPM
Full hammering frequency: 28800 impacts/minute
Dimensions (LxWxH): 8.3 x 3.6 x 8.3 in
Chuck clamping range: 1/16 – 1/2 in
Weight: 3.4 lb.
Price: $153.03 (bare) – $399 (multiple kit options available from Hilti directly)
Shop Amazon
This article originally published on August 8, 2017. We've updated it with results from our cordless drill shootout.