It's not terribly difficult to hang a heavy picture on drywall. However, you want to make sure to do it well. Otherwise, you'll be shopping for a new frame! Just putting a screw into a wall doesn't cut it. You need to know how to hang a picture in a way that doesn't rely on the gypsum alone for support. Pictures also need to stay where you hang them—but you don't want to compromise on the location.
Plan Your Location
This may seem obvious, but you want to plan your location before doing anything else. The location of a stud or what type of anchor you use should always help you place the picture where you actually want it. Planning the location leads to the next step—identifying what resources you have available to you. That includes studs behind the drywall.
Use a Stud Finder to Locate an Anchor Point
Small diameter smooth nails often bend or otherwise work their way to a horizontal or downward position in drywall. This allows a heavy item or picture to slide off or pull the nail out of the wall. That's no fun. You need something with enough holding strength on its own. That ensures a long-term solution for your heavy picture or artwork.
The best way to safely hang a heavy picture on drywall begins with knowing how to use a stud finder. We did an article on the best stud finders if you need a recommendation. Of course, when possible, use a fastener that goes through the drywall into the wood or steel stud.
Consider Using a Drywall Anchor
If you can't find a stud or the stud is not in a location where you want your picture to hang, you can use a drywall anchor to secure your picture or artwork from the wall. These come in various packages and sizes. We really like using self-drilling plastic drywall anchors along with properly-sized screws. Follow the directions on the packaging for proper installation. You can find them in various sizes depending on the amount of weight you are trying to support. Extremely simple to use, they provide up to 75 pounds of support depending upon which model you choose.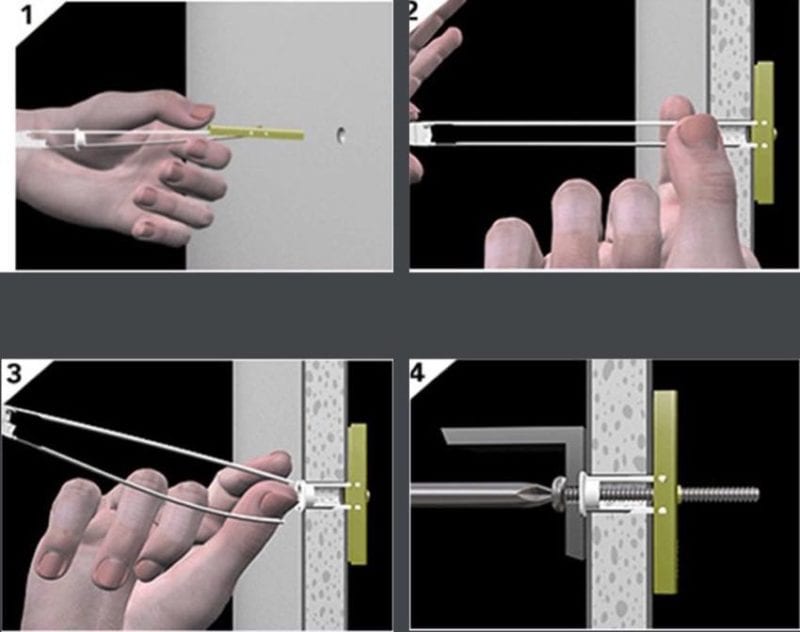 Remember, if you're going to hang a heavy picture (or artwork) on drywall, make sure you understand the weight of the item and the limitation of the anchor or fastener you're using to secure it to the wall.
Combining Drywall Anchors and Studs to Center Heavy Items
Similar to how you mount a television, a good technique for hanging a heavy picture or piece of artwork combines your available anchoring options. Let's say you have a specific place you want to hang a piece of art. You might locate a stud behind the frame—but not in the center. Now, what do you do?
If you use a properly-rated drywall anchor, you can use both the stud and the anchor together. This lets you center your picture or artwork on the wall. Follow these steps to secure your material to the wall so that it's centered:
Figure out where you want the picture to hang and mark the center top point of the frame or artwork.
Locate the center of the stud behind where the picture will hang using a stud-finder.
Place a properly-rated nail or pan-head screw into the stud center roughly 6-8 inches below your top mark.
Measure the distance from your stud nail/screw to the centerpoint of your picture
Measure the same distance in the opposite direction of your stud. Mark that point using a level to ensure it's at the same height.
Install a properly-rated drywall anchor rated to hold the weight of your picture or artwork.
Use a correctly-installed wire-hanging kit to hang your artwork. Hang the picture/artwork so that the wire hangs across both the stud fastener and the drywall fastener.
Final Tips
When hanging a picture or piece of artwork weighing more than 50 pounds, you may want to use a lag bolt. When doing this, I like to also use a washer. This ensures the hanging wire cannot possibly skip over the head of the bolt. The last thing we want is a heavy picture falling off our mount!
That's about it! Hopefully, this helped you with some practical tips and techniques to hang a heavy picture on drywall. We've used just about every method known to man and these summarize our best practices.