Last Updated on August 16, 2022
As you step further into your need and/or passion for tools, you're sure to come across impact tools quickly. They're both, forgive me, impactful tools (okay, it's out of my system now), and making the impact driver vs impact wrench comparison can help you choose the right tool for the job at hand.
Rather watch than read? Check out our YouTube video!
Impact Driver Vs Impact Wrench: 10-Second Summary
An impact driver is a screwdriving specialist. Use one for slotted, Phillips, square, Torx, and other fasteners with a head that requires a driver bit to install. You can also use a socket adapter for light hex head fasteners.
Turn to the higher power of an impact wrench for fastening and loosening nuts and bolts. It's also helpful on longer, thicker fasteners such as timber screws.
Impact Driver vs Impact Wrench Drive Styles
One of the key differences between these impact tools is the drive style. Impact drivers use a 1/4-inch hex collet that accepts 1/4-inch hex shank bits. Impact wrenches typically use a square drive that you attach a socket to. There are also 7/16-inch hex impact wrenches that utility workers often carry.
While there's a pretty reasonable range of sizes and performance levels, impact drivers only come in a couple of different styles and they all feature that 1/4-inch hex collet. Aside from a standard pistol grip form factor, you can also find right angle impact drivers to reach into tight spaces and even a fun little pressure-driven palm model.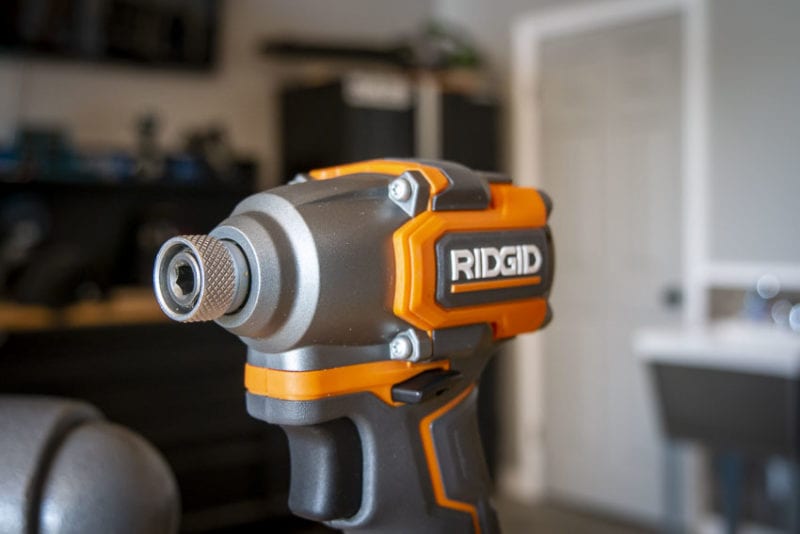 Impact wrenches cover a much larger range of performance levels and there are more specialty versions. The smallest impact wrenches have a 1/4-inch square drive while 3/8-inch drives are more common on a compact model.
Moving up in performance, 1/2-inch impact wrenches are probably the most common size and nearly every tradesman that uses this kind of tool has one.
When you need extreme power, 3/4-inch and 1-inch drives are where you look. These are mainly industrial-level and heavy equipment tools with power levels that many Pros outside specific trades never need.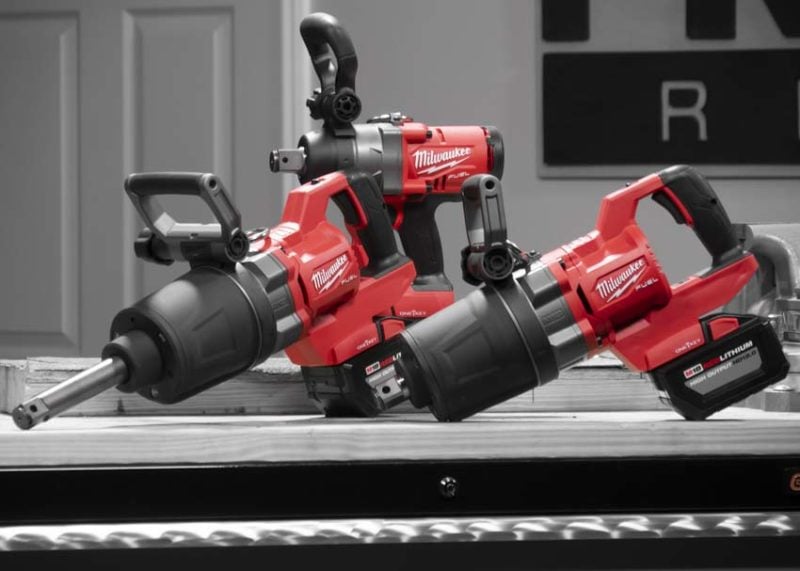 When you're shopping for an impact wrench, look for terms such as compact, mid-torque, and high-torque. These classifications give you a reasonable idea of the power level, although there's no set power level that defines each one. For most weekend warriors and even construction Pros, a compact and a mid-torque are all you need.
Here's a good sampling of the impact wrench styles available:
Impact Driver vs Impact Wrench Power Sources
You can get a corded impact driver if you really want one, but the vast majority of construction jobsites today are cordless. 12V and 18V/20V Max are the most common, but there are some other voltages.
Impact wrenches come in corded and cordless versions, too. But the classic impact wrench sound from a mechanic's shop or the race track is powered by air. Most tradesmen use cordless models while mechanics rely heavily on pneumatic. Batteries are becoming more common in automotive shops, though.
Just keep in mind that while air impact wrenches tend to be less expensive, you also need a compressor and hose. Add that into your cost calculation if you don't already have them.
Difference Between Using an Impact Driver and Impact Wrench
You can make a quick call on which impact tool to use based on the drive style. Generally speaking, an impact driver is a screwdriving specialist. When you're working with fasteners that require a driver bit such as slotted, Phillips, square, or Torx, an impact driver is the right tool for the job. It's also capable of drilling with bits that have a compatible shank.
Turn to an impact wrench when you're working with hex head fasteners such as nuts and bolts or timber screws. Instead of inserting a bit into the head, you're using a socket to grab around it.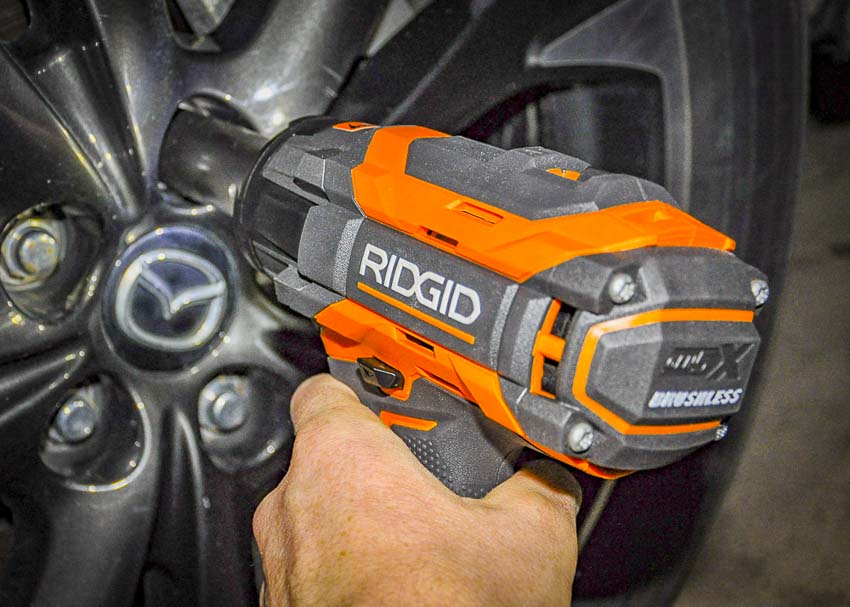 There are some exceptions to the rule, though. There are socket adapters and nut driver bits you can use with an impact driver to work with hex head fasteners. You can also find adapters that allow your impact wrench to accept 1/4-inch bits.
Just because you can get an adapter doesn't mean it's right for every application. Too much power can shear fastener heads and break bits. Too little power can strain the tool's motor and possibly cause it to burn up, or simply not get the job done.
Impact Driver vs Impact Wrench Torque
In most cases, you get more power (torque) from an impact wrench compared to an impact driver. However, some impact drivers in the 18V/20V max class have more power than compact impact wrenches, especially on 12V platforms. When you toss the compact impact wrenches aside, you almost always get more power from impact wrenches.
You can find impact drivers that exceed 2000 in-lbs of torque (167 ft-lbs) and we find that anything over 1600 in-lbs (125 ft-lbs) is a good primary tool for professional use.
Pro Tip: Impact drivers usually note their power with inch-pounds (in-lbs) while impact wrenches use foot-pounds (ft-lbs). Just like you do with linear inches and feet, divide by 12 to convert in-lbs to ft-lbs or multiply by 12 to convert ft-lbs to in-lbs if you want to compare values.
On the other hand, impact wrenches start around 100 ft-lbs (1200 in-lbs) and are capable of well over 1000 ft-lbs (12,000 in-lbs) of torque.
As a gauge, an impact wrench with 200 ft-lbs of torque probably has all the muscle you need to change tires on a passenger vehicle. A mid-torque impact wrench with at least 400 ft-lbs of torque can accomplish most everything a mechanic needs.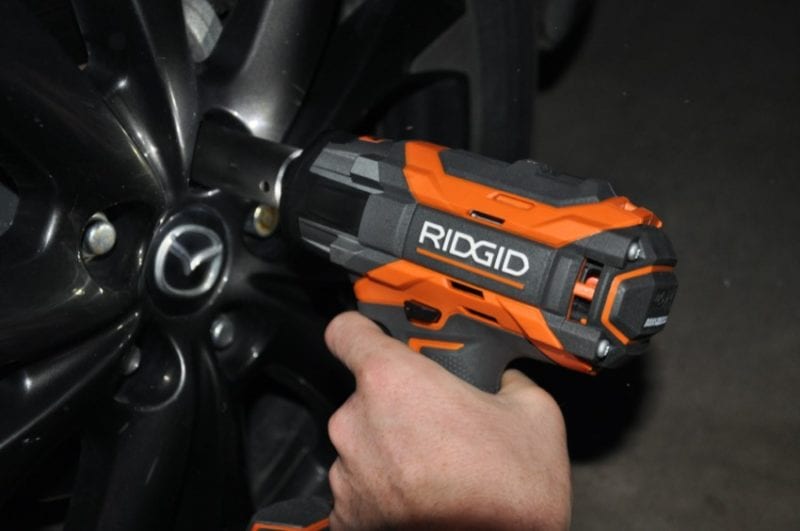 Pro Tip: Most manufacturers market "nut-busting torque", or how much fastening force an impact wrench can remove. The actual fastening torque is lower, so check the specification in the manual to make sure the one you're considering has enough power for what you need.
Speed Differences Between Driver and Wrench
Speed is a different story. Impact drivers tend to have higher speeds, maxing out around 3600 RPM or more with the best impact drivers. A good cordless impact wrench is often under 2000 RPM.
If you're in a shop using pneumatic (air) impact wrenches, the trend changes. A good mid-torque air impact wrench can hit 8,000 RPM or better.
Impact Driver vs Impact Wrench Size
Like we mentioned before, there are some impact drivers and impact wrenches built on the exact same foundation with different drives. Other than those, impact drivers are almost always more compact and lighter than cordless impact wrenches from the same manufacturer. Pneumatic impact wrenches can be lighter, though.
With impact wrenches, the size and weight of the tool usually increase with the power level. The drive size can also clue you in. 1/4-inch drives are only found on compact models while 1/2-inch drives are more common on the much bulkier mid and high-torque impact wrenches. 3/4-inch and 1-inch models will be even larger.
Impact Driver vs Impact Wrench Final Thoughts
In a perfect world, we'd own every type of impact driver and impact wrench so the right tool for the job was always available. If you're just getting started and your primary focus is more construction or carpentry projects, get an 18V/20V max impact driver first.
If replacing the transmission is what's on your radar, start with a 18V/20V max mid-torque 1/2-inch impact wrench.
Grab both from the same brand if you have room in your budget. That way you can use the same battery in both tools and save money by adding other bare tools as you build out your collection.