Milwaukee Tool has just announced a new tool for the M12 lineup due out in October. The Milwaukee M12 Fuel Ratchet aims to replace pneumatic ratchets in the auto, assembly, maintenance, electrical, and plumbing industries. The M12 Fuel Ratchet will be the first cordless ratchet on the market that features a brushless motor. Milwaukee claims that this model will offer the highest torque available in a battery powered ratchet.
What Milwaukee Has To Say About It
"When we introduced our M12 Cordless Ratchets in 2011 we focused on replacing one of the most common hand tools in the world with a cordless solution that increased productivity for our users. However, a majority of professionals still used pneumatic ratchets due to the power output over the current cordless solutions. The M12 Fuel Ratchets make this a thing of the past.  These new ratchets provide the industry's first cordless replacement for a majority of pneumatic solutions.  With up to 60ft-lbs of torque, the most compact head design, and the industry's first brushless motor in a ratchet, these tools help lead the shift in the marketplace from pneumatic to cordless."

-Eric Rusch, Senior Product Manager for Milwaukee Tool
No More Pneumatic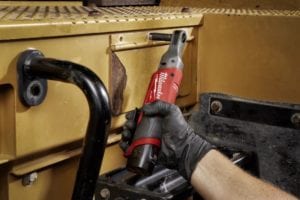 With the release of the new M12 Fuel Ratchets, Milwaukee's hope is that the professional tradesman will begin to move away from the pneumatic platform and into the battery powered realm. Of course, the power and torque of cordless tools comes into question here. But, Milwaukee claims that these ratchets will be the first cordless solutions to offer enough power and size to replace pneumatic ratchets.
Milwaukee says that these will be the highest torque cordless ratchets on the market, delivering up to 60 ft-lbs of torque. They also aim to deliver the most compact head design on the market. By providing these new ratchets with Powerstate brushless motors, Milwaukee promises they will last two times longer than their brushed competition.
The new line of Milwaukee M12 Fuel Ratchet also features an investment cast yoke housing and premium anvil. A balanced, ergonomic, and rubber over-molded handle protect the tool from corrosive materials and offers a more comfortable user experience.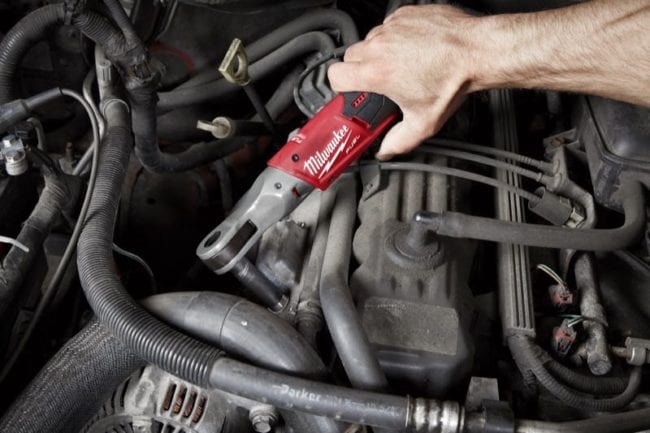 Final Thoughts
The new line of Milwaukee M12 Fuel Ratchet looks like it should be a big hit across several trades aside from just mechanics. With a compact head design and the convenience and portability that comes with cordless tools, this ratchet will certainly find a home in quite a few electrical, MRO, and plumbing toolbags. There are more powerful air ratchets available, especially the heavy-duty industrial variety, but 60 ft-lbs of torque is enough to cover the majority of ratcheting applications before reaching for an impact wrench.
Milwaukee M12 Fuel Ratchet Features
First ratchets with brushless motors
Highest torque ratchets on the market
Power and size to replace pneumatic
Motor life up to 2X the competition
Come in 1/4″, 3/8″, and 1/2″
Available: October 2017
 M12 Fuel Ratchet Specifications
M12 Fuel 1/4" Ratchet (2556-22) – $349.95
40 ft-lbs of Torque
250 RPM
1/4″ Ball Detent Anvil
Length: 11.18"
Weight: 2.34lbs
Includes M12 Fuel 1/4″ Ratchet, (2) M12 RedLithium 2.0 Compact Battery Packs, Charger, and Carrying Case.
Also available as bare tool (2556-20) – $159
M12 Fuel 3/8" Ratchet (2557-22) – $294.02
55 ft-lbs of Torque
200 RPM
3/8″ Ball Detent Anvil
Length: 11.84"
Weight: 2.84lbs
Includes M12 Fuel  3/8″ Ratchet, (2) M12 RedLithium 2.0 Compact Battery Packs, Charger, and Carrying Case.
Also available as bare tool (2557-20) – $149
M12 Fuel 1/2" Ratchet (2558-22) – $309.69
60ft-lbs of Torque
175 RPM
1/2" Ball Detent Anvil
Length: 12.50"
Weight: 3.15lbs
Includes M12 Fuel 1/2" Ratchet, (2) M12 RedLithium 2.0 Compact Battery Packs, Charger, and Carrying Case.
Also available as bare tool (2558-20) – $169