Irish Setter Crosby Work Boots Are Excellent All-Around Boots for a Variety of Jobsites
Irish Setter is the more affordable branch of Red Wing shoes that you can buy online. I put my feet in a pair of 6″ soft toe Irish Setter Crosby work boots to see what kind of environments they do their best work in. The answer? Almost anywhere.
Pros
Secure fit along the middle of your foot
True-to-size fit
Comfortable, flexible feel out of the box
Sturdy metal lacing hardware
Resists marking, slipping, oil, gas, chemicals, and heat (475ºF)
Removable memory foam insole
Protection standards: ASTM F2413-11, M/I/75/C/75, EH
Cons
Cement construction forefoot isn't as strong as direct attach boots in the same price range
Editor's Note: Check out our best work boots review article for our favorite products for all applications.
Comfort
The Irish Setter Crosby work boots are reasonably comfortable and several things aid it. There's a memory foam removable insole and the midsole has a nice level of give to it, particularly in the heel area.
I'm used to 6″ boots having a more clunky feel that isn't very comfortable on concrete and asphalt, but these do a nice job transitioning between hard and soft surfaces.
Out of the box, there's more flex than I expected. That's thanks to the cement construction. It's the weakest of the 3 major types (cement, direct connect, and welting), but offers the greatest flexibility.
Welting on the Heel
What's interesting is that Irish Setter combines welting on the heel area in an effort to give you a more secure heel. So far, I don't have any complaints there.
My size 13s weigh a pretty reasonable 29 ounces. The trade-off is that there's no safety toe that I have in my heavier boots.
Fit
Pulling the boots on, the first thing I notice is a more athletic fit than most work boots. It's most noticeable around the middle of my foot and gives the boot a secure feel.
I wear the infamous size 12-1/2 – a size almost no one carries. It's hit or miss whether to order a 12 or 13. I went with the 13 on these Irish Setter work boots and it's the right call. They fit true-to-size.
Style
Irish Setter Crosby work boots stick with a hiker styling. The pair I'm reviewing is a 6″ soft toe and it also comes in 16 styles for both men and women in various heights (including a Wellington) and safety toes.
The general look is that of a work boot that has its place on the jobsite for anyone from laborer to project manager.
Build
The combination welting/cement construction is an interesting choice and it achieves flexibility in the front and stability in the back. Since cement is weaker than welting and our boots usually start talking to us in the front, expect the cement to be the weak point down the road.
The majority of the upper uses double stitching to hold the boot together and there's some single stitching around the tongue.
The lacing hardware is metal construction and the riveting seems solid. The last two lacers on either side are open to the back and are tough to bend by hand, so I expect them to hold up over time.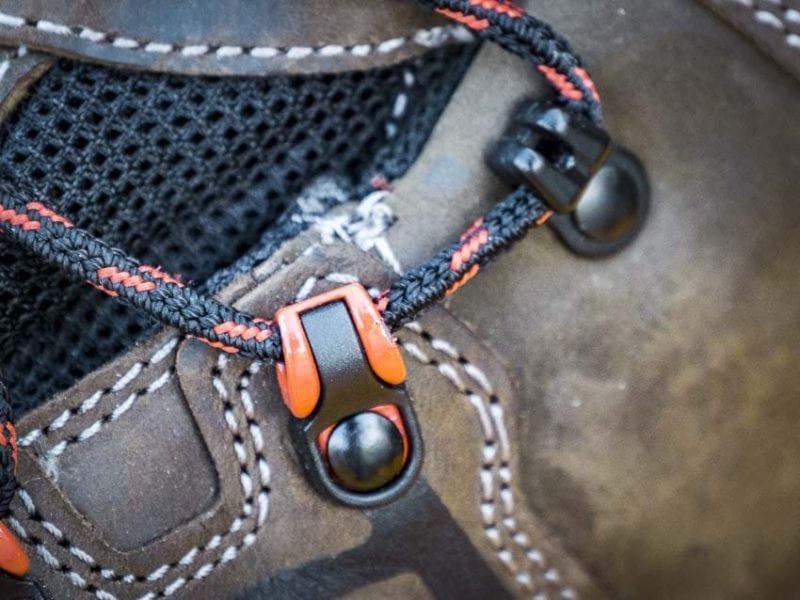 In addition to the standard slip and marking resistance we're used to on work boots, the Crosby picks up some additional accolades:
Chemical resistant
Heat resistant (melts above 475º F)
Oil/gas resistant
To sum it all up, it's suitable for a wide variety of jobsites.
Additional Features
Armatec protective covering adds toughness and abrasion resistance
Cushin tongue uses four-way stretch nylon to relieve pressure around your metatarsal
Energ high rebound material returns energy to your step
HRO soles designed to perform on high-temperature surfaces and resist melting up to 475º F
StableFlex cement forefoot and welted heel combines flexibility and stability
UltraDry waterproof construction uses a moisture managing liner with waterproof component construction
Price
The 6″ soft toe Irish Setter Crosby work boots have an MSRP of $189.99 and we're seeing online prices around $170. Here's where some of the competition sits:
Wolverine Legend Durashocks (direct attach): $160
Timberland Pro Titan (cement): $162.50
Irish Setter Crosby (cement/welt): $189.99
Keen Mt. Vernon (direct attach): $190
Of course, there are many others, including Red Wing on Irish Setter's premium side. The pricing fits well in the space and there are boots less expensive and much more expensive you can look at.
The Bottom Line
Irish Setter Crosby works boots find a nice middle ground as an all-rounder kind of boot. You can find more stable boots if you're on soft or unpredictable ground all day or more cushioned boots if you're on concrete all day. I like to lace these up when I know my day has some of each.
They also sit in the pricing middle ground between inexpensive boots that lack comfort and durability and premium boots that can cost more than $250. Even the style is versatile enough for just about anyone.
Irish Setter Crosby Work Boots Specifications
Style: Irish Setter 83628
Toe: Soft
Upper: Full grain waterproof leather
Outsole: Rubber diamond tread
Construction: Cement to welt
Footbed: Removeable memory foam
MSRP: $169.95
Check out these Irish Setter work boots for yourself by clicking here!