One of the Pro Tool Reviews shops sits on over an acre of property. It's a great location for testing both commercial and residential zero-turn mowers. Getting a John Deere ZTrak Z355R on the property was a fun opportunity to try out a zero-turn from a company with a lot of history. If you weren't aware, John Deere got its name after its founder, a blacksmith from Grand Detour, Illinois. He started out fashioning a more durable plow to get through the thick prairie soil of the midwest. Five years later, Deere was manufacturing 100 plows a year! The John Deere Z355R Zero-turn mower isn't exactly a plow, but we were curious how quickly it could get through another dense material—thick Florida grass!
Editorial Note: Interested in something unusual? Check out the Ryobi 80V joystick zero-turn mower.
It's no joke that the summer rains make the local grass lush and thick. Whether coarse Bahai or thick St. Augustine, in Florida, cutting grass always presents a challenge. Professional landscapers and groundskeepers know this, so choosing a zero-turn is serious business. It can save you time, or cost you a ton of money in maintenance and repairs.
Our interest in the John Deere Trak Z355R came about from news we received earlier this year about five new Z300 Series being released. These include the Z335M, Z345M, Z345R, Z375R, and the ZTrak Z355R which we reviewed. The new models mow at up to 7 mph and have several key features to address residential consumers looking for a higher-quality zero-turn.
John Deere ZTrak Z355R Zero-Turn Mower Features
Mower Deck
John Deere uses what it calls the Accel Deep mower deck. Introduced back in 2016, this deck comes standard on all John Deere Z300 Series mowers. In the Z300 Series, decks come in 42-, 48- and 54-inch cutting widths. The decks have a deep design made to help with mowing at top speeds (in this case 7 mph). They also feature plastic covers over the deck spindles that can be lifted up for easy cleaning and maintenance.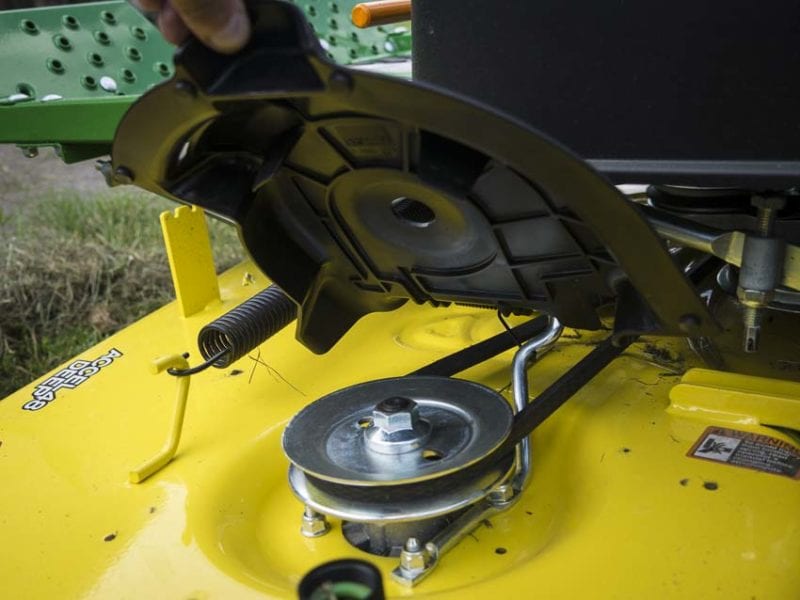 John Deere Z355R Comfort and Control
The 18-inch seat on the John Deer Ztrak Z355R mower adjusts forward or back using a front-mounted lever. Two armrests make for a very nice and comfortable ride. More importantly, they included two cup-holders, including an oversized one that can hold large drinks. We've seen several manufacturers miss this small detail and leave us "Big Gulp" fanatics short-handed. In front of the cup holders sits the control panel which features your engine hour meter, throttle, and ignition. A convenient fuel light comes on when you need to add more gas. It's subtle, however, so you need to check it periodically.
This model also includes floor mats and larger wheels. The front wheels are 13-inches in diameter, and the rears are 20-inches.
The control arms on the John Deere ZTrak Z355R feel particularly ergonomic and fell exactly where I wanted them. As a result, control was smooth, and I could exert a decent amount of finesse when navigating the curved barriers separating the landscaping from the grass.
Under the Hood
The ZTrak Z355R uses a 22 hp Briggs & Stratton Intek V-Twin engine. It felt snappy and provided plenty of power—even when the cutting took place a bit later than it should have. Grass grows quickly in the Florida summer rains, so anything over 7 days makes for a tough cut.
ZTrak Z355R Zero-Turn Service & Maintenance
With any zero-turn mower, serviceability and maintenance sell the product as much as features. With the John Deere Z355R at least some of that maintenance gets easier. For starters, John Deere printed the recommended service intervals right under the seat. After the 8-hour break-in period, intervals for the Z355R zero-turn are specified at 50 (oil & lube), 100 (plugs, filters, etc), and 200 hours (dealer service recommended).
In terms of accessibility, the footrest area is hinged and comes up quickly for servicing the mower deck. Just one bolt removes using the lift height pin. The ZTrak Z355R makes it easy to gas up the mower as well as add or change the oil. Since the oil filter is located on the right side of the engine, changing it out is equally simple. The rear-mounted air filter comes out by loosening just two knobs.
The Accel Deep Mower Deck is nice in that the top is perfectly flat, so debris doesn't collect on it as easily. Those spring-loaded, flip-up guards on the deck also help make it easy to get clumps of grass and debris out of your belts. John Deer also gives you specific tie-down locations at the front corners of the mower for when you need to trailer it. The rear is easily locked down as well.
John Deere ZTrak Z355R Specifications
Power 22 hp, 16.4 kW
Engine: Briggs & Stratton M44 Intek V-twin
Displacement 44.2 cu in, 724 cc
Lubrication: Full pressure with replaceable filter, capacity, 2 qt (1.9 L)
Battery 12 V, 300 CCA
Choke/speed control: Ready start, single lever
Cooling method: Air
Fuel tank capacity: 2.1 gal (7.9 L)
Fuel gauge: Low-fuel light
Drive train: Dual hydros Hydro-Gear EZT with 1-in. (2.5-cm) axles
Price: $3099 (may vary by retailer)
Using the John Deere Z355R Zero-turn Mower
We drove the John Deere Z355R Zero-turn mower for several weeks. It delivers a more comfortable and smooth ride, and the deck size and speed make for a big step up from the smaller 38-inch electric. The real comparison lies with something like the Husqvarna RZ54i Zero Turn Lawnmower (which we use regularly) or other similar models. That mower (now replaced with the Husqvarna Z254) runs around $3000 and shares many similar features.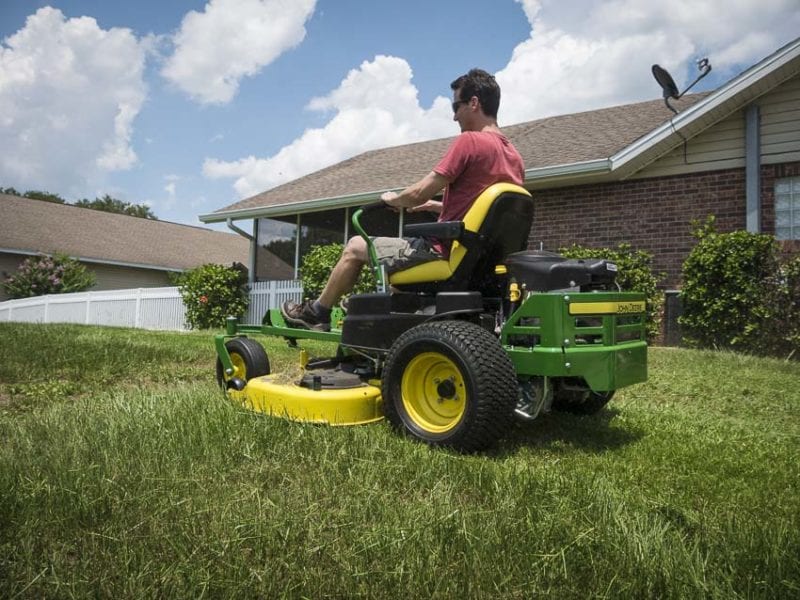 First off, I want to say that the John Deere ZTrak Z355R has a comfortable ride. It's not "suspended seat" comfortable, but you don't feel every bump and divot. The size of the wheels and tires has a lot to do with this as does the overall frame structure. I love the control arms. With a gentle rear sweep, the John Deere Zero-Turn mower control arms seem to fall right in place.
John Deere ZTrak Continued Use
After using this mower for over a month, it seems really well-suited for yards of an acre or slightly more. My yard sits around 1-1/4 acres, so grabbing a model higher and a 52-inch or even 60-inch deck would reduce cut times dramatically. Still, the John Deere Z355R made quick work of the yard. As mentioned, I sometimes cut on grass that had grown a bit too tall in the Florida rains. Even then, the ZTrak Z355R did a phenomenal job of getting through it without slowing down. I would, however, recommend the mulch control kit option. It includes the mulching mechanism as well as two new blades and runs around $169.
As far as John Deere Zero-Turn mowers go, the ZTrak Z355R presents a great option to get into a brand and product that should deliver reliable service. John Deere has a great reputation, and they have dealers all across the country. In their lineup, the Z355R Zero-Turn sits at the near-top of their 300-Series consumer line-up. To step up further and get faster mowing speeds and bigger seats, motors, and wheels, look to the 500-Series. Those start at just under $4000.
Check out more at the John Deere website.