Klein is moving further into the hand tool space with their new Klein adjustable wrench line. The series consists of four new models: 3 sizes of standard adjustable wrenches and a 2-in-1 Reversible Jaw Adjustable Pipe Wrench. We'll get into the 2-in-1 in just a minute, but let's start with the basics.
So Are They Orange or Yellow?
Before you even pick up a Klein adjustable wrench, you'll notice something very different. The dipped handles aren't classic Klein orange or Journeyman yellow. These are blue, and while they're not necessarily what you'd think of from Klein, I like the color. The potential downside is that they're harder to see in your bag. But most Pros store wrenches in a handle down orientation, so you'll see the head instead.
Get a Grip
Since we're on the subject of the handle, let's talk a little more about it. Everyone that uses hand tools regularly knows the thinner the tool, the more pressure your hand has to manage over a smaller area. In other words, thinner tools tend to create worse pressure points. The dipped handle really helps create a more comfortable grip. It's also more secure as well since your wet, sweaty hands aren't on slick bare metal. Your knuckles will thank you.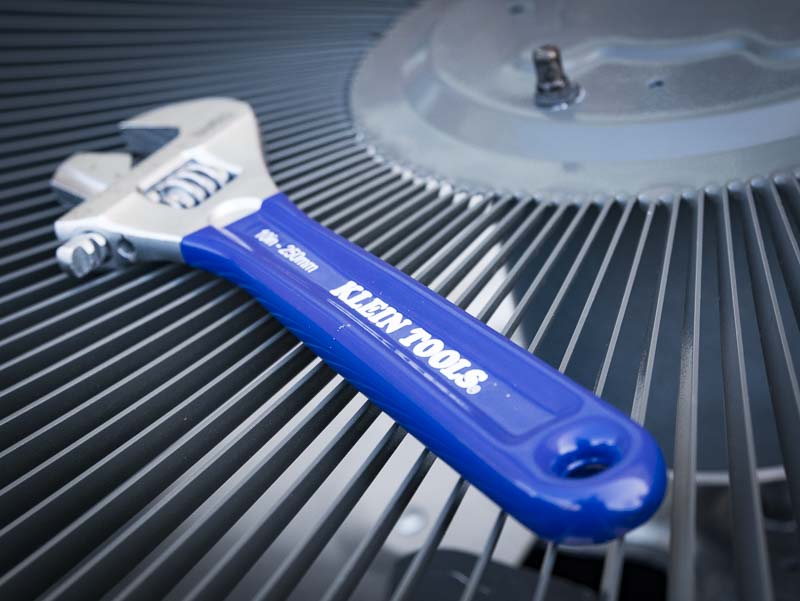 Slim Jawline
The Klein adjustable wrench boasts a jaw design that's 40% slimmer than standard wrenches. And it's not just an issue of reducing weight. Klein made these specifically for wrench over wrench applications where you're using a pair in combination to loosen or tighten a connection. You'll see the reduction at the ends of the jaws.
You'll also notice the jaw shank doesn't protrude as far out at the extreme reaches of the jaws. This is intentional to keep them from becoming obstructions in tight spaces.
On Your Mark
All of Klein's adjustable wrenches have imperial measurement marks etched on one side and metric on the other. The thumb screw adjustment is easy to roll and I'm able to be very accurate dialing in the correct size for the nut or bolt I'm working with.
Back Off
One of the most common complaints about adjustable wrenches, in general, is that the jaws back off while you're working. The Klein adjustable wrench seems to have that issue sorted out. There's about a millimeter of play in the jaw – something nearly impossible to eliminate because of the adjustable design – but I don't find that they slip beyond that either direction.
About That 2-in-1 Model…
The Klein 2-in-1 Reversible Jaw Adjustable Pipe Wrench is the largest of the group with a 10-inch length and a hair over 1-1/2-inch capacity. What's special about it is that the moving part of the jaw comes off so you can turn it around. On one side, you have a standard adjustable wrench jaw. The other, a pipe wrench jaw.
As an adjustable wrench, there's nothing strange or worrisome. But as a pipe wrench, you only have one jaw that's knurled while the other is smooth. There's the potential for some slippage here, but it's really unlikely since the pipe grabbing side has the knurling. I personally haven't had any issues in that department.
One thing to note is that you lose accuracy with the scale as a pipe wrench. It's off by roughly 1/8-inch, reading smaller than it is. As an adjustable wrench, the scale is dead on with my tape measures both on the 2-in-1 model and standard wrenches.
The Bottom Line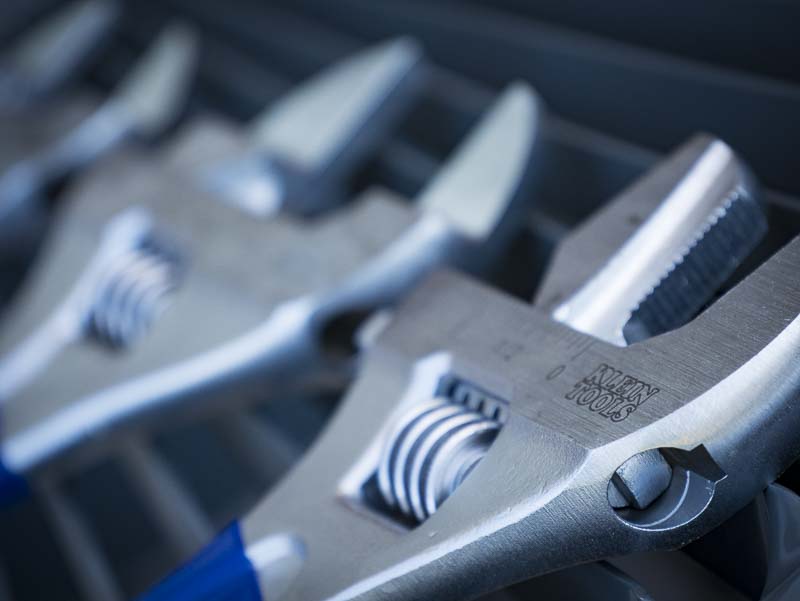 The new Klein adjustable wrench line is pretty solid from top to bottom. The standard wrenches leave little to complain about with their comfortable dipped handles, easy adjustment, secure positioning, and accurate scale. The Klein 2-in-1 Reversible Jaw Adjustable Pipe Wrench requires a minor trade-off since only one side of the jaw is knurled when using it as a pipe wrench. Aside from that, there's not really much reason to reach for a different set of adjustable wrenches unless you need a size larger than Klein provides.
As always, there's cost to consider and Klein's premium hand tools usually come at a premium price. Prices run from the $28 range to the $41 range. Compare that to something like Milwaukee's adjustable wrenches that are similar in performance, but without the handle comfort, running $15 – $20. There's no doubt Klein has made a premium adjustable wrench superior to most options on the market, but the price is a little steep this time around.
Interestingly enough, these aren't made in the USA like most of Klein's hand tools. But they're not manufactured in China, either. These are coming in from our friends in Spain, where right about now, they're probably enjoying the daily Siesta and a cold glass of sangria. Here's hoping for a chance to visit their manufacturing facility across the pond!
Klein Adjustable Wrench Key Features
40% slimmer jaws
Designed for tight wrench-over-wrench applications such as gas lines
Jaws meet ASME 107.100-2010 testing standards for adjustable wrenches while being 40% slimmer than most standard adjustable wrench jaws
Extra-wide jaw
Unique design minimizes protruding jaw shank for greater capacity and range of motion in confined areas
Standard and metric size markings for fast adjustment
Manufactured for strength and durability
Model Options
4″ (Klein D86932)
Length: 4-9/16″
Width: 1-15/64″
Jaw Capacity: 1/2″
Weight: 2.4 oz.
Price: $20.54
Warranty: Lifetime
6″ (Klein D86934)
Length: 6-13/32″
Width: 1-57/64″
Jaw Capacity: 1″
Weight: 5.0 oz.
Price: $31.99
Warranty: Lifetime
8″ (Klein D86936)
Length: 8-3/8″
Width: 2-3/4″
Jaw Capacity: 1-1/2″
Weight: 10.7 oz.
Price: $44.99
Warranty: Lifetime
Klein 2-in-1 Reversible Jaw Adjustable Pipe Wrench Key Features
Versatile 2-in-1 tool converts from adjustable wrench to pipe wrench by reversing the removable jaw
Reversible jaw has teeth and an obtuse angle to work as a pipe wrench
Pipe wrench side of jaw grips pipes and round fasteners with self-gripping angled teeth
1-1/2 inch (38mm) extra-wide jaw opening in both configurations
Standard and metric size markings for fast adjustment
Manufactured for strength and durability
Meets ASME 107.100-2010 standards for adjustable wrenches
Specifications
Model: Klein D86930
Length: 10-1/4″
Width: 2-11/16″
Jaw Capacity: 1-1/2″
Weight: 16 oz.
Price: $33.12
Warranty: Lifetime
Shop Amazon