Lasers don't seem to get any less cool no matter how old I get. Sure, instead of toys they are tools now, but that's no matter. I guess I could still use a laser-equipped tool to pretend I have a lightsaber or make the cat go crazy when no one's looking. But in my adult life, lasers are proving to be much more useful than they ever were as a kid (when they really only got me into trouble). These days, there's a ton of laser distance measures and self-leveling laser levels that give us the double benefit of increased precision and faster work. That should translate into happier and more customers – which should sound good to every Pro. Now it's Klein's turn with the new Klein Tools Cross-Line Laser Level with Plumb Spot.
Klein offers this laser in two versions – one with a plumb spot and one without. Many trades can benefit from a cross-line laser level like this, but it's particularly hard to imagine electrical Pros who install a lot of fixtures going without the plumb spot option!
It'll be helpful to see how many times the feature comes in handy during the course of the review. My first job is a can light installation in an older house in Plant City, Florida, so let's get to work!
Key Features
Self-Leveling Pendulum
As sophisticated as this tool looks, it still relies on the same principle – gravity – just as plumb lines and levels have for centuries. Even in our technological age, we haven't been able to improve upon gravity. Through the viewing window of the Klein Tools Cross-Line Laser Level, you can see the self-leveling pendulum that's at the heart of the tool. Self-leveling is a relative term for these tools – typically within a handful of degrees. If the level senses that it's too far out of whack to self-level, the lasers will blink to alert you. Klein claims accuracy of ± 3/32″ per 33′. You can go up in price to get ±1/16″ if need a more accurate laser.
Horizontal, Vertical, and Plumb Spot
The beam is a red Class II rated laser measuring 630-680nm, </=1mW. Green lasers have been muscling in on the red laser's space in the last few years because green is so much brighter and easier to see in bright light. But the green diode is also significantly more expensive. For my intents and purposes, the red diode works just fine.
The Klein Tools Cross-Line Laser Level displays both beams individually or simultaneously as the cross-line descriptor suggests. You might have seen Pro mason, Daniel Elms using a cross-line function to build an outdoor kitchen. For Electricians, it's particularly helpful when installing service panels along with other tasks.
Both beams are turned off and on with buttons on top of the unit. The Plumb Spot also turns on with the press of a button. This function helps you find a point on the ceiling by measuring from the wall. In other words, it reveals the plumb line much more easily than hanging a weighted string. Installing a light fixture directly over the center of a dining room table is just one practical application of the plumb spot.
The whole unit runs on 3 AA batteries that Klein includes.
Several Mounting Options
Klein gave this laser level just about every mounting option that a guy could want. First, the laser unit is attached to its neodymium-alloy magnetic bracket on which it spins 360°. This is obviously helpful for installations when there's ferrous wall or ceiling elements. Or you can put a small fastener in a stud or wall to hang the laser level. The bracket also has 1/4- and 5/8-inch tripod mounting threads on the bottom.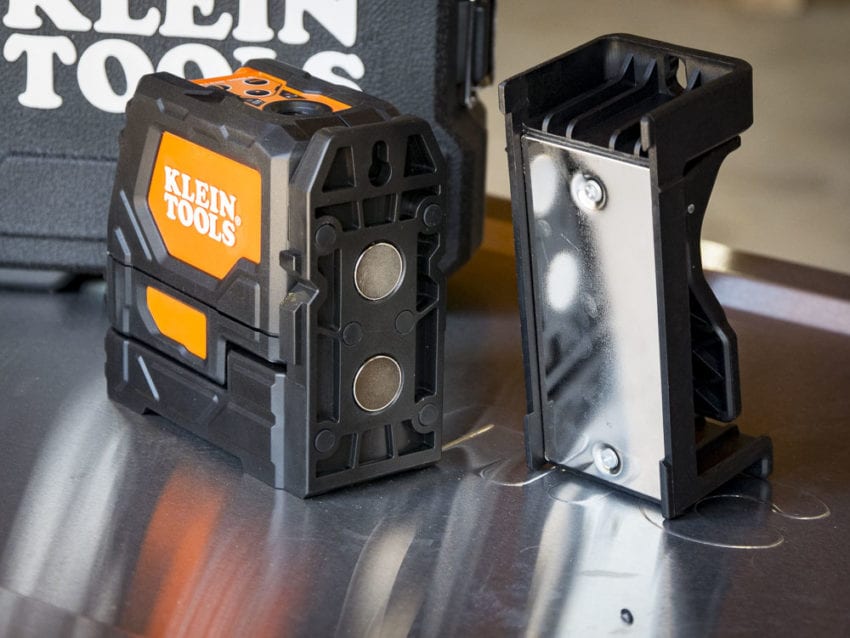 A separate magnetic mounting clamp is included for ceiling grids. Like the magnetic bracket, it also has holes for screws. Although I didn't work on a ceiling grid, I found this bracket useful while installing some can lights.
Other Notable Features
The jobsite can be an unforgiving place to your tools – and a lot of us are pretty rough on them anyway. The Klein Tools Cross-Line Laser Level carries an IP54 rating for water and dust resistance. Needless to say, however, if an electrician is worried about his tools getting wet, the job presents more than just danger to the tool.
It's also rated for a drop of 3.3 feet (1 meter). But here's a suggestion – don't drop it! The heartbeat of the tool is the pendulum and the last thing you want to do is risk damaging it. If you do, though, there's rubberized coating in vulnerable areas. The pendulum also locks which adds a layer of protection during transportation along with allowing alignment for angles other than plumb or level. The whole package comes is a hard plastic case for protection off the clock.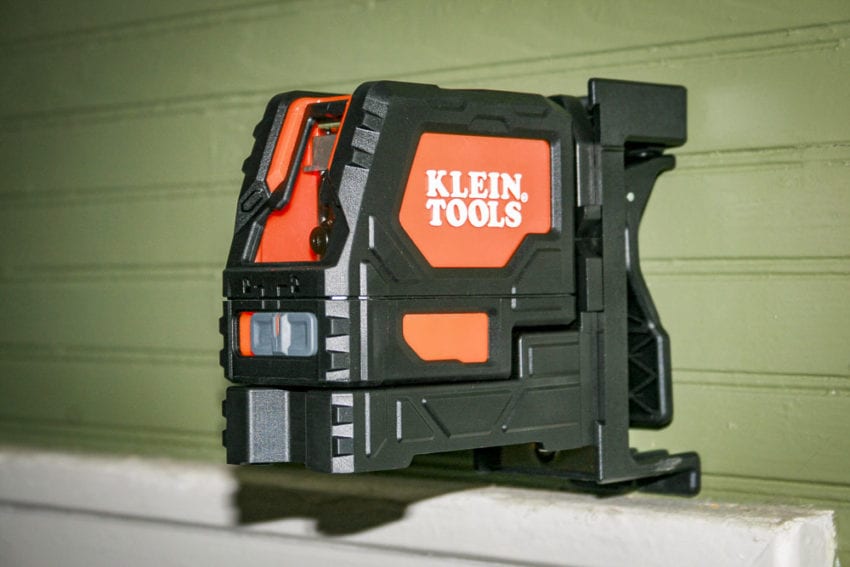 Performance
Beam Me Up
The beauty of this tool is its ability to immediately reveal the installation points of fixtures, panels, pictures – whatever's going in, really. If it's a series of can lights like today's job, you'll be able to see the line they'll take right away. If it's a rectangular object on the wall, you'll easily be able to visualize what it will look like as the cross-line will draws two of the object's sides before making the first hole.
I suggest trying to find an inconspicuous place for the fasteners if you'll be mounting the bracket or using the keyhole. There will be times when you need to leave this small footprint behind. Hopefully, no one will ever notice – although you might have to fill it in. But if you're just using the vertical line thrown across a ceiling, you can just set the laser on the floor.
The horizontal and vertical lines can work independently or simultaneously. They are both easily toggled with buttons on the level.
As I mentioned, the self-leveling function works within about five degrees. But if your surface or mounting is really out of whack and the laser can't self-level, the lasers will blink to indicate it. Once in a while, you'll want to line things up at an angle that is 0° or 90°. You can use the pendulum lock for those angles. It's also a good idea to lock it so it won't flop around during storage and transport.
Plumbing – Not Just for Plumbers
The plumb spot can operate independently with a button near the others. There only a handful of reasons to use the horizontal or vertical lasers and the plumb spot together. That's why some laser levels don't have one and Klein offers versions with and without it. In any event, a plumb spot makes your job much easier when, for instance, you need to center a chandelier directly in the center of a room.
It operates with the help of the swiveling function, getting the dot on the floor/bottom surface away from the bracket so you can find the complementary plumb spot on the ceiling. Just find the center of the room on the floor, position the bottom dot over it, and then mark the corresponding point on the ceiling.
I Went Down To The Crossroads
You can also use the swivel and cross-line to align multiple hanging elements on a wall. The horizontal line will mark level for the objects and the vertical line will ensure each one hangs squarely. Likewise, installing service panels is a common use of the Klein Tools Cross-Line Laser Level. It's just like hanging a big picture on the wall – line up the box and mark the holes.
The Bottom Line
The Klein Tools Cross-Line Laser Level is an excellent tool for Pros who need to snap level and plumb lines and find plumb spots. Without dragging out the old chalk lines, marking walls or ceilings, or needing three hands to hold a level, you can mount the laser level and let it do the layout work for you. The lasers and plumb spot work independently and the swiveling base makes life a lot easier for finding plumb on a ceiling.
Klein targets a low price point with their cross-line laser. At $119 ($106 without the plumb spot), it gets a solid value rating to go along with its Pro-level performance. You will give up a few features, like a green laser, lithium-ion battery, and plumb spot transfer. However, most of us in the electrical field (and other trades that don't use a laser level all day, every day) won't really miss them for the majority of our work.
Klein Tools Cross-Line Laser Level with Plumb Spot Features
Self-leveling, easy-to-read horizontal and vertical laser lines
Projects horizontal and vertical lines independently or together for various alignments
Plumb spot lasers to pinpoint overhead locations
Integrated magnetic 360˚ mounting bracket with 1/4 inch and 5/8 inch tripod mounting threads
Additional mounting clamp attachment for use on ceiling grid applications
IP54: water and dust resistant
Hard plastic carrying case included
Klein Tools Cross-Line Laser Level with Plumb Spot Specifications
Model Numbers:

Klein 93LCLS (with Plumb Spot)
Klein 93LCL (without Plumb Spot)

Length: 2-5/8″
Height: 5″
Width: 5-1/4″
Batteries: 3 x 1.5V AA Alkaline Included
Accuracy: ±3/32 inches per 33 ft (±2 mm per 10 m)
Magnet Type: Permanent Rare-Earth
Drop Protection: 3.3 feet
Ingress Protection: IP54
Weight: 1.6 pounds without Batteries
Price: $134.94 (93LCLS), $99.99 (93LCL)