Kobalt 24V Max Brushless One-Hand Reciprocating Saw Has No Problem Out-Cutting Premium Pro Brands
Kobalt has quietly expanded its 24V Max line into a pretty solid grouping of budget-friendly tools for contractors. The Kobalt 24V Max Brushless One-Hand Reciprocating Saw showed up to our shootout with a chip on its shoulder and something to prove against traditional powerhouses.
Pros
Outstanding cutting speed
Good vibration control
Very good value
Cons
How Fast Does the Kobalt 24V Max Brushless One-Hand Reciprocating Saw Cut?
This Kobalt reciprocating saw scored very high in overall cutting speed, coming in second only to Ridgid's 18V Octane model. In our EMT cutting test, it made the 3/4″ cut in an average of 1.79 seconds—the fastest of all the 18V/20V max one-hand saws we tested.
It slid a little in our 3″ PVC cutting test, but don't let its 4th-place finish fool you. With an average of 5.70 seconds per cut, it was within a 1/2 second of Milwaukee's M18 Fuel Hackzall in 3rd and Bosch's 18V one-hand in 2nd. Ridgid put a pretty sizeable gap to 1st, though.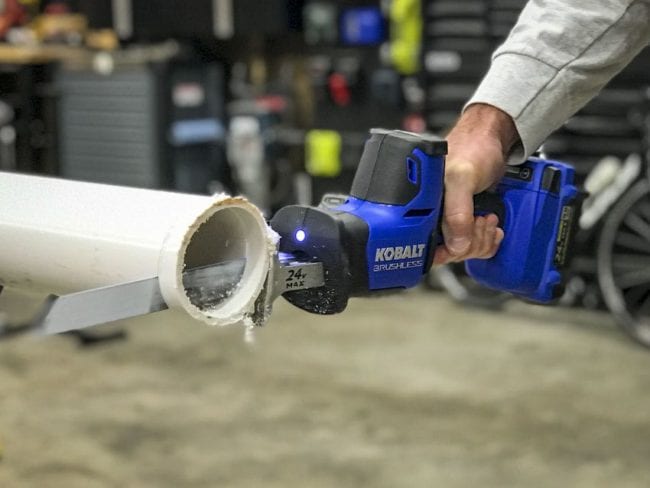 Normally, we don't recommend this style of saw for wood cutting applications, but Kobalt is an exception. We use a 2 x 10 PT nail-embedded wood test as a baseline for every reciprocating saw and Kobalt posted the fastest average of its class at 18.03 seconds. That's in the range of the two-hand compact saws that have higher performance levels.
These results make the Kobalt 24V Max Brushless One-Hand Reciprocating Saw a bit more versatile than others in its class. It's great for the PVC, conduit, and copper pipe that electricians, plumbers, and irrigation specialists come across.
I can also recommend it for clean wood cutting. Grab a low TPI blade, such as a pruning blade, and you should have a pretty easy time of it on landscaping and light demo cuts. You can get away with some light mixed-material demo cuts, but save this saw for when your full-size saw won't fit.
How Much Vibration Does it Have?
Kobalt does pretty well in our vibration tests. Its score of 80 puts it in the top half of its class behind Bosch (87 points) and Milwaukee (100 points). You can definitely feel some vibration when you're cutting, but it's not at the "shake off a cold" level where some of our saws sit.
Pro Tip: Remember to keep the shoe firmly set against the material you're cutting and feel free to use a second hand for better stabilization. With good technique, you can eliminate a lot of the vibration.
What Features Does it Have?
The one-hand reciprocating saw class isn't known for having a lot of bells and whistles, and Kobalt doesn't stray far from the norm.
The big deal is that it includes a brushless motor. That extends the runtime and life along with giving it the impressive results in our cutting tests. Beyond that, it has an LED light. That's about it.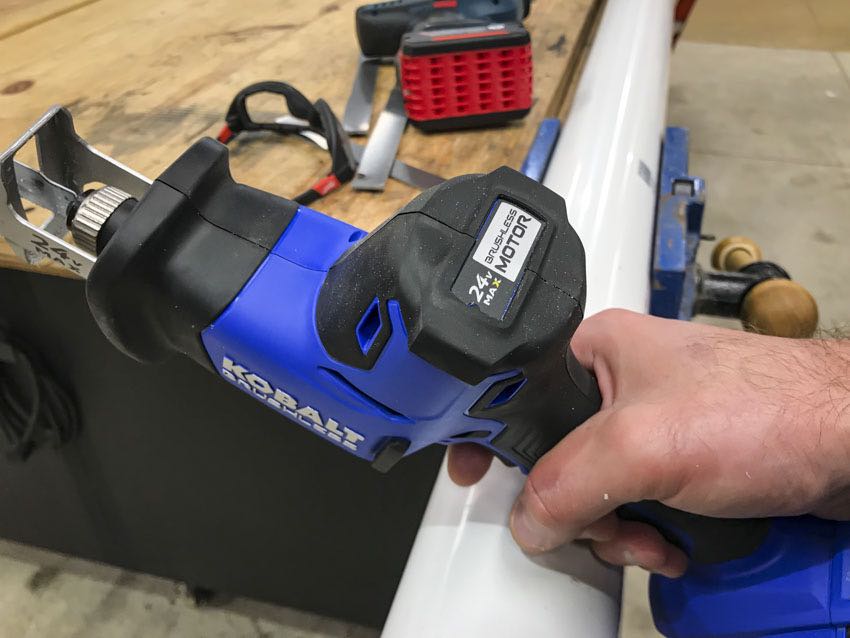 When you look around the rest of the class, there are a few other things that Kobalt doesn't include:
Orbital action (Ridgid Octane)
Tool-free adjustable shoe (Metabo)
Pivoting shoe (Milwaukee)
Blade ejection (Makita)
How Big is It?
This compact Kobalt reciprocating saw is on the smaller side of the scale compared to the rest of the group. Metabo takes the win for the smallest overall at 12.5″. However, Kobalt's 13.1″ length (without the battery) is good enough to make it the second smallest in the class.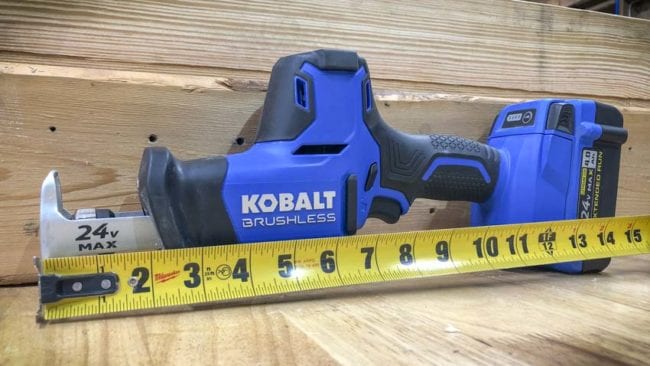 The other brands are all over 14″ and Ridgid hits 15″.
How Much Does it Weigh?
As a bare tool, Kobalt weighs 3.7 pounds and bumps up to 5.5 pounds with a 4.0Ah battery. That's on the heftier side of the scale, but you can shave some of the weight down by using a 2.0Ah pack.
How Much Does it Cost?
The Kobalt 24V Max Brushless One-Hand Reciprocating Saw runs $99 as a bare tool. There's no kit option, so you'll need to spring for a battery and charger while you're at Lowe's picking it up if you don't already have them. Fortunately, that's not as painful as some brands.
The charger runs about $45 and you have several battery options.
2.0Ah: $29.98
4.0Ah: $59.98
6.0Ah: $99.00
4.0Ah two-pack: $99.00
With a 4.0Ah battery and charger, you're in it for a little over than $100 more.
While you're shopping, take a look at some of the other kits Kobalt has. You might be able to score a Kobalt 24V hammer drill or Kobalt brushless impact driver along with a battery and charger as a bonus and still be around $100.
The Bottom Line
Kobalt did a great job designing this saw with excellent performance while keeping the size in check. Even though it's on the heavier side and pretty basic when it comes to features, its ability to perform its job well makes it an excellent addition to the 24V Max line and an easy recommendation from us.
Buy it if you're looking to supplement your full-size reciprocating saw in tight spots or want an easy-to-manage saw for use around your house. Pass if you're looking for the lightest one-hand reciprocating saw available.
Kobalt 24V Max Brushless One-Hand Reciprocating Saw Specifications
Model Tested: Kobalt KRS 124B-03
Power Source: Kobalt 24V Max battery
No-Load Speed: 0 – 3000 SPM
Stroke Length: 1″
Length:
Weight:
Warranty: 5 years
Price: $99 bare tool