Get Started with XTR's Higher Performance Using the Kobalt XTR 24V 5-tool Combo Kit
It's taken us a while to get our hands on the Kobalt XTR 24V 5-tool combo kit (due to COVID-19). But now that it's here, we wanted to know how it stacks up against Kobalt's standard 24V Max tools and where it fits in the broader spectrum of tools.
This review is really a jumping-off point for the combo kit and we'll follow it up with more detailed reviews of the individual tools.
What Comes in the Kobalt XTR 24V 5-Tool Combo Kit?
As combo kits go, this Kobalt XTR kit checks off the standard boxes and adds a pleasant twist. Here's what's in the box:
Hammer drill with auxiliary handle, bit, and belt hook
Impact driver with bit and belt hook
Circular saw with blade and fence
Reciprocating saw with blade
LED light
4.0Ah battery
2.0Ah battery
Charger
The pleasant twist is the box itself. It's a hard-sided rolling case with a gasket lid to keep moisture out. Most brands toss in a soft bag, but getting a rolling case is a nice treat.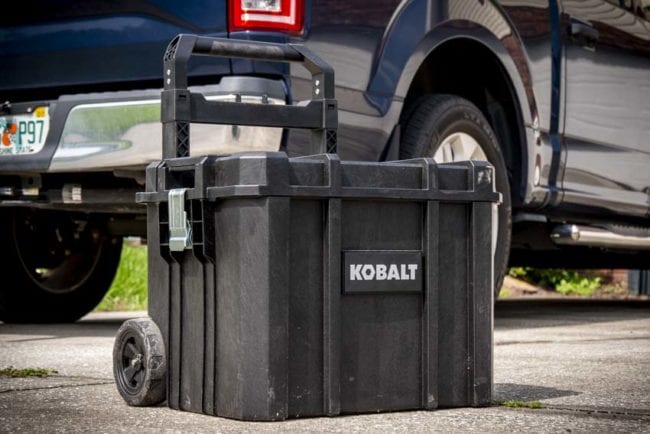 Kobalt XTR 24V 5-tool Combo Kit Tool By Tool
Check out our coverage of Kobalt XTR technology for a broader overview of what to expect. Here's the skinny:
Exists as a premium option alongside standard Kobalt 24V Max tools
Advanced battery and motor technology
Boosts performance by 50% over first-generation Kobalt 24V max tools
New features to go along with performance that gets the job done faster, safer, and easier
The new 24V Ultimate Output batteries are compatible with all Kobalt 24V tools, including XTR. Likewise, you can use standard Kobalt 24V batteries in XTR tools, you'll just get the best performance when you pair an XTR tool with an Ultimate Output battery.
Also, as summarized above, the XTR line isn't replacing their existing 24V tools. It's an upgraded line targeting serious DIYers and budget-minded Pros. If you're wondering what to compare XTR to, these tools are more on par with Ridgid's Octane in price but reaching higher in some of our performance tests.
Kobalt XTR Hammer Drill
The first thing we noticed about the Kobalt XTR hammer drill is that it's still pretty compact despite getting a big performance boost.
Looking at power, the hammer drill spins up to 2,000 RPM just like the standard model. Torque is a different story, however. With 1,200 in-lbs available in Low, it packs 85% more power than the 650 in-lbs we saw before.
Even the blow rate in hammer drill mode has improved. What was 26,000 BPM is now 32,000 BPM.
That massive change isn't just an improvement, it's a performance level that matches some of the best premium hammer drills available.
We're loving the higher performance, but there's an important feature to note as well: kickback control. Kobalt now has anti-kickback technology built-in, making it safer to use with its beefier performance.
| | | |
| --- | --- | --- |
| | 24V Hammer Drill | XTR 24V Hammer Drill |
| Maximum Speed | 0 – 2,000 RPM | 0 – 2,000 RPM |
| Maximum Torque | 650 in-lbs | 1,200 in-lbs |
| Blow Rate | 26,000 BPM | 32,000 BPM |
| Weight (bare) | 3.2 pounds | 3.25 pounds |
| Length | 7.5 inches | 7.75 inches |
Read our full in-depth review!
Kobalt XTR Impact Driver
The Kobalt XTR impact driver gets a little more compact and is nearly the same weight as its predecessor. Like we'll see with all of the tools in this combo, the big story is about performance.
Kobalt gives the XTR impact driver a 700-RPM speed boost (26% increase) with 600 in-lbs more torque (33% increase). Even the impact rate comes up by 500 IPM (14% increase), something we expect by default when the speed increases.
The torque value is worth talking about, even against premium professional models. At 1,800 in-lbs, Kobalt already had more than enough torque for a wide range of fastening jobs. 2,400 in-lbs in the XTR model puts it at a whole new level and jumps over what most of the traditional Pro brands offer.
| | | |
| --- | --- | --- |
| | 24V Impact Driver | XTR 24V Impact Driver |
| Maximum Speed | 2,700 RPM | 3,400 RPM |
| Maximum Torque | 1,800 in-lbs | 2,400 in-lbs |
| Impact Rate | 3,500 IPM | 4,000 IPM |
| Weight (bare) | 2.43 pounds | 2.4 pounds |
| Length | 5.63 inches | 5.5 inches |
Kobalt XTR Circular Saw
The Kobalt XTR circular saw gains just 1/16-inch cutting capacity with its move from a 6 1/2-inch blade to a 7 1/4-inch. That's actually a pretty big compliment to the design of the 6 1/2-inch saw considering only a handful of cordless 7 1/4-inch models cut deeper.
It might seem like the 100-RPM speed increase is relatively light as well. When you consider the tooth speed, though, it's more significant. With a 119 MPH tip speed on the larger blade, each tooth is moving 14% faster and there's more muscle behind them.
You get a bit more bevel capacity as it shifts from 50º to 56º. There's also a rafter hook, removable dust port, and full metal blade guard on the XTR model.
However, all of the added performance and features come with more weight. The 6 1/2-inch saw is truly a compact model while the new model is has a much more traditional weight and feel to it. At 9.4 pounds bare, it's not obnoxious. In fact, it falls within the typical weight range of a corded circular saw—even when fully loaded with a blade and battery at 10.9 pounds.
| | | |
| --- | --- | --- |
| | 24V Circular Saw | XTR 24V Circular Saw |
| Blade Size | 6-1/2 inches | 7-1/4 inches |
| No-Load Speed | 5,400 RPM | 5,500 RPM |
| Maximum Cut Depth | 2 7/16 inches | 2 1/2 inches |
| Maximum Bevel | 50º | 56º |
| Weight (bare) | 6.73 pounds | 9.4 pounds |
Read our full in-depth review!
Kobalt XTR Reciprocating Saw
A quick glance at the spec sheet makes it seem like the Kobalt XTR reciprocating saw really only gained a touch of weight and a little longer stroke length.
What's hiding is that the new motor and battery deliver much better cutting speeds in tougher materials. It also sports an orbital mode, making wood cutting even faster.
One of the less-noticeable features we really like is the more accessible blade clamp. It no longer travels inside the front housing and makes blade changes easier no matter what part of the stroke you stop cutting at.
It also boasts better vibration control than its predecessor, making it more comfortable to use for longer demo jobs.
| | | |
| --- | --- | --- |
| | 24V Reciprocating Saw | XTR 24V Reciprocating Saw |
| Stroke Length | 1-1/8 inches | 1-1/4 inches |
| Stroke Speed | 3,100 SPM | 3,100 SPM |
| Orbital Mode | No | Yes |
| Length | 17.1 inches | 17.1 inches |
| Weight | 6.25 pounds | 6.4 pounds |
Work Light
The work light that comes with the Kobalt XTR 24V 5-tool combo kit is pretty slick. It features a solid 700-lumen output in a compact package. It also has a lower output mode when you you're working in closer quarters.
The head folds down to the handle and swings out 180º straight up from there. It pivots around 300º and let you put light at nearly any angle you could want.
Two sets of magnets on the back make working around ferrous surfaces convenient. A hook hides cleverly in the top and pivots 360º once you extend it.
You can even install a belt hook above the battery if you like.
We like the pistol grip design that's taken from the foundation of the drills and impact drivers in the line. It's a familiar feeling that's comfortable to hold and stands on its own easily.
Price
The Kobalt XTR 24V 5-tool combo kit nails a solid value at $399 including the batteries, charger, and rolling hard case.
To put that in perspective, the comparable kit from Ridgid is $100 more, and it's just their Gen5X tools, not the Octane models.
Shop Lowe's
The Bottom Line
It's hard to decide whether we're more impressed by the upgrades in these tools or the kit's value at $399. In the end, both are significant reasons to consider this combo for both budget-minded Pros and serious DIYers.
If you've been waiting to jump on board with Kobalt's expanding 24V max lineup, it's time to stop making excuses.