The Leatherman Kick multi tool was designed for folks who prefer a little less weight, yet need a full size multi-tool that features longer, sharper, and stronger implements in a lighter and more compact tool. Full-size pliers are built in that have a jaw design that can handle twice the squeeze-load as the previous version with no extra weight.
Leatherman Kick Multi tool Features
While Leatherman totes this tool as a full size multi-tool, we like to look at it more as a "lite" version of a full size multi-tool. This is not a bad thing either, since some of the other full size tools can actually be kind of big and bulky. The Kick on the other hand is pretty thin, and actually will ride in our pocket almost as comfortably as a regular pocket knife due to its slimmed down size. What Leatherman did right with this model is that it still features all the necessary and most important tools which include:
Needle Nose Pliers
Regular Pliers
Wire Cutters
Hard-Wire Cutters
Clip-Point Knife
Large Screwdriver
Small Screwdriver
Phillips Screwdriver
Ruler (8 inch/19 cm)
Bottle/Can Opener
Wire Stripper
Lanyard Attachment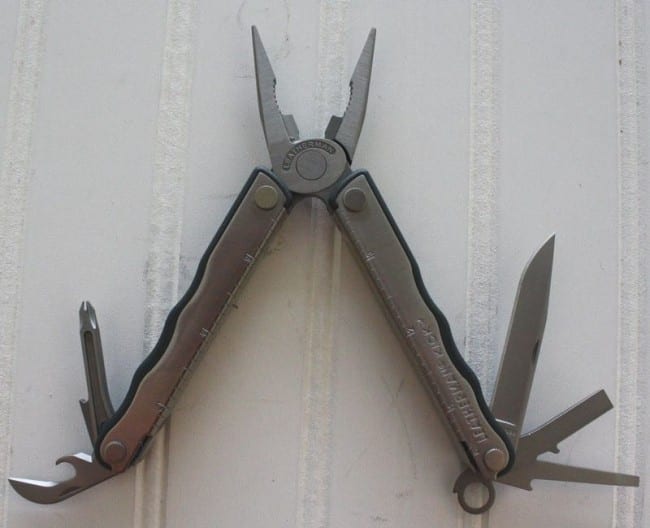 The whole Leatherman Kick multi tool is made of brushed-semi polished stainless steel with a super tough black Zytel polymer lining the handles. Zytel is a sort of nylon-fiberglass composite material used to provide abrasion and impact resistance. Each of the individual tools built into the handle use optimized grades of stainless steel to match the tools' use. While only the most common tools for day-to-day tasks are included, the Kick is fully compatible with Leatherman's Removable Bit Driver. So if carrying the Kick's twelve tools in your pocket isn't enough, you can also add ten additional screwdriver bits. You can also add the Wave Tool Adapter, making any 1/4″ drill bit compatible with your Kick too. One of the things we really like is that even though that knife is just a basic clip point, it is extremely sharp and does not feature any serrations. While serrations do make for a very sharp knife, our experience so far is that most folks don't have the tools needed to sharpen them when they get dull. Since it is just a straight blade, anyone can re-hone it to a fine edge when needed. Another nice feature that we wish the Kick came with from the factory is the ability to add a pocket clip to a tapped screw hole in the handle. The bummer is that it is sold separately for a few extra bucks.
Conclusion
Efficiency is the goal with the Leatherman Kick multi tool. Since this multi-tool was built with good design from the ground up, it means that the blades are stronger, longer, sharper and lighter weight. The cool thing is that the Kick still has the same super-strong pliers as its larger Leatherman brothers, but with a narrower shape. We think the Kick is perfect for folks with smaller hands or if you really are just interested in getting the essential tools you need and not the things you will never use – like a corkscrew. Bottom line is that for the bang for the buck, the Kick presents a pretty good value in terms of both quality and price. We have given this tool a value rating of 9/10 because it will be hard to beat. For our performance rating, we were able to use each tool with ease and without problems so we gave the tool a 9/10. We wish it did come with the pocket clip though, since the days of wearing accessories on your belt are kind of fading away.