Last Updated on November 1, 2021
Not content to let the Milwaukee mud mixer or the DeWalt 60V mixer dominate the new world of cordless mixing tools, Makita released a lighter-weight solution that uses just a single 18V battery. We put our hands on the new Makita 18V cordless mixer (model XTU02T) and used it to mix everything from paint and thinset to mortar. use it once, and this will be one of your new go-to painting tools.
How We Tested the Makita 18V Cordless Mixer
We actually mixed 3/4 of a bucket (4 gallons) of type S mortar for pouring a shower pan. This is the same mortar you'd use for setting brick and block. The Makita 18V cordless mixer also easily handled roughly six bags of thinset for laying tile throughout a condominium during a recent renovation.
The impressive part? All of that mixing was done with a single 5Ah battery pack. For the tile guy or painter, this tool makes a whole lot of sense and can save you a ton of time. Over the next few days, we used it for mixing exterior house paint. After the mortar and thinset, this seemed to present no problems at all.
Makita XTU02 Mixer Key Features
A mixer has certain requirements. When you take away the power cord, you really need to check off some items for a tool to continue working effectively. Makita included several key features to the XTU02 which we feel make this a great cordless mixing tool.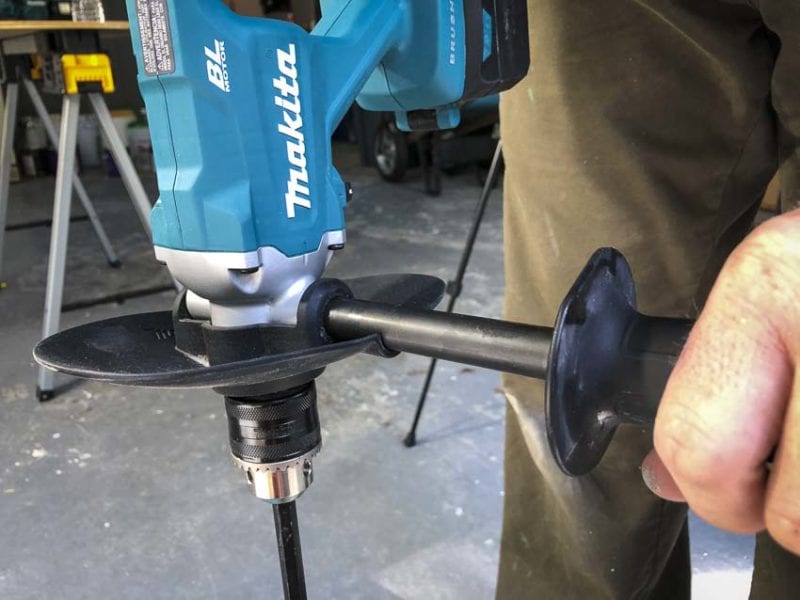 Variable Speed Design
Even the best cordless drills lack the right features for mixing thinset. You can't have a mixer if you simply provide a variable speed trigger that ramps up to over 1,300 RPM. For paint, you can use higher speeds. For mud and thinset you need something lower—with plenty of torque. The Makita XTU02 indeed gives you a variable speed trigger, but it also has a two-speed switch. You get 0-350 RPM or 0-1,300 RPM.
Makita also added a soft-start motor, so you don't get a sudden jump when you pull the trigger. This worked really well in actual use—we never had to feather the trigger to get started. That's one less thing to worry about.
Protection and Ergonomics
Makita built this cordless mixer to really handle dust and water exposure. They added a protective cover for the battery to prevent contamination from mixing compound splashback. It's one extra step to swap the battery, but not at all difficult to flip open or use. This falls under the "net win" category.
They also added a rubber splash guard to keep materials and chemicals from moving up past the chuck and getting into the motor housing. It can be oriented for either left- or right-handle use.
Finally, a rubber trigger cover keeps the Makita cordless mixer from getting gummed up. For ergonomics, Makita paid attention to the handle design and added a rubberized soft grip. For longer mixing, a trigger lock-on button keeps you from having to hold down the trigger.
They also added a side handle for better stability and control. Even with a 5Ah battery pack, the mixer weighs just 6.6 pounds. Look at how thin this tool is!
Technology
The Makita XTU02 cordless mixer uses a brushless motor for greater run-time. It also, however, allows better control over the speed of the mixer under load. You get much better consistency when mixing as a result. Makita also builds in electronic safeties to protect against overloading, over-discharging, and over-heating. Run-time seemed excellent, and the included 5.0Ah 18V battery charges in 45 minutes or less. If you have a spare, you'll have a hard time outrunning the tool.
Makita 18V Cordless Mixer Specifications
Model: XTU02Z (bare tool); XTU02T (kit)
No Load Speed: 0 – 350 / 0 – 1,300 RPM
Battery: 5.0Ah 18V lithium-ion
Chuck: 1/2 in. keyed
Soft start
Variable speed
Length: 12-1/8 in.
Weight (with battery) : 6.6 lbs.
Includes: tool, 2 x 18V LXT 5.0Ah batteries, dual port rapid charger, side handle, bag
Price: $239 (bare tool), $429 (kit)
Warranty: 3-year limited
Conclusion
The Makita cordless mixer feels light—just 6.6 pounds with the 5Ah battery pack. It weighs less than most cordless mixers on the market. It also shaves a lot off the girth of the tool. It's just incredibly small —yet it gets the job done.
The Milwaukee, DeWalt, and RIDGID mixers seem much bigger than this tool when you put them side-by-side. It looks like Makita took a reliable motor and geared the XTU02 appropriately. Grab this tool the next time you need to mix something like mortar and stop overtaxing your higher-speed cordless drills.
It's just a great tool to grab and use for your everyday mixer. Pick one up, and you probably won't want to put it down. I now keep this tool on my truck and reach for it every time I mix anything in a 5-gallon bucket.