Makita XAG04T 18V brushless cordless 4-1/2″ angle grinder—that's a mouthful of a name for a tool. The more features and options made available in a power tool, the longer and more descriptive the name. This can make it daunting to research and decide on a new tool. However, selecting the proper features and options can mean the difference between wasting your money on a tool that collects dust, and investing it wisely so that you use it until its last spark.
The Case for a Cordless Angle Grinder
When it comes to grinders, I almost exclusively use 4-½" grinders. Aside from a few tight areas where I switch to my die grinder, the 4-½" seems to be the perfect size for most of my applications and I find there is a diverse selection of abrasives readily available. Before moving to my current 13 amp models from DeWalt, I had probably burned up three or four sub-10 amp grinders over the years, grinding down countless welds. Cordless tools are incredibly convenient, as cords often get in the way while grinding
The primary reason I'd not yet purchased a cordless grinder is that grinding just requires so much torque. With the recent brushless movement in cordless power tool technology, and the significant improvements it's brought to torque and battery life, however, I was anxious to put it to the test as brushless grinders started hitting the market. When Makita sent over a new cordless/brushless angle grinder, I couldn't wait to get my grubby hands on it.
What's in the Box?
You know those moments when you catch a faint sound or smell or glimpse of something that instantly takes you back 20 or 30 years? When the Makita XAG04T made its way into my hands I had that experience. The moment I unwrapped the cardboard and saw the blue box with the big white "Makita" name on it, I remembered holding my dad's Makita 6010D cordless drill. It came in this little metal briefcase sort of a box; it was so cool. My dad bought it only a year or two after I was born, so for as long as I can remember, that drill has been a part of "buildin' stuff" with dad. It was his only cordless drill until the late 90s.
Features Overview
Thank you, Makita, for continuing to offer a hard case. I've mentioned before how many bags I've collected from this new trend of "power tool bags", but I'll say it again – I think the longevity I've been able to see out of some of my power tools is at least partially due to the fact that they are well protected when in storage or transit inside their hard cases. I might be on an island here in my opinion, but it feels like Hawaii to me.
I hadn't had a new Makita cordless tool in quite a while, so I took a few minutes to look over everything and familiarize myself with the grinder, batteries, and charger. The grinder felt very well balanced and comfortable to hold. I was happy to see that the switch is lockable, and the batteries click in and out very easily. There's also a nice safety feature that prevents the grinder from automatically starting up if the switch is locked in the "on" position when a new battery is inserted.
The charger's indicator lighting system was a bit confusing: there are lots of lights and combinations that can be on and/or flashing. There was an initial learning curve, but now I can quickly glance at it and understand where the battery is in the charging process. I also noticed the batteries themselves do not have charge indicators on them; the indicator is on the tool. You have to put both batteries on to find the one with the most charge; a minor inconvenience, but worth noting.
Where the Wheel Meets the Steel
When the Makita XAG04T first arrived at my shop, I was just finishing the welding of a bed frame made of 2 x 6 steel tubing. I figured this was the perfect opportunity to remove all the "clean" from my new tool, so I charged the batteries and threaded on my favorite 36 grit flap wheel. The Makita was going to town on these 6" long welds; I was impressed that a cordless tool had the power to get these down. Then, halfway through the fourth weld, I hit a wall.
The battery was too hot to keep going and too hot to charge. I grabbed the second battery while the first one was cooling and jumped back in. I decided to go a little lighter on the pressure to see if that would make a difference. After all, I'm used to an AC 13 amp grinder. I definitely got a little further with this battery, but still overheated it to the point where it wouldn't charge. Now I had two batteries, both too hot to charge and many more welds to grind.
Initial Thoughts on Power and Runtime
I set the Makita XAG04T down while the batteries cooled and finished grinding the welds with my 13 amp while I processed my thoughts:
Grinding down welds is definitely the most strain you'll put on a grinder and the Makita actually performed shockingly well. The battery just got hotter more quickly than I'd anticipated, based on its performance.
What should my expectation be? I certainly shouldn't expect an 18V cordless grinder to keep pace with an AC 13 amp.
Grinding down welds is only one of many tasks I use the grinder for.
It's definitely too early to make a full assessment of the tool.
After I'd finished taking down all the welds, I grabbed the freshly cooled/charged battery and picked up the Makita again with a 60 grit flap wheel to start smoothing out my corners and 36 grit scratches. Now we're talking. I hit the headboard, footboard, and three bed frame rails, and only started running out of juice on the third rail. The grinder performed very well—especially since it was still cool enough to go straight to charging. I clicked in the second battery and finished smoothing out the last rail. This was the first time I realized how convenient it was to be cordless. I was able to move all around the workpiece to get every spot, without fighting the cord each time I changed positions.
Cutting Metal Sheets
The next morning I had to cut a sheet of expanded metal. The cord on an AC grinder constantly gets caught on the edges of expanded metal when you have to make a lengthy cut, so this was another task where the cordless Makita really made a difference. I didn't have to pause for cord management at all.
Over the past couple of months, the Makita has had much more frequent use than my 13 amp grinders. The Makita XAG04T cordless grinder is much easier/more convenient to use one-handed (the soft start is great for one-handed use), on small pieces, with a cut-off wheel, when deburring, and when cleaning spatter off the welding table than my 13 amp grinders.
However, to no one's surprise, the 13 amp grinders smoke the Makita when it comes to grinding down welds. Regardless, I realized that just like having more than one flathead screwdriver provides me with the opportunity to pick just the right size, having more than one 4-½" grinder means that depending on the application, I'll have the right tool for the job. I'm keeping the Makita. I use it too much now to let it go. And now that I'm "into" Makita's 18V Li-Ion line, I'll probably be expanding my collection.
Final Thoughts
Just as you don't always need the biggest flathead screwdriver you can find, you don't always need the most powerful grinder. I think it will still be a while before we see a cordless grinder that can hold a candle to a 13+ amp AC grinder when it comes to weld removal. But for just about all other tasks, the Makita XAG04T cordless/brushless 4-½" angle grinder has proven itself to be a better tool for the job.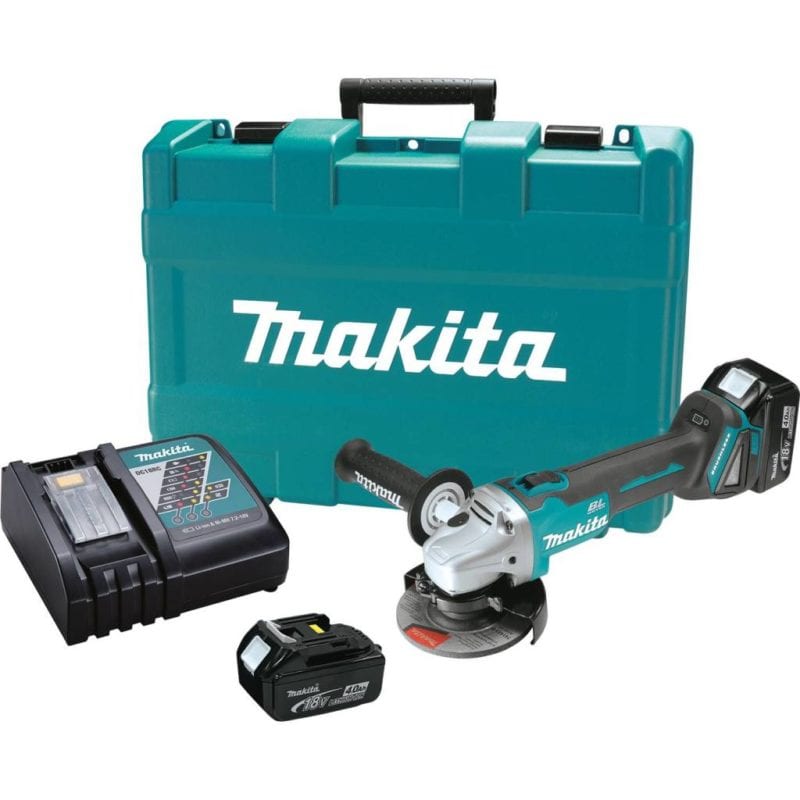 Makita XAG04T Specs
Wheel Size: 4-1/2″
No Load Speed: 8,500 RPM
Battery: 18V LXT Lithium-Ion 4.0 Ah
Overall Length: 14-¼"
Net Weight: 5.5 lbs.
Price: $329
Warranty: 3 years
Makita XAG04T Kit includes:
2 x 18V LXT Lithium-ion 4.0Ah battery
18V Lithium-ion Rapid Optimum Charger
4-1/2 x 1/4 x 7/8 in. INOX grinding wheel, 36 grit
4-1/2 x 3/64 x 7/8 in. super-thin cut-off wheel, metal
4-1/2″ tool-less wheel guard and cut-off wheel guards
Side handle
Tool case