It wasn't all that long ago that mainstream power tool companies didn't really have much influence in the outdoor power equipment market. However, that's changing thanks to the power of lithium-ion batteries. The fact of the matter is battery-powered chainsaws like the new Makita XCU03 18V X2 LXT (36V) Chainsaw now have the power and the runtime to perform beyond what the basic homeowner needs.
Professional landscapers and even foresters are finding the convenience of lithium-ion batteries and the power offered by the technology is becoming more relevant as they overcome many of the negatives of gas-powered engines.
Top Features
Brushless Motor
We keep saying it and we're going to continue, you need brushless motors to have effective cordless OPE. Makita packs their BL outer rotor brushless motor to power this chainsaw. Also of significance is the fact that Makita is using a direct drive system in combination with the motor. Makita has used a direct drive system to great effect in many of their saws for the job site and we expect the same thing from their chainsaw.
Bar Length
The Makita XCU03 comes with a 14-inch bar but it's capable of using a 12- or 16-inch as well. That means it's going to be good for limbing duties and felling small trees. There are techniques to felling diameters much larger than the bar length, but you'll really want a gas-powered chainsaw for that kind of work.
Practically, I was able to cut 12-inch diameters without having additional work to do to get through them.
Bucking Spikes
One of the first things I look for on a battery-powered chainsaw is the bucking spikes. If they're metal, I know I have a saw that has a chance to cut through tougher material. You don't put plastic spikes or ridges on a Pro-level gas saw, so if I'm going to use my lithium-ion chainsaw professionally, I want metal spikes.
With the relatively small bar length, the bucking spikes on this Makita chainsaw match up well. In testing, I was able to get and hold a grip on the branches I worked to help with a smooth bucking action. That's all I'm asking for and Makita delivers.
Chain Access and Tightening
Accessing the chain for replacement or maintenance is tool-free. You simply push in the spring-loaded lever to release it, then swing it out and start turning to loosen it away from the bolt.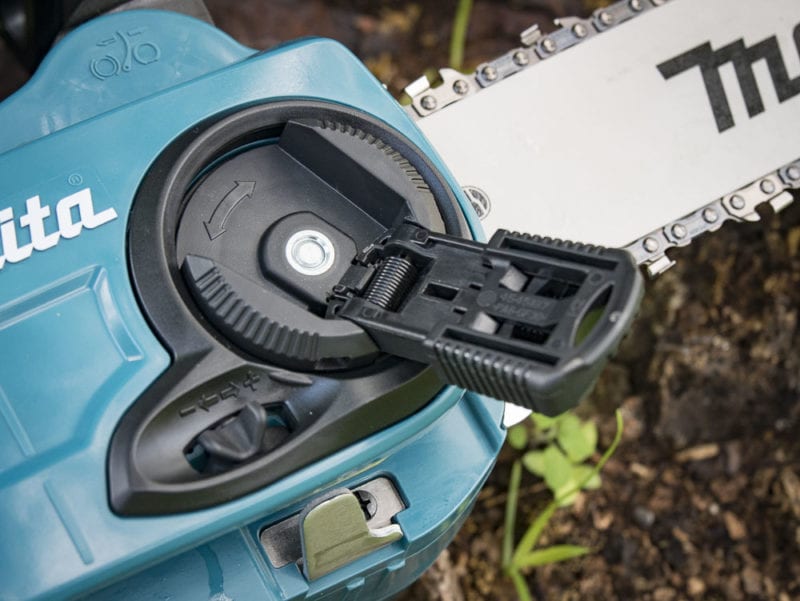 Likewise, chain tightening is also tool-free. You'll need to loosen the chain access housing slightly, then use the thumb wheel to tighten or loosen the chain.
Safety Features
Three main safety features are around the saw. First, you'll need to press the power button before you can engage the motor. It resets pretty quickly once you take your finger off the trigger, though. It might be a slight irritation to some users, especially those used to having a gas engine that idles when you set it down. Still, I'd rather press the button again than have an accident. After all, you can hear a gas engine idling, a cordless chainsaw gives no sound to let you know it's ready for action.
There's also a hand guard that trips the brake and prevents the saw from powering up when it's in the lock position. And you have a chain brake that stops the chain quickly when you release the trigger.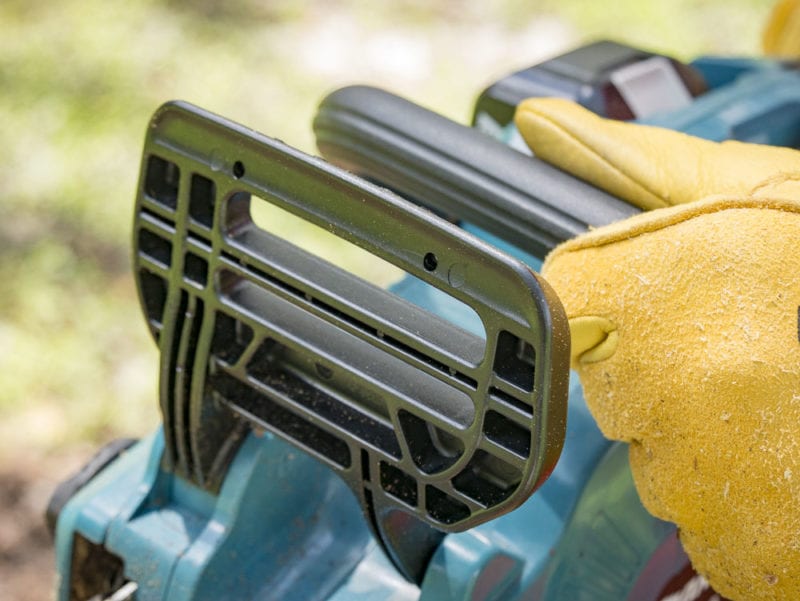 Even with these safety measures, it's still a good idea to leave the batteries out of the saw until you're ready to work and wear gloves, safety glasses, and chainsaw chaps.
Performance
The XCU03 edition of the Makita cordless chainsaw cuts beautifully out of the box. With a reasonably thin bar and chain, it melts through wood, including the oak I spent most of my time on. The name of the game to keeping that kind of performance lies in maintenance, mainly by keeping the chain sharp. You'll also need to clean the saw and keep an eye on the oil level, but having a sharp chain makes all the difference.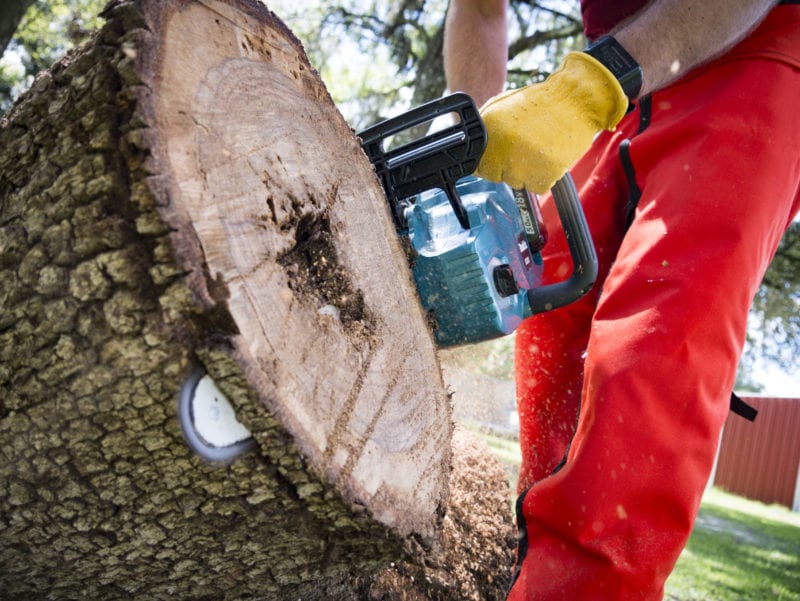 Runtime is completely dependent on the diameter and species of woods you're cutting. For my tests, it was oak that had some central heart rot. So although the branch was roughly 12 inches x 16 inches, the reality is that had a 3-inch hole in the middle. Still, I made it through 9 full cuts using two 5.0 amp hour batteries. That may not seem like much, but when you move around to limbing and trimming branches in the 4 to 8-inch range, you'll get dozens of cuts.
One of the questions many Pros have is how well this 36V saw compares to the 60V and 80V saws running around. Unfortunately, we weren't able to get this one in time for our best battery-powered chainsaw article to give a straight-up head-to-head comparison. However, the cutting speed of this model is comparable to the other cordless chainsaws I've used, giving up a little speed in some cases for better ergonomics and smoother performance.
That said, as a supplement to my gas-powered chainsaws, I will gladly reach for the Makita XCU03.
Ergonomics
Makita's previous 36V chainsaw has generally received very high customer reviews, and things are only getting better with this one. What we see is a little bit different physical design. The most significant improvements include moving the batteries from the back of the saw to the middle and bringing the D-handle back. It looks and feels more like a traditional chainsaw. Mounting the batteries between the user's hands definitely improves the balance.
One of the really nice things about using the Makita XCU03 (and having a sharp chain) is that the saw really does most of the work. It's light enough to make me leave my gas saw in the shop and cuts smoothly and powerfully enough that I'm not putting much effort into it. And that's how a good chainsaw should feel when you're using it.
The Bottom Line and Pricing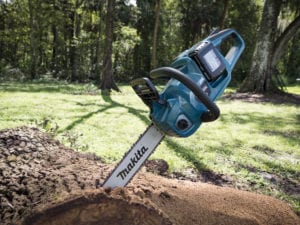 At $389 for the kit and $279 as a bare tool, the Makita XCU03 18V X2 LXT Chainsaw fits in nicely as a supplementary tool. It works very well for limbing, trimming, and felling small trees. Its combination of lighter weight, cordless convenience, and smooth performance make it one of my favorites to use in the 14-inch class.
Like most cordless chainsaws, the major limitation is runtime. Even with the two 5.0 amp hour batteries that it comes with, you can easily run through them in 30 minutes if you're on a roll. That means you'll need two or three sets to cycle through if you have a lot of work on hand. But that's why this is really a tool to supplement your gas models and for punch list work. Getting away from the landscaping and forestry Pros, it's a very nice tool to have for the occasional construction jobsite that needs a little TLC before you can get to work.
Could it use more power? Sure it can. Could you go for a longer bar? Yeah, I think Makita has the foundation to make a bigger cordless saw. But I just don't think those are necessary improvements on a model that's this well-rounded. I hope to see Makita come out with a bigger saw down the road, but the XCU03 is one of the finest small bar cordless chainsaws available and doesn't have much need to be replaced in this class.
Have some thoughts on the new design? Sound off on Facebook, Twitter, and Instagram!
Makita XCU03 LXT 18V X2 Chain Saw Manufacturer's Key Features
Makita-built Outer Rotor BL Brushless Motor direct-drive system provides high power efficiency equivalent to gas chainsaw
Variable speed trigger
"Tool-less" chain adjustment for quick and convenient chain adjustment
Built-in lock-off lever helps prevent the chain from accidentally engaging
Built-in L.E.D. on/off switch with auto power-off function; automatically shuts the saw off when operation is delayed for extended battery life
Two 18V LXT Lithium-Ion batteries deliver power and performance without leaving the 18V LXT platform
Front hand guard engineered to actuate chain brake when engaged
Low noise level and zero emissions for operator comfort
Features Extreme Protection Technology (XPT) designed to provide increased dust and water resistance in harsh job site conditions
Electric brake for maximum productivity
Rubberized soft grip top handle engineered for the user to more easily apply even cutting pressure
Large oil filling port with view window allows operator to easily add and check bar oil level
Adjustable automatic chain lubrication with large oil reservoir
Dual Port Charger charges two (2) 18V LXT Lithium-Ion 5.0Ah batteries in only 45 minutes
Makita XCU03 LXT 18V X2 Chain Saw Specifications
Model: Makita XCU03Z (bare), Makita XCU03PT (kit)
Power Source: 2 x LXT 18V battery pack
Bar Length: 14″ (12″ – 16″ compatible)
Speed: 3490 FPS
Chain Pitch: 3/8″
Chain Gauge: 0.043″
Length: 30-1/2″
Weight: 11.5 pounds with batteries
Bare Tool Includes: Tool, bar, chain, bar cover
Kit Adds: (2) 5.0 AH batteries, dual port charger