Plenty of people prefer the more compact, lighter 6 1/2-inch circular saw over full-size 7 1/4-inch models. Thanks to updated technology, the Masterforce Boost cordless 6 1/2-inch circular saw offers those benefits without dropping down to DIY levels of power. Just how good is it, though? Let's find out!
Masterforce Boost Cordless 6 1/2-Inch Circular Saw Performance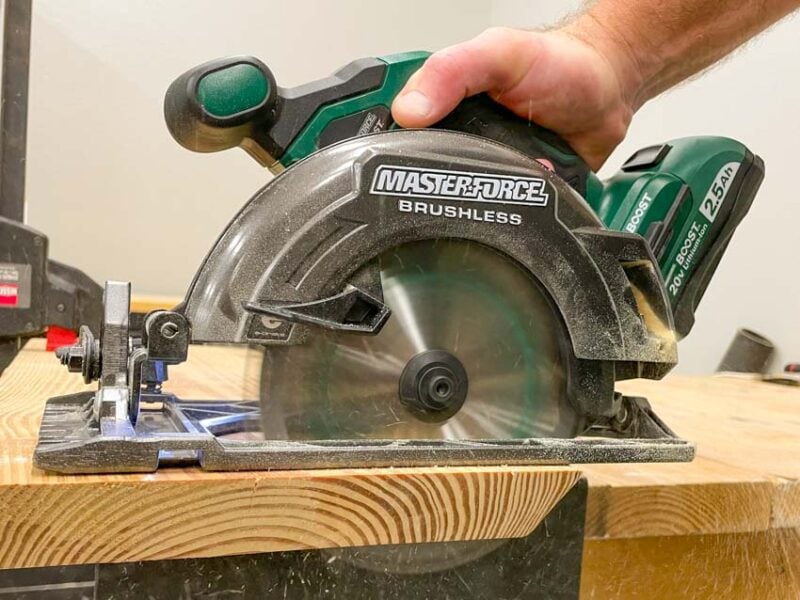 Like the entire Boost line, Masterforce created this circular saw to take advantage of its most advanced brushless motor and battery pairing. Using a Boost battery, you get speeds up to 5600 RPM and confident cutting up to 2 3/16 inches deep. That's just 1/4 inch shallower than the max cutting depth of the 7 1/4-inch version.
Even though the blade is smaller, it's running at a faster speed than its 7 1/4-inch big brother (5600 RPM vs 4800 RPM). That translates into a close, but slightly lower tip speed for the smaller model (3033 FPM vs 3200 FPM).
When it comes to the actual cut, the saw cuts well and there's enough torque behind it to make standard cross cuts and 45° bevel cuts without strain. Of course, it's not as confident as premium professional models, but it's way ahead of any cordless DIY saws you might be considering.
Beveling runs up to 50° and both the bevel and depth use quick clamps that make adjustments easy. The gauges are molded in with the metal, so there's no chance they'll rub off easily.
One thing that's different compared to other cordless circular saws we've used is that there's a definite click in the trigger when you activate the blade. It's not a bad thing, just different and something you might notice if you're used to other brands.
When you release the trigger, an electric brake takes over, stopping the blade quickly.
Masterforce Boost Cordless 6 1/2-Inch Circular Saw Design Notes
Ergonomics
The blade is on the left side of the saw, which I prefer even though equally right-handed Clint DeBoer prefers it on the right. Feel free to add your opinion of which side is the correct one in the comments below!
One of the benefits of using a 6 1/2-inch circular saw is some weight reduction and we see that here. Masterforce's 7 1/4-inch version is 7.8 pounds as a bare tool and the 6 1/2-inch model drops down to 5.9 pounds. Clearly, it's a noticeable difference. With a 2.5Ah Boost battery, the saw weighs 6.9 pounds—still nearly a pound less than the full-size version before you add a battery to it.
The handle favors larger hands with its girth, though it's still easy enough to use if you have smaller hands.
The front handle is centered inline with the main handle with a comfortable gap between them. It strikes a nice balance between handles that are too close and ones that unnecessarily extend the length of the saw.
Dust Collection
By default, the saw delivers wood chips and dust down and out through the side of the blade guard. If you want to collect it more effectively, there's a dust port adapter that comes in the box. It installs with a single screw in less than a minute.
Additional Highlights
LED light
Onboard blade wrench storage
Masterforce Boost Cordless 6 1/2-Inch Circular Saw Price
Look for this model at Menards for $119.99 as a bare tool. At the time we're writing, there's no kit option available. The tool is backed by a 3-year warranty.
The Bottom Line
The Masterforce Boost cordless 6 1/2-inch circular saw is a well-built option for folks that want to step up from the performance of DIY saws without paying professional brand prices. It is perfectly capable of handling all your standard circular saw cuts without having to crawl through them. Just remember to pair it with a Boost battery to get the same performance we enjoyed.
Specifications
Model: Masterforce 5416 (2410495)
Power Source: Masterforce 20V battery
Blade Diameter: 6 1/2 inches
No-Load Speed: 5600 RPM
Max Cut at 90°: 2 3/16 inches
Max Cut at 45°: 1 11/16 inches
Bevel Capacity: 50°
Weight: 5.9 pounds bare