Metabo HPT 11-Amp Reciprocating Saw Shines in Head-to-Head Testing
Metabo HPT (formerly Hitachi) might not be the first name you think of when it comes to reciprocating saws. However, results from our head-to-head testing of more than 40 models might change that. The Metabo HPT 11-amp reciprocating saw put on a clinic in our corded review, outpacing some of the biggest names in the industry.
Pros
Top-ranked model in the 10 – 12-amp class
Dominated our wood cutting test
Very good metal cutting speeds
Excellent vibration control
Most robust feature set
Top value rating in its class
Cons
Recommendation
Buy it if you're looking for the best value, excellent cutting speed and vibration control, or a lot of features. Pass if weight is your biggest priority.
Metabo HPT 11-Amp Reciprocating Saw Cutting Speed
The Metabo HPT CR13VST is an absolute pleasure to use and it starts with its overall excellent cutting speed. We measured its average cutting speed in three materials: nail embedded PT pine, 2″ EMT, and #5 rebar. You can see the full details of our test methods here.
With a 12.86-second average, the Metabo HPT 11-amp reciprocating saw absolutely crushed every other saw in the class. Its closest competitor was Makita's JR3050T at 20.53 seconds. This model was 1 of just 3 in the group to include orbital action, and it clearly made a difference.
Things settled down some in metal cutting. In our 2″ EMT test, Metabo HPT averaged 7.33 seconds. That was within a second of Milwaukee's 6.36-second average, but fell to 4th out of the 7 saws in its class.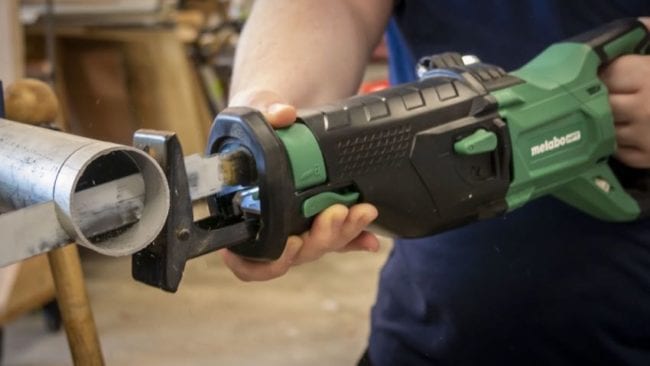 Wrapping up with rebar cutting, the CR13VST maintained its 4th place position, averaging 12.38 seconds. It was a little more than 4 seconds off of Makita's class-leading 8.23-second average.
Compared to the models at the bottom of the charts in our metal cutting tests, Metabo HPT isn't slow. When you wrap in it dominating wood cutting performance, it finished with the top overall score for cutting speed. We think giving up a little speed in metal is worth it for such fast speed in wood.
Vibration Control
One of the reasons to use a reciprocating saw in the 10 – 12-amp class is its lower level of aggression and vibration than the big 15-amp models. After cutting in a variety of materials, it was obvious Metabo HPT really dials in its vibration control well. Makita eeks out the win in this category, but Metabo HPT's score of 93 points is excellent.
Feature Set
In a class that doesn't usually add many bells and whistles, Metabo HPT puts together a pretty nice package. In addition to its orbital action and vibration controls, here's what else you can expect:
Variable speed dial (only model to include it)
Pivoting, tool-free adjustable shoe
Blade release lever on the front handle
Rafter hook (only model to include it)
LED light (only model to include it)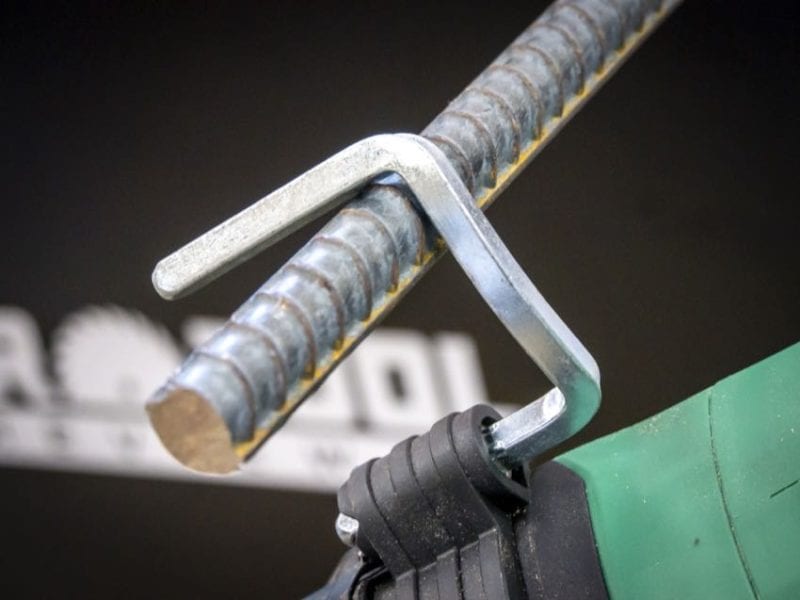 When you look at the other saws in this class, there's not a single feature we looked for that's present on another model but not this one. It has by far the most robust feature set of the group.
Size
Metabo HPT claims the CR13VST is lightweight and compact, and it is compared to the 13-amp and 15-amp groups. Among its peers in this class, it's a little bulkier. At 8.7 pounds, it's the heaviest we tested in this class. The lightest was 6.8 pounds and the average weight in this class was 7.7 pounds.
However, it's one of the more compact models at 18.3″ long.
We wouldn't let the weight dissuade you. It's lighter than any of the 13-amp or 15-amp models we tested. In our opinion, the cutting performance and vibration control far outweigh the additional weight.
Price
The Metabo HPT 11-amp reciprocating saw is just about the least expensive you can get your hands without dropping to a DIY or Prosumer brand. It's $79 price tag is better than any of the others we tested aside from Ryobi ($64). Considering the performance you're getting and a 5-year warranty, it's the best value in the group.
If you're ready to buy, we found the best price at Acme Tools. Amazon has it, but it's running a little above the $99.99 MSRP at the time I'm writing this.
The Bottom Line
When we tallied the final scores, the Metabo HPT CR13VST 11-amp reciprocating saw beat out Makita for first place in its class in a close race. It's a great all-around saw and even though it's a bit heavier, its price makes it a great deal for Pros and well within reach for DIYers.
Buy it if you're looking for the best value, excellent cutting speed and vibration control, or a lot of features. Pass if weight is your biggest priority.
Get it on Amazon
Get it at Acme Tools
Metabo HPT 11-Amp Reciprocating Saw Specs
Model Number: Metabo HPT CR13VST
Motor: 11 amps, 120 volts
Blade Speed: 0-2800 SPM
Stroke Length: 1-1/8″
Variable Speed: Dial or Trigger
Weight: 8.7 pounds
Length: 18.3″
Warranty: 5 years
Price: $79