Metabo HPT 36V MultiVolt Cordless Framing Nailer Powers Through LVL
Metabo HPT's 18V cordless framing nailer was the first one we put our hands on that did a great job of dealing with the firing delay plaguing other designs. Now there's a Metabo HPT 36V MultiVolt cordless framing nailer and we wanted to see if there are any major changes.
Pros
Power to drive in LVL
Zero firing delay
Compatible with the AC adapter
Reversible hang hook
900 shots per charge on a 2.5Ah battery
Smooth-operating drive depth adjustment
Comfortable handle design
Cons
Noticeably heavier than pneumatic
Only holds one stick of nails (no extended magazine option)
Metabo HPT 36V MultiVolt Cordless Framing Nailer Performance
Driving Power
The number one question we get about cordless framing nailers is… will it drive in LVL? The answer to this started out a little sketchy. Straight out of the box, it actually had a hard time fulling driving our 3 1/4-inch framing nails into an LVL beam.
However, after a handful of shots, the nailer found a rhythm and was driving them flush just fine. It's not that the tool needs to warm up each day, it was only a matter of getting things going on that first use. On our subsequent uses, it's been fine.
Driving Speed
For you speed demons out there, plans on being able to drive up to 3 nails per second. There's a decent amount of recoil (very similar to stronger pneumatic guns), making it tough to effectively bump fire in harder materials, so pick your battles accordingly.
Whether you're nailing in single or bump fire modes, there's no noticeable ramp-up time when you pull the trigger. Between that and the recoil, Metabo HPT's Air Spring Drive really does make this feel more like an air nailer.
Capacity
Like many cordless framing nailers, there's room for just one stick of nails in the magazine. The total capacity is 37 nails on the 21° version we're reviewing and there's a dry fire lockout to let you know it's time for a refill. The 30° model holds 34 nails.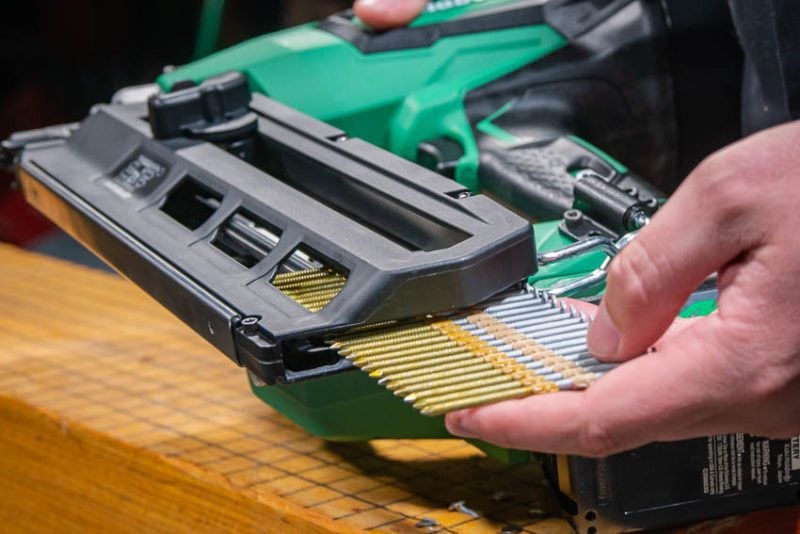 There's no extended magazine option to get a more standard nail loadout running. For our crew, that's not a deal-breaker. It's just something to keep in mind if you're thinking about making this your primary framing nailer.
It can handle 2 – 3 1/2-inch nail lengths and diameters from 0.113 to 0.131-inch. That's pretty standard, even among pneumatic nailers.
Runtime
Expect the brushless motor to fire up to 900 nails on a charge using the 2.5Ah battery that comes in the kit. That's plenty to make it through most days and even if it's not, a second battery can fully charge well before the one you're using runs out.
You can use higher-capacity batteries if you want to extend your runtime or keep an AC adapter on hand in a pinch. Metabo HPT's ability to use AC power is one of the major characteristics that sets it apart from its competition.
Metabo HPT 36V MultiVolt Cordless Framing Nailer Design Notes
Weight
For this nailer, weight is the biggest departure from the feel of using pneumatics. Bare, the tool weighs 9.3 pounds and the 2.5Ah battery brings it up to 10.8.
Compared to Metabo HPT's NR83A5 at 9.1 pounds. it's a noticeable difference. However, it's 1/2 a pound lighter than Milwaukee's M18 Fuel framing nailer with an M18 5.0Ah battery.
Ergonomically, Metabo HPT's design is outstanding. The weight balances well and the handle contours beautifully to your hand. Add in a healthy dose of rubber overmold, and we don't have any complaints about the tool's feel in our hands.
Additional Features
Smooth-operating tool-free depth adjustment thumbwheel
Pivoting hook (reversible)
Lock-out swtich and electronic power button
Metabo HPT 36V MultiVolt Cordless Framing Nailer Price
The retail price on this nailer is $449 for either the 21° or the 30°. It comes with a 2.5Ah MultiVolt battery and rapid charger. Like other Metabo HPT lithium-ion tools, it has a lifetime warranty.
The Bottom Line
Metabo HPT has a deep knowledge of framing nailers that clearly shows in their 36V MultiVolt cordless framing nailer. The performance is on point and it's lighter than its closest competitor. While the speed and weight make it best for punch list and remodeling work, this cordless framer is tough to beat.
Check out Metabo HPT's entire line of nailers here.
Metabo HPT 36V MultiVolt Cordless Framing Nailer Specifications
Model: Metabo HPT NR3690DR
Power Source: Metabo HPT 36V MultiVolt battery or AC adapter
Nail Diameter: 0.113 – 0.131 inches
Nail Length: 2 – 3 1/2 inches
Speed: Up to 3 nails per second
Weight: 9.3 pounds bare, 10.8 pounds with 2.5Ah battery
Warranty: Lifetime
Price: $449 kit with 2.5Ah battery and rapid charger