Metabo HPT Releases Industry-First Cordless Rebar Bender/Cutter
The VB3616DAM Metabo HPT MultiVolt Rebar Bender brings cordless convenience to rebar bending and cutting. Prior to this release, rebar bending fell to the corded VB16Y. But now, with the MultiVolt system, you can either run this new tool off 36 volts of battery power or use the adapter to fire it up with 120V AC power. Look for this first-of-a-kind tool to hit shelves this upcoming April.
10-Second Summary
Model: VB3616DAM
Industry's first cordless rebar bender/cutter
36V fan-cooled brushless motor
Cuts #5 rebar in 2.6 seconds
Bends #3-#5 rebar up to 180° in 3.8 seconds
Gets around 270 cuts of #5 rebar per charge
Approximately 520 bends of #5 rebar at 90° per charge
Controller prevents interruption of bending or cutting during operation
Reverse rotation mode
Can run on 36V battery or AC power
Warranty: 5-year
Available April 2020
Price: $2399
What's the Big Deal?
Clearly, the big deal surrounding the Metabo HPT MultiVolt Rebar Bender revolves around its versatility in regards to a power source. Obviously, the first tool of its kind to move to a cordless platform will be a big talking point…Especially when the tool specializes in demanding work, like cutting and bending rebar.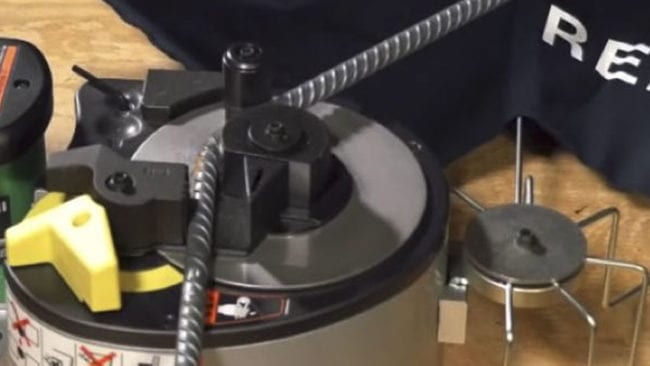 Speaking of reasonable levels of performance being met or exceeded, here's what the VB3616DAM can do. With its 36v fan-cooled, brushless motor, it can crank out a 180° bend in #5 rebar in 3.8 seconds. This tool has a pre-set dial where you can set your degrees: 45°, 90°, 135°, and 180°. If you need something in between any of those presets, you can switch to a manual mode, using the variable speed trigger to control your bends. The Metabo HPT MultiVolt Rebar Bender even slightly over-bends the rebar to account for the spring-back when the tool finishes applying force.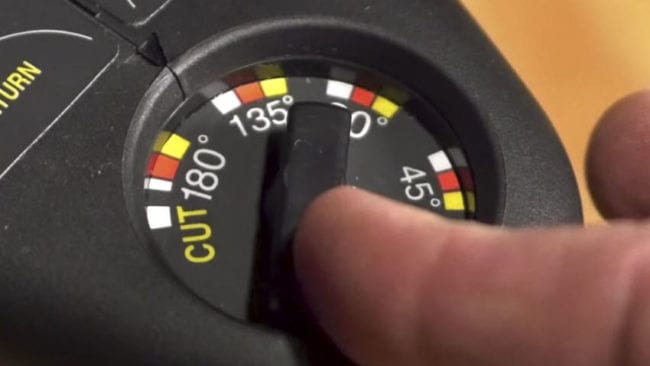 The Metabo HPT MultiVolt Rebar Bender features a controller that prevents interruption of bending and cutting during operation.
The VB3616DAM can cut up to #5 rebar in 2.6 seconds. To accomplish this, you would set the dial to the Cut setting, turn the unit over on its side, lay your rebar across the shears, and pull the trigger.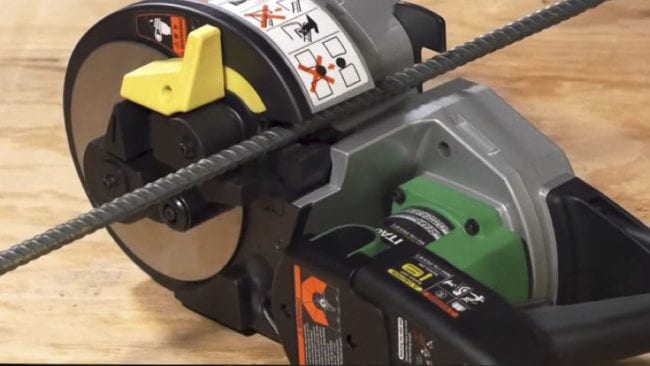 For those wondering what kind of runtime they can expect from one of the kitted 4.0Ah batteries, you're looking at around 270 cuts or around 520 90° bends per charge.
And, if that doesn't hack it for you, and you have access to a 120V wall outlet, you can always hook the VB3616DAM up to the MultiVolt adapter to run the tool off of AC power indefinitely.
Pricing and Availability
The VB3616DAM Metabo HPT MultiVolt Rebar Bender should hit shelves this upcoming April. As a kit, which includes two 36V 4.0Ah batteries and a charger, it will retail for around $2,399. It comes with Metabo HPT's 5-year warranty.
Shop Acme Tools
Metabo HPT MultiVolt Rebar Bender VS Corded Portable Rebar Bender
| | | |
| --- | --- | --- |
| | VB3616DAM MultiVolt | VB16Y 8-Amp |
| Power Source | 36V Battery/120V AC | 120V AC |
| Bending Time for #5 Rebar | 3.8 seconds | 4.3 seconds |
| Cut Time for #5 Rebar | 2.6 seconds | 2.5 seconds |
| Variable Speed Switch | Yes | Yes |
| Price | $2399 for kit | $1,999 |
Other Specs
Model: VB3616DAM
Blade Material: Hardened Steel
Length: 20.5″
Height: 9.75″
Width: 9″
Warranty: 5-year
Available April 2020
Price: $2399