While large, or full-size, shop vacs are extremely useful on the jobsite and in the workshop, a portable vacuum is just the thing for a trim carpenter or homeowner. Being only two gallons in size, the Milwaukee 0880 M18 Portable Wet/Dry Vacuum is perfect for executing punch lists or any light-duty work where a full-size vac would be cumbersome or simply overkill for the job requirements.
Though it's dubbed the Milwaukee "M18" Wet/Dry Vacuum, it actually operates off either an M18 (18V) lithium-ion battery or the company's older 18V Ni-Cad batteries. Both will provide enough power to suck up wet or dry material into the onboard 2-gallon storage tank. This vacuum is designed to be extremely portable, not even requiring a power outlet to make it work – yet it's large enough and strong enough to make a reasonably large clean-up job look easy. When we saw this tool, we quickly felt the need to get a hold of one and take it out for a dry… or wet, run.
Milwaukee 0880 Build Quality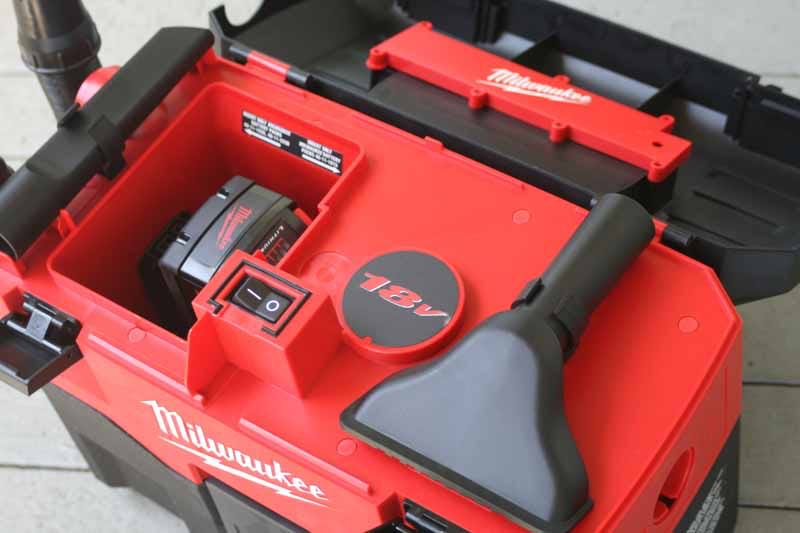 The Milwaukee 0880 M18 Wet/Dry Vacuum utilizes the standard Milwaukee colors, namely black and red, leading the entire vacuum to look like a small, company-branded, ice chest. It's actually a good look, and very little of the structure is wasted, with every nook and cranny well-crafted to provide optimal ergonomics and easy access to accessories and the battery compartment. Of chief note is the rather streamlined outer structure, with only the single hose existing outside of the rectangular main container. This contributes to the tool being easy to haul around without the hassle of extraneous accessories and attachments which could be lost in transit or at the jobsite.
It's truly a portable tool and this seems to be one of its major strengths. Lifting the top lid, which is secured with two black plastic latches, the M18 Wet/Dry Vacuum reveals a narrow crevice accessory as well as a mini floor nozzle. Both accessories remain easily and securely attached to the top of the vacuum's motor housing when not in use. The on/off switch is raised and penetrates the top lid, allowing for easy power up and down of the vacuum. It's a large switch and quite easy to use with gloved hands. Close the lid and you can pretty much toss this tool in the back of the truck, or even stack some items on top.
Hidden Battery Compartment
Inside the lid is also where the battery compartment resides, which easily fits a single M18 battery – either XC or Compact. There is also a legacy sled for using the older 18V NiCd batteries, making this a tool that spans a large swath of battery technology from Milwaukee.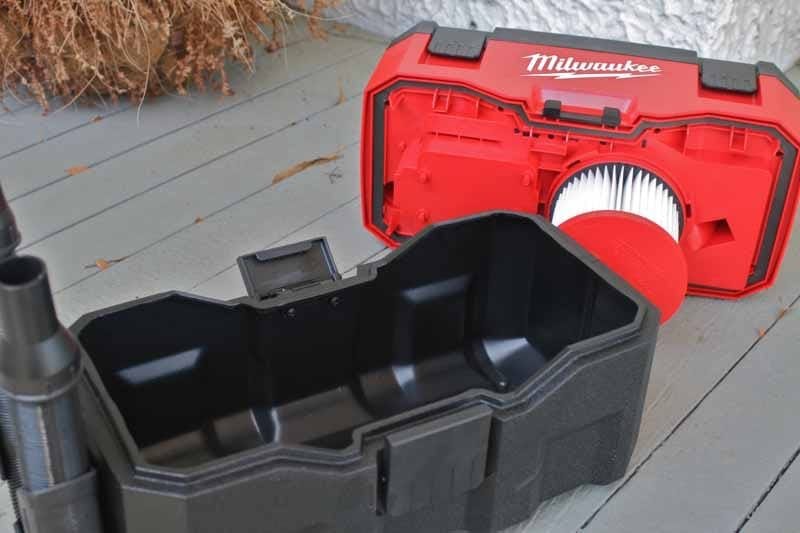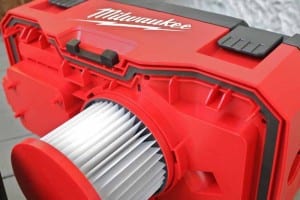 The Milwaukee 0880 vacuum is really divided into three sections: the hinged lid, the main body, and the canister. Both the lid and canister are black plastic and the body is red with the Milwaukee logo. There are two latches, front and back, which disengages the canister completely and allows it to be emptied easily, without the need for a bag (or having to bring the entire vacuum to the dumpster). The canister is lightweight but strong enough that it doesn't come across as flimsy or delicate. The general feeling is that you can toss this vacuum around and not worry about it breaking easily, nor will the latches accidentally release without being manually opened.
There is a robust rubber gasket around the circumference of the vacuum's body which provides a secure, airtight seal and ensures you are getting all of the possible suction from the vacuum and not wasting any power. The filter is affixed to the body of the vacuum and can be removed by simply turning it counterclockwise by hand – there are no tools required. Replacement 0.3 micron washable HEPA filters (49-90-1900) can be purchased from Milwaukee or any of their retail or online dealers for around $20. One filter is included and can be used for either wet or dry vacuuming, but must be sufficiently air-dried after being exposed to water (either from vacuuming water or after having cleaned and rinsed it to dislodge dirt).
Testing and Use
We used the Milwaukee 0880 M18 Cordless Vacuum in a variety of tasks. In simple clean-up, it's an excellent tool that can be carried from location to location easily and conveniently. Since it runs off of the M18 platform and weighs only 10 pounds (before adding a battery), the extreme portability of this tool is unmatched for its capacity. We set to work on a project that involved sucking about 50 pounds of leaves (OK I'm exaggerating a bit) out of the crevice area between a covered front porch and the exterior wall of an older bungalow home. Since the leaves were wedged down in there pretty good, multi-layered, and positioned in multiple directions, they didn't exactly come willingly.
The M18 Wet/Dry Vacuum worked well, though it was very obvious that its suction wasn't anywhere near that of a full-sized shop vacuum (which removed the leaves in a single pass). Just putting your hand over the air intake yielded a reasonable suction, but not anything that would compare to a full-size wet/dry vac. The Milwaukee M18 Wet/Dry Vacuum has about 45 cubic feet per minute. This is equivalent to some corded 2.5-gallon models we've seen on the market, but only about 1/3 of what you'll get from a larger 4+ HP model. Since the suction is run through its narrow 1-1/4″ hose, it works efficiently and provides more than enough suction for light-duty work. This tool is most definitely made for smaller jobs and simple clean-up. The 2-gallon tank also means that you don't have to empty it nearly as often as those 1/2 and one-gallon models.
Runtime Testing
On a Milwaukee XC battery, we got the Milwaukee 0880 Wet/Dry Vac to run for 10 minutes and 10 seconds, though over the last 30 seconds we could audibly hear a dip in the frequency, and thus the sucking power, of the tool. Slipping in an 18V lithium-ion Compact battery to finish the job, we got 5 minutes and 30 seconds of use, a little over half the time of the XC battery. Given this, you'll definitely want to use a full-size XC battery; however either will work well for limited pickup and jobsite cleaning. One thing to keep in mind is the 2′ length of hose, which we could extend up to 48-inches.
This isn't long enough to do overhead or even standing work without placing the vacuum up on a table or ladder platform. This isn't so bad, however, Milwaukee doesn't even offer extension kits for the hose, nor did we find additional accessories. Not to fear, however, this was likely a calculated move based on the fact that our local home improvement warehouse carried a full line of adapters, hoses, and other accessories (including filters).
The Milwaukee 0880 vacuum made quick work of our endless leaf debris that was lodged in the edge of a front porch but wasn't as powerful as a full-sized shop vacuum.
Conclusion & Pricing
A portable wet/dry vacuum like Milwaukee's M18 model is one of those tools every journeyman should have in their arsenal. Homeowners will also love the portability of the 0880-20 and the fact that it is compatible with Milwaukee's new M18 lithium-ion batteries as well as their older 18V NiCds.
Professionals looking for over-the-top suction will need to stick with a full-size shop vacuum. For trim carpenters and those looking to minimize dust from tools, the M18 Wet/Dry Vacuum will instantly fit most exhaust systems and provide a great lightweight solution. At $129 for the bare tool, Milwaukee offers a value that is above average (we consistently found it for far less than retail online). Great tool.