Milwaukee 13-Amp Super Sawzall Makes Quick Work of Wood
It takes some serious performance to earn the title of "Super Sawzall" within Milwaukee's family of reciprocating saws. The Milwaukee 13-amp Super Sawzall is the smallest current model to carry the title. We put it head-to-head against other options in the 13-amp class to see just how Super it is.
Pros
Top wood cutting speed in its class
Excellent vibration control
Most compact in its class
Made in the USA
Cons
Most expensive option in its class
Milwaukee 13-Amp Super Sawzall Cutting Speed
We put saws in this power class through a series of three speed tests: nail-embedded wood, 2″ EMT, and #5 rebar. Check out our main reciprocating saw head-to-head page to see the full details on our testing methods.
Milwaukee puts together a fast 3000 SPM speed and pairs it with a fairly long 1.25″ stroke length. That should translate into some pretty quick cutting. This model also has orbital action to give an advantage in wood cutting.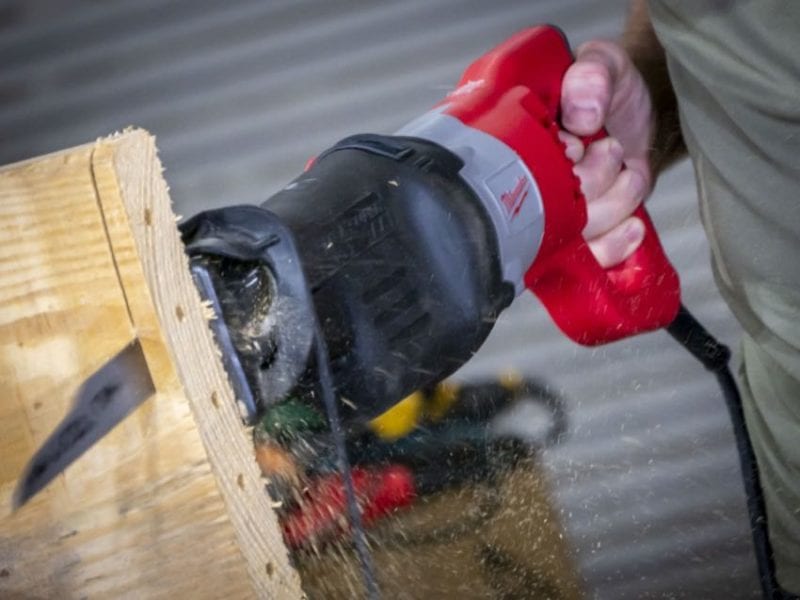 The Milwaukee 6536-21 crushed it in our nail-embedded wood test, taking just 8.30 seconds on average to make it through 2 x 10 PT with 5 framing nails in it. That's more than 4 seconds ahead of Kobalt in second and nearly 12 seconds ahead of Skilsaw.
It lost some ground when we shifted to metal cutting, but it's not obnoxiously slow by any means. In 2″ EMT, it averaged 5.49 seconds, more than a full second behind Kobalt.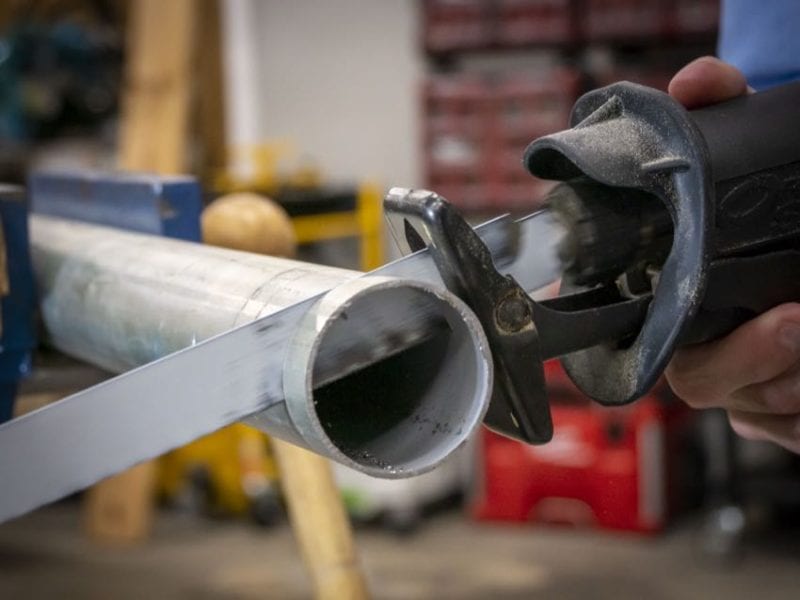 Moving to the thicker metal of rebar, it fell to third place, needing 8.27 seconds on average. That's nearly two and a half seconds behind Kobalt's leading time of 5.81 seconds.
Overall, the Milwaukee 13-amp Super Sawzall's wood cutting speeds close in on what the 15-amp class has and its metal cutting speeds are certainly adequate. When the meat of your demo work is wood-based, this is a great choice.
Vibration Control
Milwaukee packed a counterbalance system into this model that's very effective. In our vibration control tests, only Skilsaw's Buzzkill design rated slightly higher, but it was a close race.
Size and Weight
Across the board, reciprocating saws in the 13-amp class are about the same size as their 15-amp counterparts. In fact, the Milwaukee 13-amp Super Sawzall is the exact same length as its 15-amp version—19.9″. It's just 0.1″ longer than Kobalt and a full 2″ shorter than Skilsaw in the same class.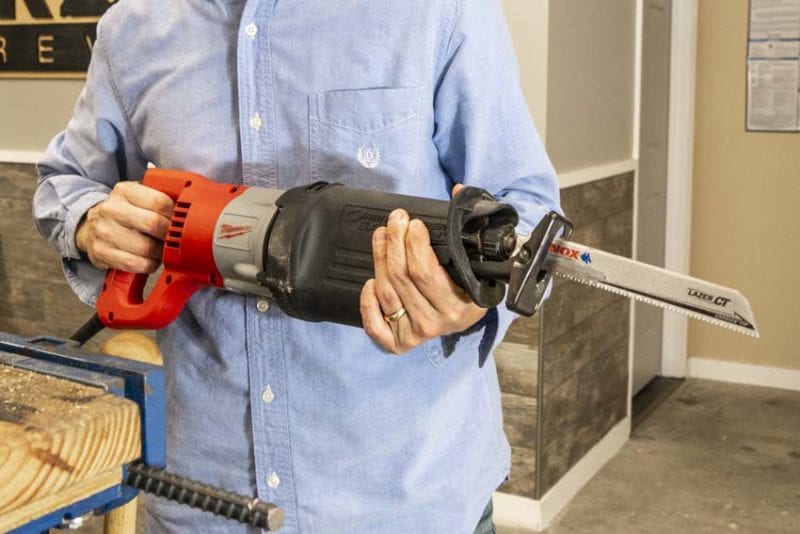 Likewise, Milwaukee's 9.4-pound weight is very close to the 15-amp model's weight (9.6 pounds). It's the lightest in the class, though, just edging out Skilsaw by 0.1 pounds.
Additional Features
Aside from including orbital action and counterbalance system, Milwaukee only includes a pivoting, tool-free adjustable shoe to the main feature set. This power class and the 10 – 12-amp saws below it aren't known for their comprehensive feature sets, but there are a couple of things we find on other saws:
Variable speed dial
Lever blade release
Blade ejection
Rafter hook
LED light
Realistically, Milwaukee includes the most important features that directly affect cutting speed and vibration. The rest of these are nice to have, but a lot of us can live without them.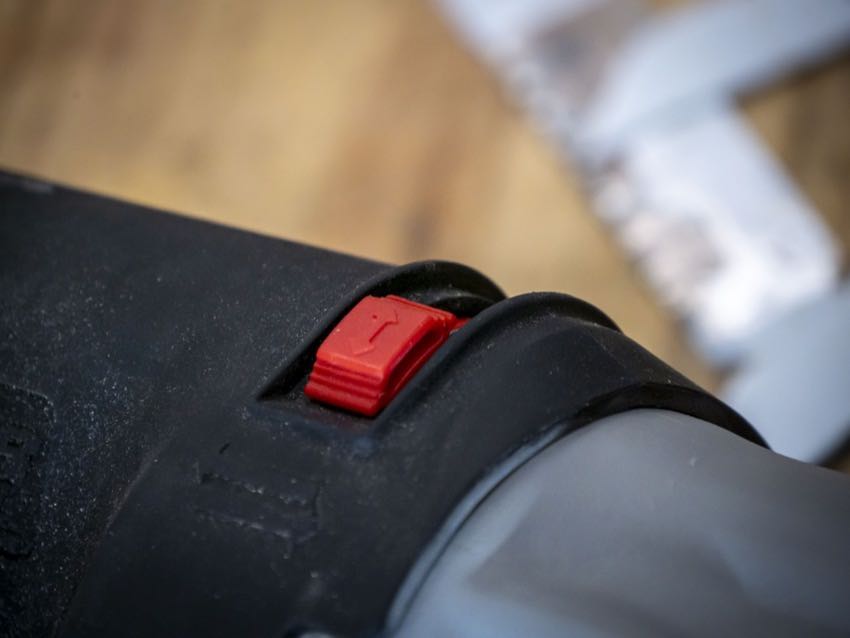 Pricing
At $189, the Milwaukee 13-amp Super Sawzall is the most expensive reciprocating saw in its class. It's a little bit of a sticking point considering the size and weight are so close to the 15-amp model and that one is just $10 more. They're also both Made in the USA products so you may just want to jump up a level.
The Bottom Line
The Milwaukee 6536-21 is an excellent 13-amp reciprocating saw that's very close to the top in its class. The only thing you may want to consider before pulling the trigger is that the 15-amp is so close in size, weight, and price, that it's worth it to go ahead and move up in performance.
Buy it if you're looking for the best wood cutting speeds in the 13-amp class and love the pride of using a Made in the USA reciprocating saw. Pass and move up to the 15-amp Super Sawzall if you'd like a boost in performance and features for just $10 more.
Milwaukee 13-Amp Super Sawzall Specs
Model Number: Milwaukee 6536-21
Strokes Per Minute: 3000
Stroke Length: 1.25″
Weight: 14.4 lbs
Cord Length: 96″
Warranty: 5 years
Price: $189