The Skilsaw SPT44A reciprocating saw is looking to turn this demo tool class on its head. But before we get too far into it, its given name is the Skilsaw 13-Amp Reciprocating Saw with Buzzkill Technology. But Buzzkill is such a cool name that I imagine most people will go with that. Or maybe just Buzz. We'll see.
In the realm of reciprocating saws, 15-amp models rule the roost. 12- and 13-amp models like the Skilsaw SPT44A tend to cut a bit slower but offer some savings in the vibration department and on your wallet.
Check out our review of the best reciprocating saws.
Skilsaw Buzzkill technology is wrapped around the concept of a full-frame counterbalance system. You'll notice the difference in the housing when you look at the saw and hold it for the first time. It's a bit huskier through the midsection.
Where some recip saws reduce vibration by shifting it away in multiple directions, Skilsaw simply went long. According to their numbers, it results in a 35% reduction in vibration over comparable models. And it works. While we don't have a way to measure the specific vibration data, there is a very real difference in how much vibration reaches our hands. Another consequence of this system is that there are fewer wear points, further extending the life of the saw.
Skilsaw SPT44A Key Features
Getting away from the Buzzkill technology, there's not a lot to talk about. Some of the major features we look for on a Pro level reciprocating saw just aren't here. That includes a variable speed dial, rafter hook, adjustable shoe, orbital action, and rubber overmold. Sans the rubber overmold and rafter hook, there will be a 15-amp Skilsaw Buzzkill model coming out later this year that will include the other three features.
What you do have are a couple of standard features in a variable speed trigger and tool-free blade changes.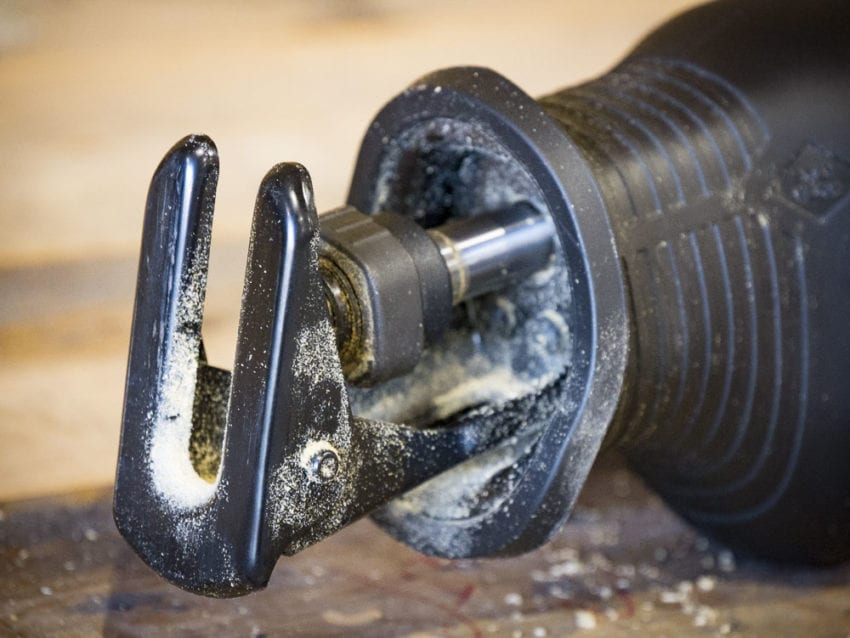 Internally, Skilsaw boasts a couple other features that don't stand out on the surface. First up is a single wobble drivetrain. This is designed to reduce friction and slow down heat buildup. While that may be the design, the saw does get pretty warm during use, especially around the forward grip.
The other hidden feature is a constant spring. This is alleged to maintain optimal motor performance and improve durability during the cut, even in the face of heat and dust.
Skilsaw SPT44A Reciprocating Saw Performance
The Buzzkill's performance is completely dependent on what blade you use. While it has a typical 1-1/8-inch stroke length, the stroke speed is just 2800 RPM. Most 15-amp saws will be in the 3000 – 3100 RPM range. But a reduction of just a couple hundred RPM does more than reduce the cutting speed by 10% or so. In our wood-cutting tests, the Skilsaw Buzzkill was initially more than 30 seconds slower than our 15-amp corded models and some 25 seconds slower than our cordless model.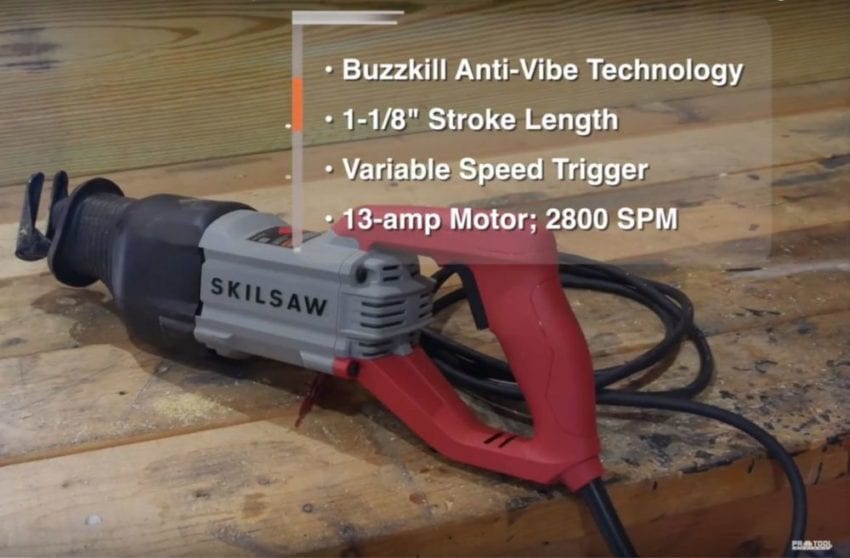 The numbers we were getting weren't even close to what we were seeing from internal tests at Skilsaw. So we changed blades and that's when the magic happened. By moving from a Milwaukee Ax Carbide blade (with 5/6 variable TPI carbide teeth) to a 4/6 variable TPI bi-metal blade with a more aggressive tooth design, cutting times went from 40 seconds down to 14 seconds. That's why we say the blade makes a difference.
When it comes to nail-embedded wood, we found a significant difference between our go-to cordless saw—the Milwaukee M18 Fuel Sawzall with One-Key—and the Buzzkill. At the higher stroke rate, Milwaukee simply rounded off the teeth on our bi-metal blade while the Skilsaw Buzzkill left them intact to continue cutting. Milwaukee was faster at first (and it should be), but after 3 cuts, the blade was shot thanks to rounded teeth. At the same time, the Buzzkill left our blade with plenty of life.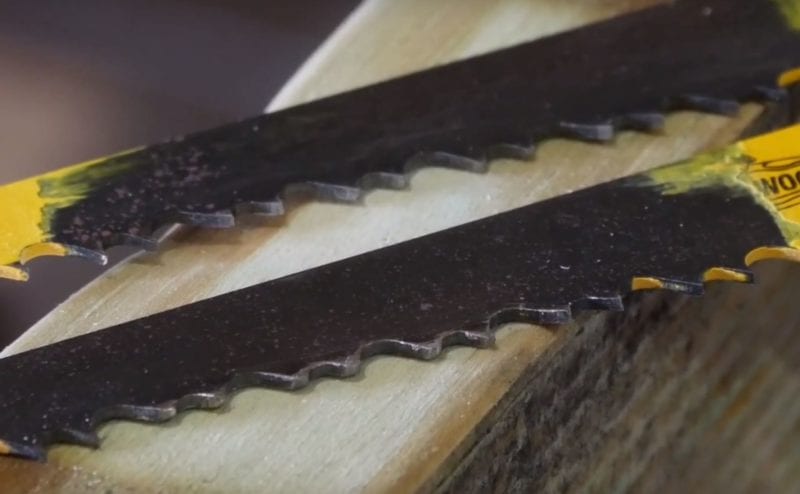 The bottom line for that result is that the lower stroke speed of the Buzzkill is going to give you more life out of your bi-metal blades in true demo applications where you're cutting through nail-embedded wood rather than clean wood. Even though carbide blades will last a long time, they're going to cut very slowly.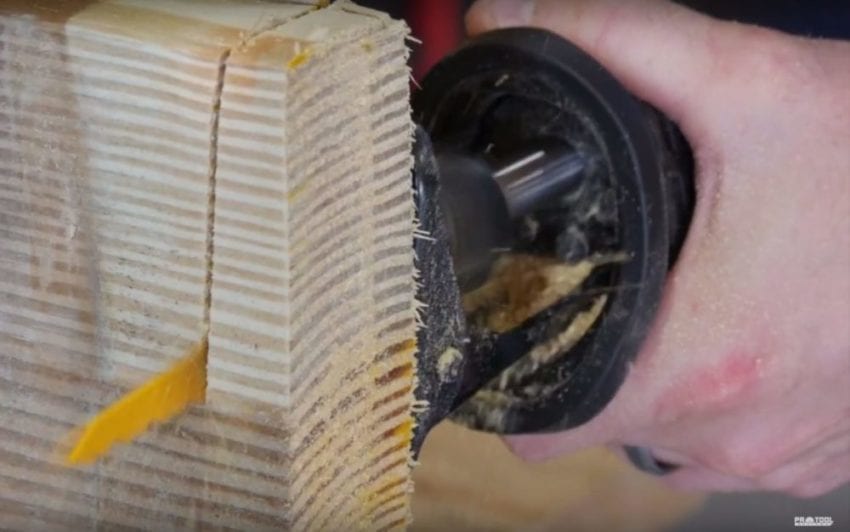 Conclusions
The Skilsaw SPT44A 13A reciprocating saw lacks many of the features Pros look for in a reciprocating saw. However, with an impressive reduction in vibration, it's a serious player in this class when paired with the right blade. You'll just want to avoid most carbide wood blades if you want the best cutting speed you can get from it.
Where the Buzzkill moves from simply another option in the class to one of the best choices is when you look at the price tag – just $99. That's half the price of the best 15-amp recip saws out there. So when you look at the tradeoffs you're making and what you still get for the price, it's a pretty attractive player in this class.
Skilsaw Buzzkill 13-Amp Reciprocating Saw Key Features
Buzzkill full-frame counterbalance mechanism
Variable speed trigger
Tool-free blade change
Skilsaw SPT44A 13-Amp Reciprocating Saw Specifications
Model: Skilsaw SPT44A (SPT44A-00)
Motor: 13 amps
Power Source: 120V AC
Stroke Length: 1-1/8 in.
Stroke Speed: 0–2800 SPM
Variable speed trigger
Tool-free blade change
Weight: 9 lbs, 8 oz with cord
Dimensions (HxLxW): 8 x 19.7 x 3.6 in.
Cord length: 8 ft
Price: $99
Warranty: 1 year