Milwaukee 15-Amp Super Sawzall Shows Off Heavy-Duty Performance
The Milwaukee 15-amp Super Sawzall is the top-of-the-line corded model from the company that invented the tool in the first place. Cordless models have come a long way since the 6538-21 was first launched, but this beast of a demolition tool is still one of the fastest-cutting reciprocating saws available, period.
Pros
Excellent cutting speed in all materials
Orbital action
Variable speed dial
Lightest we tested in the 15-amp class
Made in the USA
Cons
One of the most expensive in its class
Recommendation
Buy it if you're looking for the best combination of weight and performance in a heavy-duty reciprocating saw. Pass if vibration control is a higher priority than cutting speed.
Cutting Speed
As one of the best reciprocating saws ever made, we expect cutting performance that's well above what you get from other power classes and the Milwaukee 15-amp Super Sawzall delivers. It combines a 2800 SPM max stroke rate with a 1-1/4″ stroke length to muscle out impressive cutting speeds.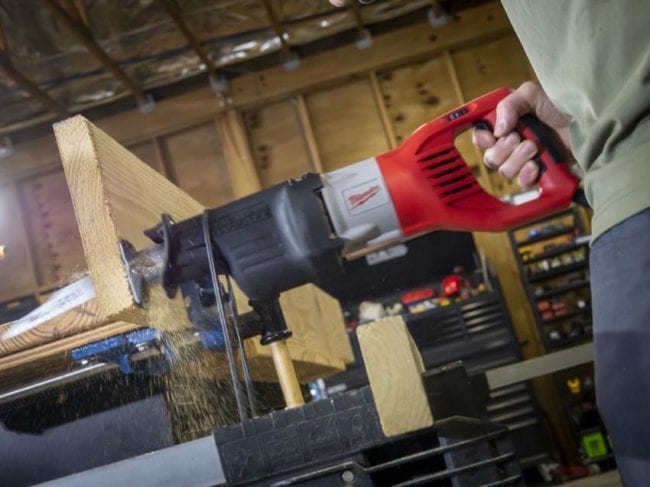 In our nail-embedded wood test, it needed an average of 6.41 seconds with its orbital action to cut through 2 x 10 PT pine with 5 framing nails. Only Skilsaw's Buzzkill (5.99 seconds) was faster out of the 40+ saws we tested. Compared to the M18 Fuel Super Sawzall, the corded model was a touch faster—0.26 seconds.
We added flashing, tar paper, and asphalt shingles to the mix, creating a roofing demo simulation. The extra material slowed all of our saws down with Milwaukee averaging 9.68 seconds. Skilsaw still had an advantage at 9.25 seconds. What's crazy is the consistency between those two saws in these tests. There was a 0.42-second difference in the first and a 0.43-second difference in this one!
The M18 Fuel model slowed even more, finishing first in its class at 12.20 seconds.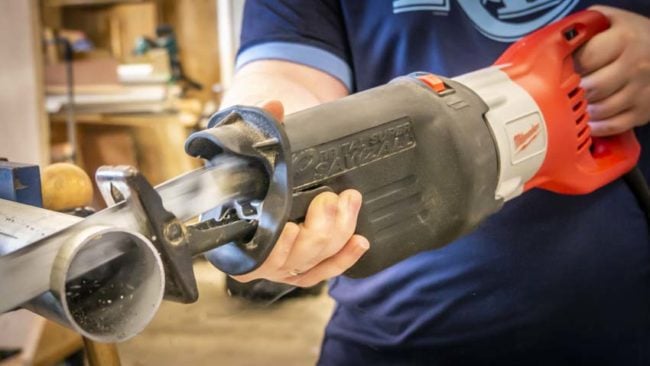 Shifting to 2″ EMT, Milwaukee's cutting speed remained excellent… and also slightly behind Skilsaw. Its 3.73-second average was a mere 0.28 seconds off the lead and a little more than half a second ahead of the M18 Fuel.
The gap was a little larger in #5 rebar, where Milwaukee's 7.08 seconds is more noticeably slower than Skilsaw's 5.27. This was the only test we ran where the M18 Fuel beat the corded Milwaukee 6538-21 with a 5.89-second average.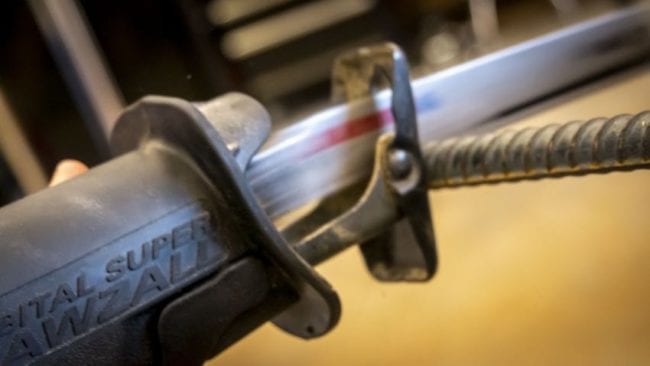 Overall, the Milwaukee 15-amp Super Sawzall has incredible cutting speed. It's so close to Skilsaw in three of the four tests that the differences are negligible. While you can pick up a little speed with that Buzzkill model, it's going to cost you in the weight department.
Check out the full details of our test methods here.
Vibration Control
We cut freehand through a variety of materials to iron out the differences in vibration control. Milwaukee's counterbalance system is effective, but not the best that's currently available. Skilsaw's Buzzkill tech? That wasn't the top-ranked, either. Makita's AVT system did the best job of dampening vibration in this class.
Additional Features
The Milwaukee 15-amp Super Sawzall has a pretty robust feature set in this class. In addition to orbital action and counterbalance system, there's also a variable speed dial, and a pivoting, tool-free adjustable shoe. Here are a few others Milwaukee points out:
Highest overload protection in the industry prevents motor burn-up
Gear protecting clutch extends gear and motor life; absorbs impacts caused by sudden blade lockups
Constant Power Technology maintains speed under load
Quik-Lok Blade Clamp
The only feature we look for in this class that Milwaukee doesn't include is blade ejection. Interestingly, none of the saws in this class include a rafter hook.
Size
Normally, you don't expect the highest-performing tools to be very compact. Milwaukee bucks that trend, though. At 9.6 pounds, it's the lightest in the 15-amp class—2.6 pounds lighter than the Skilsaw Buzzkill!
Its length is also under control. At 19.9″, it's 2″ shorter than Skilsaw.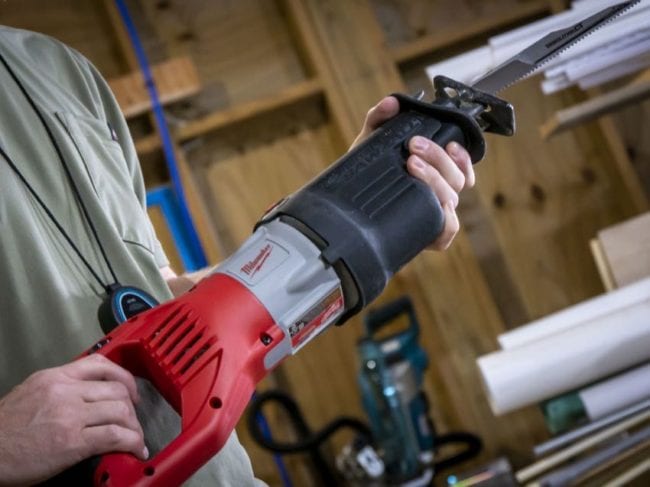 Flipping things back around to compare the M18 Fuel cordless Super Sawzall, the corded Milwaukee 15-amp Super Sawzall is 2.6 pounds lighter and 0.7″ longer than its cordless brother.
Price
Milwaukee's premium Sawzall is near the top of the pricing scale. However, at $199, it's significantly less expensive than any of the cordless Super Saw models.
Milwaukee isn't completely alone at the top, though, with Makita's JR3070CTZ running $209.99.
One of the big differences you'll see is on the warranty side. Milwaukee backs their USA-made Super Sawzall for 5 years compared to just 1 year with the others.
The Bottom Line
I usually take the whole "power-to-weight ratio" claims with a grain of salt. But in the case of the Milwaukee 15-amp Super Sawzall, the cutting performance we're getting from a saw that's the lightest we tested in its class is significant. Using it side-by-side with heavier models and getting similar or better performance makes a compelling case to keep this model at the top of your list.
Buy it if you're looking for the best combination of weight and performance in a heavy-duty reciprocating saw. Pass if vibration control is a higher priority than cutting speed.
Get Yours at Acme Tools
Milwaukee 15-Amp Super Sawzall Specs
Model Number: Milwaukee 6538-21
Stroke Length: 1-1/4″
Keyless Adjustable Shoe: Yes
Keyless Blade Clamp: Yes
SPM: 0-2800
Adjustable Handle: No
Orbital Action: Yes
Voltage: 120V AC
Length: 18-3/4″
Weight: 9.8 lbs
Warranty: 5-Year
Price: $199