The long-awaited Milwaukee M18 Fuel cordless air compressor has been on jobsites for a while now. Carpenters have put its 1,600 18-gauge nails-per-charge claims to the test. Some users have even tried this Milwaukee battery-powered air compressor with impact wrenches and for tire inflation. I'm a professional plumber by trade. While it may seem unusual for someone like me to review the 2840-20 compressor—I had several ideas. First and foremost, I could use it on jobsites with no power. Indeed, my team has now used it successfully to bleed heaters and air-test PEX on several repipes.
Pros
Compact, tough, and convenient design with carry handle and roll cage
Quiet operation at 68 decibels
Saves time on jobs without power
135 PSI, 1.2 SCFM @ 90 PSI is sufficient for many light-duty tasks
At 31.2 pounds, a bit heavier than several of its competitors
Check out our Best Air Compressors article for our top picks across a variety of applications and uses.
Milwaukee M18 Fuel Compact Compressor for Bleeding Heaters
Even on sites with power, we typically bleed heaters manually. With the Milwaukee M18 Fuel Compact Quiet Compressor, I can let it do all the work. The compact design and easy carry handle make it a great job site compressor. I also loved the protective roll cage that makes it exceedingly easy to stow in the van and move around the worksite.
I let a coworker "borrow" the Milwaukee cordless air compressor to pressure test a new sewer line. He used the 2840-20 instead of a hand pump. It worked perfectly—much more quickly, in fact, and with less effort than the old-fashioned way. He further endorsed it by making it very hard for me to get it back!
Milwaukee Cordless Air Compressor for Pressure Testing
Street water pressure is 75 PSI in our neck-o-the-woods. Because of this, we typically pressure test repipe jobs with a compressor at 150 PSI for at least 15 minutes. That assures us that the pipes are ready to go. Of course, that pressure far exceeds what's necessary to test, but it provides extra peace of mind. At 135 PSI, the Milwaukee M18 Fuel Compact Quiet Compressor doesn't quite make our max pressure test, but it easily satisfies rough-in PSI levels. We can achieve 150 PSI with our electric pancake compressor but if a jobsite doesn't have power, the Milwaukee serves as a very close approximation.
To test pressure, we hook the pipe up to the Milwaukee battery-powered air compressor using a hose bib with a gauge. The 2-gallon tank provided plenty of volume for this task. We then pump it up and look at the gauge. Typically, we do this around lunchtime, so it has plenty of time to sit. When we come back to the job site, we look at the pressure gauge. If it reads the same pressure, we're in business!
The cordless convenience and the ability to get work done on a jobsite with no power comes with a bit of a time tradeoff. It takes the Milwaukee M18 Fuel cordless air compressor north of 90 seconds to fill up. Still, that's a lot faster than getting no work done at all!
Using the Milwaukee 2840-20 for Carpentry
Though a plumber by trade, I also do plenty of carpentry. I recently remodeled my kitchen into a "deliciousness factory" (my wife's term). I used the Milwaukee M18 Fuel Compact Quiet Compressor on some of the trim work. The Milwaukee cordless compressor helped me easily drive 2-inch brads—the nailer never once outrunning the air supply.
It's hard to overstate the convenience of using a truly quiet battery-powered compressor. Compared to a noisy pancake, the Milwaukee measured a whole lot less noise output. We measured just 72 dBA SPL using a decibel meter. If I were a professional carpenter, I'd want this on every trim job whether or not I had available power!
Price
You can pick up the Milwaukee battery-powered air compressor as a bare tool for $349. There are kit options for $548 (12.0 High Output Battery) and $598 (12.0 High Output Battery and Charger). Here's a look at the competition.
Ridgid 18V Kit only with (2) 2.0 Batteries and Charger (1-Gallon): $297
DeWalt FlexVolt 60V Max Kit only with 6.0 Battery and Charger (2.5-Gallon) DCC2560T1: $299
Milwaukee M18 Fuel Compact Quiet Compressor (2-Gallon) 2840-20: $349
Milwaukee Battery-Powered Air Compressor Bottom Line
The Milwaukee M18 Fuel Compact Quiet Compressor seems like the cordless tool Milwaukee fans have eagerly waited for. It's quiet and powerful, especially with a 12.0 battery. It also takes up hardly any space and is easily portable. Carpenters will no doubt benefit from its features, but other Pros—like plumbers—can also take advantage of it as I did.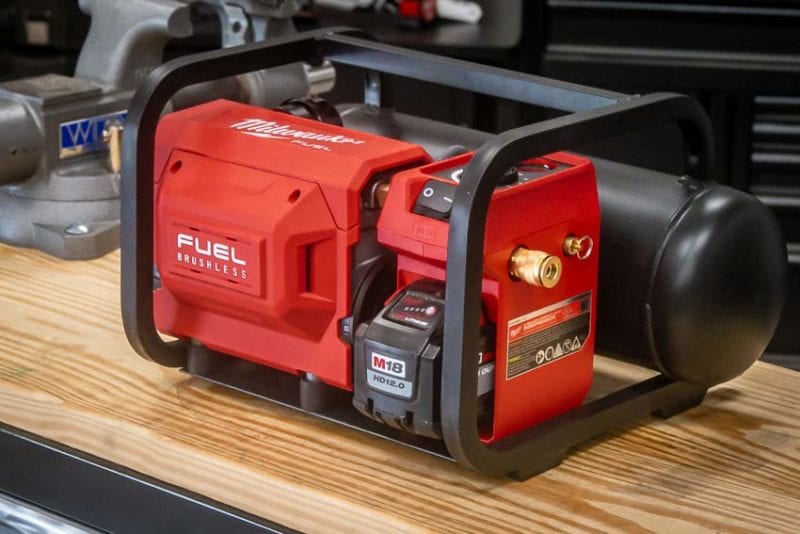 Specifications
Models:

2840-20 (bare tool)
2840-20BAT (with 12.0 High Output battery)
2840-20KIT (with 12.0 High Output battery and charger)

Sound output: 68 dB(A) SPL
Tank capacity: 2 gallons
Max pressure: 135 PSI
SCFM: 1.2 @ 90 PSI
Pump type: Oil-free
Regulator: Single turn
Dimensions (LxWxH): 16.25 x 18.62 x 10.6 in.
Weight: 31.2 lbs.
Prices