As we continue our review series of this Spring's latest outdoor power equipment, we come to the new Milwaukee M18 Fuel String Trimmer. It's important to note before we dive in that Milwaukee is targeting their OPE to commercial Pros as a supplement to gas-powered tools. It's from that perspective we're looking at what Milwaukee has to offer their new battery-powered string trimmer.
Milwaukee M18 Fuel String Trimmer Key Features
Fuel
For starters, the Milwaukee M18 Fuel String Trimmer runs on Milwaukee's M18 battery platform. That means no matter what Milwaukee batteries you have, from compact to high-capacity, you can power the string trimmer with it. As far as the kit goes, it will come with a 9.0 amp hour battery.
Speed Control
Like we've seen in many Pro-level battery-powered string trimmers, the M18 Fuel has two-speed settings. On low, you'll get up to 4600 RPM and up to 5800 RPM on high. The two-speed settings combine with a variable speed trigger for control. You can't change speeds on the fly, though. You'll need to completely remove your hand from the trigger, change speeds, and activate it once again.
Head of the Class
Moving down to the business end, the dual string head will accept either 0.080″ or 0.095″ trimmer line. The unit comes with a 0.080″ twist line preinstalled.
As you'd expect, this is a bump feed system. Milwaukee added several small things that improve the overall durability. One of those is found here in the form of a metal ring to keep the bump action from wearing down parts as quickly as plastic-only heads.
Cutting diameter is set to either 14 or 16 inches. A cutter on the guard can be adjusted to the inside or outside to give you your desired length. Milwaukee has the cutter screws going into metal anchor points, so you won't start your relationship by ruining the guard thanks to overtightened screws. Of course, many Pros simply remove the guard altogether and get a much wider cutting swath. This isn't recommended, but there's enough power here to make it work in some situations.
Adjustments
Your adjustments are not tool-free on this model. The line cutter requires the use of a Torx wrench and the handle adjustment requires a hex wrench. There's no onboard tool storage – nor do we expect there to be – so you want to make sure your adjustments are made before you head out.
Get a Grip
Users of other battery-powered string trimmers will notice a difference in the grip of this model. The Milwaukee M18 Fuel String Trimmer uses Milwaukee's standard tool overmold which provides excellent grip and feel on the trigger handle. The support handle is softer and more comfortable than most – but it isn't foam underneath. It feels like just a good thick application of Milwaukee's rubber overmold.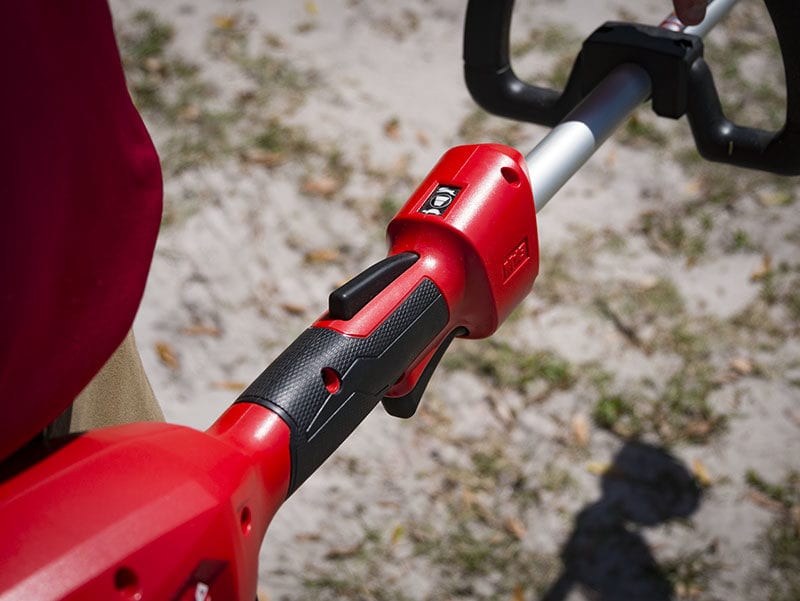 The benefit of this is that it's going to absorb what little vibration the trimmer generates very effectively. The downside is that over the course of a long day some users may develop an irritation or blister. Simply wearing gloves will take care of that problem.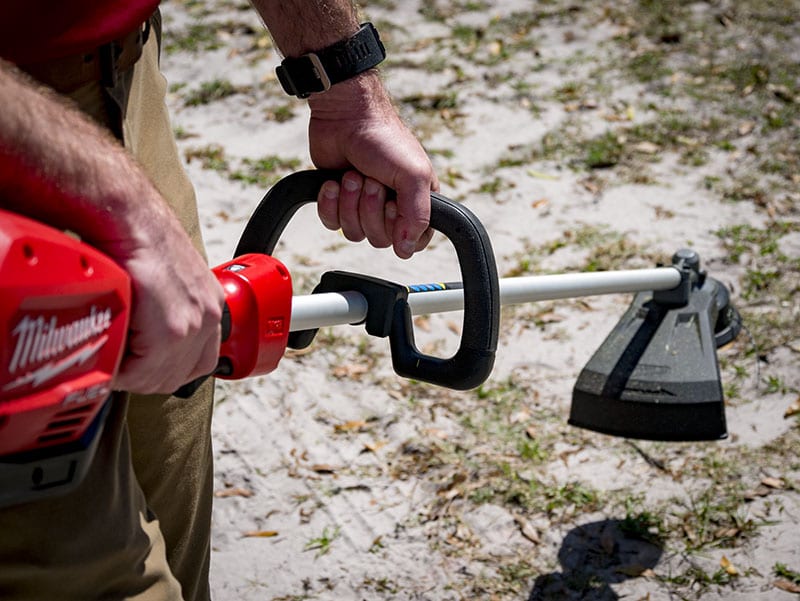 Editor's Note: Take a look at what we think of the Milwaukee M18 Fuel Blower
Milwaukee M18 Fuel String Trimmer Performance
Will Anyone Actually Use Two Speeds?
We tested the Milwaukee M18 Fuel String Trimmer with the stock twist line that came with it and with standard 0.095″ line we use on our other string trimmers. Low-speed is really effective for when you're cutting through thin grass or just covering your maintenance cut and want to conserve your battery life. I was able to trim all around our shop and didn't feel like I was missing out on much cutting speed by keeping it in low.
Things got interesting when I started working on some heavily overgrown grass that was creeping up from the nearby woods. Even with the thinner stock line, this kind of overgrowth stands no chance. There's enough power that I would have no problem using this battery option over a gas model for overgrown grass. It was simply a very impressive display for this class of string trimmer.
Line Changes on the Milwaukee M18 Fuel String Trimmer
Line changes are pretty straightforward and are a manual process. Some string trimmers have a design where you simply thread the line through and twist the bump mechanism in the opposite direction without ever having to take the head apart. That's not the case here. You will need to remove the spool and manually wind the line around.
There are a couple of helpful points, though. Two clip points hold the line while you position the head back into place. You also don't have to thread the line through holes. Instead, there are grooves that allow you to pull the line straight down into place before snapping the head back together.
Noise Level
One of the major benefits of battery-powered OPE is reduced noise – something along with reduced emissions that we expect to see as a requirement in some communities in the next few years. Keeping in mind that the line selection and cutting swath diameter contribute, I got a consistent 86 decibels (dbA) in high and 84 decibels in low speed. That should be low enough to keep even the stingiest of residents happy, though it does eek over the OSHA limit in our tests.
Limitations
You do have some limitations, though. This trimmer is not attachment ready, so there's no switching to an edging blade or brush-cutting blade for an all-in-one solution. That's okay considering most Pros don't switch heads on the fly. They have a dedicated tool for each task. However, for the Pro contractor who would like to use their tool batteries for their OPE, this will only be a string trimmer.
Edging isn't completely out of the question, though. The support handle is designed in a way to make it very easy to use the trimmer vertically and maintain edges using the string. I was rather surprised to find how natural that grip really is.
You're limited to about an hour of trimming, so commercial Pros will want to have a charger ready to go and possibly a second battery to cycle. As the days grow longer and the grass grows faster, some Pros may want a shoulder strap to alleviate fatigue over the course of the summer as well.
Editor's Note: Check out our best battery-powered string trimmer article to see our top picks.
The Bottom Line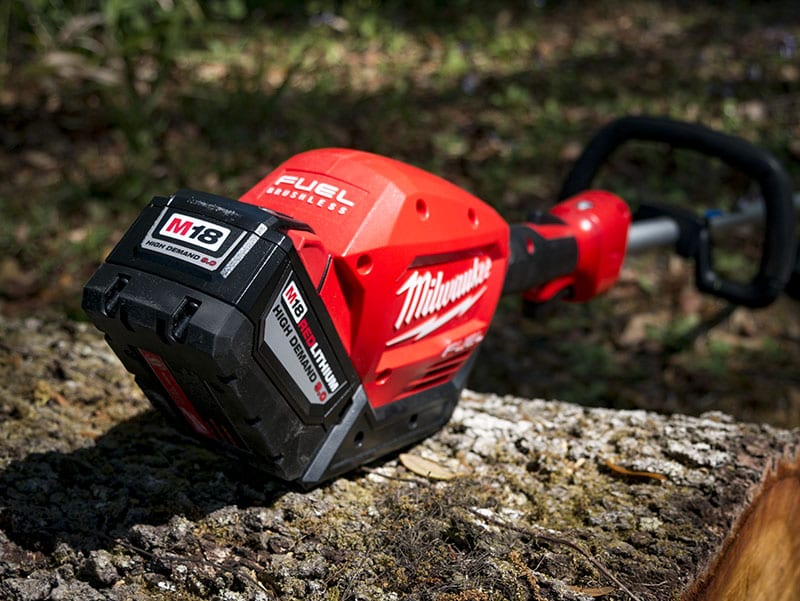 As a supplement to the commercial Pro's gas-powered string trimmer, the Milwaukee M18 Fuel String Trimmer really does quite well. The weight is not overbearing, the noise level is kept down, the 9.0 amp hour battery offers a decent fuel capacity for this class, and there's enough power for virtually all maintenance and overgrown grass cutting.
The commercial Pro is going to need to understand several things. This model can only replace a string trimmer – not an edger or a light brush cutter. The 9.0 amp hour battery will give you up to an hour of trimming time, so there's a good chance you'll want to have a second battery and/or charger available on your vehicle. While it's not as critical, I'd like to see a shoulder strap come into play for those long days.
For the Pro contractor already using Milwaukee cordless tools and wants this for personal use on their property or to keep the occasional job site under control, it's an outstanding option. Whether your use is personal or professional I definitely recommend you upgrade to the 0.095″ line immediately.
The kit with one battery and rapid charger will set you back $299. However, with no fuel or oil to buy/mix and no real maintenance aside from changing the line and cleaning it up once in a while, the Milwaukee M18 Fuel String Trimmer will pay for itself over the course of a couple of mowing seasons.
Note: This model has been replaced by the Milwaukee Quik-Lok 2825-21ST model.
Milwaukee M18 Fuel String Trimmer Key Features
The M18 FUEL string trimmer has the power to clear thick brush, reaches full throttle in under 1 second, and provides up to 1 hour of run-time per charge
Designed to meet landscape maintenance professional needs, the motor is positioned in the rear of the trimmer to provide the best combination of power, balance, and maneuverability
The trimmer features high and low-speed settings with a variable speed trigger
High provides the power to clear thick brush and low maximizes run-time while having plenty of power for grass trimming
The 16-inch cutting swath trims more grass in a single pass, increasing productivity
The full-sized head holds more line and has a metal reinforced bump knob for longer life
The M18 FUEL string trimmer is fully compatible with 125+ solutions on the M18 system
Milwaukee M18 Fuel String Trimmer Specifications
Model: Milwaukee 2725-21HD
RPM: 0 – 4,600 / 0 – 5,800 RPM
Voltage: 18V
Battery: M18 REDLITHIUM, 9.0 Ah
Cutting Swath: 14″ – 16″
Line Diameter: 0.080″ / 0.095″
Feed System: Bump Feed
Trigger: Variable Speed
Housing and Handle Material: Plastic
Fuel Type: Electric
Length: 73.6″
Height: 8.5″
Width: 8.8″
Weight: 12.3 lbs
Warranty: 5 years (tool), 3 years (battery)
Includes: M18 REDLITHIUM HIGH DEMAND 9.0 Battery Pack, M18 & M12 Rapid Charger