Last Updated on October 4, 2022
Back in August, we heard about Milwaukee's plans to release a new, extendable tower light that would operate on the M18 platform and feature the company's One-Key system for smart tool integration. We like the idea of a tower light that can work in a variety of applications and weather conditions. Plus, the product boasts some really long runtimes with an option for running off of one or two batteries. Almost everything about the new light sounds pretty promising. With Milwaukee's reputation for innovative work in the field of cordless lighting solutions, we have our expectations set pretty high for this release. Well, the Milwaukee M18 Rocket Dual Pack Tower Light is now available, and we recently got one in the shop to work with.
Editor's Note: Check out the best LED work light buying guide for our top picks.
Milwaukee M18 Rocket Dual Pack Tower Light Highlights
Light Quality
Like most, if not all, of the recent Milwaukee lighting options hitting the market these days, the M18 Rocket Tower Light features Milwaukee's TrueView technology. LED lighting can often cast a sort of bluish hue that doesn't really give a fair representation of whatever it's lighting. But, TrueView delivers a consistent beam, optimized color temperature, and true color representation.
This becomes important in a number of jobsite applications, like painting and electrical work, where interpreting color is critical to success. Since TrueView LED light mimics midday sunlight at 5000K, Milwaukee jobsite lighting offers a truer representation of the color spectrum than other LED lighting solutions. TrueView also offers better clarity and light quality.
Versatile Light Throw
The Milwaukee M18 Rocket Dual Pack Tower Light has three variable power settings. On two 9.0Ah batteries, it can crank out a maximum 5400 Lumens for 7 hours, 3100 Lumens for 12.5 hours, or 1600 Lumens for 26 hours. 5400 lumens doesn't sound like it's all that great compared to some of our work lights that boast as much as 15,000. But when we took the Rocket outside to look at some electrical and utility applications, it's hard to imagine an application where you'll need more considering what this light is designed to do.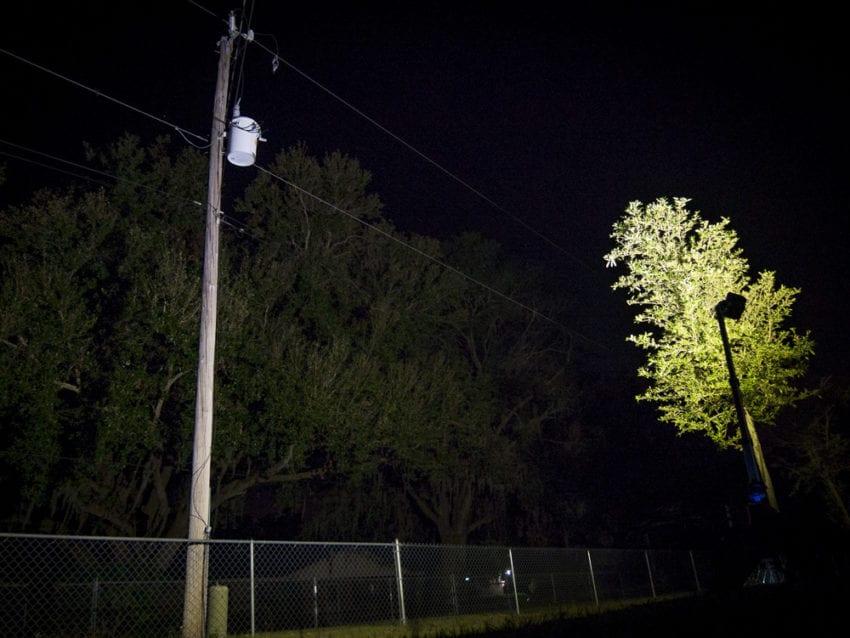 Milwaukee engineers their products to withstand impact, and this tower light won't be the exception. It features a durable polycarbonate lens, reinforced legs and extension arm, and a rugged base.
The reinforced legs can be positioned in one of three ways. For storage purposes, the legs will fit flat against the base of the light. They can rotate into a tripod position, which elevates the base from the ground. The legs can also extend out 180° in case you need to position the light over a hole or ledge. In this position, the extended legs lend more support to the base.
You can swivel and rotate the tower light head to any number of positions. Between the tower light head and the adjustable extension arm, the M18 Rocket Tower Light can cast a beam in just about any direction you'll need.
Not that you would ever need to do it, but Milwaukee's new tower light is submersible up to 1 meter. The unit has an IP67 rating, making it virtually dust and waterproof. Linemen and utility workers will enjoy the weatherproofing the next time they're sent out in the middle of a storm.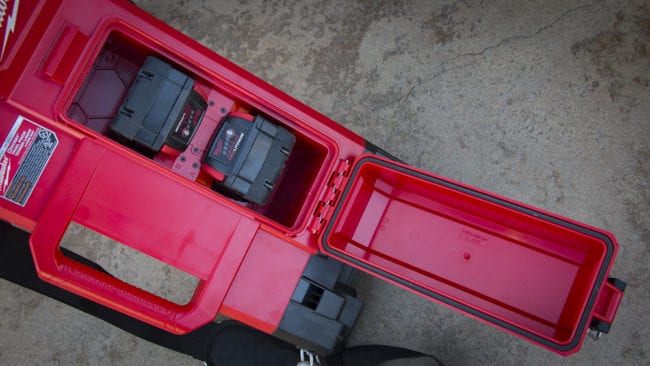 Milwaukee also included a handle and adjustable shoulder strap in the design. At a relatively light 24 lbs, you can transport and set up the M18 Rocket Tower Light easily. In fact, Milwaukee advertises that a user can set up and fully extend this light in under 7 seconds. That sounds like a Super Bowl Party halftime game waiting to happen.
One-Key Functionality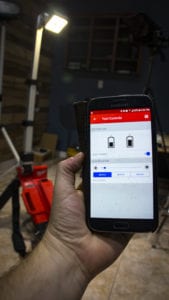 If you've never used Milwaukee's One-Key Smart Tool App, it's not just a marketing gimmick. For some tools in the system, you might wonder what practical purpose connecting your tool to an app might have. In the case of the M18 Tower Light, is the ability to control the light output from your phone all that helpful?
Sure, some users will sort of set it and forget it. Having the option to change settings without stepping away from the work has some usefulness, though. Anytime you're working at height, not having to climb down to make a brightness change is helpful.
The One-Key system involves some other features that do make a lot of sense in the context of jobsite lighting and inventory management. In addition to giving you the capability of controlling light output levels from the app, One-Key allows the user to check the remaining battery levels and optimize runtimes from the app.
The One-Key digital platform really shines when it comes to inventory management. You also get some tracking and tamper prevention features within the system.
When all is said and done, the One-Key system is pretty comprehensive. Along with simple light controls, the rest of what One-Key offers is also very practical, streamlined, and useful for nearly any Pro.
Pro Perspective
Getting our Pros involved in the conversation lends some perspective to this light. Here are the thoughts that Kenny Koehler, PTR Managing Editor, sums up for us.
"Everyone loves a good light. LED doesn't get hot the way halogens do and Milwaukee's TrueView light quality is generally excellent. Combine that with a bright, broad throw and outstanding runtime and nearly everyone can find a use for the Milwaukee M18 Rocket Dual Pack Tower Light.

But then there's the price – $699 for the bare tool and $899 for the kit. When you're looking at the value proposition, it might look like it's overpriced. But keep in mind the build quality. This light is specifically designed to operate in some of the worst weather conditions possible. Specifically, linemen and utility workers trying to restore service while the storm is still raging need to have a light source they can depend on. That's the beauty of this build – the IP rating is high enough for it to be submerged. While we don't expect to ever run into a situation where we would need it to be underwater, it means there's no rain or snowstorm that's going to relegate it to the sidelines.

Then you add in One-Key functionality for some control and tracking. It's not a light that's going to appeal to every Pro out there. But for a certain segment of Pros, it's a list of features and performance capabilities that makes a lot of sense."
Milwaukee M18 Rocket Dual Pack Tower Light Key Features
Collapsible Length 22″
Extended Length 65″
3-Stage Adjustable Leg Design
One-Key Tool Management and Tracking
3 Power Settings
TrueView Technology
Powered By One or Two Batteries
Milwaukee M18 Rocket Dual Pack Tower Light Specs
5400 Lumens on High (7 hours of run-time)
3100 Lumens on Medium (12.5 hours of run-time)
1600 Lumens on Low (26 hours of run-time)
Extension Height: 65"
Length: 22"
Weight: 24 lbs
IP67 rated: Water and Dust Proof
Kit (2120-22HD) Includes: M18 Rocket Dual Pack Tower Light with One-Key, (2) M18 RedLithium High Demand 9.0AH Batteries, and M12 Rapid Charger
Also Available as a Bare Tool (2120-20)
Code Embed: Cannot use CODE1 as a global code as it is being used to store 1877 unique pieces of code in 3386 posts