Milwaukee Expands Force Logic Line with PEX Crimp Jaws
Milwaukee has expanded the capability of its M12 and M18 Force Logic Press Tools with the addition of PEX crimp jaws for F1807 and F2159 PEX.
Flex Your Pex
Milwaukee has engineered the new PEX Crimp Jaws to provide users with a simple solution for PEX crimp installations. The jaws work with the tool to eliminate the repetitive strain required with current hand tool solutions.
The new PEX crimp jaws come equipped with spring-loaded opening grips for precise alignment to the fitting. A green light completion indicator on the press tool offers you the highest confidence for quality connections.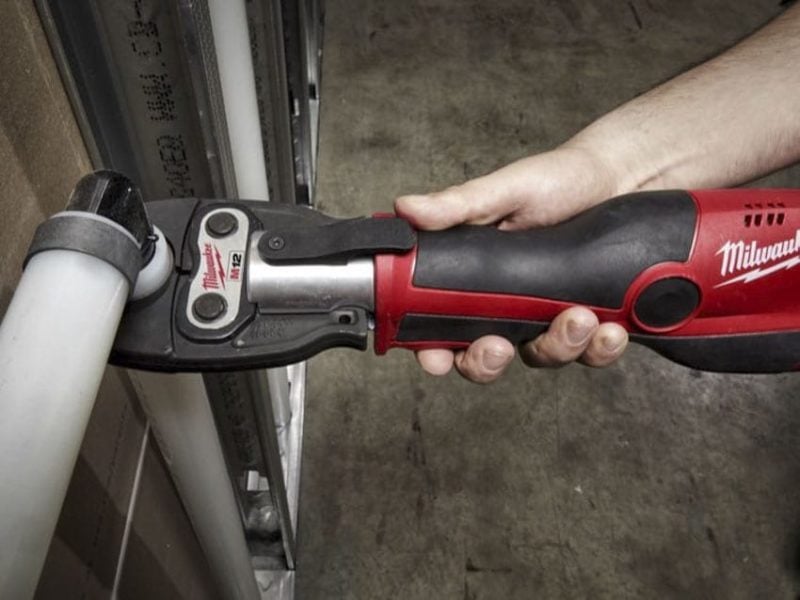 The jaws feature an easy-open, in-line design. These jaws have been optimized for use with Milwaukee Press Tools to complete PEX installations in tight spaces.
The jaws work with both F1807 and F2159 connections.
They will work with 1/2″ – 1-1/2″ for the M12 Force Logic Press Tool and 1/2″ – 2″ sizes for the Force Logic Press Tools.
A Little More Context
For years, you've been able to use M12 and M18 Force Logic press tools for copper, black iron, and stainless steel. What the new jaws unlock is the ability to crimp PEX with the same tools. It adds to the versatility and value of owning a Milwaukee press tool, giving you another type of connection that you don't need a dedicated tool or separate method for.
If you're transitioning into PEX installs or new to the plumbing trade, F1807 and F2159 are ASTM standards that many manufacturers comply with to ensure the quality and consistency of their products.
F1807 covers PEX installs up to 2″ with brass fittings and copper crimp rings. F2159 ranges up to 1″ with poly inserts and copper crimp rings.
Milwaukee's PEX crimp jaws include go/no-go gauge installers that you can use to verify your connection meets those standards.
Milwaukee PEX Press Tool Quick Reference Guide and Pricing
49-16-2451C — 1/2″ PEX Crimp (F1807 & F2159) Jaw for M12 Force Logic Press Tool — $252
49-16-2453C — 3/4″ PEX Crimp (F1807 & F2159) Jaw for M12 Force Logic Press Tool — $252
49-16-2454C — 1″ PEX Crimp (F1807 & F2159) Jaw for M12 Force Logic Press Tool — $252
49-16-2455C — 1-1/4″ PEX Crimp (F1807) Jaw for M12 Force Logic Press Tool — $262
49-16-2456C — 1-1/2″ PEX Crimp (F1807) Jaw for M12 Force Logic Press Tool — $446
49-16-2651C — 1/2″ PEX Crimp (F1807 & F2159) Jaw for M18 Force Logic Press Tools — $304
49-16-2653C — 3/4″ PEX Crimp (F1807 & F2159) Jaw for M18 Force Logic Press Tools — $304
49-16-2654C — 1″ PEX Crimp (F1807 & F2159) Jaw for M18 Force Logic Press Tools — $304
49-16-2655C — 1-1/4″ PEX Crimp (F1807) Jaw for M18 Force Logic Press Tools — $317
49-16-2656C — 1-1/2″ PEX Crimp (F1807) Jaw for M18 Force Logic Press Tools — $502
49-16-2657C — 2″ PEX Crimp (F1807) Jaw for M18 Force Logic Press Tools — $625