Earlier this year when we began to talk about Power Tool Innovations in 2016, we covered some of the ways in which cordless tools were making use of advanced battery technology, bluetooth communication, and even advanced LED chipsets. These tools are offering more power, better features, smarter functions, and they are appealing to a wider range of applications on the jobsite. So, what's next in the world of cordless tool technology?
The Inception of 3P Batteries
If you thought the movie Inception had layers, new lithium-ion battery technology is taking things just as deep. First there were simple lithium-ion battery packs which ran groups of cells in series to power a particular tool. Next came 2P packs that ran two groups of cells in parallel. This essentially allowed each cell to run cooler, since the current draw was now applied across two layers (or sets of cells) instead of just one. To make a simplistic analogy, imagine a 2-cylinder engine that was designed to move a vehicle at up to 50 mph. Those cylinders would have to work really hard, and they're bound to get very hot in order to get that vehicle up to speed. Now keep everything the same, but give that motor two more cylinders. With a four cylinders, each doesn't need to work nearly as hard. They may move at the same speed, but the energy required to push each cylinder to the next ignition cycle will be lower. A 3P battery is like a 6-cylinder engine. So, you can run that engine cooler at 50 mph, or you can choose to drive a lot further, or you can even floor it and finally take that vehicle up to 90 mph!
All analogies break down—and while there are several mechanics pulling out their hair right now, I'm sure you can at least get the gist of what we're talking about. As more and more 3P battery packs come to market (EGO and DeWalt have 7.5Ah packs for their outdoor power tools, and the new Milwaukee 9.0 Ah M18 High Performance battery is due out in September), we'll see new tools with higher power and torque capabilities. Want a cordless SDS Max rotary hammer? It's coming this year from Milwaukee. How about a cordless self-propelled lawnmower? EGO has you covered there. Battery powered impact wrenches from Makita with more than 1250 ft-lbs of breakaway torque and brushless angle grinders that can grind down welds for 20+ minutes are also here to stay. With these new and efficient 3P batteries—and their penchant for running cooler and putting out more energy for longer periods of time—we're getting to the point where anything is possible.
Of course, one of the most recent developments in battery technology—one that's using both a 3 tier 1P approach and a 3P approach, is DeWalt FlexVolt. We have an entire article dedicated to that, but this hybrid approach actually leverages the capability of both an extended Ah 18V pack and a higher voltage (series) 60V pack. The tool actually determines which mode the battery runs in, and it allows DeWalt to produce tools that run at 60V and even 120V. The real question will be answered over a longer period of time. We'll need to test some of these new tools against manufacturers who opted to stay at lower voltages and see if the hybrid model has any practical advantages over simply producing a higher Ah pack.
It's All Ball Bearings Nowadays
When Chevy Chase uttered that phrase in the movie Fletch back in 1985 he was bluffing his way through the inspection of an airplane. He was trying to convince two mechanics that technology had moved past them to something different—and that something was so commonplace that it resulted in a catch-phrase that's hard to forget. I remember back in 2011 when brushless tools were just starting to show up in the cordless power tool market. Then, in 2013, Milwaukee brought its M12 line into the world of brushless motors, and some of the highest quality tools were starting to reap the benefits of cooler-running motors and less wear and tear. Brushless is now almost the de facto standard in motor technology for high end cordless power tools, but now even lower priced cordless tools are starting to get into the game. Ryobi is starting to revamp its line of power tools with new brushless models, and other price-conscious brands are following suit.
Brushless technology is also beginning to make more of an appearance in outdoor power equipment. It's not uncommon to find brushless motors in cordless blowers, cordless string trimmers, and even lawnmowers. Beyond that, and most surprisingly, corded power tools are finally getting to reap the benefits as well. Just recently, a major tool manufacturer announced a brushless corded SDS-Max rotary hammer. As it turns out, the low wear and tear and cooler-running motors are beginning to come down in price, and the market is moving forward with integrating this technology everywhere it makes sense. Like it or not, "It's all brushless nowadays."
Even More Smart Tools
Smart Tools may sound like old news, but what isn't old is the rapid proliferation with which the Internet of Things (IOT) mentality is catching on in the tool world. While we're not sure (just yet) whether this is the right market for it, Bluetooth and app-enabled tools are starting to pop up from nearly every manufacturer. Last year it was Bluetooth batteries, and this year it's everything from the optimistic and disruptive Milwaukee One-Key technology to the new ToolSmart app that works with a handful of new General Tools products. You've also got new digital tape measures, and products like the Stanley Smart Measure Pro which lets you snap a photo and then use a laser distance measure and pythagorean calculations to tell you the amount of paint you'll need for a garage, a wall, or even a room. As manufacturers turn towards technology, they seem to be looking for new and innovative ways to save Pros time and money on the jobsite. The danger will be that they find solutions in search of a problem—that's where good customer feedback will make a huge difference. We think there's plenty of room for technology in residential construction applications, but more and more it's going to take several generations of testing to see what sticks.
Cordless Tool Technology Says "Yeah, We Can Do That"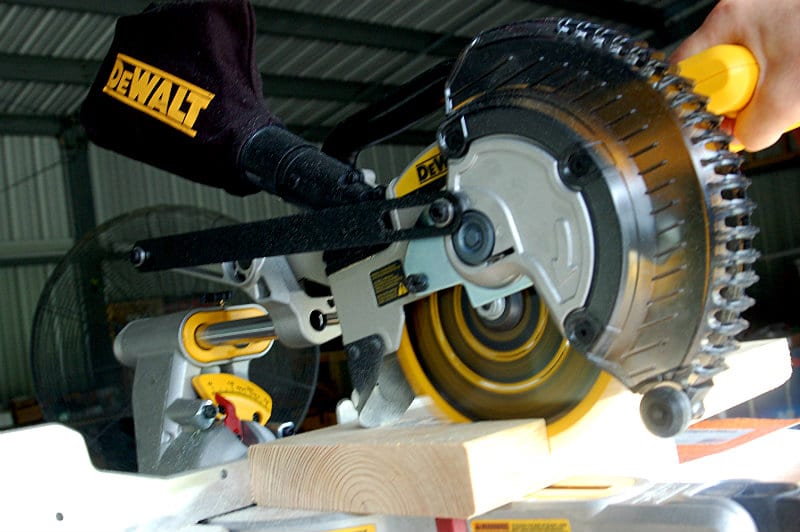 Cordless tools started out small. First there were low powered screwdrivers and cordless drills. Then, as more and more power became available, handheld saws, hammer drills, and rotary hammers came to market. Now, everything from Milwaukee Hole Hawgs to Ryobi, Makita, and DeWalt cordless miter saws are possible. Cordless is certainly getting more powerful in its capabilities, but it's also maturing in other areas as well. We've talked much about LED jobsite lighting, but even that is growing more rapidly than we would have imagined. More advanced jobsite radios, higher capacity band saws, backpack leaf blowers…more than a few manufacturers have told us that the new goal of cordless tools is to eventually replace the gasoline engine in as many areas as possible. As a stark example, I believe Milwaukee Electric Tool has released less than 10 actual corded power tools in the U.S. Market in the past 5 years. At the same time it's released literally dozens of cordless products. If you don't think it's happening, you aren't paying attention—or driving a Tesla or Prius.
After seeing what we've seen over the past few years, we're no longer skeptical of that goal. Battery power can, and most likely will, take over the majority of corded tool applications in a relatively short amount of time. One thing is for certain—it's going to be a wild ride!