Ridgid Upgrades their 18V, 18 Gauge Brad Nailer
When I fired up my air compressor to test my old 18 gauge brad nailer against the new Ridgid 18V brad nailer, I had hoped it was the last time I ever had to hear the noise of the compressor again. My dog was hoping the same thing as she ran from the room to hide! The Ridgid R09891B nailer updates the aged R09890B "Hyperdrive" model with a reduced footprint and more power.
Pros
Easy to use and does not require an air hose
No compressor noise
Drives over 1,100 brads on a single 2Ah battery
Drives most common sizes of brads from 5/8 to 2-1/8 in.
Has both single fire and bump fire mode
Cons
Heavier than 18ga brad air nailers
Cannot drive nails as fast as pneumatic nailers
Ridgid 18V Brad Nailer Ergonomics
The Ridgid 18V Brad Nailer is well built and feels good in the hand. It includes a nice rubber overmold on the handle with plenty of texture so you don't lose your grip. It has rubber bumpers to protect any surfaces when you lay it down. Ridgid also includes an extra non-marring pad for the business end of the nailer. They located this extra pad on the side near the button for the nail magazine release. It is easy to overlook.
At just over 5 lbs without a battery, the nailer is not too heavy. It definitely shaves some weight and size off the first-generation Ridgid cordless 18ga nailer. I also recommend (and prefer) using a smaller 2Ah battery to drop even more weight and keep it as light as possible. Clearly, if you want the lightest tool possible, pneumatic tools remain a top choice.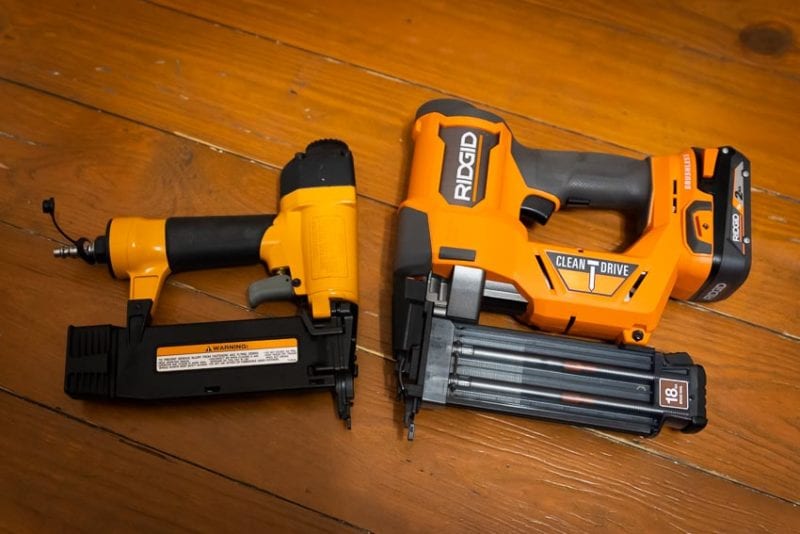 Shooting All Day Long
With a 2Ah battery, you should be able to shoot over 1,100 brads or around twice that with a 4Ah battery. The Ridgid 18V brad nailer holds 105 nails in its translucent magazine. The Ridgid R09891B supports 18-gauge nails from 5/8 to 2-1/8 in. and they load easily with the push of a button. The translucent plastic housing of the nail magazine looks durable and makes it easy to see how many nails you have left. It has a scale on the side so you can see what size nails you are currently using, which is very helpful.
Ridgid 18V Brad Nailer Controls
The controls on the Ridgid 18V brad nailer seem very well thought out. We like the position of the power knob on top and the easy-to-use depth gauge on the side. I could not actually tell a difference in the power though. Whether it was set to maximum, minimum, or somewhere in the middle, each shot seemed to sink the same amount in a variety of materials. I mostly left the power knob at maximum during my testing.
Occasionally I would have an issue after turning the power knob. The manual says if you go to the maximum that it is normal for it to not fire for a few cycles. I found I could make it fire more quickly by taking the battery out and "rebooting" it.
I Can See Clearly Now
We like the LED light on the front of the Ridgid R09891B 18V brad nailer. A second trigger on the handle of the tool triggers the light (pun intended) every time you pick it up (whether you mean to or not). It's certainly convenient.
The Ridgid cordless brad nailer also includes slots for a belt clip. This would be very handy, if for no other reason than being able to go up and down ladders hands-free, as required by OSHA. The tool-only version I picked up did not come with a belt clip, but you can find them on Amazon.
Easy Jam Clearing
I never had any issues with nails jamming with the Ridgid 18V brad nailer. Clearing jams is easy thanks to a simple latching mechanism on the front of the tool that flips down and out, much like the latch on many tool boxes. Just be sure to remove the battery and nails first before starting to clear a jam.
Single Fire vs Bump Mode
Like many nailers, the Ridgid 18V brad nailer has a switch to go from single-shot mode to bump mode (you hold the trigger down and each time the tool comes in contact with the work surface it fires a brad). Single-fire mode gives you much more control and bump-fire gives you more speed. This is where the tool shines. I was not expecting a cordless nailer to bump-fire as quickly as this does. While not nearly as fast as an air-powered roofing nailer, it still sinks brad nails much more quickly than first-generation cordless nailers.
Softwoods vs Hardwoods
The Ridgid 18V brad nailer can nail 2-inch brads into softwoods like pine or poplar all day long. Plywood, MDF, and OSB are no problem for it. It does struggle to drive 2″ nails into ultra hardwoods like maple, however. In these materials, 2-inch brads stood 1/8-1/4″ (or more) proud. It fared better in other hardwoods like oak and walnut.
The troubleshooting section of the manual mentions this, stating if the "Tool operated properly, but nails do not drive fully" then the cause is "nail is too long for wood hardness." Ridgid's solution is to "use nail length that is appropriate for wood." This was after I maxed out the tool's power and depth adjustments. In short, this can cleanly drive 1-1/4 inch 18ga brad nails into hard maple.
Ridgid 18V Brad Nailer Price
You can pick up the Ridgid R09891B 18V 18ga cordless brad nailer at The Home Depot for $199. For another $70 you can get the kit (Ridgid R09891K) with a 2.0Ah battery and charger.
Ridgid 18V Brad Nailer: The Bottom Line
If you are a professional cabinet or furniture maker working with hardwoods, this is probably not the tool for you. Trim carpenters, however, may find this to be just perfect as most of what you install is going to be painted. I found it extremely useful for quickly making jigs or other quick assemblies in the shop. I think anyone on the Ridgid battery platform can find uses for this tool—particularly around residential applications. It would be great for installing door jams, paneling, chair railing, crown molding, or door and window casings. Just be realistic when it comes to building those cherry kitchen cabinets.
Ridgid 18V Brad Nailer Specifications
Motor: 18V brushless
Over 1,100 brads per charge (2.0Ah battery in our testing)
Dry-Fire Lockout
Tool-free jam release
Tool-free depth of drive
Weight: 5.36 lbs without the battery
Nail sizes 5/8 to 2-1/8 in.
Model number R09891B (bare tool) or Ridgid R09891K (kit)
Warranty: Lifetime Service Agreement with Registration