Next-Gen Ridgid 18V Cordless Angle Grinder Pushes Performance Forward
Ridgid is coming in strong this year with a fresh batch of updated tools and among them is an updated Ridgid 18V cordless 4 1/2-inch angle grinder. We're going to break down the key details and give you a first-hand look at what makes this grinder worth considering.
Want more angle grinders? Check out our top recommendations!
Ridgid 18V Cordless Angle Grinder Performance
Triggered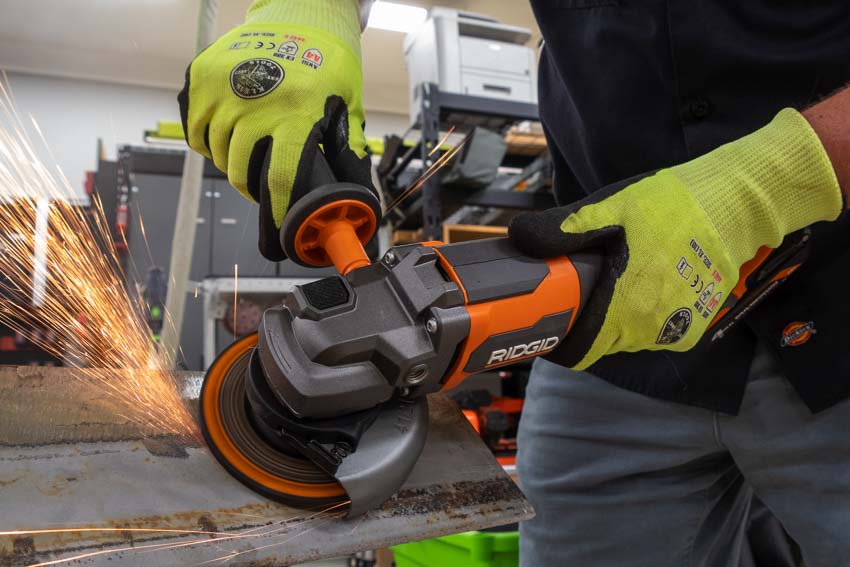 There's a lot of debate in the tool industry over paddle triggers vs slide switches on angle grinders. I tend to prefer a paddle trigger simply because I feel like I have greater control of the tool but that's just my preference. On the other hand, Kenny likes a slide switch.
For this model, Ridgid goes with a large paddle switch that spans the majority of the grip. This gives you the opportunity for multiple hand positions to best suit your needs. Just like other paddle switch tools, there's a spring-loaded safety for added security during transport.
Once you activate the paddle switch, the Ridgid R86047's brushless motor spins its 4 1/2-inch grinding wheel up to 9,000 RPM.
Let's Talk Power
Ridgid doesn't provide an exact corded equivalent for this angle grinder, but from our experience, it feels and performs very similarly to a 9-amp model. During our testing, we were able to really put some good pressure on it, but it's not too difficult to slow it down compared to larger cordless angle grinder options.
In terms of application, the Ridgid R86047 is really helpful for light to medium-duty applications such as knocking off rust/paint, polishing, and cutting frozen nuts and bolts. It can reach into some of the tougher applications, but those are the kinds of things you want to move up to a larger, stronger class for the best productivity.
Ridgid 18V Cordless Angle Grinder Design
Ergonomics
Overall, we really like the ergonomics of this angle grinder. The rubber overmolded grip section is slim and very comfortable in my hands.
Its 5.8-pound weight (including a 4.0Ah Max Output battery) is very manageable and similar to corded small angle grinders.
From tip to tail this angle grinder measures 13.3 inches. While it's not labeled as a "compact" tool, it is highly maneuverable and excellent in tight spaces.
Electric Brake
Ridgid includes an electric braking mechanism that quickly stops the wheel's rotation in a matter of seconds once you release the switch.
On Guard
One nice thing about this grinder is the simple tool-free guard adjustments. To rotate, simply press down on the spring-loaded button and move it into the position that keeps you from getting a spark shower.
One thing to note is that there's no cut-off wheel shroud. The guard that comes with it is perfectly capable of pulling double duty, and it's not unusual for small angle grinders to only include one style.
Accessory Changes
One thing I really love about this angle grinder is how Ridgid simplified the flange nut. There's a built-in folding tab that flips up to give you a better grip and loosen/tighten by hand. We love any option that lets us leave the spanner wrench in the toolbox.
2-Position Side Handle
As with most grinders, the Ridgid R86047 has a 2-position forward assist handle. It gives you a much more stable grip as well as helps to dampen some of the vibrations felt during use.
Ridgid 18V Cordless Angle Grinder Price
The Ridgid R86047 retails for $159 as a bare tool at your local Home Depot or online. It includes the tool, type 27 grinding wheel, guard, side handle, and manual.
Ridgid backs this grinder with its lifetime service agreement when you register within 90 days of purchase.
The Bottom Line
After using the updated Ridgid 18V cordless angle grinder, it's pretty hard not to like. It's a great fit for lighter jobs and tight spaces when the size, weight, and power of medium and large angle grinders are overkill.
Click here to see what's new from Ridgid!
Ridgid 18V Cordless Angle Grinder Specifications
Model: Ridgid R86047
Power Source: Ridgid 18V battery
Max Speed: 9,000 RPM
Trigger Style: Paddle
Weight: 4.5 lbs. (bare), 5.75 lbs (with 4Ah battery)
Length: 13.25 in.
Arbor: 5/8 in.
Max Wheel Diameter: 4 1/2 in.
Warranty: Ridgid Lifetime Service Agreement
Price: $159 (bare tool)