There's an Angle Grinder for Nearly Every Job and Budget
When we set out to determine the best angle grinder, it didn't seem like a terribly difficult task. However, when we got our team together, it was quickly apparent that there are so many outstanding models out there.
Angle grinders make up a core tool class, and nearly every brand makes multiple models. We've done our best to narrow down our top recommendations based on the performance, features, and even price of these tools. However, this isn't an exhaustive list of everything available. If you see a brand you like in our list, but not the exact grinder you need, take a closer look at their lineup and you might find exactly what you're looking for.
PTR's Best Angle Grinder Recommendations
Also in This Article
Best Angle Grinder Overall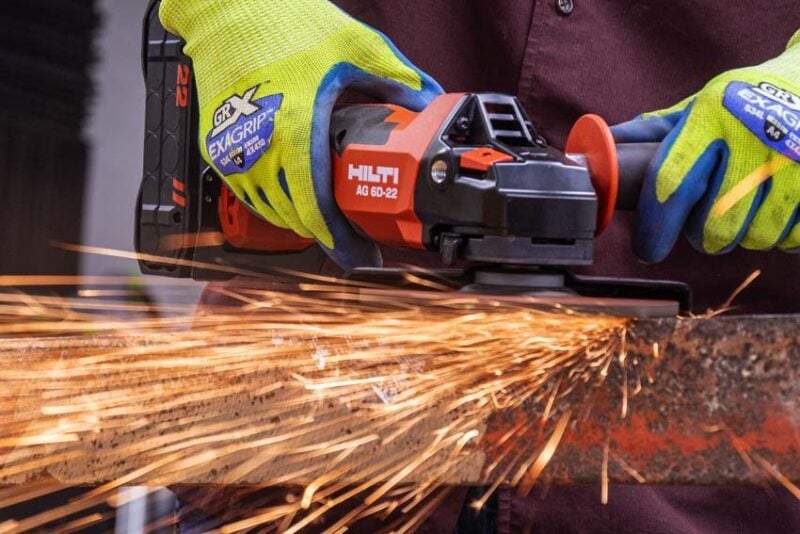 Why We Picked It
The Hilti AG 6D-22's performance is excellent, with a brushless motor keeping the RPMs high even under heavy pressure.
Two innovations really set it apart from the crowd, though. 360° Active Torque Control senses if the grinder makes a sudden move in any direction and automatically shuts off.
Then there's SensTech. Sensors in the handle can detect when your hand is on the tool, even when you're wearing gloves. When your hand leaves, the motor shuts down. It's the only grinder we've seen to effectively offer the convenience of slide switch activation with the safety of a paddle switch in one tool.
Between the performance, features, and design, the Hilti Nuron AG 6D-22 is the most impressive angle grinder we've ever used.
Info To Know
Best for professional use
6-inch configuration
8500 Max RPM
4.4 pounds (tool only)
Available in a 5-inch configuration
Pros
Excellent performance under load
360° bind-up/kickback sensors
Combines the convenience of a slide switch and safety of a paddle switch
Electronic brake
Excellent ergonomics
Cons
More expensive than other grinders in the same class
Price: Starting at $329.00 for the bare tool
Best Cordless Angle Grinder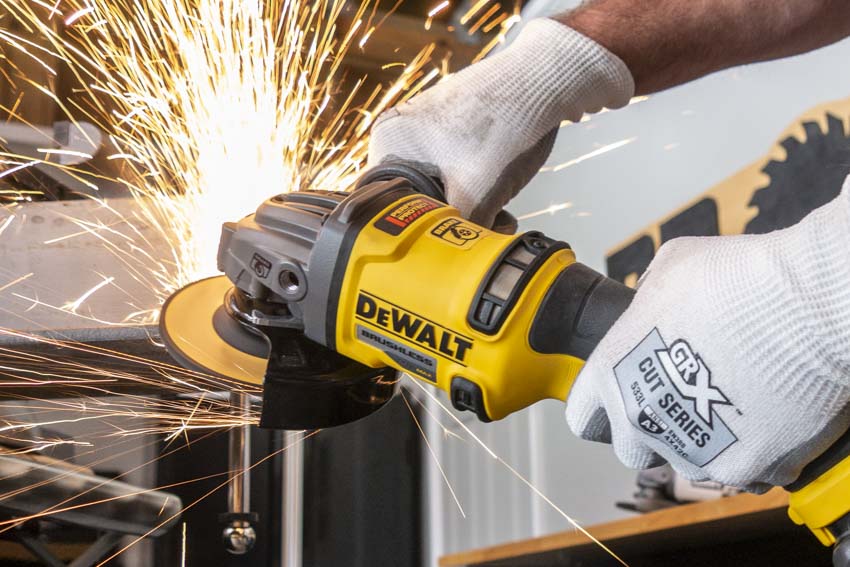 Why We Picked It
At the end of the day, the tool you pick up the most is the best for the way you work since you use it so much. The one we pick up more than any other in our shop is DeWalt's second-generation FlexVolt angle grinder. It has the performance (13-amp equivalent, 9000 RPM) and safety features we demand (kickback control and electronic brake) with the convenience of cordless operation.
One of the other things that sets it apart from high-performance grinders in its class is the ergonomics of its handle design. It's a slim profile with a trigger rather than a paddle or slide switch, and it very comfortable to use.
Info To Know
Best for professional use
6-inch configuration
9000 RPM
4.66 pounds (tool only)
Pros
Outstanding performance under load
Super-comfortable handle design
Kickback control
Electronic brake
Cons
Price: $259.00 bare, $339.00 kit with a 3.0Ah battery and charger, $499.00 kit with two 3.0Ah batteries and charger
Best Cordless Small Angle Grinder (4-Inch to 5-Inch)
Why We Picked It
Milwaukee's flagship small angle grinder has outstanding power with the brake and kickback control we're looking for. Capable of using 4 1/2 or 5-inch wheels, both versions have a top speed of 8500 RPM. A nice bonus is that it comes with a tool-free flange, so you can kick that spanner wrench to the curb.
The 2883 (slide lock) and 2882 (paddle switch) also include One-Key. While there are no control settings, it does offer tracking and inventory management, making it a great option for construction firms and shops that prefer help tracking tools from the crib.
Info to Know
Best for professional use
5-inch configuration
8500 RPM
3.2 pounds (tool only)
Pros
Outstanding performance under load
Kickback control
Electric brake
Tool-free wheel changes
Vibration-dampening side handle
One-Key enabled for inventory and tracking
Cons
A little heavy for this class with its recommended battery
Price: $249.00 bare, $519.00 kit with two 6.0Ah High Output batteries and charger
Best Cordless Medium Angle Grinder (6-Inch)
Bosch Spitfire ProFactor 18V Cordless 6-Inch Angle Grinder GWX18V-13CN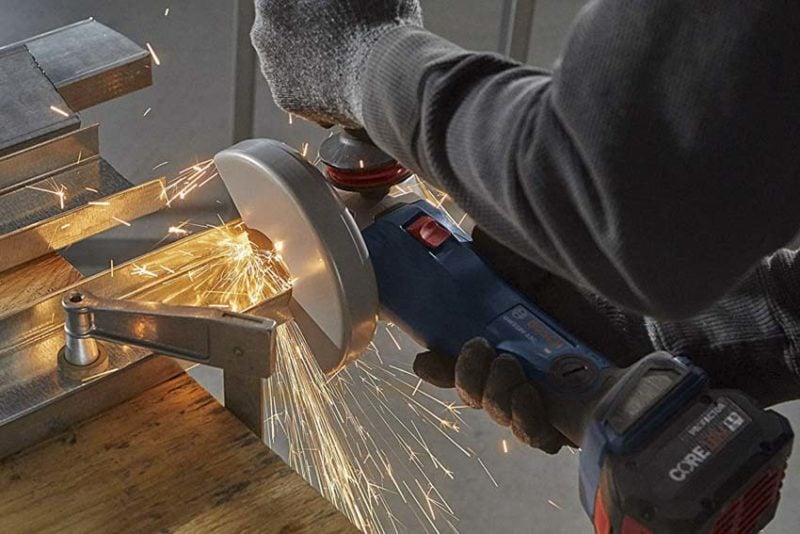 Why We Picked It
Bosch has a lot going on with their GWX18V-13CN angle grinder. It's capable of using wheels from 5 to 6 inches, and using the completely tool-free X-Lock interface, you can kiss your spanner wrench goodbye! As a 13-amp corded equivalent, the grinder's BiTurbo brushless motor spins up to 8500 RPM.
In addition to electronic brake, kickback control, drop control, and restart protection features, this model is Connected-Ready. Just add the Bosch Connected Module to gain smart tracking and diagnostic communication.
Info To Know
Best for professional use
6-inch configuration
8500 RPM
5.1 pounds (tool only)
Available without Connected feature with a paddle switch (GWX18V-13PN)
Available with a standard wheel interface as a slide switch (GWS18V-13CN) or non-Connected paddle switch (GWS18V-13PN)
Pros
Excellent performance under load
Electronic brake
Kickback control
Drop protection
Tool-free X-Lock wheels changes
Connected-ready (Connected Module not included)
Vibration-dampening side handle
Trigger has to be cycled in the event of a power loss
Cons
Paddle switch version doesn't have a Connected Module option
Price: $259.00 bare, $419.00 kit with an 8.0Ah Core18V battery and charger
Best Cordless Large Angle Grinder (7-Inch to 9-Inch)
Why We Picked It
Not many brands throw their hats into the ring in the cordless large angle grinder class. Among the major brands, your options are between DeWalt, Makita, Metabo, and Milwaukee. None of them are poor choices. However, our pick for the best cordless large angle grinder in Makita's GAG10.
Using a single 40V max XGT battery instead of two 18V batteries for power, it has kickback and brake safety features, and adds restart protection. Additionally, Makita's Autostart Wireless System automatically turns on your vac when you pull the trigger, making this an excellent option for concrete and masonry work in addition to standard metalworking.
On the performance side, expect to run 7 or 9-inch wheels up to 6600 RPM. The tool also has an isolated rear handle to help absorb vibration and reduce fatigue in your hand and arm.
Info To Know
Best for professional use
9-inch configuration
6600 RPM
8.6 pounds (tool only)
Pros
Excellent performance under load
Automatic vacuum activation with an AWS vac (chip included)
Kickback control
Electronic brake
Isolated rear handle dampens vibration
Trigger has to be cycled in the event of a power loss
Soft start
Cons
Price: $309.00 bare, $554.00 kit with a 4.0Ah battery and charger
Best Corded Angler Grinder
In order to get the kickback control and electronic brake we've been talking about, the best way to get them is with the electronic controls that come with a brushless motor. In recent years, a couple of brands have introduced corded brushless angle grinders that offer those additional safety features.
That's a big deal to our team, plus you don't have carbon brushes to replace. If those features aren't a big deal to you, you might find the best corded angle grinder for you is something different than what we're recommending.
Best Small Angle Grinder (4-Inch and 5-Inch)
Why We Picked It
Metabo HPT earns our pick for the best corded small angle grinder with its 5-inch AC brushless G13BYEQ. It uses a 12-amp brushless motor to spin the wheel up to 10,000 RPM and holds it well under load. The paddle switch and electronic brake ensure the motor stops quickly if your hand comes off for some reason, and it has the built-in kickback control we prefer on grinders.
Info To Know
Best for professional use
5-inch configuration
10,000 RPM
4.8 pounds
Available with an 8500 RPM top speed (G13BYEQ2M)
Pros
AC brushless motor
Fast top speed
Outstanding performance under load
Kickback control
Electronic brake
Trigger has to be cycled in the event of a power loss
Soft start
Cons
More expensive than standard brushed models
Price: $189.00
Best Medium Angle Grinder (6-Inch)
Why We Picked It
For your medium size grinder, we like DeWalt's 6-inch DWE43244N. It's a corded paddle switch grinder that takes advantage of a brushless motor. As part of DeWalt's Performance & Protect line, it has an electronic clutch with kickback control and an electronic brake.
For those of your working at height, there's a lanyard attachment hook just below where the cord enters the housing.
Flipping over to the performance, the motor runs 13 amps and produces a solid 1800 watts of power with speeds up to 9000 RPM.
Info to Know
Best for professional use
6-inch configuration
9000 RPM
6.0 pounds
Available as a variable speed slide switch (DWE43240VS) or rat tail paddle switch (DWE43265N)
Pros
AC brushless motor
Kickback control
Electronic brake
Excellent performance under load
Heavy-duty lanyard hook
Trigger has to be cycled in the event of a power loss
Cons
Price: $249.00
Best Large Angle Grinder (7-Inch and 9-Inch)
Metabo WEPB 24-230 MVT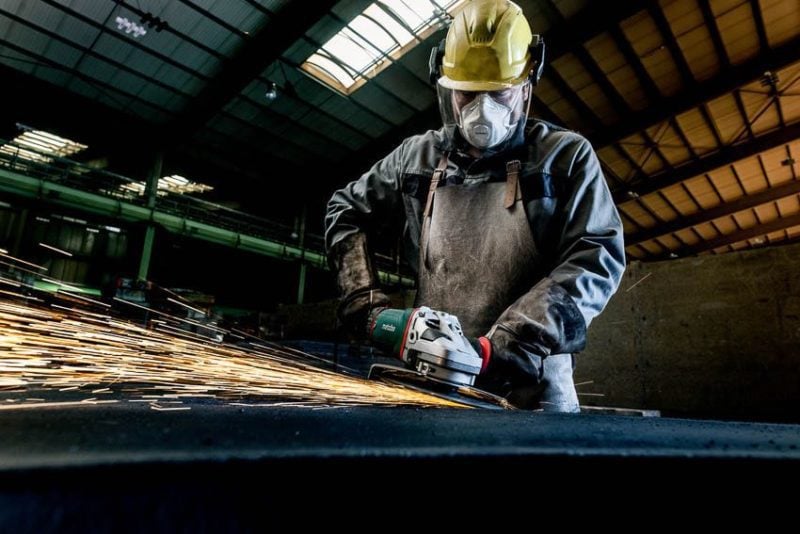 Why We Picked It
When it's time to go big, we prefer Metabo for the best corded large angle grinder. In particular, we like the WEPB 24-230 MVT for several reasons. This 15-amp grinder is well-built and can handle wheels up to 9 inches with speeds up to 6600 RPM. Even though it's not a brushless model, it does have a mechanical disk brake that activates if the deadman switch is released, if the wheel binds up, or even in an unexpected power loss.
The "MVT" designation on this grinder stands for Metabo VibraTech and includes an internal dampening system along with a vibration reduction side handle.
We also really like the rat tail handle design. Grinders of all sizes can have pretty wide handles that small and medium-size hands have a tougher time with. Metabo's rat tail handle offers a much more ergonomic grip to hands of all sizes.
Info To Know
Best for professional use
9-inch configuration
6600 RPM
13.5 pounds
Available as a slide switch (W 26-230 MVT)
Pros
Advanced vibration control
Comfortable rat tail ergonomics
Outstanding power under load
Mechanical disk brake that also activates in a bind-up
3-position side handle
Pivoting main handle
Cons
Price: $380.99
Best Angle Grinder for the Money
Why We Picked It
Ryobi made a huge jump in performance with its HP Brushless line of cordless tools, and the paddle switch angle grinder of the group is no exception. Paired with a High Performance battery, the brushless motor is capable of 9200 RPM using 4 1/2-inch wheels.
This is one of only a few grinders with a tool-free wheel removal. Ryobi's FixTec flange nut has a flip-up section you can grab and twist to loosen or tighten with your fingers. If the nut happens to be too tight, there's a spanner wrench you can use as a backup.
Even though this model is more expensive than some of the more budget-friendly cordless options out there, its performance makes it an excellent value.
Info To Know
Best for serious DIY or occasional professional use
4 1/2-inch configuration
9200 RPM
4.4 pounds (tool only)
Pros
Tool-free wheel changes
3-position side handle
Excellent value
Cons
No slide switch version available
Limited wheel size compared to other small angle grinders
Price: $99.00 bare, $199.00 kit (1 x 4.0Ah High Performance battery)
Corded: Ridgid 8-Amp 4 1/2-Inch Angle Grinder R1006
Why We Picked It
Ridgid takes your basic grinder needs up a notch with its R1006. As our top choice for the best corded angle grinder for the money, this 4 1/2-inch paddle switch grinder is more powerful than entry-level options with an 8-amp motor producing an impressive 11,000 RPM.
Of course, this is a pick that's all about prioritizing value, and Ridgid's $49.99 price tag on this model ensures you get a lot of grinder for your money.
Info To Know
Best for serious DIYer and occasional professional use
4 1/2-inch configuration
11,000 RPM
5.8 pounds
Pros
High cutting/grinding speed
Excellent value
Ridgid offers a Lifetime Service Agreement with product registration
Cons
Not available with a paddle switch
A bit heavier than other small angle grinders
Price: $49.99
Best Angle Grinder Brand
Metabo
You can ask professionals which brand makes the best angle grinder and you'll get a variety of answers. When we look at the grinders consistently doing the toughest jobs, no brand shows up as much as Metabo. The quality of Metabo's engineering and design, along with an incredibly deep line that covers the entire range of grinder needs, makes it a top choice time after time. They're more expensive than many professional brands, but that's what we expect at this level.
Best Angle Grinder for Masonry/Tile Cutting and Tuckpointing
If you're going to cut tile, granite, or other masonry with your angle grinder, you need to use a dust shroud and connect a dust extractor. A collection system keeps the dust from getting into your lungs while also pulling it away from your cutline. Plus, that debris can cause havoc on a grinder that's not set up well enough to deal with it.
There are several add-on shrouds you can buy that take the place of the grinder's guard, but a ready-to-grind package is the way to go. Our top recommendation is Metabo's T 13-125 CED Diamond Cutting System.
Specifically designed to work with diamond cutting wheels, the power plant is a 12-amp/9600 RPM 5-inch grinder. Its wheeled shroud glides easily over surfaces (they can be removed for freehand cuts) and it's rail compatible for long, straight cuts. The set comes with Metabo's excellent cutting shroud, which is removable if you want to use the grinder for traditional tasks.
Price: $485.00
Best Angle Grinder for Concrete Surface Grinding
Makita 5-inch Concrete Planer PC5010CX1
Similar to tile cutting, the best angle grinder for concrete has plenty of muscle behind it, a shroud to help collect the dust, and has the unlimited runtime of corded AC power.
Check out Makita's PC5010CX1 for a 5-inch grinder with a concrete shroud as an all-in-one tool. Its 12-amp motor has 1400 watts of muscle and there's a vibration-dampening spring system to make the job less fatiguing.
If you're on the hunt for the absolute best in concrete cutting and polishing on an industrial level, take a look at what US Saws has to offer. The Mark III Dust Buggy is ideal for cleaning out joints. For floor prep, the TC-7 Stand-Up Edger lets you tackle the edges close the walls where your larger concrete polisher isn't the best option. Incidentally, both use Metabo grinders to get the job done.
Price: $364.00
Best Angle Grinder Wheels for Wood Carving
Most people don't think of an angle grinder for wood carving duties, but there are accessories out there specifically for that purpose. One of the most helpful is essentially a wheel with chainsaw teeth on the edge. You can also use flap disks just like you do for metal, and there are several other types.
Most of the wood carving wheels are 4 or 4 1/2 inches, so a small angle grinder is your best bet, and we highly recommend a model with kickback control. The trick here is to make sure your grinder isn't underpowered since this can be a very aggressive application. If you have spare batteries and a rapid charger, cordless can be a convenient option. However, the unlimited runtime of a corded grinder is our preference.
If you don't already have a grinder in mind, give Metabo HPT's G13BYEQ a shot as our pick for the best corded small angle grinder.
Best Angle Grinder Wheels for Cutting Metal
The best angle grinder for cutting metal combines high edge speed with high torque to give you efficient, confident cutting. Once you have that, it's all about the type of metal you're cutting and choosing the right accessory for the job. After all, cutting 16-gauge sheet metal is a very different job than cutting cast iron pipe.
You have two major accessory options: abrasive wheels or diamond wheels. Abrasive wheels are significantly cheaper, while diamond wheels last much, much longer. If you do a cost-per-cut analysis, diamond wheels end up being a better value if you can manage the upfront cost.
If you prefer abrasive cutting wheels, we like the performance and life we get from Makita's, and they have both standard and X-Lock wheels available. Another one to keep your eyes on is DeWalt's Elite Series.
For diamond cutting wheels, it's tough to beat Diablo for both standard and X-Lock arbors. We also use Lenox MetalMax diamond cutting wheels frequently.
Best Angle Grinder – More Options From Brands We Trust
Best Craftsman Angle Grinder
Craftsman's CMCG451 is a 4 1/2-inch model that updates the CMCG450 and gets it into the Brushless RP line. The big difference is that it bumps up the speed another 500 RPM to reach a max speed of 8500 RPM.
It has performance primarily meeting the needs of serious DIYers and has a 3-position side handle with a spanner wrench that stores conveniently in it.
There's no kit option if you're in need of a battery and charger, but if you're already on the V20 battery system, the $119 price tag isn't bad at all.
Price: $119.00 bare tool
Even though Flex has been around a long time as a brand, its 24V cordless system is one of the newest on the market. Their 5-inch brushless variable speed grinder doesn't have a first-gen feel, though. With legitimate Pro-level performance and a comfortable design, kickback control reduces injury risk in a bind-up while the side handle absorbs vibration. It's also the best value in the professional small angle grinder class.
This grinder is available with a slide switch (FX3181) or a paddle switch (FX3171). Flex also has a dust shroud and dust extraction guard set for those of you working with concrete and masonry.
Price: $179.00 bare, $249.00 kit with a 5.0Ah battery and charger
Greenworks is quickly expanding its 24V line of DIY-focused tools, and the angle grinder that's part of it is worth your consideration. It's a 4 1/2-inch model with a max speed of 10,500 RPM. Although the motor is brushed, the price tag is very approachable and makes for an excellent DIY value.
Price: $79.99 bare tool, $109.99 kit with a 4.0Ah battery and charger
While Ryobi was our pick for the best budget cordless grinder, HART Tools makes a great case as another high-value pick for DIYers with the HPAG25. Their brushless model boasts the same 9200 RPM as Ryobi and has a three-position side handle. The best part is the price—just $119 as a bare tool.
The downside is that it's not sold as a kit with a battery and charger. However, you're going to want more than just the grinder, so grab the brushless drill and impact driver combo to help you get started.
Price: $119.00 bare
Best Kobalt Angle Grinder
Kobalt's top grinder is the cordless brushless KAG 424B-03. It's a 5-inch model with a paddle switch design that covers all the basics you need with a couple of bonuses. It has a three-position handle and the spanner wrench stores inside the handle so you have it when you need it.
The biggest story for Kobalt is the performance. The brushless motor and 6-cell 24V max battery system run your grinder wheels up to 8500 RPM with plenty of muscle to back it up. It's a good choice for serious DIYers or even value-minded Pros who need a grinder for occasional use.
Price: $129.00 bare tool
Ridgid has several angle grinders to choose from with options on both the corded and cordless sides. If you want to stick with the convenience of cordless, the 18V brushless R86047 is a solid pick as an entry-level Pro option.
Upgraded with 25% more power than its previous version, this paddle switch model peaks at 9000 RPM and stops quickly thanks to its electronic brake. While its feature set is pretty standard, it has a tool-free flange so you can keep your spanner wrench in the drawer during wheel changes.
Price: $139.00 bare, $219.00 kit with a 4.0Ah Max Output battery and charger
Skil makes corded and cordless grinders, plus a high-value bench grinder we really like. For angle grinders, our favorite is the PWRCore 20 brushless model. It tops out at 8500 RPM with performance that exceeds what most people expect from a DIY-focused model.
In addition to the standard features, a couple of convenient add-ons include on-board wrench storage and an included USB power adapter to convert your battery into a USB power supply.
Price: $149.00 kit with a 5.0Ah battery and charger
What is an Angle Grinder?
An angle grinder is a handheld tool that spins a wheel at a very fast rate of speed. Small models can run well over 10,000 RPM while large models might run closer to 6000 or 7000 RPM.
That may seem backwards, but it's the edge of the wheel that does the work. A 10,000 RPM speed on a 4.5-inch wheel has an edge speed of 3750 feet per minute. A 9-inch wheel at 6000 RPM has an edge speed of 4500 feet per minute.
Not only do larger grinders have a faster edge speed, their motors have more torque. It's a noticeable difference when you're cutting thick steel or grinding welds.
The other type of grinder you're likely familiar with is a bench grinder. The concept is similar, but the big differences are that a bench grinder stays in place, and it's used almost exclusively for grinding down materials. An angle grinder's ability to move to the work and use a wide range of wheel styles makes it a more versatile tool.
What is an Angle Grinder Used For?
As you can probably guess from the name, an angle grinder is used for grinding. That's not all, though. It can also cut and abrasively scrape paint, rust, and other surface coatings. In the concrete industry, angle grinders take on the role of smoothing surfaces and channeling out mortar. In some cases, remodelers might use an angle grinder to remove grout between tile, but oscillating multi-tools are a more common option for that job.
While there are some specialties wheels for use with wood, angle grinders are primarily used for working with metal and concrete/masonry.
How to Choose the Best Angle Grinder
Choosing the right angle grinder for the job is mainly about size and performance. With three primary angle grinder classes (small, medium, and large), it's all about which size wheel fits in the area you need to grind, cut, or polish.
When the wheel contacts the material, it then has to get the job done. An underpowered grinder might cut 1/4-inch steel plate or grind welds, but higher-performing ones are going to do it much more quickly.
From there, it's about convenience and features. By far the most convenient way to go is to cut the cord and use battery power. The best cordless angle grinders keep up with corded models—even up to 9-inch models! The trade-off is a higher cost and limited runtime. On the other hand, electronic controls give cordless grinders some features that aren't common on corded ones.
Here are some other features to look consider:
Electronic braking
Automatic kickback shut-off
Advanced vibration control system
Compatible shrouds for working with concrete/masonry
Brushless motor (on cordless and corded models)
Smart controls/tracking
Three total side handle install points
Read up on angle grinder uses and how cordless technology is influencing them here.
Angle Grinder Safety Tips
Angle grinders can spin up to 10,000 RPM or more. When something goes wrong on the business end, it can be catastrophic, sending shrapnel into your face and body, hurting bystanders, or damaging material and equipment around you. Here are some angle grinder safety tips to prevent it:
Always wear eye protection—no excuses!
Consider wearing a metalworking apron
Wear cut-resistant gloves
Never work without a guard in place
Use a braking grinder when you can
Get a grinder with kickback control
Consider a paddle switch instead of an on/off switch
Wait until the wheel stops moving before you set the grinder down
How We Make Our Choices
As we considered the dozens of quality grinders available, there were several things we prioritized to help us make our recommendations.
Performance
At the end of the day, performance is still the number one priority. We're looking for grinders that have enough torque to keep their RPMs high and continue to work quickly when the going gets tough.
Size and Weight
When it's an option, our team reaches for the lightest, most compact tool that still gets the job done with confidence.
Safety Features
Braking grinders with kickback control are two of the top safety features we look for. Any other innovations that improve safety also earn big bonus points.
Additional Features
After safety features, other design elements that make the job easier help improve a grinder's overall score.
Price and Value
We're big on value. It's not about paying the least amount of money possible, it's about getting the most you can from the angle grinder that fits the budget you have.
Why You Can Trust Pro Tool Reviews
Ever check out a "review" site and you can't tell if they actually tested the tools or if they're just "recommending" the Amazon top sellers? That's not us. We won't recommend anything unless we'd actually use it ourselves and we don't really care who the primary retailer is. It's all about giving you a legitimate recommendation and our honest opinion of each product.
We've been in business since 2008 covering tools, writing reviews, and reporting on industry news in the construction, automotive, and lawn care industries. Our Pro reviewers work in the trades and have the skills and experience to know whether tools can perform well in the field.
Each year, we bring in and review more than 250 individual products. Our team will put our hands on hundreds of additional tools at media events and trade shows throughout the year.
We consult with innovators in the technology and design of tools to gain a broader grasp of where these products fit and how they work.
We work with more than two dozen professional contractors around the United States who review products for us on real job sites and consult with us on testing methods, categories, and weighting.
We'll provide more than 500 pieces of new content this year absolutely free for our readers—including objective evaluations of individual tools and products.
The end result is information you can trust because of the editorial, scientific, and real-world professional experience we collectively utilize each and every time we pick up and test a tool.