We first saw Milwaukee One-Key tool technology demonstrated in 2015. Since then, the Bluetooth-based system has continued to improve and mature. It offers several integrated technologies that take brushless tools to their logical conclusion. In particular, Milwaukee One-Key offers three things: Advanced tool control, jobsite reporting, and power tool inventory control (including a form of tool tracking). Also check out our using Milwaukee One-Key article for a hands-on perspective.
What is Milwaukee One-Key?
I remember when mainstream tools were first going cordless back in the early 80s. It was exciting to think you could drill a hole or drive a screw without being tethered to a power cord. Lithium-ion batteries entered the scene around 2005, and everything pretty much got better, faster, stronger, cheaper, and more flexible. People don't realize, however, that it was brushless technology that really leapfrogged us into the age of "smart" tools. By using electronically commutated motors, manufacturers now had the ability to control torque and speed (and even clutches) digitally.
Milwaukee One-Key technology takes advantage of both the smart tool and smart battery platforms to enable new features.
Editor's Note: Check out our Milwaukee One-Key hands-on review with its updated Inventory system, and new features for People, Places, Transfers, and Alerts.
On-Tool Integrated One-Key Hardware
Milwaukee Tool enables One-Key via on-tool Bluetooth technology. The system can register a new tool by simply scanning for nearby tools, connecting to them, and automatically registering the tool type, serial number, and model number. You can then give it a tool number and show where you purchased it. You can also upload the receipt which then goes into the cloud. Checking out a tool from the tool crib is easy, and when a job is completed you can mark the tool(s) as returned, missing, or damaged.
Milwaukee also connects tools and equipment to One-Key via external devices like the Milwaukee Tick tool tracker. Any tools lacking One-Key integration can quickly be added to your inventory via the Milwaukee Tick. This works especially well for older tools or even adding, managing, and tracking products not made by Milwaukee Tool.
Milwaukee Bluetooth Tracking Tag
When most people think about "tracking tags" they think of consumer-grade products like Airtags from Apple or Tile products. Consumers use these to locate missing keys, wallets, backpacks, etc. While extremely popular, these products aren't built to stand up to jobsite conditions and abuse. The Milwaukee Bluetooth Tracking Tag works great for pro contractors looking to track and manage medium to high-value power tools, heavy equipment, generators, ladders & lifts, trailers, and even outdoor equipment like mowers, handheld blowers, and trimmers.
Similar to the Tick above, the Milwaukee Bluetooth Tracking Tag leverages the ONE-KEY network and Bluetooth technology. Combined, the Tag provides accurate information on the last seen date, time, and location of a tool when within 300ft of any ONE-KEY device. It also lets you quickly add products into your ONE-KEY inventory management system. Each tag measures just 1.9 x 1.5 x 0.5 inches.
Accelerometer Adds More Functionality
Also, while the TICK provided basic Bluetooth tracking functionality to untracked items, the Bluetooth Tracking Tag gives you the ability to see when an item was last used/moved. This feature comes via an integrated accelerometer that improves tool location accuracy and provides for more real-time updates. In addition to being able to see when the item it's attached to was last seen by the network, users can now also see when the item was last used up to within the last hour. You can also get up to 30 days of full location history.
The accelerometer senses any movement lasting longer than 4–6 seconds. That ensures the accelerometer accurately measures a tool being moved to a new location, not just when it gets bumped or moved aside.
Powered by an internal battery with a 3-year run time, you can set up the tag once and alleviate the risk of breakage associated with replacing a battery. Milwaukee sells these in single (48-21-2301 – $30), 2-packs (48-21-2302 – $50), and 10-packs (48-21-2310 – $180).
The Tick devices work well for equipment where it makes sense, but how about smaller devices that don't easily lend themselves to a larger plastic battery-powered device? For that, you have Milwaukee Asset ID tags. These QR code-like stickers affix to tools and products, letting you track inventory.
You can scan these with any mobile device using its integrated camera. The One-Key app records both the time and location data. Even better, you can get them in lots of 25, 100, or 200, and Milwaukee makes versions that stick to either plastic or metal surfaces. They also include fade and scratch protection.
Free One-Key Mobile and Web-App Software
Users can download Milwaukee One-Key for free. The mobile software app is available to end-users via the Mac App Store or Google Play. Sorry, they don't yet make a version for the Nintendo Switch, lol.
The software also runs as a web app on the desktop—compatible with both Mac and PC users. It also scales well, targeting companies of virtually any size.
It shows the tool photo, manufacturer, tool description, model, tool number, and location. The app also stores helpful info on the tool like the serial number, category, and purchase information (giving you the "when, where, how much" info you need). Finally, it even accesses your smartphone's camera and lets you store digital proofs of purchase for each of your tools.
Milwaukee ONE-KEY Power Tool Control
The first thing that Milwaukee ONE-KEY does is offer advanced digital tool control. Years ago, I remember one of our media friends asking "So if Milwaukee can digitally control power, torque, speed, and clutch functions—when do we get to tap into those controls ourselves?" A few higher-ups looked almost nervously at each other and declined to comment. Milwaukee ONE-KEY was announced shortly thereafter.
As it turned out—Milwaukee was already working on this technology. When the tool-control portion of the technology debuted in January 2016, Milwaukee One-Key finally provided the ability for users to tap into their tools and customize and configure them for their own particular needs.
How Milwaukee ONE-KEY Tool Control Works
ONE-KEY connects users to their tools but it also ties those tools and products to a cloud-based web of information. The system can help a single user—or even the tool crib manager track hundreds of products. It's all possible because of how Milwaukee developed their Lithium-ion cordless tools since the beginning. Instead of just making a smart Bluetooth battery, Milwaukee has consistently "over-invested" in both its tool electronics and battery electronics. With both smart batteries and smart tools, they've left the door wide open for this kind of technology.
The One-Key iOS or Android app actually connects to the tool using Bluetooth technology. Once connected, you can set up and custom-configure the different tool modes accessible on the tool. These are the modes that, previously, simply indicated low, medium, and high speed/torque. Now, you can customize RPM (speed), torque, trigger ramp-up time, and whether you use torque control to stop the drill/driver. You can also toggle modes like Precision and Auto-stop on tools that support those features. You can even customize the behavior of the LED light (always on, always off, delay-to-off, etc).
How You Might Use This to Customize Your Tools
So how does this benefit you and how might you use this to customize your tools? Here's an example. If you're fastening into metal you may want to increase the trigger ramp up speed so you help keep the self-tapping screw from wandering on start-up. Or, you can adjust an impact driver's start, drive, and finish speeds—helping you better protect your fasteners, but giving you the power when you need it.
For a drill, you can set the maximum RPM speed for both low speed and high speed. You can even enable kickback control that determines how hard the tool has to bite before kickback protection shuts it down.
And Milwaukee says this is just the beginning.
The possibilities that One-Key brings to the job-site seem endless. Once you tap into a digitally-controlled power tool, the capabilities for customization and programming seem destined to grow and evolve. For the first time, tools can potentially deliver more and more features to consumers even years after you purchased them!
Optimizing Milwaukee One-Key Tools for Specific Fasteners
You might think that manual tool customization was the end-point, however, Milwaukee also started messing with how their tools interact with specific fasteners. You can customize configure ONE-KEY tools, letting users use pre-determined set-ups for specific fasteners and materials. Let's look at the Milwaukee Gen3 impact driver as an example:
Beyond just customizing the tool for speed and torque, you can even select self-tapping screw mode. Now, you have the option to set the screw diameter and length as well as the head type and steel gauge you intend to drive into. This takes things to a whole new level when training new users who may not have years of experience in the construction trades.
Saving Custom Tool Profiles
Once you find the settings you like, you can save them into the system via the app. Now, you never have to open One-Key again to access those custom modes—they're simply assigned to the hard buttons on the tool. You just recall them on the tool and you can go back and forth between these saved profiles as needed. Think about the possibilities:
Setting torque control for stopping your impact driver when a fastener hits the metal
Initiating a slow ramp-up speed, fast running speed, and final slow down for sinking drywall screws
Programming a fast start-up and steady drive with torque control shut off for driving self-tapping screws into steel studs, purlins, or sheet metal
At one point I tested a Milwaukee One-Key impact driver on a commercial electrical panel. On just this application alone, the customized settings really made a lot of sense. First, we fastened the outlet boxes to steel studs—that required self-tapping screws. Then, we anchored the panel itself to cinder blocks using Tapcons—another great application. Finally, we ran conduit using both MC cable and EMT fastened to steel studs.
Managing Tools and People
Managing People with Milwaukee One-Key
Not only does Milwaukee One-Key manage your tool crib, but it can also handle your personnel. The People dashboard lets you add, delete, move, and manage your staff. This includes contact information, assigned tools, and job site assignments. It will show recent and historical tool transfers, so you can manage your entire crew from the One-Key interface.
GPS Tool Tracking via Mesh Networks
The Milwaukee One-Key app includes integrated tool tracking. This functionality lets you track your tools by simply pulling out your phone. The Integrated Tool Tracking technology works using two basic principles:
Tools and Ticks include a coin-style battery that enables tracking even without a tool battery inserted
One-Key shows you where (and when) a particular One-Key tool was last seen
The locations of One-Key-enabled tools are updated when a One-Key app comes within 100 feet of a One-Key tool that's been reported missing
Permissions for these features are requested when you initially install the Milwaukee One-Key app on your smartphone
It's not GPS, but it does work effectively due to the large installed base of users. The system uses Bluetooth connectivity to the app, but the large number of users creates a sort of mesh network where tools can be tracked even without a battery inserted. Currently, Milwaukee claims more than 5 million tool location updates per day.
Geofencing and Date-based Alerts
Geofencing is now possible in One-Key. The geofencing system lets you set a virtual boundary. The One-Key app then alerts you if your One-Key tool strays outside of it.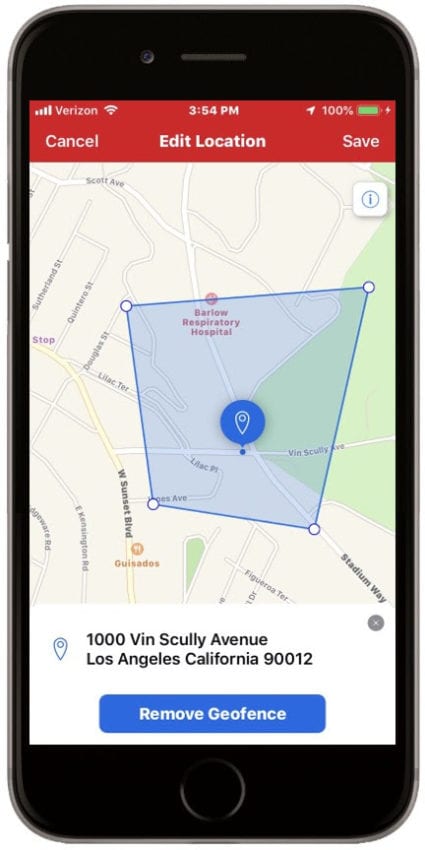 The Milwaukee One-Key app also includes access to tool location history. They've also added a more in-depth and comprehensive item history for getting some more context to where your tools have been over the course of their life in the field.
The Alerts dashboard holds all of the service reminders, warnings, and geofencing alerts. It has everything you need to be aware of to manage your personnel and inventory. It also serves as the "Lost and Found" for tracked tools. You can mark alerts as read or unread, and even recall delete alerts for up to 30 days.
Web Location History Features
As of Software release 8.6, Milwaukee Tool added Location History features to the web app. You can now see a timeline of your item's location during the last 30 days from last seen. They also deployed the ability to set a date range for the location history data you'd like to drill down into and see.
In software versions 8.8 and 8.9 Milwaukee One-Key plans to improve the process of how you add items to inventory in the future. They plan to optimize the system to take advantage of Milwaukee combo kits for example. They also want to make it easier to connect to and add multiple One-Key compatible tools at the same time.
Transferring One-Key Tools Between Users and Jobsites
Milwaukee One-Key lets you track and transfer your tools. You can transfer tools and equipment from the crib to the jobsite and from one jobsite to another. Improved One-Key Transfers let you create a transfer and set the transfer date to the current day or a later date. This helps you know exactly when the items will be delivered, letting you better track your inventory and automate tool handoffs.
Additionally, One-Key Transfers lets you view a history of completed and upcoming transfers as well as cancel current or pending transfers effortlessly.
Milwaukee One-Key Managed Inventory
Currently, tool inventory can exist as a primitive paper-based system, electronic spreadsheets, or even as an expensive custom software program. Milwaukee One-Key lets you share and update inventory across many levels—and it does it for free. The desired goal with the development of this software was to help organizations work faster with a higher level of productivity. Milwaukee designed the software so that it's suitable for anything from sole proprietors to 1000-employee organizations.
Take, for example, a tool like a compressor that isn't at a job site (but needs to be). The tool crib manager will have to hunt all around and get the tool to the job site. Your entire job could be held up over a $150 tool. Milwaukee thinks this might serve as the "single source of truth" for end-users. Taking into account that 75-80% of contractors are 10 men or fewer in size, managing tools becomes a big part of reducing overhead waste. Why hold up a job or make unnecessary tool purchases when you don't have to?
Inventory Dashboard
The Milwaukee One-Key Inventory web software got a big update in July 2019. They redesigned the entire interface, maximizing the organization of your inventory. It also includes a tablet-friendly browser for easy access when you're away from your desk. With Milwaukee One-Key Managed Inventory Software, everything is present in the event of theft or some other event that causes you to need that info to report on the tools.
Transfer Dashboard for Tool Transfers
At the Transfer dashboard, you can monitor your tool and product transfers for your entire organization. This centralized location is important because you make a transfer from multiple places within the app, including the Inventory, Places, or Crew Member's dashboards. The Transfer dashboard lets you recall all recent transfers made between People or Places. You can also see all transfers stored in your transfer history.
The Places Tab/Dashboard
The Milwaukee One-Key Places tab gives you several ways to manage job sites and track checked-out tools. In Places, you can create locations for where your people and tools will be used or stored. A place can be a project, job, vehicle, or tool crib (your "home base"). The dashboard lets you see total items, number of places, and types of places. You can also search. Milwaukee makes adding Places simple, and you can name the location as well as add details. You can even add a person to be in charge of the Place. For vehicles, you can add details like VIN, make, and model. Everything can be searched and filtered.
The system includes maps, photos, and grids to let you quickly and easily search, sort, and track your inventory and tools. It's a powerful system that can be as complex or simple as you want it to be.
Milwaukee One-Key Tool Reporting
Tool Reporting lets users and job site managers wirelessly synchronize with a web-based application whereby the user can upload tool data and history to track the success and timing of things like electrical terminations and other press or crimp actions. The software can work with daily uploads or even uploads at the end of the week (or at the end of a job—though that's less helpful).
You can use the Milwaukee One-Key software to create custom reports that tell you exactly what you need to know. This also helps you spot potential issues or problems before you leave the jobsite. The Milwaukee One-Key program also assists in tracking the utilization and service intervals of your tools to maximize uptime and keep inventory lean. Got a Milwaukee Force Logic tool that was checked out of the crib but not used in the last week or so? Now, you can reclaim it and get it back into rotation instead of having it sit idle at the jobsite.
Tool Management Reports
What was previously known as "inventory reports" has been streamlined and improved upon. You can now build more robust inventory reports for managing both tools and equipment. The system now lets you share important information between team members, inspectors, and customers.
You can view reports in the app or even download them as PDF files like the example one above.
Using Milwaukee One-Key Tool Reporting for Inspection Verification
Inspectors are now requiring confirmation of electrical connections with inspections. This can be a very manual (and honestly a rather vague) process. Milwaukee One-Key can download, pull, and provide reports in seconds that will verify your crimps and connections in a way never before possible. This feature works for Force Logic hydraulics and press tools and also certain torque wrenches.
Force Logic registers the date time and the number of cycles the tool reached full pressure. At the same time, a project manager can remotely view the synced information from the jobsite (with all tools on-site checking in). You can create a custom job report including documenting any incidents, and Milwaukee One-Key Hydraulics Reports include access to CSV downloads of your report.
You can also see when tools have been used and which tools are due for maintenance.
For torque tools like the Milwaukee M12 FUEL torque wrench, you can record torque events on the tool while you work. Later, you can upload the data to One-Key to collect all of that information and generate a PDF report. You can sort and select by date range, tool, or any number of filters.
Other Milwaukee One-Key Features
Autodesk 360 BIM Integration
For advanced commercial use, Milwaukee One-Key has several key partners to extend the use of their tool tracking and reporting. This includes integration with Autodesk Construction Cloud's BIM 360 construction management software. This integration lets customers seamlessly share information between both software systems. The integration should enhance asset tracking, project management, and reporting. It ties together critical project information to further inform asset management.
When users link a One-Key account with their BIM 360 account, they can directly import master records like Projects and Contacts into One-Key. This lets them keep both systems synchronized.
What the Milwaukee One-Key BIM Integration does:
Integrate OneKey by Milwaukee and BIM 360 by Autodesk
Synchronize contact information and file information
Upload One-Key Digital Torque Report into BIM 360 Docs
As one example, Milwaukee M12 FUEL Digital Torque Wrench users can upload torque reports directly from One-Key into BIM 360 Docs. This digitally syncs torque quality data from the field to the back office. Users should expect Milwaukee Tool to roll out similar reporting functionalities that integrate with additional tools.
Job Costing with Rate Sheets and Reports
The Milwaukee One-Key Job Costing feature lets you use One-Key software to accomplish several handy tasks. You can assign daily rental rates to various tools in your inventory.
Transferring those tools to a jobsite results in One-Key calculating the cost accrued for each day those items are used in the field. You can use this job costing feature across several jobsites at once.
Milwaukee One-Key Job Costing lets you:
Assign daily and weekly rental rates to tools in your inventory
Apply those rates to one or more One-Key-created projects/jobs
Add a smart sheet that auto-calculates rates for you
Generate reports to display rental accruals for tools and jobsites across various periods of time
Milwaukee One-Key Software & Technology Conclusion
So what does Milwaukee One-Key technology mean for your company? It means a lot of things—potential things. For one, you can start using the free One-Key Managed Inventory software as early as September 2015. Next, you can consider what advantages a "smart" tool can mean for productivity on the job site. If you have issues with consistency and repetition or speed, Milwaukee One-Key can really up your game. It can automate a lot of tool functions that had to be done "by feel" in the past. It can also add functions that were simply not available without digital control.
Milwaukee One-Key tools with tool control will have a modest price premium. It promises to make this up in production savings and tool flexibility. If you're a home user, this is likely a novelty. If, however, you drive fasteners all day, or if you're managing a team of electricians using utility crimpers, then One-Key may have just fundamentally changed your life for the better.
As more and more tools become available with Milwaukee One-Key technology, we expect there will be even more reasons to like the customization this app brings to the jobsite.
Final Thoughts
Previously, the plan for manufacturers has been to make a tool that fits the widest audience. Now, that's being blown out of the water. With Milwaukee One-Key, you can dial in a tool to a particular job type. Take the Milwaukee M18 Fuel impact driver. It has four preconfigured speeds—but now you can customize those as needed. The same tool can be configured for use by an electrician, MRO professional, plumber, or HVAC technician.
These tools are smart, and they're going to make professionals more productive. By allowing custom ramp up, driving, and ramp-down speeds as well as torque controls, Milwaukee is all but eliminating the need for you to do much more than pull the trigger and get the job done.