Are you trying to blow down or vacuum up the mess in your shop, but need to do it on a tight budget? Do you need a tool that's small, light, and highly portable? Ridgid has a solution just for you, and it will only set you back a cool $49.97 at Home Depot. In our recent Best Shop Vac Reviews article, we took a look at a variety of shop vacuums from a variety of different manufacturers. From a pricing perspective, one of the most impressive models we looked at was the Ridgid 6-Gallon Wet/Dry Vac. But, despite its small price tag, this shop vacuum punches above its weight.
Notable Features
Blower Mode: Every manufacturer we looked at includes this feature, and Ridgid did as well. With a simple repositioning of the hose, from the intake port to the exhaust, this vac can transform into a low power blower.
Air Filtration: Again, every model is going to have some type of air filtration, though some of the models featured a more comprehensive version of this. The Ridgid 6-Gallon Wet/Dry Vac has a pretty basic, but effective, filtration model.
Four 360° Rotating Casters: Mobility really isn't the weak point with this model. Though it will undoubtedly struggle to get over cords and larger debris (only a few can claim otherwise, however), the size, weight, and wheel configuration allow this vac to move easily around the shop. The casters don't roll quite as smoothly as some of the more expensive models on our list, though.
Attachment and Onboard Storage: The Ridgid 6-Gallon Wet/Dry Vac has a pretty solid accessory storage design working for it. Granted, there aren't too many accessories to account for, but each of the wands and the nozzle have a home.
Hose Management: When it's time to pack everything up, sometimes the hose management, or lack thereof, can be a real pain in the rump. This model, unfortunately, doesn't have a great system for keeping the hose neatly wrapped around the unit. You do have the option, however, of disconnecting the hose and dumping it into the canister when the work is done.
Additional Field Notes
You'll notice that the fit and finish is a bit rougher than some of the other models. The canister doesn't latch down as nicely, the hose is a little stiff, and power switch is almost hidden in the back. There are also some rough edges that have been smoothed out on more expensive models.
Included In Kit
Filter
Hose
Utility nozzle
Wands
Performance
With 3.5 peak horsepower available, there are definitely more powerful models… just not at this price. That motor is able to pull 67 CFM. In our testing, the Ridgid 6-gallon wet/dry vac gave us a pull force of 4 pounds, 2 ounces. That's half of what the top dog from DeWalt pulled, but for a quarter of the price. Even the CFM is on the low side, but what we can't stray far from is the cost.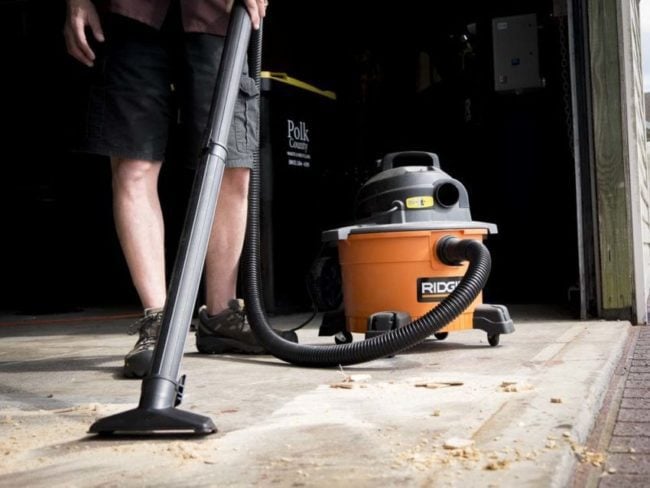 Realistically, there's enough suction to effectively clean up sawdust and chips without much headache. It's perfect for garages, home use, and Pros that are working in finished structures that just need to clean up after themselves. Where you might want to look at bigger units is when you're wanting to attach to a table saw or have it double to power your home shop dust collection.
Pricing
When Kenny looked around at the sub-$50 class of shop vacuums, the Ridgid 6-gallon wet/dry vac is the only one that gave him the confidence to recommend it for Pros. Taking home our award for "Best Wet/Dry Shop Vacuum Under $50" may seem like its due to a lack of competition. However, the other offerings in this class just seem to force you to give up too much performance to hit the price.
The Bottom Line
For a lighter-duty, budget-friendly shop vacuum, the Ridgid 6-Gallon Wet/Dry Vacuum makes a good case for itself. Its compact size makes up for its lower power, but that's something you should expect as you go down in price.
As with any product that hits a low price point, there are some trade-offs. Better hose/cord management along with fit and finish stand out. But if getting great value registers pretty high on your priority list, and you don't necessarily need a ton of suction power and CFM, this model fits the bill well.
Ridgid 6-Gallon Wet/Dry Vac Features
3.5 peak HP provides powerful suction for everyday cleanup
Compact design and 4 swivel casters offer great maneuverability
7 ft. tug-a-long hose features a positive locking connection that resists breaking free from the vacuum during use
Blower port for blowing leaves, grass clippings and more
Accessory storage space at the top of each caster offers quick access to needed attachments
Includes a filter, a hose, a utility nozzle and wands
Ridgid 6-Gallon Wet/Dry Vac Specs
Model Number: WD0670
Drum Size: 6 Gallons
Peak HP: 3.5
Air Watts: 124
Voltage: 120
CFM: 62
Amps: 5.8
Cord Length: 10′
Accessory Size: 1-7/8″
Net Weight: 12.6 lbs.
MSRP: $49.97