Brushless motors and increased battery capacity are unlocking tools that we could have only dreamed of being cordless a few years ago. The new Ridgid Gen5X Brushless Belt Sander is a great example of where this technology is allowing us to go. Belt sanders are typically used when you need to remove a lot of material. Because of that, they tend to be more power-hungry than finish sanders like Ridgid's Gen5X Random Orbital Sander.
We have a pile of wood outside the shop that has been neglected for months. Because it is untreated, it is showing a lot of weathing. Still, I wanted to try and reclaim a few pieces for a quick project. I didn't need perfect wood, but it needed to be clean. So I took the Ridgid cordless belt sander out to see what kind of experience you can expect from its combination of features and performance. While I was at it, I also put Ryobi's new brushless belt sander to the test. I'll give you those results in a separate review.
Features Worth Noting
Adjust Your Belt
As most of the cordless tools from Ridgid have been for the last couple of years, their latest is part of the Gen5X line. It features a brushless motor and can be found at Home Depot as a bare tool for $149. Starting at the business end, there's a tool-free belt release that makes changing belts very easy. I was glad to see that the lever itself is a metal construction and not just plastic. It will be able to stand up to a bit more abuse because of that.
The Ridgid Gen5X Brushless Belt Sander has an automatic belt tracking system to keep the belt centered. There's also an adjustment knob on the side in case you need to tweak the belt right or left. The mechanism that keeps the belt centered appears to be made from ceramic. It has to be made from hard material like this so that the belt doesn't wear through it. It has the added benefit of keeping the belt from reaching too far to the left and cutting into the housing.
Let Me Handle It
Moving around to the handle, you'll find Ridgid's typical HexGrip overmold wrapping around the decently ergonomic handle design. For your guide hand, there's an adjustable pommel handle on the front. By removing the set screw with the on board hex wrench, you can adjust it to three different positions. I was able to find a comfortable enough working position, but I actually wished I could flip the handle around to give me other options.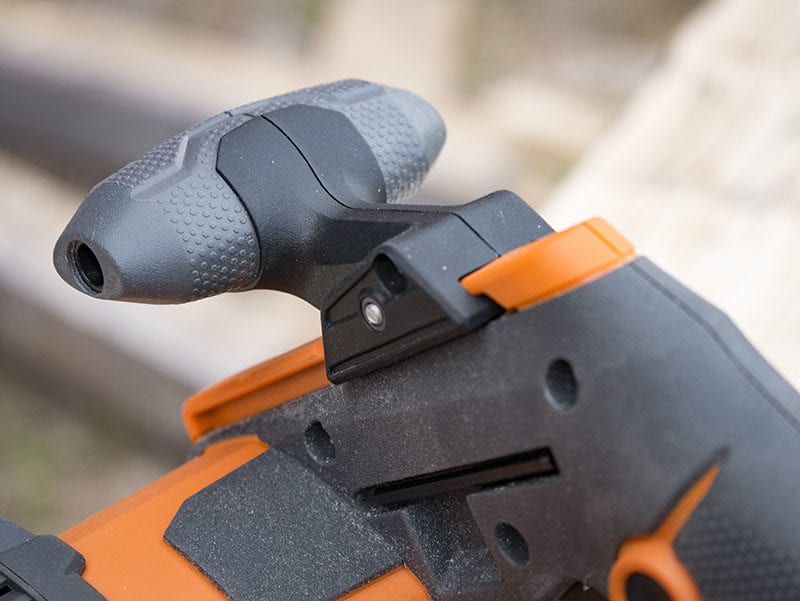 Maintain Control
The trigger has a pretty high spring tension for a power tool trigger and you'll feel it click into the on position when fully depressed. The trigger isn't variable speed, but there is mercifully a lock on switch to help avoid finger fatigue.
Moving forward on the handle, you'll find a variable speed dial. It's easy enough to use with multiple speed points between each marking. However, it's unusual in that it is marked as speeds "A" through "F" instead of 1 through 6. I'm not entirely sure what the rationale behind that is – maybe they're just trying to see if we're paying attention.
Other Features
When you take a look at the housing design, you'll notice that it allows you to sand flush to a perpendicular surface. Thanks to the tracking adjustments, it's true for both the front and the side of the sander.
Performance
Preparing to get to work, I chose to focus on three main points – power, dust collection, and run time. As I began to sand, it became clear that the weathering was pretty significant and would take a bit more work than I had anticipated. Still, it didn't take long for the Ridgid Gen5X Brushless Belt Sander to start showing clean wood using the included 80-grit belt.
With a belt sander, you really want to let the belt do the majority of the work. Bearing down on the tool doesn't typically give you much of an advantage when it comes to clearing material away. However, there are times when you need to work around knots or corners to aggressively sand down smaller areas. In those cases, I found it easy enough to tilt and turn the sander to bring more of the motor's power down on those smaller surface areas.
I was definitely able to bog the motor down if I wanted to. However, with good sanding technique I was able to get my desired result without putting a lot of muscle into it. As the clock ticked on, I found the rhythm of the task became rather enjoyable.
Dust Collection
The Ridgid Gen5X Brushless Belt Sander takes advantage of Air Guard Technology. This is Ridgid's name for their dust collection system and I found that it worked really well. There are a couple limitations on its effectiveness on this tool though. First, this isn't a dust collection system that is pulling directly from the sanding service like the through holes on some finish sanders. The system relies on the belt to push the dust up where it sends it to the collection bag.
Ridgid claims their system collects up to 90% of the dust. While I didn't use a scale to verify it, I would say it's a valid statement. Even without a dust extractor connected, it collected an impressive amount of material.
The other limitation is that your battery will likely out work your dust bag capacity. I found that it filled rather quickly – a testament to its effectiveness. Once the bag got beyond about halfway full, the system began leaving more sawdust on my work surface. Connected to a dust extractor, you have much greater capacity and the system collects even better supported by the vacuum suction. If you're keeping score at home, the dust port has a standard 1-1/4-inch hose diameter connection.
Runtime
I have seen runtime test results ranging anywhere from about 10 minutes to 20 minutes on various materials and setups. I decided to test the runtime by simply using the sander as long as I could with typical technique on the material I was already working on. Using a 5.0 amp hour battery, I was able to run the Ridgid Gen5X Brushless Belt Sander for 13 minutes and 40 seconds before it finally shut down.
Like we see with many new classes of cordless tool, the runtime limits use to small jobs or one-off work pieces. While it's not going to be the primary tool in a production woodworking shop, it can be a great help to carpenters on small remodeling or renovation jobs.
On the other hand, it's not like there are many cordless belt sanders to choose from. Getting nearly 14 minutes of work done on one battery is currently a pretty solid effort.
The Bottom Line
The Ridgid Gen5X Brushless Belt Sander offers enough power to seriously consider as a supplementary tool. However, with runtime coming in under 15 minutes, you'll have a hard time justifying it as a primary tool. You'd realistically have to have three or four batteries cycling at any given time to keep you working without interruption.
But like we are discovering with other classes of tools that have recently become cordless, this is an excellent option for small jobs to keep you from dragging out an extension cord.
Dust collection is actually very good. You're not going to collect every bit of sawdust though, so you'll want to do as much work as you can outside or in the shop to eliminate unnecessary cleanup inside. I would definitely recommend using a dust extractor if you have one available.
Ergonomics are pretty solid on this model. Weight isn't a major concern on a belt sander since you're not likely using it vertically or overhead. Some weight actually helps by reducing the amount of downforce you need to help the sander with. I would like to see the next generation offer the option to switch the pommel handle upside down to give a little more versatility in grip options though.
There's a premium to pay for going cordless on a belt sander. The $129 price tag is only $10 more than Ridgid's comparable corded model. We've found corded models out there that are much more expensive. At the end of the day, not every Pro needs a belt sander. However, those that use one even on an occasional basis will likely find that the Ridgid Gen5X Brushless Belt Sander is a welcome addition for small jobs.
Ridgid Gen5X Brushless Belt Sander Key Features
Air Guard Technology, collects up to 90% of dust for a cleaner work area.
Tool-free belt release for quick and easy belt changes
Automatic belt tracking – tool automatically adjusts belt to center plate for straight alignment
Adjustable pommel for ease of use during different applications
Integrated Vac adaptor fits standard 1-1/4″ hose for cleaner, dust-free work environment
Flat Face allows for sanding flush to a vertical surface
Ridgid Gen5X Brushless Belt Sander Specifications
Model: Ridgid R86065B
Brushless Motor: Yes
Battery: 18 V, 5.0 Ah
Variable Speed: 400 – 935 RPM
Belt Size: 3″ x 18″
Belt Tracking Dial: Yes
Adjustable Handle: 3 positions
Integrated Dust Bag: Yes
Dust Port: Yes
Weight: 6.70 lbs
Warranty: 3 years limited
Price: $144.95